The rose is the 2012 Herb of the Year!
Western Canada is the land of wild roses. If you have a homestead in B.C., you probably have wild roses growing nearby. There are over 100 different varieties of wild roses in North America and BC has 6 of them.
Each features white to deep rose flowers with a fragrant perfume. The leaves have an odd number of leaflets and a wing-like sheaf clasps the base of the leaf. The fruit or "hips" which hang on all winter are almost as well known as the flowers. Most have thorny stems. (C.P. Lyons. Trees, shrubs, and flowers to know in British Columbia. 1952)
Wild roses are found in low to mid elevations through out south western Canada, in dry to moist, open forests and disturbed lands. Look for them along the edges of woods, along pathways and road ways. All of our wild roses are edible, which is not surprising since our orchard fruits like apples, pears, and berries likes strawberries and saskatoons are related to wild roses. Goats, sheep, and llamas like eating wild roses, too, so if you are trying to encourage a patch to grow on your homestead, fence it in, and protect it from the critters.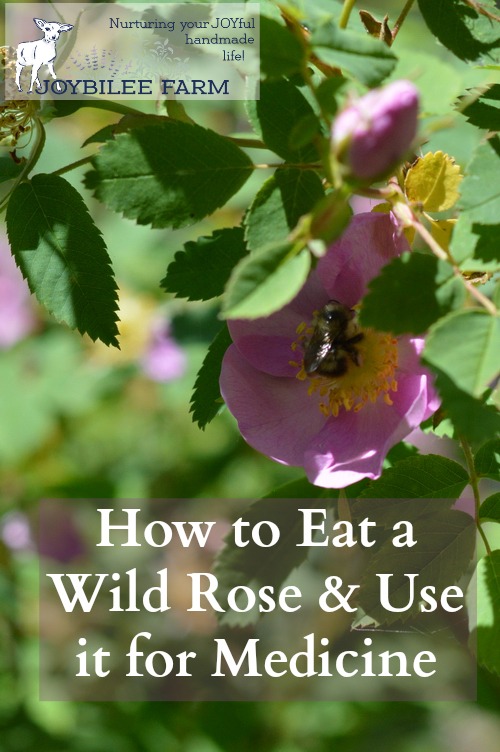 How to get a patch of wild roses established on your homestead
To get a patch of wild roses established on your homestead, take the seeds from inside the rose hips of some established native roses. Plant the seeds in the Fall, on prepared ground, before the ground freezes. The wild roses prefer dappled sun to full sun, so find a spot that is shaded for some part of the day, though not in full shade. Apply composted manure and leaf mold to the spot, before planting the rose seed. Protect from deer and our homestead animals so that the shrubs can become established. After 3 years, you will be able to harvest from this rose garden for many seasons.

MY LATEST VIDEOS
Wild roses send up lots of suckers which can become invasive in the home vegetable garden, so pick a spot away from the vegetable garden to establish your rose garden. Use this trait of wild roses to your advantage. You can establish a patch of wild roses by transplanting the side shoots of an establish rose shrub. Using a sharp shovel, in the Spring, cut the side plant off from the mother plant at the root zone. Transplant into a prepared bed that you have amended with compost. Mulch well after transplanting to hold in moisture. It will take 4 to 6 weeks for the new plant to send out enough roots to feed the plant on its own. Water well during this time. Once you see new leaf growth, you will know that the growth is continuing.
First Nations use of wild roses
Roses were eaten by First Nations people on a casual basis or in times of scarcity… The Tsilhquot'in tribe ate fresh rose petals and made the hips into tea… The Carrier tribe scraped the cambium from the roots, soaked and then boiled them, and applied the ointment to sore eyes… The interior Salish people widely used baldhip roses (Rosa gymnocarpa) for medicinal and spiritual purposes… The St'at'imc and Nlaka'pmx peoples used it to cure many sicknesses. They made a pleasing tonic with young leaves and twigs, infused in water. The leaves and bark were dried, and toasted. The resulting powder was smoked. …The Secwepemc made arrows out of rosewood, and rose leaves were chewed and put on inset bites to alleviate pain and swelling…The Okanagan ate the flower buds but not the hips. They used the thorns for fish lures. (Plants of Southern Interior British Columbia and the Inland Northwest. Roberta Parish, Ray Coupe, and Dennis Lloyd. 1996)
Health Benefits of Wild Roses
Wild roses are worth encouraging on your homestead. You can use them throughout their growing season from petals and rose buds in June and July to rosehips in Autumn. Roses are sedative, antiseptic, vulnary, nervine and digestive. Roses relieve colds and flu symptoms by supporting the immune system. They are antibacterial, antidepressant, anti-inflammatory, aphrodisiac, relieve varicose veins, relieve menstrual congestion and pain, supports the reproductive system, the kidneys, and the liver. Roses are tonic, and laxative. They are a rich source of vitamin C, D, E, B3, and A, as well as zinc. Roses help the lymph nodes drain and clears toxins from the body. And just one cup of rose hips contains the same amount of vitamin C as 60 oranges. No wonder women love roses! When harvesting roses only harvest from roses that are grown organically and have not been sprayed. You can eat any variety of rose but those with the strongest scent, also have the strongest medicinal qualities. Don't harvest roses beside road ways, and always get permission to harvest roses on private land.
If you are looking for varieties of roses to plant on your homestead, I recommend encouraging the native wild roses that are already resident in your area. You will find them already naturalized and hardy for your climate. They are potent for medicine and fragrant for cosmetics, hair rinse, and analgesic balms. They also are rich in rose flavour. If you are in an area without wild roses, then other medicinal roses that you might plant include Bulgarian roses, Damask roses (Rosa sp.), and the Apothecary rose (Rosa gallica 'Officinalis'). All are strongly fragrant and boom for a limited time in May or June, in the Northern Hemisphere.
Rose Essential Oil or Attar of Roses
Most wild roses only bloom for a few weeks in May or June — late June to early July for me. The season for harvesting petals for rose oil is very short with wild roses. You only get one chance to harvest the petals. Domestic roses can be harvested for rose oil, as well, but you want a rose that is very strongly fragrant, such as damask roses or apothecary roses. Wild rose petals are strongly fragrant. The roses are picked only in the early morning hours, before the sun rises on the roses. The dew must still be fresh when the petals are picked off the open roses. Commercial rose oil, called "attar of roses," is extremely costly, because it uses 3,000 lbs of rose petals to distill just 1 lb. of rose essential oil or attar of roses. It takes 60 roses to produce just 1 drop of attar of roses. This makes rose essential oil the most costly of all the essential oils at .25 ounces (7 ml) for $225 US. The good news is that rose E.O. is rarely used neat (alone). Its potency is always diluted with another carrier oil.
Making Rose Oil at Home
You can make a home version of rose oil by allowing olive oil to infuse in rose petals in a sunny window sill. Pick the roses as early in the morning as you can, while the roses are still in shade. Just pick off the petals, leaving the stamen in tact. Only harvest 1/3rd of any rose bush at a time. Bees will continue to pollinate and you will be rewarded with rose hips in the fall. Fill a wide mouth jar with rose petals. Pack it down well and entirely fill the jar. Fill with a good quality olive oil. Stir it up a bit to get rid of any trapped air. Cap tightly and allow to steep for 2 weeks, shaking the jar once a day. Strain through a fine sieve. You can repeat this process with fresh petals, two weeks later, if the roses are still in bloom in your area. Strain again and add 1/4 tsp. of natural vitamin E, as a preservative, to the oil. Cap tightly and store away in a cool, dark place. The oil will smell mildly of roses and contain many health benefits.
How to use Rose Oil
You can add this oil to facial moisturizer, underarm deodorant, or anti-inflammatory first aid balms. Use 1 part organic bees wax, 1 part organic virgin coconut oil, 1/2 part olive oil, 1/2 part jojoba oil base and add 1 part of any of your infused oils like calendula, St. Johns Wort, rose, lavender. Store in capped, glass jar, in a cool, dark room. This recipe is a great base for all your first aid and beauty balms. Rose oil is especially helpful in treating women's complaints, like menstrual pain or congestion, and breast congestion. Apply a balm of roses under the arms, under the breasts and on the stomach, above the uterus, for relief of cramping and pain. This will remove toxins and help your lymph drain at that time of the month, relieving congestion and inflammation.
Home made Rose Water
Rose water is used as a flavouring in many Middle Eastern Treats. You can make rose water by pouring water over a pan of tightly packed rose petals. Bring to a simmer and simmer gently for 5 minutes. Allow to cool completely before straining out the petal. Squeeze the last drop of moisture out of the petals, reserve the petals. Tightly cap the jar of rosewater, and keep in the fridge. Candies, icing, butter, glazes, and sauces can be flavoured with rose water — use 1 tbsp of rose water.
Rose Beads, a by-product of making rose water, don't eat these.

Using the strained rose petals, that have been simmered to make rose water, mash petals between your fingers, to achieve a clay like consistency. Add more water to the petals and blend in your blender to a smooth, 'smoothy' consistency. Pour contents of a blender into a pot, an iron pot will give the beads a nice black finish. Avoid using aluminum pots as the acid in the beads will react with the aluminum. Gently simmer the rose petal paste for a few hours on the stove until the liquid is substantially reduced. You can do this over several days, simmering for a couple of hours daily, or you can simmer it all at once. Once it reaches a thick, clay-like consistency remove from heat and allow to cool. Form the beads, allow to partially dry, and poke a hole through for stringing. Allow the rose beads to finish drying until very hard. String and make a fragrant necklace. Store where insect pests will not be a problem. Here's another method for making rose beads.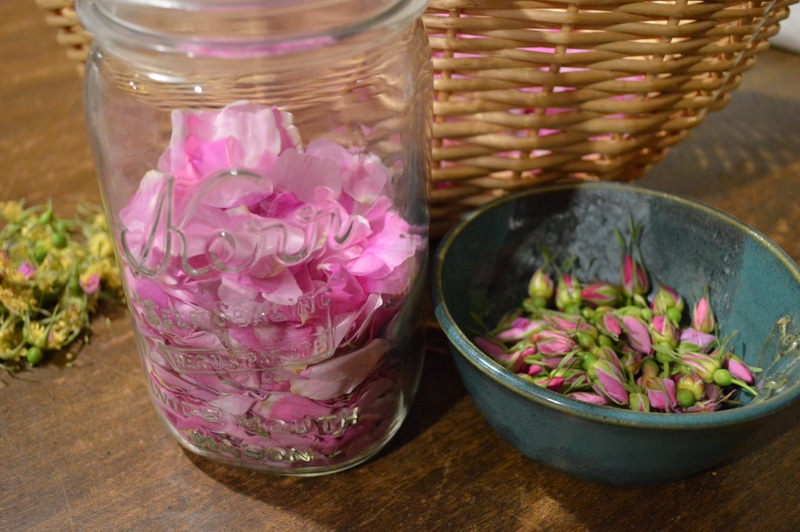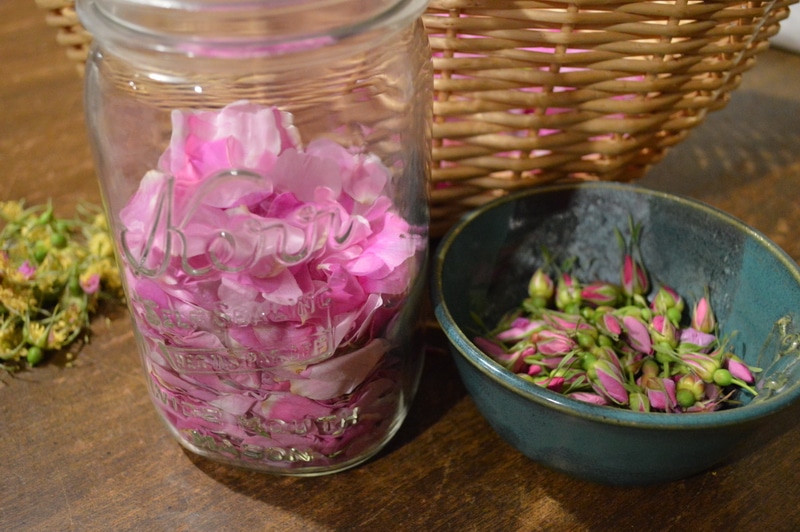 Dried rose petals and rose buds
You can dry rose petals and flower buds for teas and infusions. Harvest as you would for oil or rose water but instead of infusing, place in a flat wicker basket, which has been lined with a cotton tea towel. Allow to air dry in a shaded place away from sunlight and heat. Stir up the blossoms occasionally as they dry. Once they are thoroughly dry, put in a glass jar and cap tightly. Use them as you would any tea, making an infusion with simmering, not boiling water. Use the decoction for detox, immune support, pain relief, relaxation, and women's complaints. It is a good tonic, but also laxative so don't overuse.
Sweet, healthful treats from rose petals
Rose petal syrup, jam, rose sugar, rose honey, and candied rose petals can also be made from rose petals.
Rose Petal Syrup
Culpepper suggests that rose syrup be used as a laxative. So use moderation when eating roses.
Yield: 3 cups of syrup
Take 4 cups of Rose petals, harvested early in the morning.
3 cups of mountain spring water or rain water (not chlorinated tap water)
5 cups of white sugar
Juice and zest of one organic lemon
Boil the water and infuse the rose petals in the boiled water for 24 hours, like tea. Strain out the rose petals. In a large sauce pan, add to the rose infused liquid, sugar, and lemon juice and zest to the liquor. Return to heat and boil strongly until syrup begins to thicken. Remove from heat and bottle. Makes 3 cups of rose syrup.
Rose Petal Jam

Makes about 3 cups of jam

3 cups of sugar
1 cup of wild rose petals, with a strong perfume, harvested early in the morning
2 cups of water
1 cup of apple pectin
The juice of one lemon

Very gently rinse and drain the rose petals and place them in a large bowl with 1 cup of sugar and the lemon juice. With your hands, massage the rose petals with this mixture until you reduce the petals to a sort of "paste." The petals should remain whole, not torn, but with the sugar and lemon they will release colour and perfume. Do not speed this process by putting it through your food processor. Your patience will pay off.

In the meantime, add the rest of the sugar to the water and heat in a large saucepan until the sugar dissolves. Add the rose petals and bring to the boil. Allow to boil until the syrup thickens and the petals no longer float (about 30 minutes). This jam is more runny than fruit jams, but has a lovely rose fragrance and taste. Keep an eye on it, and stir every now and then.

While still hot, place the jam in clean, sterilized jam jars, complete seals in a boiling water bath canner, and allow to cool.
Rose Sugar
Using a 1 litre, wide mouth glass canning jar, put 1/4 cup of white sugar in the bottom. Sprinkle a generous pinch of clean rose petals over this, and begin to layer with a pinch of sugar and a pinch of rose petals until the jar is full. Cap with a tight fitting lid. Then every day for 2 weeks, shake the jar to mingle the petals with the sugar. After 2 weeks, pour the jar contents through a coarse sieve to remove the petals. Cap the sugar and store in the canning jar. This sugar can be used to flavour icings, teas, and cakes. You can also make mint sugar, lavender sugar, and vanilla sugar following this method.
Candied Roses
1 cup of dry rose petals
1 egg white, lightly beaten
1/2 cup white sugar
Brush egg white on both sides of each rose petal and dip in sugar until petal is well covered. Place on baking sheet lined with parchment paper. Allow to harden by air drying. Serve as a garnish on cakes. The petals of Violets and pansies can also be candied this way.
In the Fall harvest rose hips from the same wild rose bushes. If you only took 1/3rd of the flower petals, the remaining flowers will attract bees to the bush and there should be lots of rose hips to harvest in the Fall. Wait until after at least one hard frost before harvesting the rose hips.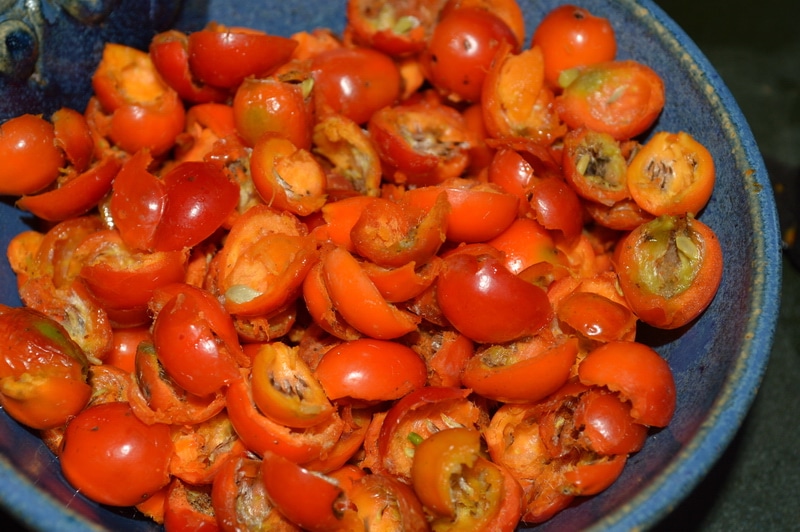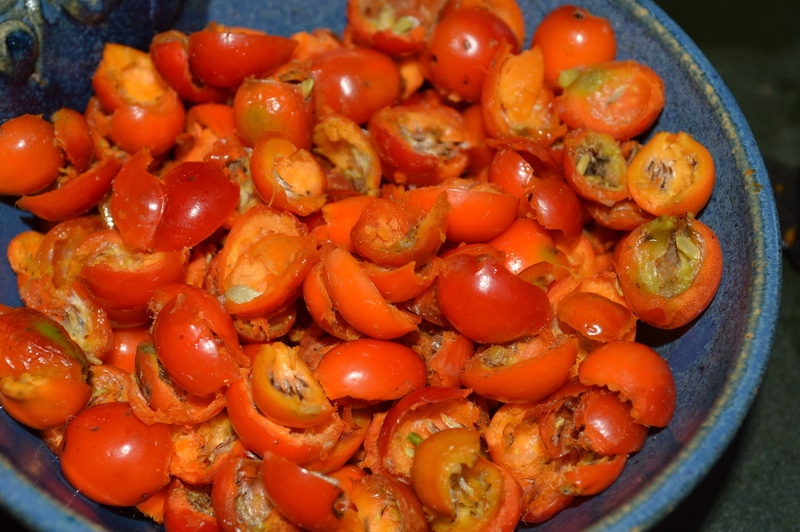 Rose hips are one of the highest sources of vitamin C. Harvest the hips and use immediately to make rose hip syrup, an elixir recommended during WWII, to keep the British Children healthy. Use it like a vitamin, 1 tsp. a day per child. Or dry them and use them infused as an herbal tea. The tea is very lemony tasting and is good with honey. For more on the uses of rose hips see my article.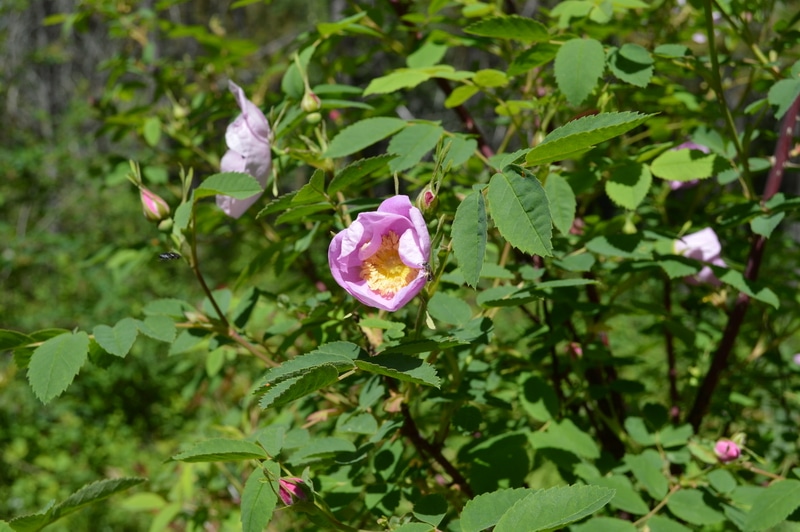 Resources for Roses:
Back to you:
This is not an exhaustive list of the uses of roses. But I hope, if you read this article this far, you have a much higher appreciation for the wild roses that you have already growing around you. What uses have you made of the wild rose?
Save