Rose Flavoured Pizzelles
Pizzelles are a thin, light, crispy wafer cookie from Italy. They have a snowflake design from the ridges of the pizzelle iron as they are baking. Up the wow factor on your Holiday Cookie plate with these sweet, crisy wafers flavoured with just a hint of rose blossom flavour.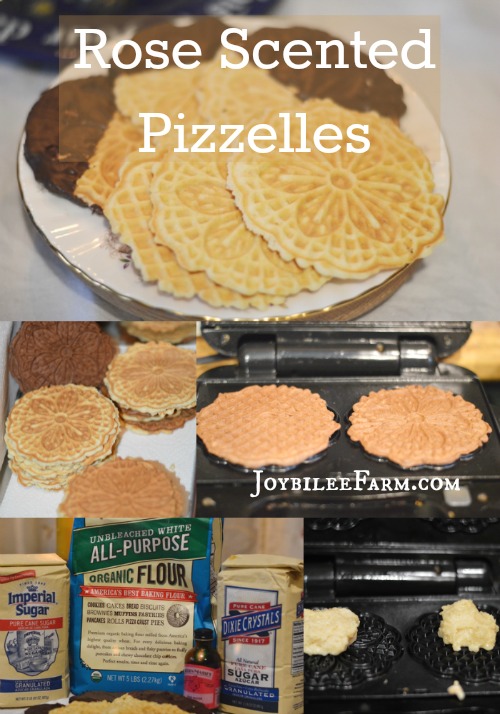 My friend, Lorraine makes these at Christmas with anise seed. They are delicious to nibble on with a cup of espresso. My version is scented with just a hint of rose water. You may substitute 1 tbsp. of any flavoured liqueur in place of the rose water. Try Orange liqueur, limoncello, crème de cacao, Kahlua, or anisette. Or stick with tradition and use 1 tsp. of anise seed, as you wish.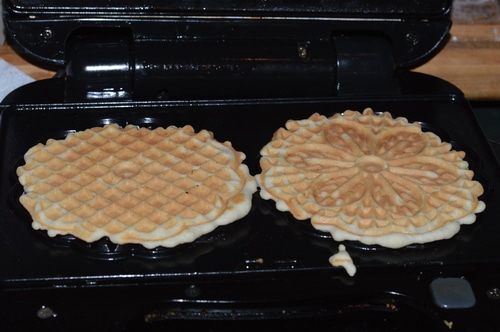 These cookies require a special pizzelle iron. A pizzelle iron is like the waffle irons that are used to make ice cream cones.
The pizzelle is a thin wafer cookie rather that a thick waffle. So the pizzelle iron presses together closer than a waffle iron. Some waffle makers have special pizzelle plates. If you have one of those remove the regular waffle plates and place the pizzelle plates before you begin to heat your waffle iron. I know that seems like a silly instruction, but I have forgotten.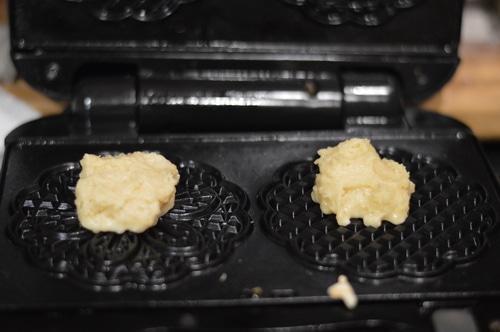 Lightly grease the pizzelle plates with butter. The pizzelle iron should be preheated before you begin cooking the pizzelles. If you have an electric pizzelle iron, plug it in as you start mixing the batter. Some pizzelle irons are preheated on the stove top. Use the manufacturer's directions for preheating your pizzelle iron.
Rose scented Pizzelle Cookies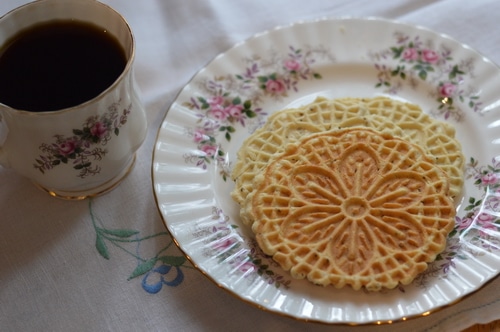 Yield: About 30 Pizzelles
Ingredients:
3 eggs
3/4 c. sugar
1/2 c. butter, melted and cooled
1 tsp. vanilla
2 tsp. rose water extract
1 3/4 c. flour
2 tsp. baking powder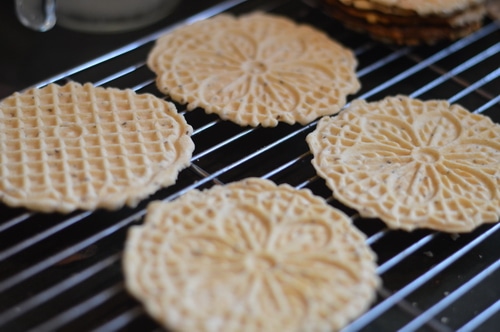 Method:
Grease the plates of the pizzelle iron generously with butter or coconut oil. Preheat the pizzelle iron according to the manufacturer's directions.
Set up a cooling rack close to where you are baking the pizzelles. One you start cooking them you need to work fast.
In a large mixing bowl, beat the eggs and sugar together until light and fluffy.
Add butter, vanilla, and rose water and beat well.
Sift flour and baking powder and add to egg mixture. Mix until just blended. Don't overwork the batter. Batter will be stiff. If it is too runny it won't spread properly in the iron.
Drop the batter by the spoonful into the centre of each circle on the pizzelle iron. My pizzelle iron uses 2 tsp. of batter per pizzelle. Follow the directions with your own pizzelle iron.
Close the pizzelle iron over the batter and let it cook until the steam stops. Once the steam stops and the pizzelles are baked remove them from the iron.
If you want to roll them into cones or cut them into wedges do that immediately when they come off the pizzelle iron. They are soft and pliable then. As they cool they will crisp up.
Place them on the cooling rack.
Serve them plain, with a dusting of icing sugar, or dip them in melted chocolate.
I hope you enjoy these special Traditional Holiday Cookies. They are especially wonderful dipped in white or dark chocolate.
Try them plain or dipped in chocolate and I'm sure you'll make them again and again.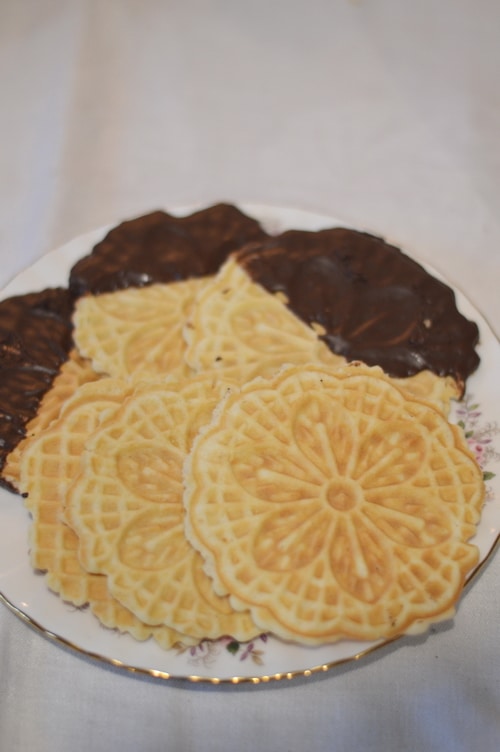 See these other Traditional Holiday Cookies
Minty Nanaimo Bars
Grandma's best cookie baking tips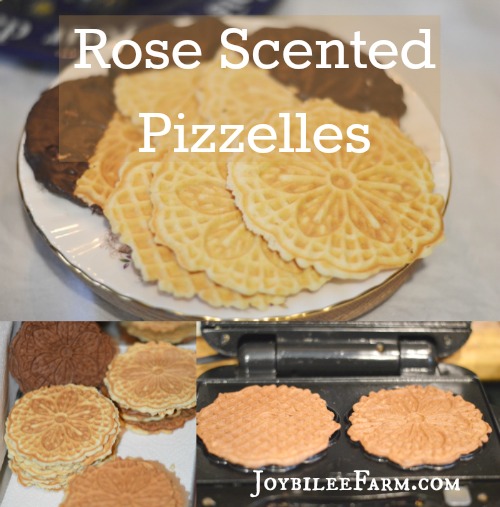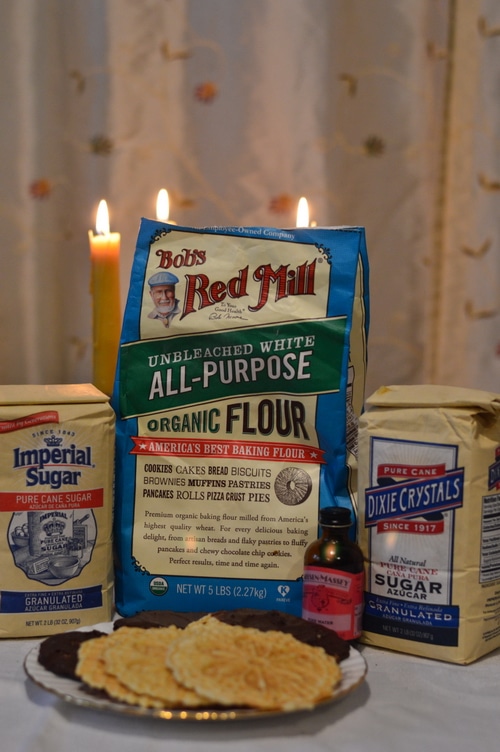 Disclaimer:
Save
Save