All roses develop fruit — hips —  once the flowers fade.  Wild roses and rugosa roses are the most prolific fruiting roses.
Health Benefits of Rosehips
Rose hips are rich in vitamin C, one of the highest plant sources, with 100 grams of dried hips yielding 2,000 mg of vitamin C.   Rosehips contain vitamin A and B and the antioxidant lycopene, also found in tomatoes.  Rosehips are also anti-inflammatory, immune boosting, and anti-oxidant, making them beneficial for the treatment of arthritis, colds and flu.  They are useful as a Spring tonic and for general debility and exhaustion.  They help in cases of constipation and mild gall bladder problems. (Hoffman. Holistic Herbal, Rockport: Element Books, Inc, 1996. p. 135)
Their benefits can be gained by using them in tea, adding the dried, powdered fruit to baking, or making syrup.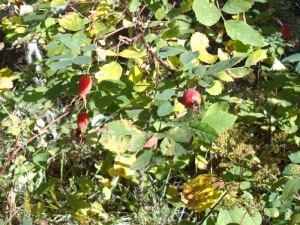 MY LATEST VIDEOS
Harvesting Rose Hips
Roses are related to apples and quinces.  Rose hips are gathered in the Fall, after the first frost.  They will be orange to red on the rose bushes and should be firm and plump.  Some varieties of roses have darker hips from purple to almost black.  Leave the shriveled ones on the bush for the wild birds.
Rose seed itching powder (don't add to your food)
The seeds inside the rose hips should be removed if you intend to use them as fruit or in tea.  The seeds have minute hairs which irritate the skin.  My friend, Wendy, from Holland told me that while walking to school, she the other children would pick rose hips, remove the seeds and put them down the backs of friends to induce itching.  Thankfully, she outgrew that practice before she met me.  Itching powder is made from dried and ground rose seeds.
Drying Rosehips for tea
If you intend to use the hips, whole in tea you can leave the seeds in.  If you are going to grind the hips before making tea, remove the seeds.  To remove the seeds, after picking, remove the blossom end and discard.  Cut the hips in half, scoop out the seeds.  You can dry the cleaned hips for later use as tea, or cooking.  Rosehips add a lemony taste to food.
To dry the rosehips, I put them in a basket, lined with a paper towel and place them in a warm, airy spot in the kitchen, near the wood stove.  I stir them frequently with my hand as I walk past.  You can also dry them in a food dehydrator on low heat.  But you don't need a food dehydrator to be successful.
Rosehip Syrup for vitamin C
Or you can make rosehip jam or rosehip syrup to use during the winter.  During WWII, when the German U-boats were preventing mercantile ships, with citrus fruit, from reaching Great Britain, the citizens of Britain were encouraged to gather wild rose hips and make vitamin C syrup for their children. Rosehip syrup retains the vitamin C content of rosehips up to 9 months, even after preserving.
Recipe:  Rosehip Syrup for vitamin C
– makes 3 pints
(adapted from Adventures in Cooking, BC Women's Institutes, 1958).
4 cups of prepared fresh rosehips with blossom end removed, about 1 kg. (no need to remove seeds)
6 cups boiling water
Boil for 2 minutes. Drain through a jelly bag. Reserve the liquid.
Add 3/4 cups sugar to resulting liquid.  Bring to boil.  Bottle in sterilized jars.  Process 10 minutes to complete seal.
Use 1 tbsp. daily for vitamin C supplement.
Recipe:  Rosehip Jam

4 cups prepared rosehips
1 organic orange
Juice and zest of two organic lemons
1 large green apple, peeled, cored and chopped
5 cups cane sugar (beet sugar may be genetically modified)
1/2 cup homemade pectin
5 1/2 cups water
1/4 tsp. butter or coconut oil to reduce foaming
Leave the peel on the orange and slice and chop into 1/4 inch wedges, removing seeds.  Add to an 8 quart pot, along with prepared rosehips, lemon zest and juice, and apple pieces.  Add water and pectin and bring to a boil.  Add butter or coconut oil to reduce foaming.  Boil hard for 30 minutes, until orange peels become translucent and jell stage has been reached.  Begin to test the jell at 20 minutes.  When jell stage is reached, remove from heat and pour into sterilized pint jars.  Complete seals and process for 5 minutes in a boiling water bath to seal jars.
Yield: 6 to 7 pints.
I'm harvesting rose hips this afternoon and drying them for tea and for the Joybilee Farm limited edition Wild Roses and Goat's Milk Soap. 
Your turn:
What's your favourite use of roses?  What hinders you from harvesting your own herbs for medicinal and culinary use?  What would help you overcome this hindrance?  Leave a comment.
If this is your first time here, check out our flock of Purple Sheep, a community of remarkable people who want to do what they love, in the country.  Subscribe to the Purple Sheep newsletter for more tips and tricks to make your dream of self sufficiency a reality, whether you're hard core or just want to learn a bit more about eco-responsible living, and creativity.
If there is a topic you want to see articles about leave a suggestion in the comments section.  I want this blog to be as helpful as possible to you.