How to make a basic herbal ointment for your first aid kit
Healing ointments are fun to make.  They make quick and easy gifts.  Plus they are better than store bought remedies.  They can be made in big batches or on an as needed basis.
Herbal ointments can be more effective than over the counter remedies for cuts, abrasions, minor burns, infections, and sprains. Most of the herbs can be found growing in the wild near your home or you can grow them in your own garden.  When choosing which herbs to include in your own ointment, look for herbs which have analgesic, anti-inflammatory, anti-microbial, and skin healing properties.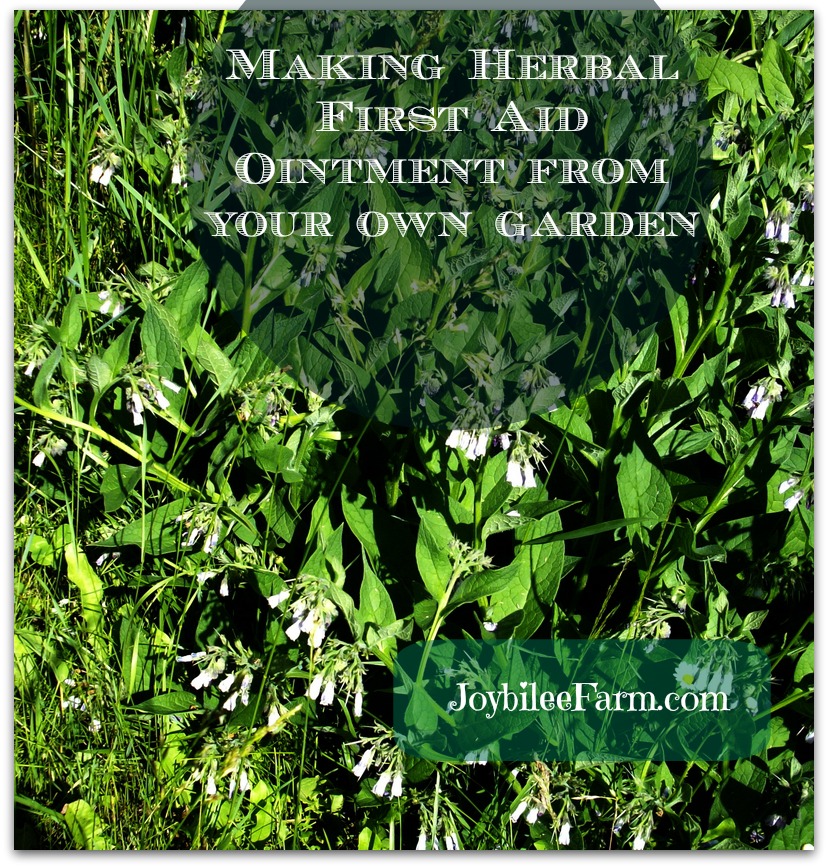 Calendula is a big player when it comes to skin healing properties.  Calendula is a hardy annual that should be grown in every garden.  If you haven't put any calendula in your garden this season, grab a package of seed at the grocery store this week and put some in the rows between your vegetable plants.  Bees love calendula and once you've used it, you'll never want to be without it again.
5 to 10 plants, spaced throughout your garden will give you enough blossoms to make a quart or more of infused oil – enough for 4 batches of this recipe.  I direct seed my calendula plants at the end of May and I start picking blossoms at the end of August.  The plants can handle a light frost and even with my short growing season, I can get enough blossoms for a quart of calendula infused oil, every season.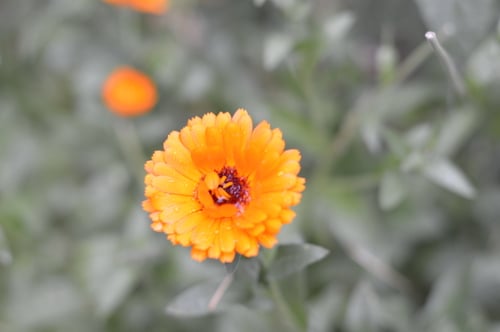 Calendula blossoms are pain relieving, and promote the healing of cuts and wounds.  Calendula reduces inflammation, stops bleeding, aids in the rebuilding of tissue, and is anti-septic, anti-microbial, and anti-fungal, ensuring that the wound heals cleanly.  Calendula can be combined with lavender and tea tree essential oils to heal burns, cuts, scrapes, and rashes.
To increase the effectiveness of your first aid ointment, adding another herb to increase the effectiveness of Calendula is helpful.  Comfrey adds more anti-septic and anti-microbial virtue to calendula, as well as speeding healing by increasing the rate of cell proliferation.  Plantain, promotes the drawing of poison from the body, as well as reducing inflammation and increasing the range of anti-microbial effects of both comfrey and calendula.  The ruby red infused oil of St. John's Wort helps cleanse the blood and rebuild nerves after trauma, while also promoting the healing of cuts and wounds.
Check over the following chart and find the weedy herbs growing in your area, and put together your own first aid salve or healing ointment, unique to your needs and the availability of plants in your area.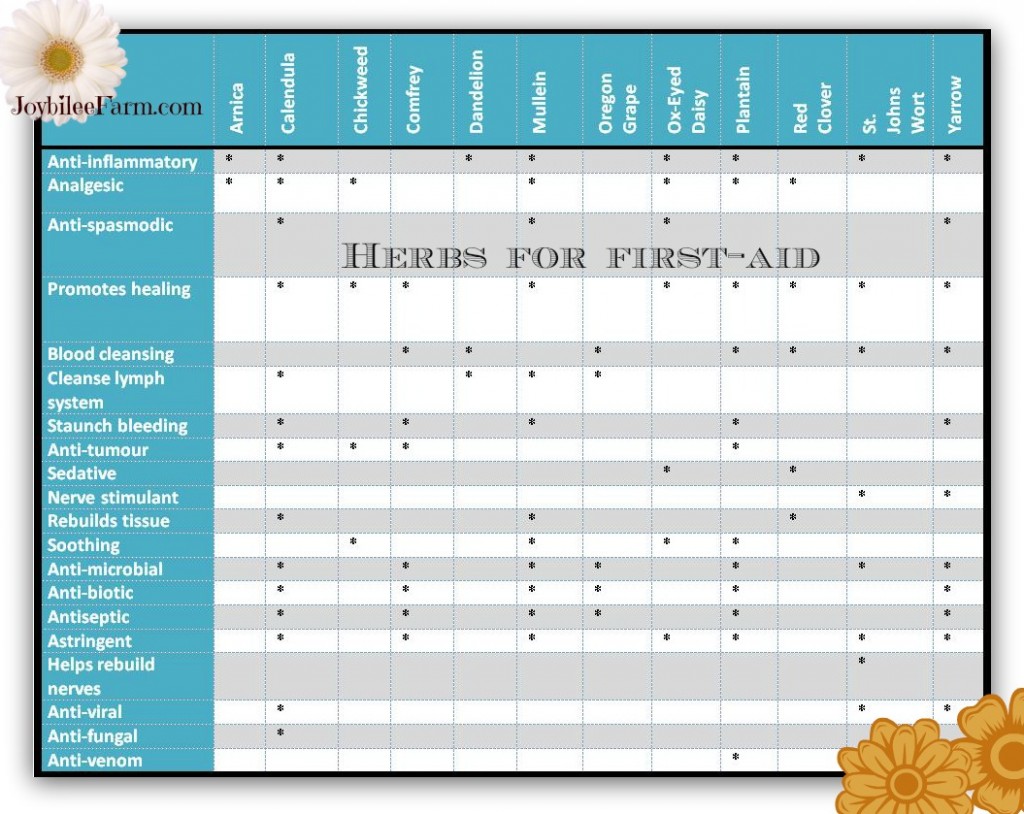 Print this chart: Herbs for first aid (pdf)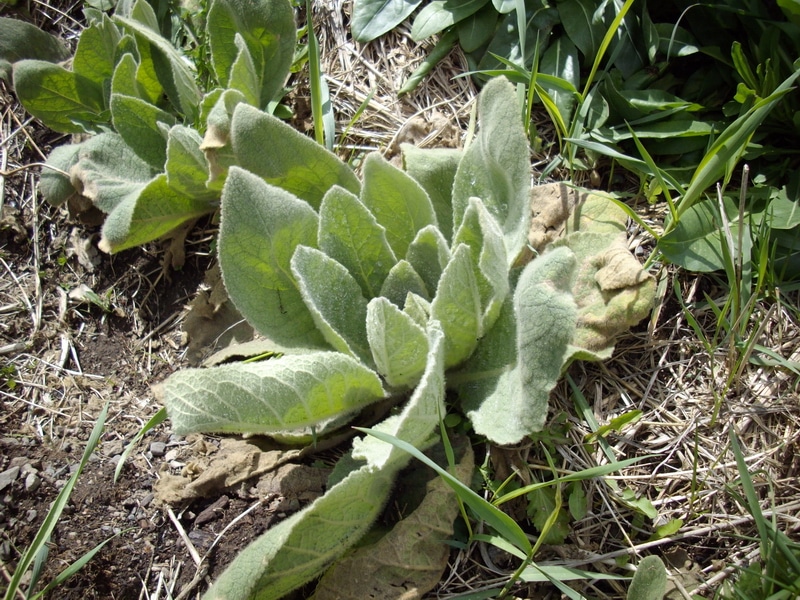 How to make a hot oil extraction
You will need a full day to infuse the oil using a low heat.  I like to do this in my smaller crock pot.
Put 3 to 4 cups of fresh, chopped herbs in a heat resistant sauce pan or use your crock pot on low.  Use a combination of calendula blossoms and a mixture other herbs available in your area.  Use the chart above to help you decide which ones are best for your circumstances.
Cover the herbs with oil so that they are just barely covered.
Leave the pan uncovered, and slowly raise the temperature of the oil until the mixture just barely begins to bubble.  Having the pot uncovered allows the moisture in the fresh herbs to evaporate off.  Simmer gently, stirring frequently, until the herbs are crisp.  If you use your crock pot on low to do this, your herbs will not cook too fast.  This process should take 4 to 5 hours or up to a full day to complete.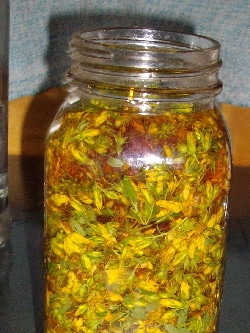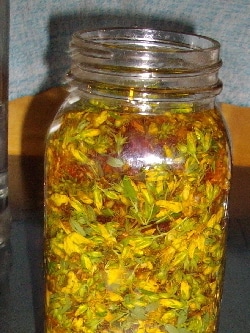 Cool, strain and you are ready to use this to make your own first aid ointment.
For my personal first-aid ointment I make my oil with 1 cup of calendula blossoms, 1 cup of finely chopped comfrey, 1 cup of St. Johns Wort blossoms, and 1 cup of finely chopped plantain leaves to 4 cups of olive oil.
Making your salve or first-aid ointment (makes 4 oz.)
Once you have your herb infused oil ready, for every 4 ounces of herb infused oil, add ½ ounce of cocoa butter, 1/4 oz. of bees wax, melted, ½ tsp. of vitamin E oil as a preservative.  Add the 15 drops of the essential oils of your choice.  I like 5 drops of lavender, 5 drops of tea tree, and 5 drops of myrrh.  This increases the anti-fungal, anti-biotic, and skin soothing properties of your salve.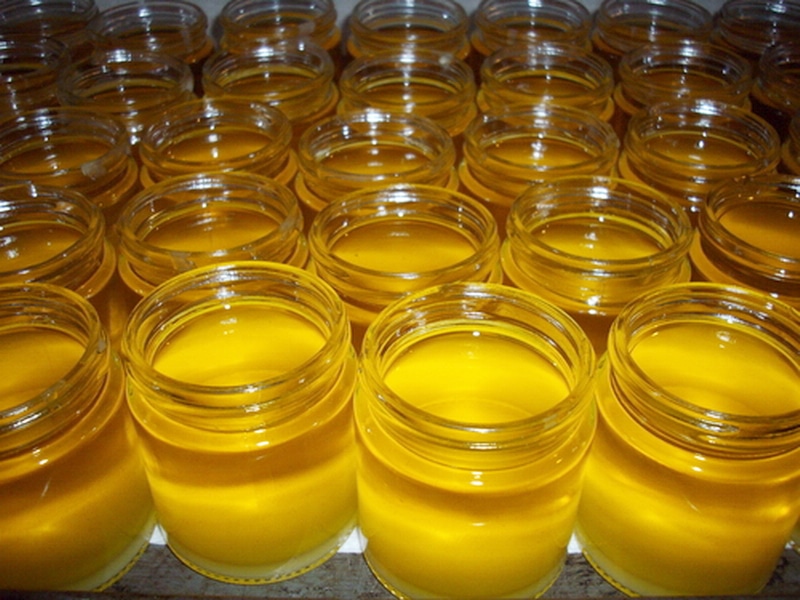 Joybilee Farm Herbal First-Aid Ointment
4 ounces of herb infused oil
½ ounce of cocoa butter
¼ ounce of bees wax
5 drops of lavender essential oil (#ad)
5 drops of tea tree essential oil
5 drops of myrrh essential oil (#ad)
Melt the cocoa butter and beeswax on low heat and combine with the warmed herb infused oil.  Add the essential oils.  Stir briefly and pour into 3 x 2 ounce glass jars.  Put the lids on while still warm.