How to make nourishing and moisturizing rose lip balm
The winter dryness has set in. Whether you are in an area with wood heat or central heating, the dryness of winter air is felt on your lips. Tightness, burning, and inflammation will only get worse if you don't put something on them to stop the loss of moisture. But commercial lip balm is less than ideal. In fact, it may even be harmful. Even the so-called ethical lip balm brands contain toxins like lead, fragrance oils, and petroleum products. Not exactly what you want on your mouth. The average woman eats about 6 lbs of lip balm and lip stick in her lifetime. Is it time to switch to a more natural alternative?  If you answered yes, then it's time for you to learn how to make lip balm.
Lip balms are super easy to make and an investment of an hour or two will easily give you enough lip balm for your family and friends for the whole winter. Seriously, get together with a friend and craft some lip balm ASAP.
These make nice gifts. I made this batch on Wednesday afternoon, in less than 2 hours, and ended up with over 60 lip balm (triple this recipe). The commercial lip balm with all its toxins is about $4 a tube x 60 is $240 worth of lip balm in less time than it would take me to run to the store to pick one up. I immediately took a small bag of them to my Davidic Dance group to share the bounty.   They all loved them and raved about how smooth and nourished their lips felt with this wholesome and moisturizing lip balm.  It's time I taught my dance team how to make lip balm, too.  (Karen, Michelle, Kai — this is for you!)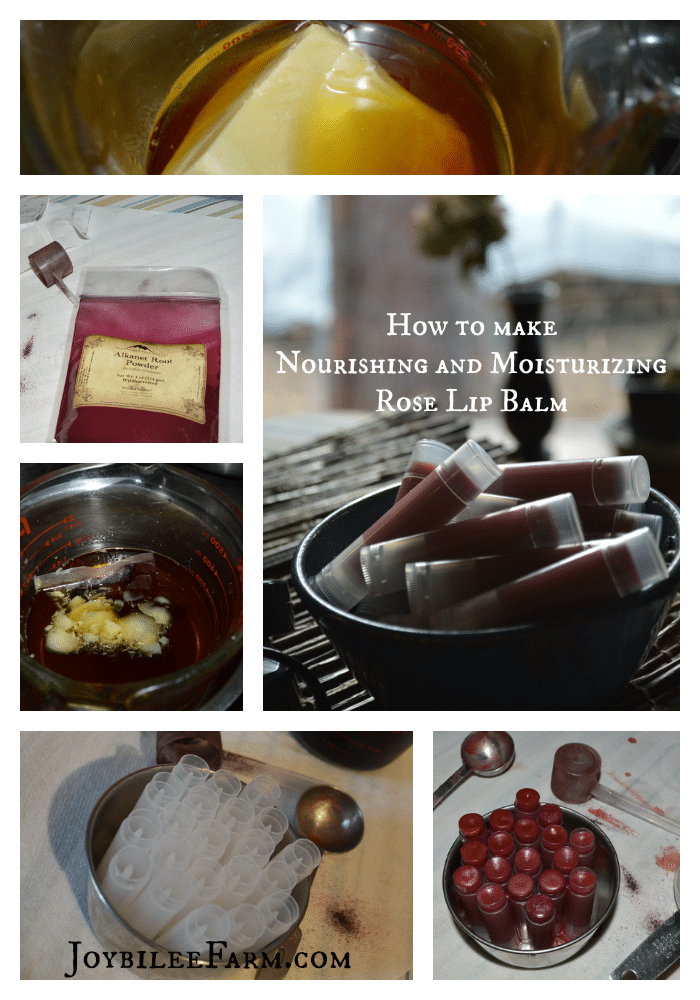 A little background:
Lip balm can be made by simply mixing 4 parts olive oil with 1 part bee's wax, melting it together, and pouring it into a lip balm tube, or a tiny jar.  It really is that easy. Once you understand the basic proportions you can let your creativity blossom.
I was looking for a nourishing and moisturizing lip balm that would excel at soothing my aging lips. I entered menopause this year – a relief but also a change in the moisture and elasticity of my skin. Winter comes with its own challenges and I knew I didn't want those corduroy lips that so many women of a certain age seem to wear at this time of year. I knew that I could create something so much better than any commercial lip balm with just a few simple ingredients and all my friends would love me more when I shared it with them.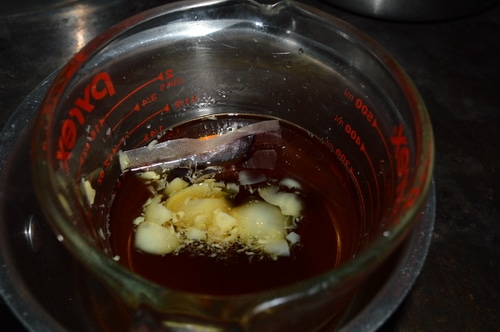 Healing herbs and oils:
I picked the ingredients for this DiY lip balm for their healing, and moisturizing actions:
Calendula will soothe hot, inflamed lips. It is antimicrobial and cooling. I used dried calendula blossoms from my own garden and infused them in olive oil during the growing season, but you can purchase dried calendula blossoms and infused your own oil, or you can buy the ready infused oil, if you didn't make your own this year.
St. John's Wort is renowned for its anti-depressant activity, but it's also an amazing healing herb for skin and nerves. It is anti-inflammatory, anti-microbial, and calms the shooting pains that we get with inflammation. Great for sore hands and sore backs, but shouldn't be overlooked in skin care products that need to soothe and moisturize. I made this St. John's Wort infused oil in July when the St. John's Wort blossoms were fresh, but if you didn't, you can purchase infused St. John's Wort oil here.
Cocoa Butter is a rich emollient anti-oxidant, which contains natural vitamin E. It is moisturizing and gives body to the blend. It is solid at room temperature and adds the body and smooth texture of the lip balm.
Bees wax seals in moisture and makes the lip balm solid at normal temperatures. If you are making this lip balm for summer time add 1 more tablespoon of the bees wax in the recipe so that the lip balm isn't too creamy at room temperature.  If it is bees wax from a local bee keeper it will contain natural pollen, some honey, and some propolis – all very nourishing to your skin. I recommend buying your bees wax locally from an ethical bee keeper. If your local bee keeper is sold out of wax this year, you can get some organic bees wax here.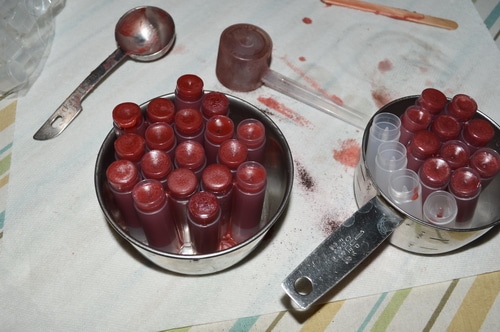 Pomegranate Seed oil is an amazing anti-oxidant that promotes skin regeneration. Pomegranate seed oil and argan oil are the key to getting rid of corduroy lips. Pomegranate oil is anti-aging, smooth, and emollient.
Argan oil is made from the nut of a tree in morocco. It is more commonly found in hair products but it is also skin rejuvenating, It is rich in vitamin E. Anti-inflammatory, anti-microbial, it boosts elasticity, smooths fine lines. Even though it is expensive oil, a tiny bit in the recipe is all you need to make a big difference in the nourishing and moisturizing qualities of this lip balm.
Natural vitamin E oil is used as a preservative to extend the shelf life of the product. It prevents the oils from going rancid. You can pierce a few vitamin E capsules and squeeze out the oil, if you don't have a bottle of vitamin E oil in your stash.
Rose oil smells amazing. It's also fairly expensive to buy. Some day when I am wealthy I may buy 1/24th of an ounce just to uncork the bottle and breathe deeply of its fragrance, in the dead of winter. If you can afford real rose oil, it would make this lip balm perfect. If you don't have any rose oil and you want to use a substitute, rose geranium essential oil has a strong rose scent. It is also anti-microbial, and anti-depressant, anti-inflammatory, and relaxing.
Calendula infused olive oil – anti-inflammatory, anti-microbial, lymphatic, cool-dry
St. Johns Wort infused olive oil – anti-inflammatory, anti-microbial,
Cocoa Butter – anti-oxidant, natural vitamin E, moisturizing, gives body
Bees Wax – moisturizing, gives body
Pomegranate Seed Oil – anti-oxidant, promotes skin regeneration, anti-aging
Argan Oil – vitamin E, anti-inflammatory, anti-microbial, boosts elasticity, smooths lines, anti-oxidant, moisturizing, promotes skin regeneration
Natural vitamin E – anti-oxidant, prevents rancidity of the oils,
Rose Oil – anti-inflammatory, relaxing, anti-depressant,

Nourishing and moisturizing rose lip balm
2 tbsp calendula infused olive oil
2 tbsp. St. John's wort infused olive oil
1 tbsp. pomegranate seed oil
1 tbsp. argon oil
¼ tsp. natural vitamin E oil
2 ounces cocoa butter
2 tbsp. melted bee's wax
1 tbsp. powdered alkanet root in press-and-seal tea bags
¼ tsp. silver mica (for shimmer) (optional)
10 drop of rose absolute oil or rose geranium essential oil
Mix oils in a 1 cup glass measuring cup. Add 2 ounces of cocoa butter and 2 tbsp. melted bees wax. Add the infused oils. Create a double boiler by putting the glass measuring cup into a saucepan with water. Place on a heat source and simmer the pot of water gently so that the cocoa butter melts.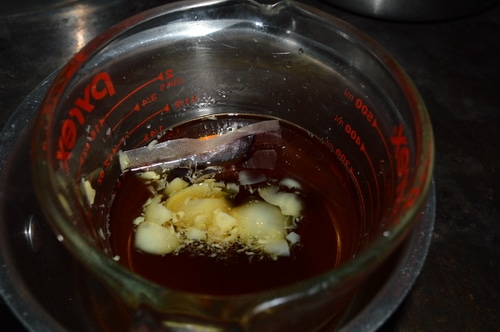 Meanwhile fill a press-n-seal tea bag with the powdered alkanet root. Press with a hot iron to seal. Once the bees wax and cocoa butter is fully melted place the alkanet tea bags into the oil-wax mixture and allow it to gently heat for approximately 1 hour to colour the oils. Alkanet is oil soluble.
Remove tea bags from the oil and press out with two spoons to extract as much coloured oil as possible.
Add the pomegranate and argon oils. Mix well with the dyed oil/bee's wax mixture. Add the vitamin E oil as a preservative. Stir in the rose essential oil, until fully mixed. Stir in the mica for shimmer, if desired.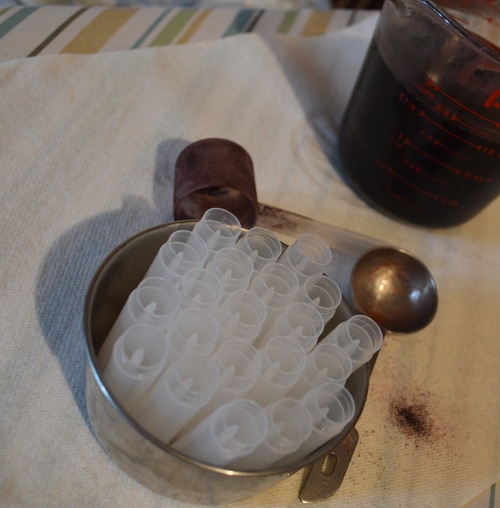 Pour into lip balm containers. To hold the lip balm containers up right I put them in a straight sided measuring cup. You'll need to hold the tubes upright for at least 30 minutes, while the melted oils solidify. Once they are solid you can cap them with the lip balm lids.
I purchased the ingredients for these nourishing, moisturizing rose lip balms from Mountain Rose Herbs. They have consistent quality and a very reasonable price. These are the lip balm containers I used.
(Makes 24 lip balm)

My journey
I am on a journey to improve the health and wellbeing of not just my family but my community. Part of that journey is making healthy goat's milk soaps, moisturizers, and healing balms for friends and others in my community. Another part of that journey was enrolling in the Herbal Academy of New England Intermediate Herbal Course in order to expand my knowledge of herbs. This recipe was born out of studying unit 7: The liver, where I learned that the liver detoxes the body. The liver can only do so much detoxing in a 24 hour period. So if we are continually exposing our bodies to toxins in our environment by eating pesticide-laden food, taking OTC and prescription drugs, breathing poor quality air, or slathering on chemical-junk cosmetics, we can overpower the liver's ability to keep us clean and healthy. If the liver is overwhelmed, our bodies are sick.
I found out that as we remove toxins from our environment, By using more natural household cleaners, and stop using chemically-laden cosmetics that we apply to our body, we allow our liver to remove the toxins from our bodies more efficiently. So by making your own lip balm, moisturizers, soaps, and make up, using healthful, organic ingredients, you can actually improve your overall health, supporting your liver in its detoxification process.
If you've been feeling extra sick and run down lately, it might be that you just need to help your liver out a bit by cleaning out your purse and replacing your old lip balms with this healthy, nourishing lip balm.  Isn't it time you learned how to make lip balm?