St. Johns Wort
A bright yellow flower brightens the highway shoulder in Western North America every July.  It seems the hotter it gets the brighter the flowers look.  St. Johns Wort is a European import to North America that has naturalized wherever the roads are laid down, on dry ground, open pasture, road allowances, and wasteland, in full sun.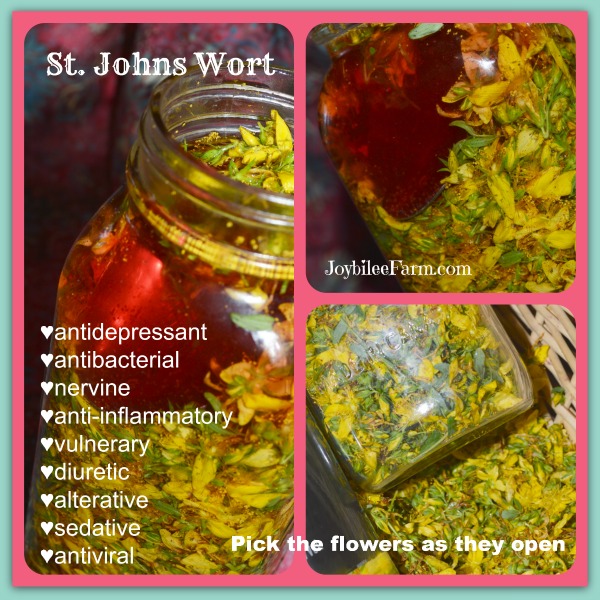 Hypericum perforatum is a perennial plant, about 2 feet high and usually found in clusters.  It propagates by root and by seed.  So if you find a clump of St. Johns Wort it will surely expand it's influence, letting you come back year after year to the same patch.  While you will see St. Johns Wort growing by the side of the highway, don't harvest the plant within 50 feet of a roadway, due to pollution and environmental toxins.  But check off the highway in open fields (always ask permission before harvesting on land that belongs to someone else.)  Or grow your own.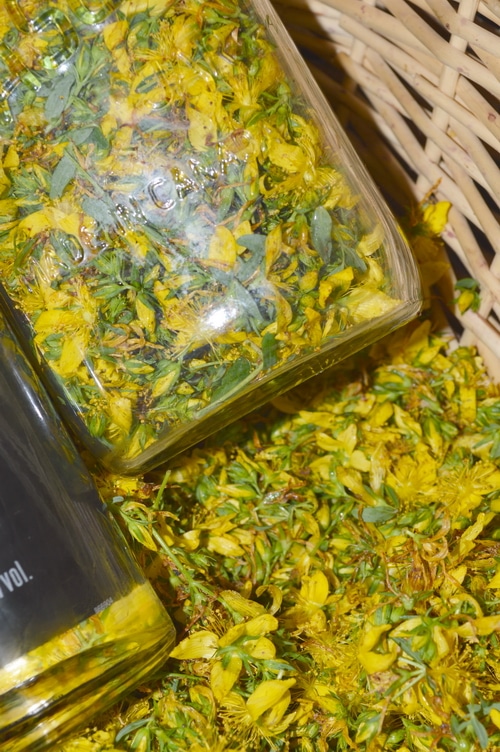 When to harvest St. Johns Wort
The flowers open in mid-June through mid-July, depending on your elevation and the degree of heat you experience at that time of year.  Here in the BC mountains, we can harvest St. Johns wort from mid-July to the end of the month, and never earlier than July 10th.  The five-petaled flowers are numerous, growing on the top of the stalk.  I pick them by using my fingers like a fork, running them up the stalk, through the clusters of flowers. This causes the flowers to fall into my upturned palm.  Picking the flowers will stain your fingers a deep purple. But the color washes off with soap.
St. Johns Wort, like Bidens, needs to be tinctured fresh because the active ingredient dissipates quickly once the plant is picked.  The dried plant has less active ingredient left than the fresh blossoms.  If you picked it and let it dry, you can use it for tea, but increase the amount of plant material in the tea ball.  The tea is not as effective as the fresh plant material.  If you don't have St. Johns Wort growing near you at this time of year, you can buy the dried flowers at Mountain Rose herbs — just use more.
How to use St. Johns Wort
I use St. Johns Wort in two ways.  First I make a tincture with vodka so that I can use St. Johns Wort year-round for menstrual cramps, insomnia, stress and tension, back pain, neck pain, and mild to moderate depression — especially S.A.D. (Seasonal Affective Disorder).  Secondly, I infuse some fresh flowers in olive oil.  The infused St. Johns Wort oil can be used internally for the relief of ulcers and to protect the stomach and liver.  Externally the oil is used for mild burns, scrapes, bruises, and muscle pain.  It is especially useful for sunburn.  I make a salve with St. Johns Wort infused oil, calendula infused oil, coconut oil, cocoa butter, beeswax, and lavender essential oil (#ad) for sprains, cuts, bruises, and burns.
I discovered St. Johns Wort quite by accident when I was suffering from a long postpartum depression, after losing 5 of my babies.  I was diagnosed with severe depression.  The psychiatrist tried several antidepressants to help me but I had allergic reactions to all of them from MAO Inhibitors, to Prozac and Zoloft, to Elavil — for this, I am very grateful.  Had the pharmaceutical medication given me relief, I may never have turned to herbs.  I found a book in the self-help section of Monroe's Bookstore in downtown Victoria.  The book Hypericum outlined several scientific studies that had been done on the effectiveness of treating depression with St. Johns Wort.  So I bought a book, bought some seeds and grew some flowers and made my first tincture.
Actually I was super nervous about walking into a liquor store (in BC the liquor stores are run by the government).  I bought one bottle of vodka and took it home in a brown paper bag and harvested my first quart of St. Johns Wort Flowers.  It was miraculous.  Pouring the clear vodka over the yellow flowers is the most magical moment of my summer herbalism projects.  The vodka changes to soft pink color, then a deep magenta.  Over the course of 6 weeks to 2 months the vodka transforms to a deep garnet red, full of powerful healing virtue.
Even as a novice herbalist, I experienced this healing virtue from St. Johns Wort.  In a few weeks, I was off all sedatives, tranquilizers, antacids, sleeping pills, and pain killers.  After the first winter using St. Johns Wort tincture, I never needed it over an extended time again.  Now, periodically I use it to help with insomnia, sciatica, or neck pain.
When I broke my foot and had shooting pains from toe to hip, St. Johns Wort quelled the pain, without sedation.  When Mr. Joybilee broke his ribs, falling on the ice, St. Johns Wort, along with Balm of Gilead, took care of his pain and inflammation, and helped him breathe.  Sarah uses St. Johns Wort tincture for menstrual cramps (more about that another time).  When I wake up at 2 am, St. Johns Wort helps me fall back to sleep, without making me groggy and hungover in the morning.
Today — 20 years since that first trip to the liquor store — I'm buying 12 bottles of vodka for tincturing each summer and 5 of them go into mason jars with St. John's Wort blossoms — enough to share with friends.  I stopped caring what other people thought of my liquor store purchases — I consider St. Johns Wort, one of God's good gifts.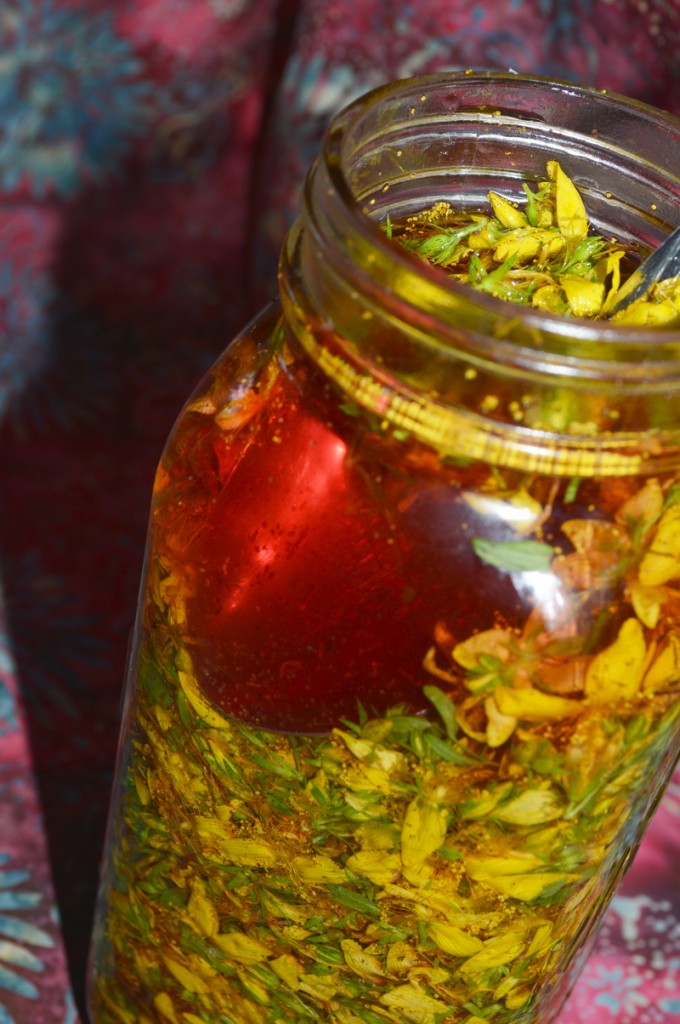 How to make St. Johns Wort tincture
To make your own St. Johns Wort tincture, gather 6 cups of St. Johns Wort blossoms when the blossoms are open but before they fade.  It's best to pick them in the morning after the dew has dried but before the sun touches the plants.
Place the St. Johns Wort blossoms in a mason jar and press down to get as many blossoms in the jar as you can, leaving a 2-inch headspace.  Fill the jar with vodka.  Use a knife to press out any air bubbles and fill to within 1 inch of the rim of the jar.  You'll need about 750 ml/24 fl. ounces of vodka to fill a 1 litre/1 quart jar.  Cap tightly.  Place in a warm place, so that the warmth encourages the plants to release their goodness.
The vodka will turn ruby red within a few minutes of contact with the flowers.  This is the hypericum (there are actually several hypericums in St. Johns Wort.) and is considered the active ingredient in St. Johns Wort, although herbalists believe that the whole plant acts in synergy to create the beneficial healing effects.
Shake the jar of St. Johns Wort tincture whenever you think of it over the next 4 to 6 weeks.
Strain out the blossoms reserving the liquid.  Squeeze the flowers as much as possible to retain as much of the liquid as you can.  Pour into colored glass bottles.  Cap and seal.   Label the jars and date them.  St. Johns Wort tincture, when stored in a cool, dry place, in a dark bottle, will keep for many years.
The dose for St. Johns Wort tincture is 1 tsp. of tincture in a 1/2 glass of cold water. Drink at bedtime.  If you are taking it for pain, take it 3 or 4 times a day.  It doesn't just stop you from feeling pain but actually heals the inflammation and nerve centers that hurt.
Contraindications:
If you are being treated for depression consult with your medical professional before self-treating with St. Johns Wort.
While there is much talk of St. Johns Wort creating sun sensitivity with long term use, we've found that it has the opposite effect, protecting from the harmful effects of sun exposure due to the antioxidant effect of the flavonoids.  You'll have to decide for yourself whether St. Johns Wort causes YOU problems in the sun, or speak to your health professional.
References:
These are the books I consulted in preparing this post:
Hypericum
Practical Herbalism
Medicinal Plants of the Pacific Northwest