Strawberries and Cream on Whole Wheat Waffles
It's strawberry season and there is no better way to eat home grown strawberries than spooning liberally over fresh, warm homemade waffles, and topping with homemade whipped cream.
Start by grinding organic wheat berries
I started by grinding 3 cups of organic whole wheat berries in my Wondermill Grain Mill, using the pastry grind. If you are buying flour get organic whole wheat flour. I use organic whole wheat berries, or organic flour because non organic wheat is often prepared for harvest by spraying the standing wheat with an herbicide like glyphosate, to encourage it to dry down evenly. Nonorganic wheat may also be genetically modified. Organic wheat is never genetically modified and isn't subjected to this poisonous treatment.
This recipe serves 4 to 6 people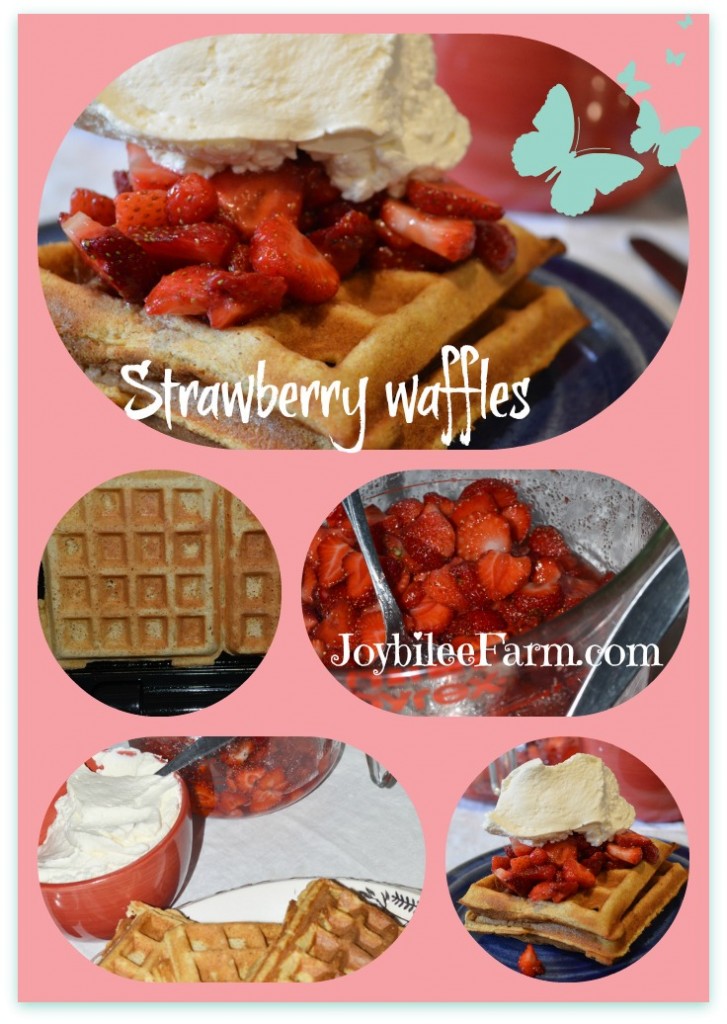 Waffles
(makes 12)
3 eggs separated
Pinch of cream of tartar (optional)
2 tbsp. coconut oil
2 tbsp. organic sugar
2 cups of milk
2 tsp. vanilla
2 ½ cups of organic, whole wheat flour
2 tsp. baking powder
½ tsp. Himalayan salt
Plug in waffle iron. Grease the waffle iron surface with coconut oil or butter. Preheat.
In the bowl of your stand mixer beat the whites of 3 farm fresh eggs, until stiff. Add a pinch of cream of tartar at the beginning of beating, if you wish. When stiff peaks form, transfer egg whites to another bowl and reserve.
Add the yolks to the original bowl that is now empty. No need to clean it before adding the yolks. Beat the egg yolks with the sugar until lemon yellow in colour. Add the coconut oil. Beat until light in texture. With beater on low, add 2 cups of milk and vanilla. Mix freshly ground flour, baking powder, and Himalayan salt together in a separate bowl. Add to the waffle batter and beat lightly, just until all the flour has been moistened.
Fold in egg whites into batter until just mixed.  Don't over mix.  Batter will be the texture of thick cake batter.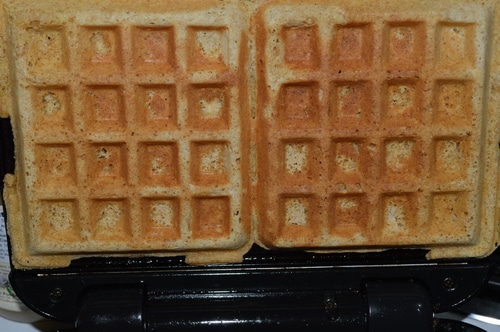 When your waffle iron has reached the right temperature, add 1/3rd of a cup of waffle batter on each waffle section. Close iron to bake waffles. When waffles are baked my electric waffle iron has a green light that goes on. Follow manufacturer's directions for your particular waffle iron.
If you are using a stove top, cast iron waffle iron, the waffle will be ready when it stops exuding steam from the side of the iron, continue baking for another 30 seconds to 1 minute or until it achieves the desired doneness. This will vary depending on how hot your source of heat is.
When your waffle reaches the desired doneness, remove the waffle from the waffle iron and place in a pan in a warm place, a warming cabinet or a warmed oven. Continue until all the batter is used up. You will have 12 waffles ready to serve.   Leftovers can be frozen and served reheated in a toaster oven.
Trimmings:
Fruit topping
3 cups of strawberries, trimmed and sliced
2 tbsp. organic sugar
When you are trimming the strawberries, save the tops. Dry them in your dehydrator or on a baking sheet in your oven until crisp and dry. Save them in a jar for tea.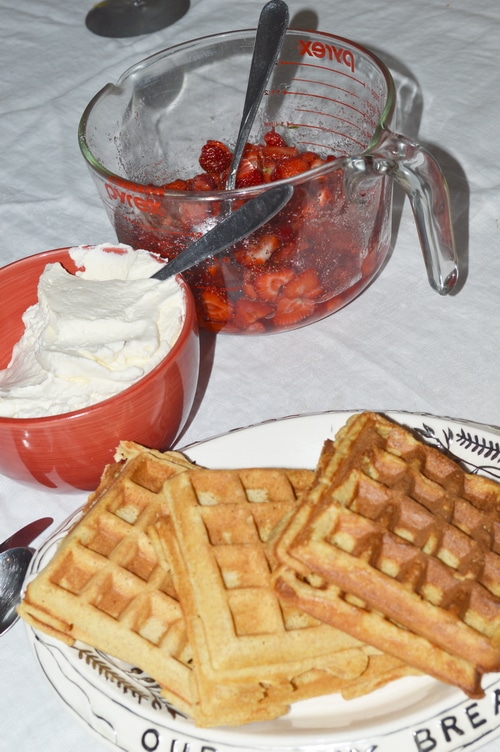 Homemade Whipped Cream
½ cup organic heavy cream, whipped
1 tsp. vanilla
In your stand mixer, with the whip beater attachment, whip the heavy cream and vanilla, until it forms stiff peaks. Serve immediately or refrigerate to keep chilled.  Or check out my tutorial on making whipped cream.
To serve place two waffles on a plate, top with strawberries. Garnish with whip cream. Serve.
Any fresh seasonal fruit topping can be substituted for the strawberries. Use 3 cups of prepared fruit and allow ½ cup of fruit topping per serving.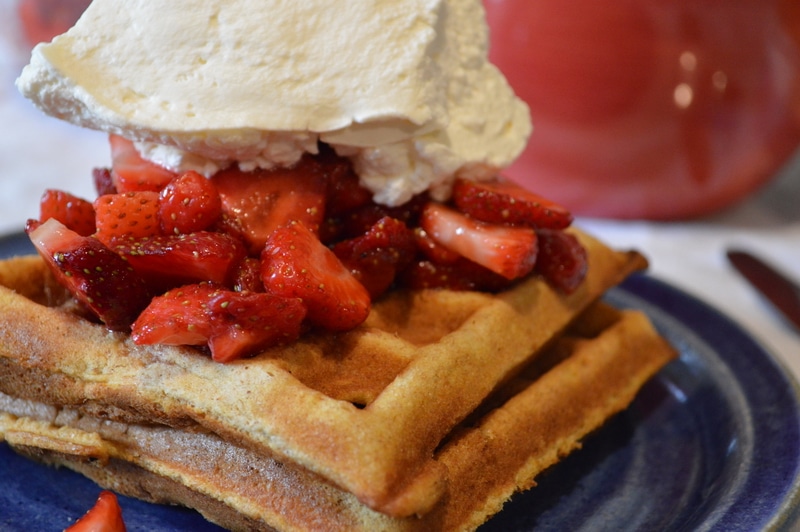 Your turn:
What's your favorite way to serve fresh strawberries, in season?
Don't have a waffle iron yet?  I've used several brands and this one is my very favorite electric waffle iron.  I have a thing for hearts. ♥