Make this easy DIY headache salve to soothe your pounding head, so you can get out of bed and enjoy your life.
I spent yesterday making a dozen salves for my winter first aid kit, including this headache salve.  I used fresh garden herbs, dried herbs from this year's garden, and essential oils in my recipes to gain the benefits of both the whole herb and the essential oils.  This salve offers soothing headache relief.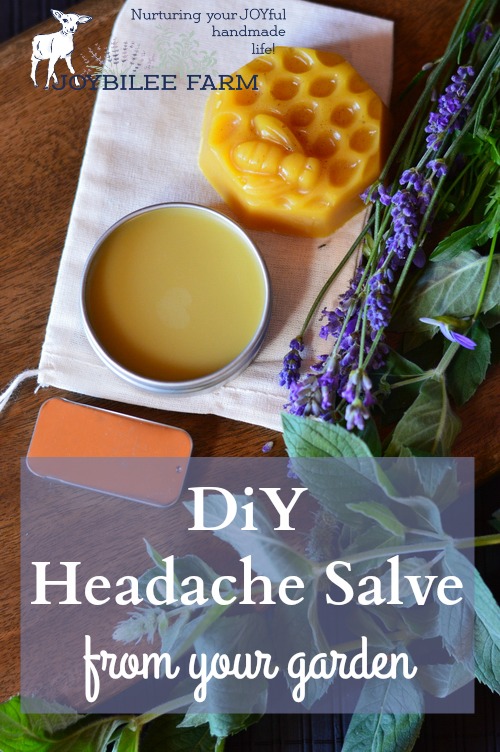 This soothing headache salve can be made from fresh lavender blossoms and peppermint leaves from your garden.  If you don't have any in your garden you can use dried leaves and dried blossoms to make this. The fragrance will be barely noticable in the finished salve but the herbs will contribute their herbal actions when in contact with the skin.  The aromatic essential oils give the fragrance to this salve rather than the herbs.
The essential oils in this recipe are known to be pain relieving and also help relieve stuffiness and tension.  You can omit the ones you don't have on hand, but the salve will be more effective with them in the proportions given in the recipe.
When you have a headache, be sure to drink water.  Headaches are often remedied by simply staying hydrated.  When that doesn't work this headache salve can help.
This recipe makes 2 – 2 ounce containers and a few lip balm size containers, for travel.  If you live in a warmer climate increase the beeswax in this recipe to 3 tablespoons or 36 grams, to make a firmer salve, which will be solid at room temperature.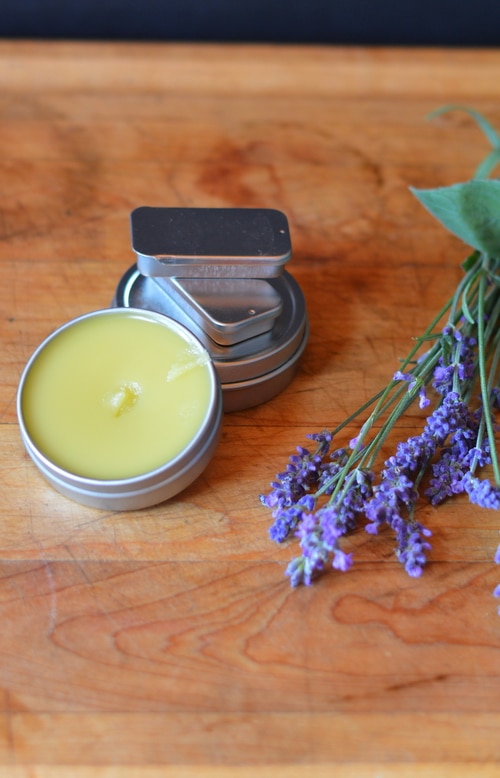 Headache Salve
Yield: 4 ounces
Ingredients: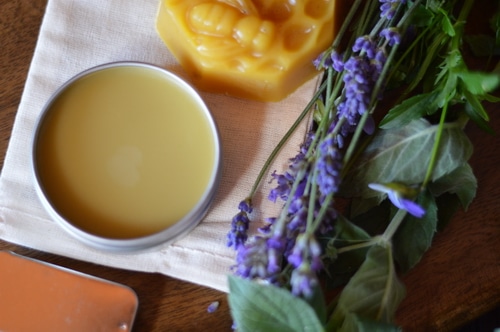 Method:
If you are using fresh herbs, pick the lavender, mint, and lemon balm the day before you want to make the salve.  Remove the leaves and flowers from their stems.  Allow them to wilt overnight.
To infuse the oil, place the herbs in a cloth bag.  I use a muslin drawstring bag that's 4 by 6 inches.  Tie the top of the cloth bag, with a slip knot, to secure the herbs inside the bag.  Place the cloth bag in a one cup glass measuring cup.  Pour the olive oil over the cloth bag inside the cup.  Place the glass measuring cup in a saucepan on top of a metal ring.  I use a ring from a canning jar to hold the glass cup up off the bottom of the pan.  Fill the saucepan with water so that the water reaches halfway up the side of the measuring cup.  Simmer the water in the saucepan over medium heat.  (You've made a double boiler.)
Simmer gently for one hour.  While the herbs are heating in the oil, occasionally press the bag with the back of a spoon, to encourage the herbs to absorb the oil.  Turn over the bag several times to encourage the herbs to release their goodness into the oil.  Turn off heat.  Set aside.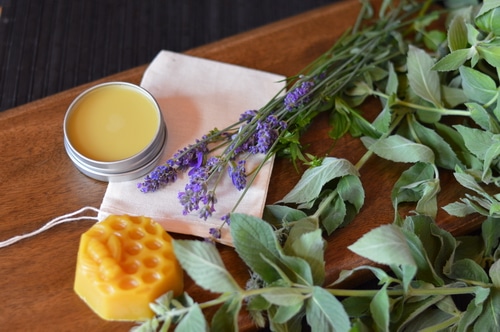 When the bag of herbs is cool enough to handle, press the bag to remove as much of the infused oil as possible, from the herbs.  I use a potato ricer to do this.  You can press with the back of a wooden spoon to get the oil out of the herbs. Return the oil to the glass measuring cup.
Add the shea butter to the glass measuring cup along with the beeswax.  Return the glass measuring cup to the saucepan.  Simmer briefly over medium heat just until the beeswax and shea butter melts.
Remove from the heat.  Stir in the essential oils.  Continue stirring until the mixture just begins to thicken.  Pour the salve into tins.
Allow it to cool completely, before putting the lid on the tins.  This reduces the chance of moisture condensing on the underside of the tin.  The texture will be firm and easily spreadable.
How to use DiY Headache Salve
Put this headache salve on your temples and forehead.  Avoid the eye area. The soothing essential oils and herbal actions will ease tension, and help you get back to normal.  If you get reoccurring, severe headaches and migraines please see a holistic medical professional.  This is just a recipe not a miracle.
Making homemade salves
Making homemade salves is a good way to tap into the benefits of the herbs you have growing in your own back yard.  Salves deliver the medicinal actions of herbs directly to the body via the skin.  Salves are often used for skin conditions, bruising, dryness, rashes, boils, and abrasions.  But they can also be used to deliver warmth and anti-inflammatory actions to the body.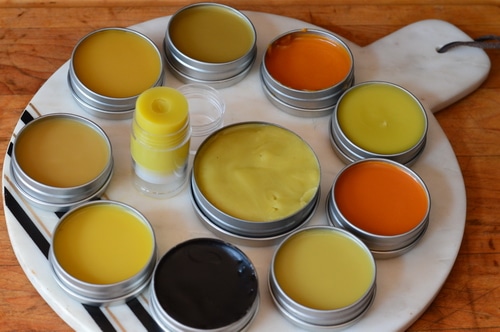 Salve making always begins with oil that's been infused with medicinal herbs.  You can make herb infused oils during the growing season, so that they will be ready for salve making later in the season, when you have more time.   You can also gather the herbs when they are fresh and dry them for making many different herbal preparations later in the season.
With the exception of St. John's wort, most herbs should be infused in oil when they are dry.  St. John's wort is better when the fresh blossoms are just wilted before infusing in oil.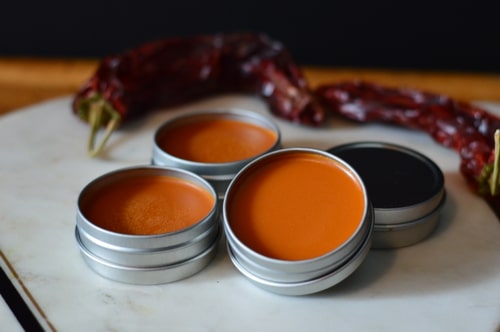 Salves for gift giving
Homemade salves make beautiful gifts.  When you make them with your home grown herbs they carry the energy of your garden and the summer sun, as well as the healing benefits of the herbs themselves.  Make one for your own first aid kit and one for a friend.  Or even better plan an afternoon of salve making and invite a friend over to enjoy the process with you.
Other salves to make: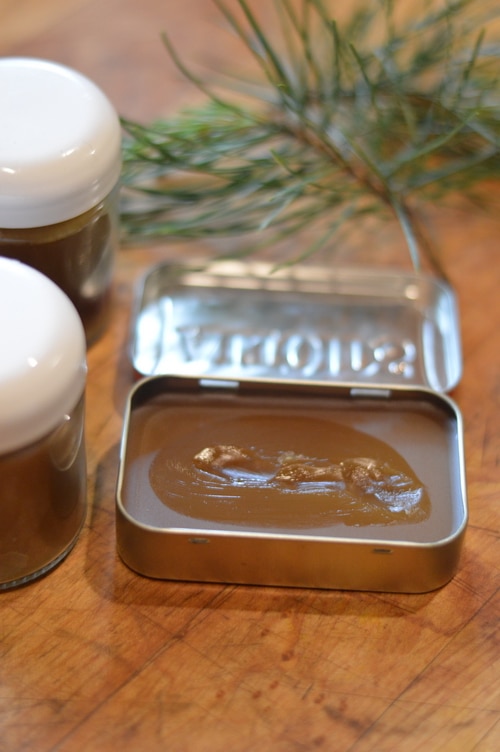 Make this a Back-to-Herb-School Year
I'm a firm believer in lifelong learning.  When it comes to your self-reliance and learning to make what you need from you own garden, your education will save you time and money. It will help you get the most from the herbal resources you already have.
There are some advantages of studying herbs with an organized curriculum:
You'll be able to focus your time on the most pertinent information rather than listening to thousands of voices that are all the same pitch.
You'll master each area of herbal knowledge in an orderly way so that you build a firm foundation of knowledge, instead of grabbing bits and pieces that don't quite fit together. And wondering which puzzle piece is missing.
When you study an organized curriculum you'll work with others who are also learning and gain the interaction of classmates and teachers to stimulate your thinking and encourage you each step along the path.
You'll join a time honoured tradition of learning herbal medicine from mentors.  There are things that can't be taught in books.  Like the feel of a paste when it is just right, or the consistency of an oxymel, or the smell of an infused oil that's perfect. You need to practice and feel for yourself the appropriate smells, tastes, and textures to know if you are making a potent herbal medicine or if it's just so-so.
This is the best time to get started or to continue your herbal education.  I'm currently enrolled in the (affiliate link)  Herbal Immersion Program at the Chestnut School of Herbal Medicine.  And can I tell you I'm very impressed with the curriculum and the way it is presented.  There are professional videos, hands-on work to help you learn the material, plus each unit has a substantial printable guide that's like a book in itself.
The Chestnut School is the only online herbal school that takes you from planting the seed to making medicine out of your own harvested herbs.  The Herbal Immersion Course is an 18 month course that you can start immediately.  Part of this course is the 3 part Herbal Medicine Making Core, which I recommend you begin with, before digging into nurturing your herb garden.
The Chestnut School's herb courses are taught with a light hearted metaphysical script.  I believe that all education has a spiritual component.  Whatever worldview you hold you can take what's beneficial to you and let go of what's not helpful.  But I also know that's not everyone's cup of herbal tea.
The Herbal Academy is another online program with an organized and comprehensive herbal curriculum.  The Herbal Academy allows you to begin with their Introductory Herbal Course and work step by step through the full program to the advanced course, that includes a Graduation Thesis.  The Herbal Academy (#ad) has several streams of herbal learning from Family Herbalist, to Entrepeneur or Clinical Herbalist.  You can choose your own adventure.  This appeals to me.
If you think you may want to make an income from your herb garden someday, The Herbal Academy (#ad)'s Entrepeneur Herbalist Course is a good preparation. (The Chestnut School's Herbal Immersion Program also prepares you for making an income from your herb garden.)
There are fewer videos and more reading to do in The Herbal Academy (#ad) program.  If you are a visual learner this is a good place to begin.  See my critique of The Herbal Academy's Intermediate Herbal Course here.
If you aren't quite ready to jump into a long term herbal study program, but are eager to begin your herbal journey, my friend, Kami McBride is launching her Herbal Kitchen Remedy Solutions  in mid September.  In this course Kami, an experienced clinical herbalist and enthusiastic teacher, shows you how to use the herbs you already have in your kitchen and in your garden to boost your immune system and help with common, every day ailments.
This is a wonderful time to learn about herbal remedies and herbal medicine making.  There are so many really good programs, taught be some amazingly knowledgable and talented herbalists.  Which back-to-herb-school adventure will you choose?
Save
Save
Save