How to make a summer time lip balm
It's summer solstice in the Northern Hemisphere. It should mean that this longest day is also warm, inviting you to play in the garden or splash at the lake. And for that you might need lip balm, sunscreen, and perhaps a balm for soothing the heat of sunburn. These are all things you can make yourself at home with natural, organic ingredients, herbs, and a tiny amount of time. And the thing you make yourself will be fresher, more potent, and more beautifully vibrant and healing than anything you could buy in the store.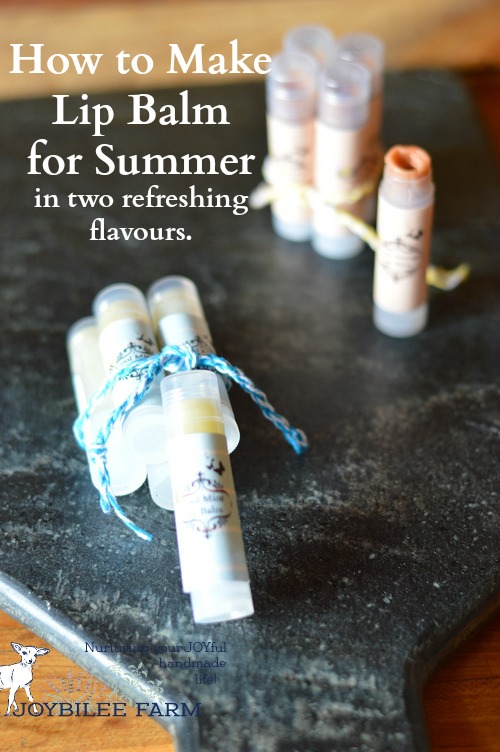 There are several advantages to making your own:
It's cheaper to buy the ingredients and make your own than to buy the finished products.
You can control the ingredients, choose organic, and leave out the toxic chemicals and petroleum-based fillers.
Your own creation, made with fresh ingredients, will be fresher, more vibrant, and potent than the product made in a factory.
You can incorporate your own garden-grown herbs that are especially vibrant and healing for the very stressors that you are exposed to.
You gain a useful skill that you can use to create gifts for friends, barter with friends, or use in a home-based business.
You'll save time because making lip balm at home is faster than going to the store to buy one.
How to make lip balm:
Learning how to make lip balm is the entry "drug" to making our own cosmetics, deodorants, tooth powder, hand lotion, eye serum, face moisturizer, bath salts, Foot balm, and massage bars. The techniques used in making lip balm are similar to making most other cosmetic products, except soap.
To make this lip balm you'll need calendula infused oil. See this post for help in making infused oil. The calendula in this lip balm is healing and rejuvenating to the skin. The mango butter is rich and moisturizing, softening the skin. It moderates the appearance of fine lines. The rosehip seed oil is rich in antioxidants, reduces the appearance of fine lines, regenerates the skin, and reduces scars. It is the principal anti-aging oil.
This recipe is a firmer lip balm than the lip balms you make in the winter. It is made to stay firmer longer at the beach. But it will melt if you leave it in a hot car. If you are in the south, you may prefer a lip balm tin rather than a lip balm tube for packaging. If the lip balm does melt, it will solidify as soon as it is placed in a cooler environment. Melting doesn't affect the safety of the lip balm.
The lip balms have a small amount of essential oils for flavour and scent. You can leave them out or increase the amount as you prefer.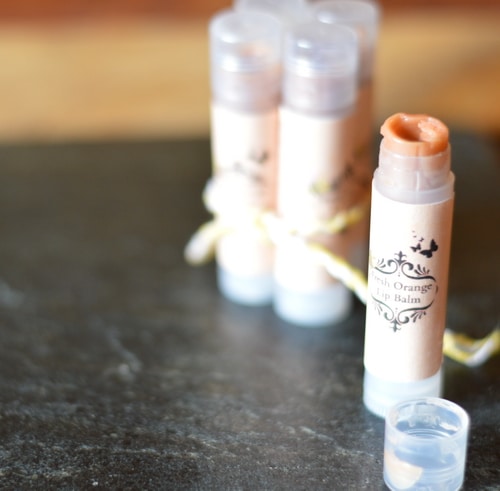 Fresh Orange Lip Balm Recipe
Yield: 4 to 5 lip balm tubes or 2 — ½ ounce tins
Ingredients:
2 tsp. beeswax
1 tsp. mango butter
2 tsp. calendula infused olive oil
½ tsp. rosehip seed oil
Pinch of silk powder
Pinch of silver mica (optional for colouring)
Pinch of red iron oxide colorant (optional for colouring)
Pinch of yellow iron oxide colorant (optional for colouring)
7 drops sweet orange essential oil
Method:
Place the beeswax, mango butter, and calendula infused olive oil in a one-cup glass measuring cup. Prepare a small saucepan with a canning jar ring in the bottom to support the glass measuring cup. Place the measuring cup in the saucepan, on top of a canning jar ring. Pour enough water into the saucepan to come half way up the measuring cup. You can hook the handle of the measuring cup over the edge of the saucepan to support the measuring cup.
Place the saucepan over low heat and gently bring the water in the saucepan to simmer. Continue heating the pan until the wax and butter in the cup melts completely. Remove from the heat. Stir in the rosehip seed oil and a pinch of silk protein powder. If you would like some color in your lip balm add a pinch of silver mica, red oxide, and yellow oxide, stirring well to fully blend the colour into your lip balm mixture. Add the sweet orange essential oil. Stir until fully blended. If necessary the lip balm can be reheated just until melted to allow easier pouring into the lip balm tubes.
Allow the mixture to cool slightly. Stir it again.
Pour the mixture into lip balm tubes. Cap and allow them to harden. Label and seal with shrink bands.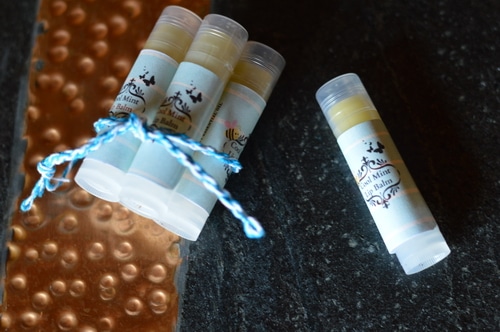 Cool Mint Lip Balm Recipe
Yield: 4 to 5 lip balm tubes or 2 — ½ ounce tins
Ingredients:
2 tsp. beeswax
1 tsp. mango butter
2 tsp. calendula infused olive oil
½ tsp. rosehip seed oil
Pinch of silk protein powder
10 drops peppermint essential oil
Method:
Follow the directions for the Sweet Orange Lip Balm, omitting the colorants and substituting peppermint essential oil for the sweet orange essential oil .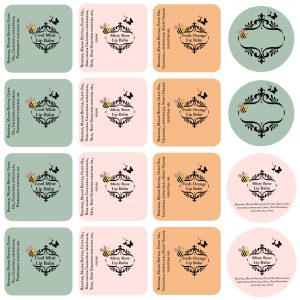 Click Here to download the lip balm labels
(Your downloadable labels will be sent to your email address.)
Where to purchase your ingredients (some of these are affiliate links):
I get most of my organic ingredients from Mountain Rose Herbs or the Bulk Herb Store. You may also find ingredients at Amazon. For hard to find ingredients in Canada try Saffire Blue and New Directions Aromatics.
Your Turn:
What flavour of lip balm is your favorite?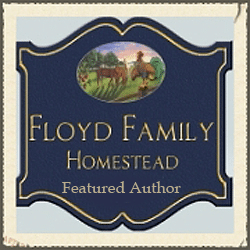 Shared on the Homesteader Hop #8
Save
Save
Save
Save
Save
Save
Save
Save
Save
Save