Heady, hardy, vigorous Rosa rugosa Roses are the ultimate homestead rose. They are hardy in zone 2 or 3 and thrive in temperate zones to zone 9. They are impervious to insect damage, and even grow where there is salt in the air. A native of Japan and Korea, they grow where other roses struggle with black spot and fungal disease, in humid coastal areas. The abundant fine thorns along the stems ward off rabbit and deer predation.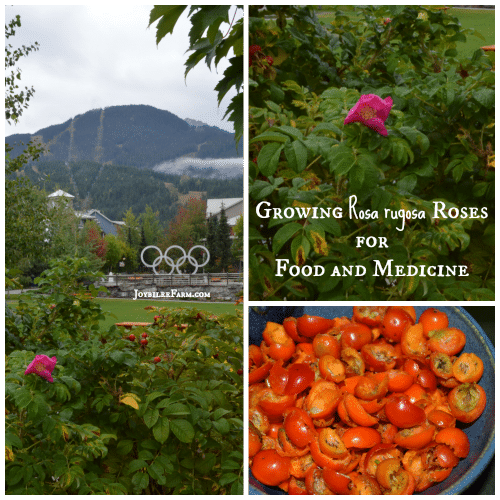 Unlike the native dog rose which blooms once in June or July, Rugosa roses bloom continuously till frost. The plants often have both blooms and ripening hips at the same time. You've probably seen Rugosa roses in the landscaped parking lots of shopping malls. They are favorites because they don't require spraying, and can grow well even in poor soil, so they don't need fertilization. Rugosa roses are usually grown on their own roots, so suckers growing up from the root can be divided and replanted and you can expect them to grow true.
Clay soil? No problem for Rosa rugosa. Sandy soil? Rugosas will still bloom. Salt spray and sea winds? Rugosas are called "Seaside Rose" because they can be found growing along coast lines around the world.
How to plant them
You can grow Rugosa roses from seeds but the seeds need a chilling period before germination. If you already have a plant that you like, just take a hip in the Fall and put it in the ground where you want it to grow. Mark the spot so that you don't mistake the new plant for a weed. After a winter chilling under the snow, you'll see rose seedlings with their oval leaves come up from the ground.
You can also divide the roots and rhizomes of a thriving planting of Rugosa Roses, and transplant them in the fall or spring to a new location.
Like other roses, you can create another plant by rooting a cutting and then transplanting it out.
Invasive nature
Rugosa Rose is a hardy and vigorous grower. It is used as a hedge plant because of it's speedy growth and hardiness. Rugosas can grow to 6 feet high and 6 feet wide. Rugosa roses prevent erosion with their strong root system. They are planted along coast lines and river banks for this reason. However, all these wonderful traits that make Rosa rugosa welcome in harsh climates give it a tendency to completely crowd out native species, especially on sand dunes, near the sea. Take this into consideration when deciding where to plant it.
Planting rugosas that are grafted onto other root stock can make them less agressive in the landscape. In my harsh zone 3 forest garden, I like the vigorous nature of rugosas and will be planting my favorites on their own roots, rather than purchasing grafted specimens. I like the fact that they will sucker and fill in the areas where I plant them with lots of roses, and be deer proof. The tall hedges will also act as a wind break and allow me to create a microclimate, in a raised bed for other less hardy plants.
Medicinal hips and edible flowers
The Rugosa rose is one of the best roses for producing hips for herbal medicine. I took this photo, during a photography workshop, at the end of September 2014 in Whistler BC. These Rosa rugosa plants are blooming and producing hips. The leaves are just starting to yellow as the season cools at the ski resort. The hips are abundant and rich in vitamin C, antioxidants, and flavinoids. Both flowers and hips are edible, while the leaves are medicinal.
Like all rose family plants all parts of the plant are astringent and good for the heart and circulation. The slight bitterness of the hips and petals aid digestion. The fragrance in Rugosa roses is strong and attractive. However hybrid varieties vary when compared to the seed grown flowers, in both fragrance and colour.
Rugosa roses have been bred for flower shape and for colour. Single blossoms are common in wild roses but rugosas have been bred with double and even triple blossoms . Often the extra petals come with a loss of fragrance or shortened blooming season. You'll want to check with the nursery to make sure that the hybrid rugosa has all the traits that you are looking for.
Cost:
You can begin a rugosa rose hedge on your homestead with just a package of seed from your favorite herb supplier. Plants started from seed will be somewhat variable, but other than taking a cutting from someone else's bush, this is the least expensive way to begin with rugosa roses. Hybrid nursery plants cost a little more than other rose varieties. With named hybrids, however, there are several benefits. Many hybrid rugosa roses have been around for over 100 years and have proven their vigour and beauty. When choosing a hybrid you can pick for colour, strength of fragrance and whether the flowers will be single or double petaled. Most rugosa roses will have a strong flush of blooms in June or July, when the wild roses in your area bloom. The initial flowering period is long. Then they will have a few blossoms that continue to open till frost, while the hips from the first flush are ripening. Expect to pay around $20 per plant if you are buying hybrid nursery plants.
Here's a few of the many heritage Rosa rugosa hybrids you'll find at a nursery near you.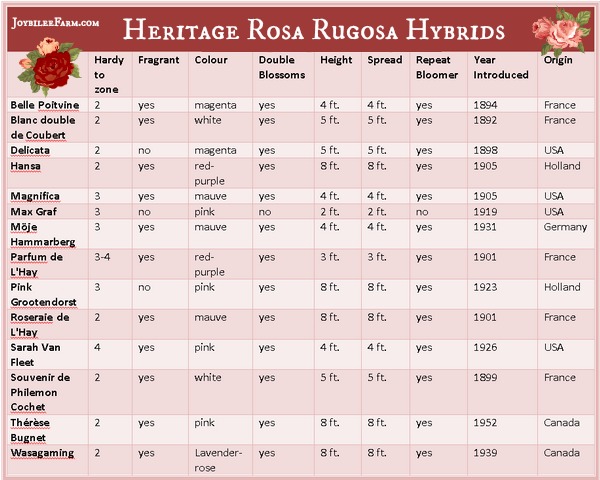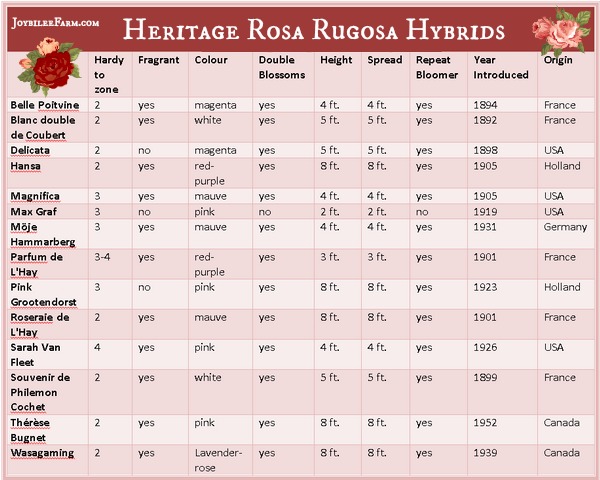 For another perspective on growing Rosa rugosa check out this post from Homestead Lady, "Rugosa roses and their hips" I love what Tessa has to say about why she put up a Rugosa hedge on her homestead. Reading Tessa's post reminded me that you need to prune Rugosas regularly to shape them and keep them from taking over. Keep them pruned and you'll have lots of leaves and blossoms to use for herbal medicine, too, or to feed to your goats. However, this is true only if you plant rugosas that are growing on their own root stock. Grafted hybrid rugosas may not need to be pruned as vigorously, as they won't sucker in the same way as Tessa's hedge rugosas. The larger hybrid rugosa varieties like Therese Begnet or Wasagaming will need more pruning than the shorter varieties like Sarah Van Fleet.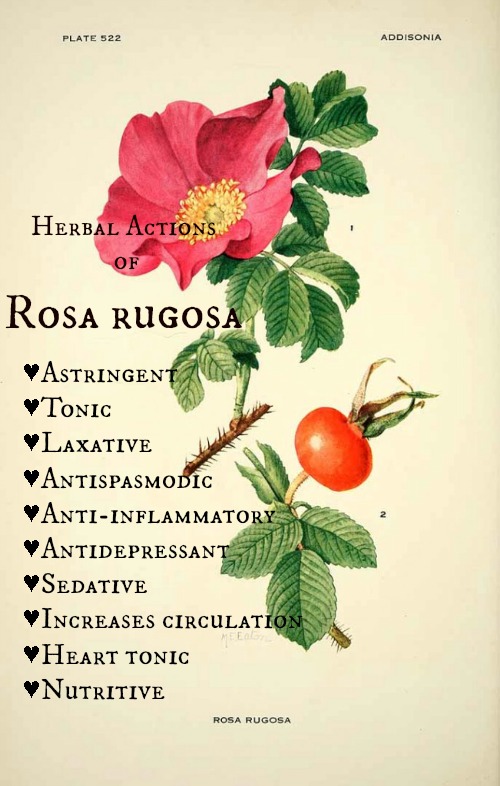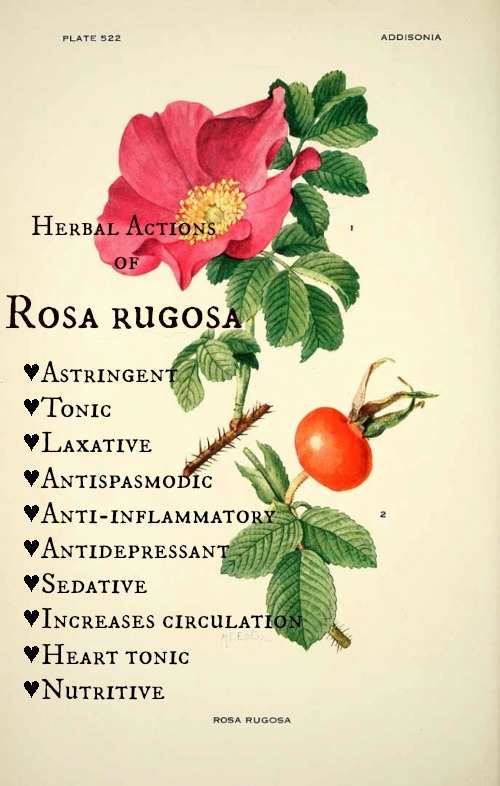 Herbal Benefits
Rugosa Roses are rose family plants. Like other roses, hawthorn, raspberry, and strawberry they share similiar herbal actions.
Roses are:
♥Astringent
♥Tonic
♥Laxative
♥Antispasmodic
♥Anti-inflammatory
♥Antidepressant
♥Sedative
♥Increases circulation
♥Heart tonic
♥Nutritive
Harvest the petals in the morning when the dew is dry, but before the sun hits them. Harvest the rosehips after a frost, when they are sweeter and have more antioxidants and a brighter colour. Some rugosa rose hips are orange and some get cherry red, so the colour of the hips is not necessarily an indication of readiness for harvest.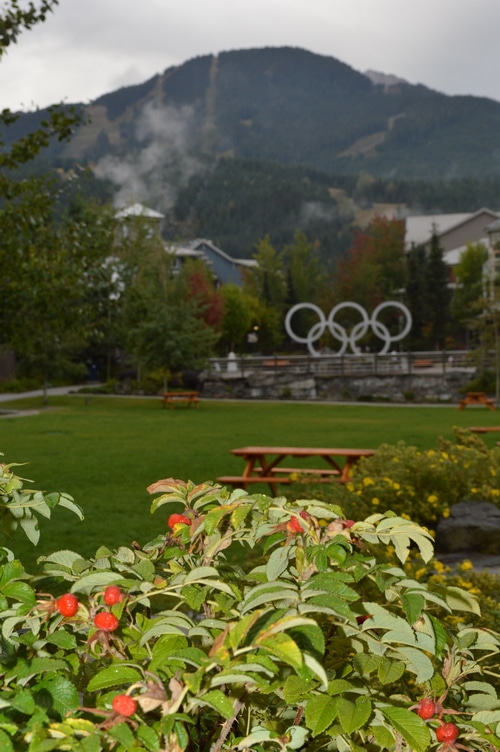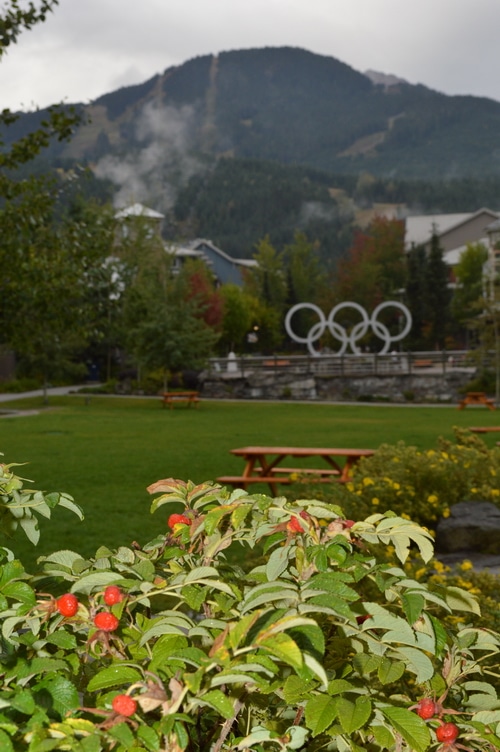 For Food and Medicine — 25 Rose Recipes to make with your rose harvest
Once you have your roses thriving on your homestead you can use them for both food and medicine. These 25 recipes are just the beginning of the abundance that you'll get from your rugosa rose plantings. You'll see your first blossoms in the second year and by year 3 you'll have a prolific harvest of both petals and hips to work with.
Rosa rugosa plants are disease and insect resistant and don't usually need to be sprayed. But only harvest flowers and hips for food on plants that are free of sprays and poisons. Keep your food plants at least 20 feet away from roadways.
Use the blossoms — capture the scent and the flavour
Rose blossom honey from Joybilee Farm
Rose Petal Ice Cream from Homestead Lady. (Wow! I have to try this when the roses bloom. Yum! Thanks, Tessa!)
Rugosa Rose Syrup from Julia Usher
Vanilla Rose Petal Bath Salts from Simply Designing
Rose Tea (harvest the blossoms in the bud stage)
Rose marshmallows from Nourishing Joy
Rose petal salve from Nerdy Farmwife
Turkish Delight from Pease Pudding
Rose Petal Wine from And Here We Are
Conserve of roses from Historic Recipes
Rose petal, elderberry, and rosehip tea from Burdock and Rose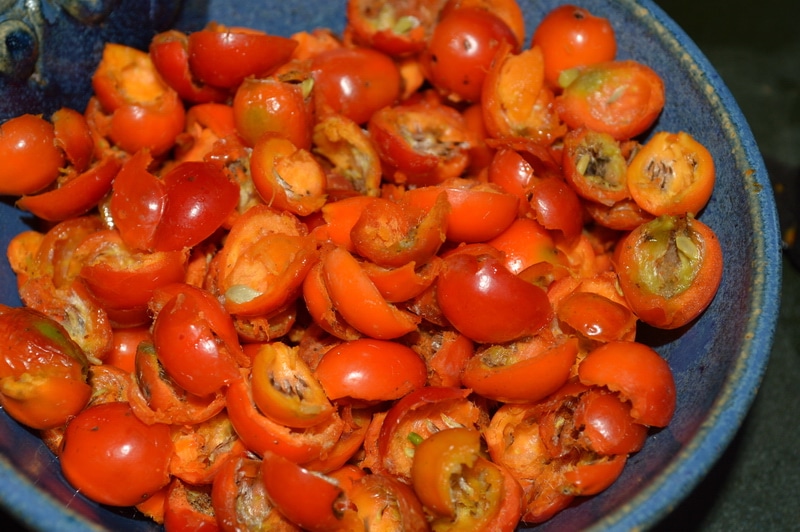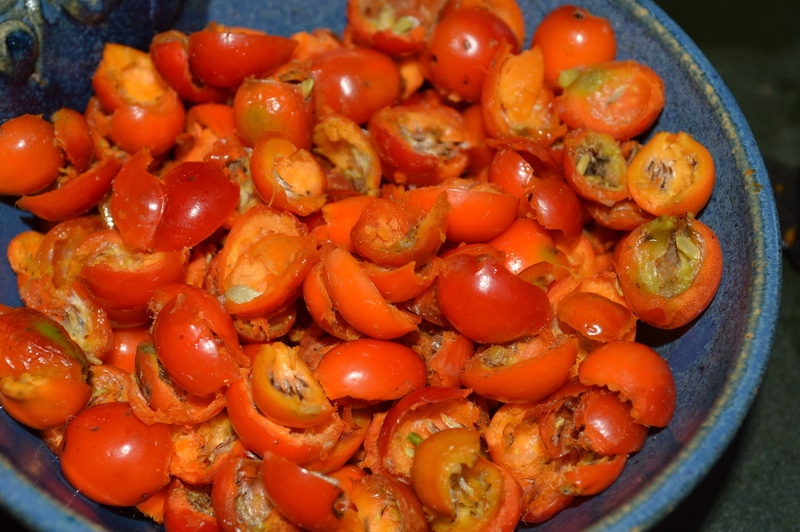 Use the hips — they are rich in antioxidants, flavinoids, and vitamin C
Wait until after a frost to harvest the hips. They will be softer and sweeter. The frost softens the flesh and makes them easier to work with, too. When you harvest the hips be sure to wear stout gloves. The stems are covered in fine thorns that will severely scratch your arms as you harvest if you aren't protected. But these thorns are the reason that Rosa Rugosa makes such a fine hedge. Remove the stem and blossom end and slice each hip in half. Scoop out the seeds with your thumb. Only use the fleshy part of the rosehip. The hairy seeds are an irritant.
But you can save all the seeds and plant them out again in you garden to make more Rugosa Roses. Or dry them and grind them into a fine powder. Rosehip seeds are the origin of "itching powder". (You didn't hear it from me.) But seriously, rose seeds are used as a diuretic and for relief of urinary tract disorders.
Save these recipes to Pinterest so that you can find them in the Fall when the hips are ripe.
Rosehip tea from the Browning Homestead
Rosehip jam from East Coast Living
Rosehip oil from Make it and Mend it
Rosehip wine from Mother Earth Living
Rosehip fruit leather from Blue Berry Toes
Rosehip syrup from Cauldrons and Crockpot
Rosehip and Elderberry Immune boosting syrup from Learning and Yearning
Rosehip vinegar from Eat Weeds
Rosehip Ketchup from Born in the Wrong Century
Rosehip Tipple from Wildcraft Vida
Rosehip Truffles from Green Kitchen Stories
Rosehip Ripple Ice Cream from Helen Graves
Rosehip Chutney
Rosehip dog biscuits from Fido Bakery
Rosehip Mead from Nemeton
More about harvesting roses for blossoms and hips.
How to harvest rose hips for tea from the Herbal Academy of New England.
And even more rosehip recipes from Recipes from the Wild.
Please share this post with your friends and lets get a conversation started about this generous and easy to grow rose.