In the snowy winter weather I look out my kitchen window at the bare, thorny branches of a Douglas Hawthorn (Crataegus douglasii)Tree. In May the tree is covered in white flower clusters. In July, here in zone 3, it has small, dark blue-black haws that are hard with a little juice and a large single seed. It would take a lot of berries to make a single batch of jam. Most people ignore the berries where Saskatoons, huckleberries, and wild strawberries are plentiful. The birds love them though and plant them so that the tree expands its territory over the bare pasture. It's a weedy tree here in zone three.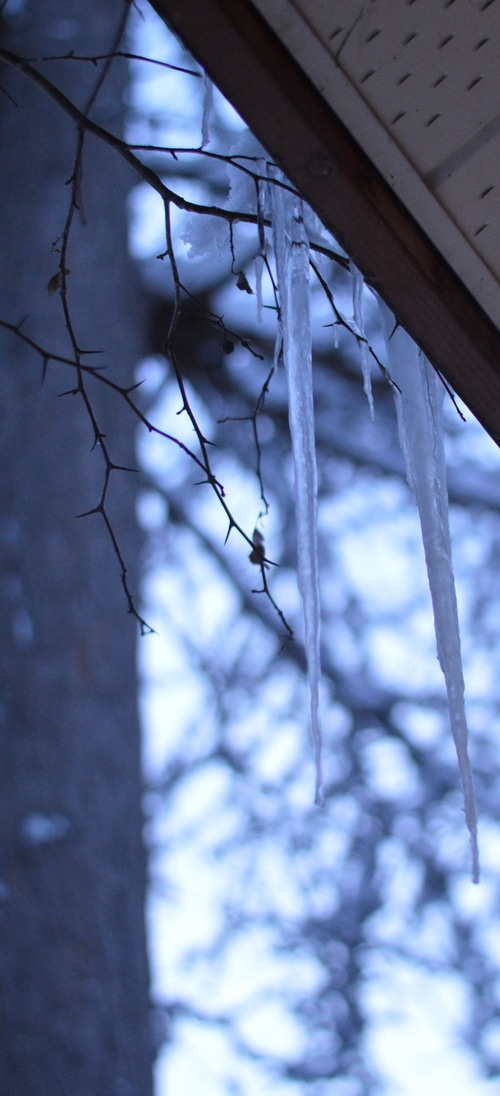 Hawthorn is a superior heart tonic and restorer, as well as an emotional support for broken hearts. It's worth risking the thorns to harvest the fruit in season just for this tasty hawthorn syrup that is an exceptional heart tonic.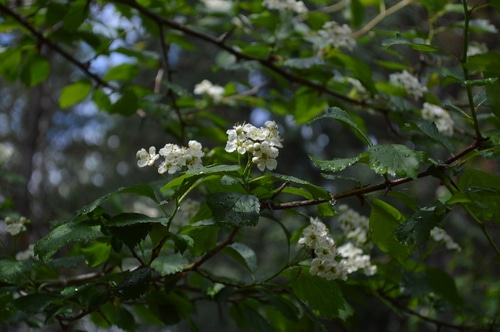 Hawthorn both the European hawthorn, with red berries, and the native North American species of Hawthorn are from the rose family. There are over 300 varieties of hawthorn worldwide, a few varieites on every continent.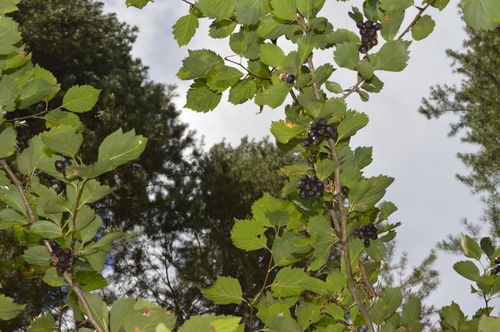 The berries are astringent and nourishing to the heart. But the black haws, of Western North America, also have heart healthy anthocyanins, antioxidants that fight free radical damage and are important for circulation, heart health, and also eye health.
While hawthorn is a long term tonic herb, it doesn't just mask symptoms, but strengthens and restores the heart. It can balance blood pressure and heal heart injuries, over the long term. But it takes time to work. It is a tonic and needs to be taken daily to have an effect.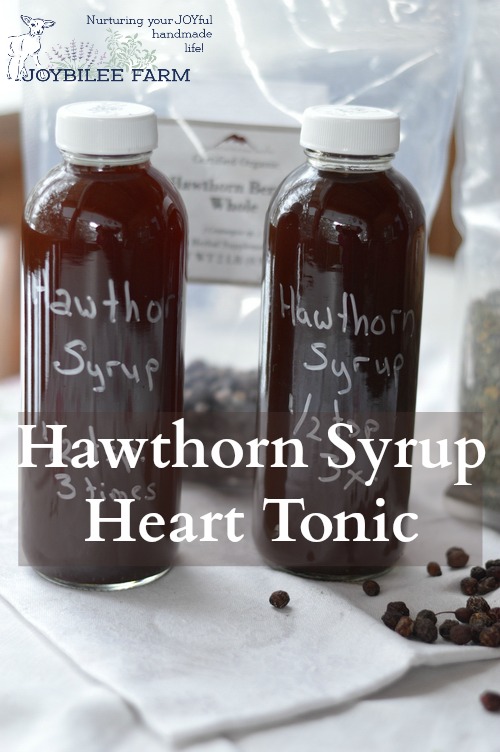 Tinctures are fine when a person needs something for a sudden illness, but when you want to take it several times a day this hawthorn syrup is easier to use. It can be added to hot water to make a hot beverage, or poured over ice for a cooling refreshment. It also tastes good.
The "dose" is ½ teaspoon three times a day, but since hawthorn is a tonic food, more won't harm.
When you make this recipe you'll get both Hawthorn Tincture and Hawthorn Syrup for your DIY Apothecary. While the three step process may seem complicated, it really isn't. It takes just a few minutes of hands on time for each step. Then, like most DIY activities there's the waiting.
Hawthorn Syrup is a generous gift for older family members, neighbors, and friends. It is a food and isn't known to interact with medication. It doesn't build up in the body so there is no risk of toxicity. However, if you are under a doctor's care for heart issues, check with your doctor before starting to take hawthorn syrup regularly.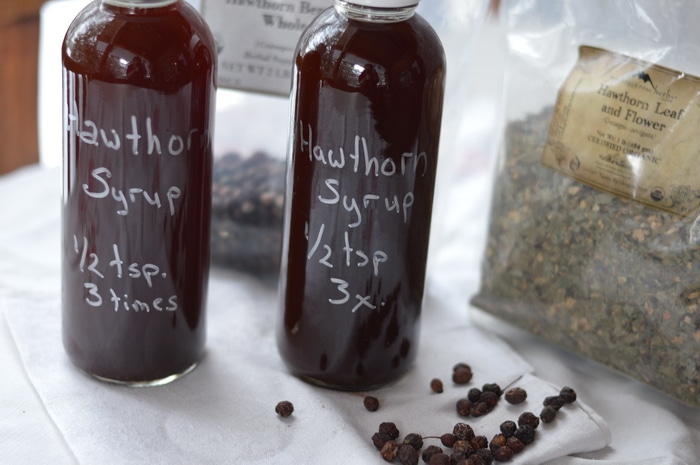 Hawthorn Syrup Heart Tonic
Yield: 16 ounces
Part 1
750 ml. brandy (about 3 cups)
3 cups of dried Hawthorn Berries (or 4 cups of fresh Hawthorn Berries)
Part 2
4 cups of filtered water
2 cups of honey
Part 3
¼ cup of tincture from part 1, for every cup of syrup
Syrup from part 2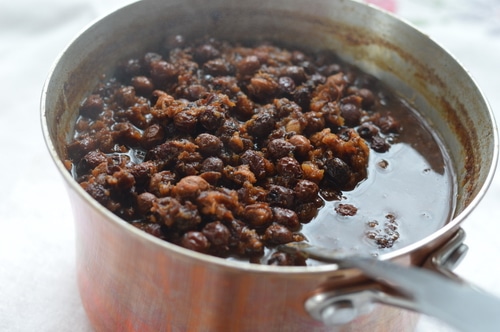 Directions:
The syrup is made in three steps. First a tincture is made with the berries and the brandy. This needs to macerate for 4 weeks. Then the tincture is strained and the same berries are simmered with water to make a strong decoction to which honey is added. This makes the syrup. Then some of the tincture is added to the syrup to create the final shelf-stable syrup.
Both the alcohol and the honey are important to make this shelf stable. Without them, this preparation would spoil quickly. Don't be tempted to cut back on the honey or reduce the alcohol. The proportions are important to the success of the recipe.
Step 1:
Add the hawthorn berries to a sanitized wide mouth quart jar. Pour the brandy over the berries, so that all the berries are covered with brandy. Infuse the hawthorn berries in the alcohol for 4 weeks. Check the alcohol level over the next 5 days and top up the jar with brandy to keep the berries submerged in the alcohol. Shake the jar once a day, or as often as you remember. After four weeks, strain the berries from the alcohol. The alcohol is your hawthorn tincture. But don't discard the berries. You'll need them for step 2.
Separate 1 cup of the hawthorn tincture and bottle the rest to use as tincture. Label and date it. It will keep indefinitely at room temperature in a cool place, protected from light.
Step 2:
Add the strained berries to a 1 ½ quart stainless steel pot. Pour the water over the berries and simmer gently for 1 hour. At first the water will boil rapidly as the alcohol is evaporated from the berries. Then it will simmer normally. Stir the decoction frequently to prevent it from scorching.
After one hour, strain out the berries. Squeeze them through potato ricer or a jelly bag to get the most juice. The berries can be composted. Return the decoction to the pot. Simmer until the decoction is just 2 cups, and is reduced by half.
Add 2 cups of honey to the decoction. Heat gently, keeping the temperature to just below boiling, in order to fully dissolve the honey. Remove from heat as soon as the honey is fully melted.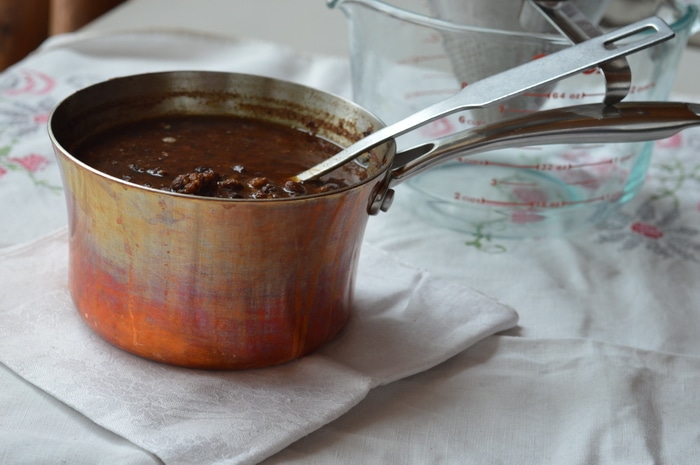 Step 3:
Measure the syrup. Add ¼ cup of hawthorn berry tincture for every cup of the prepared syrup. Store in sterilized bottles. Label and date the bottles.
This syrup is preserved both by the alcohol and the honey in the recipe. For short term storage, place the bottles in the fridge. For long term storage, dip the cap and neck of the bottles into beeswax to make a wax seal. Sterilized and sealed bottles will last 1 year if kept in a cool place, and protected from light. Open bottles should last 3 months in the fridge.

I created a Materia Medica on Hawthorn for you. You can download it here.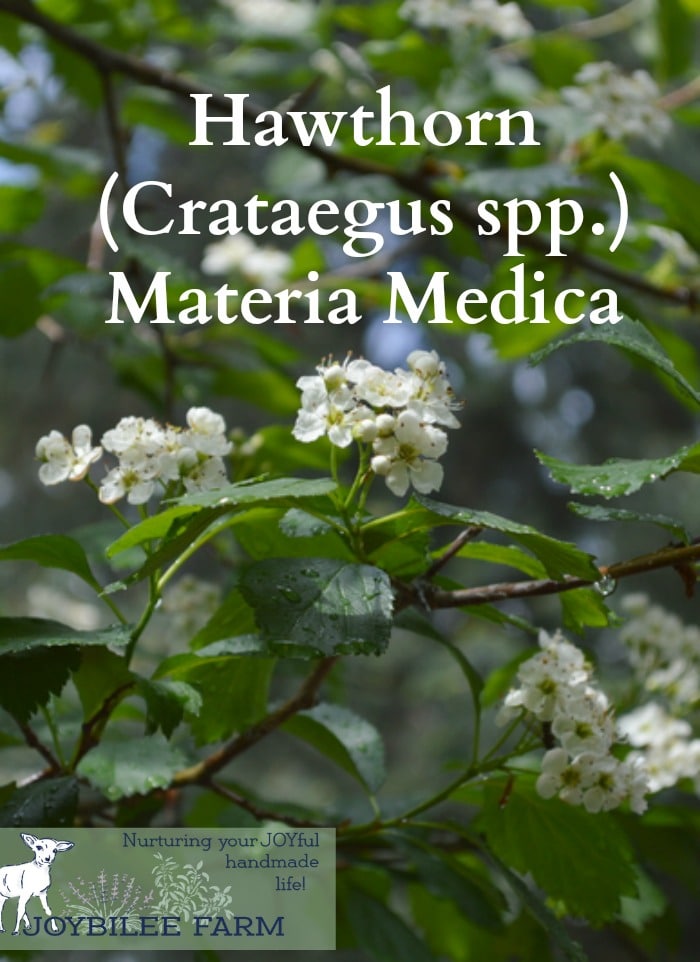 Download your Hawthorn Materia Medica
Hawthorn Materia Medica
Hawthorn (Crataegus spp.) Family Rosaceae
Common names: May Flower, Thornapple, Haw Tree, Mayapple, White Thorn
Parts used: Berry, flower, and leaf
Constituents: Flavonoids: vitexin, quercetin, hyperoside, rutin, oligomeric procyanidins,
Triterpene acids: Ursolic, oleanolic, crataegolic acids
Phenolic acids: Caffeic, chlorogenic,
Vitamins and minerals: Chromium, Selenium.
Actions: Cardiotonic, diuretic, astringent, hypotensive, cardio-protective, digestive, antithrombotic, bitter, sedative.
Indications: A true cardiovascular tonic. The whole berry should be used as the individual parts were ineffective when tested on animals. In hypertension it lowers blood pressure. In hypotension it increases vascular tone and normalizes blood pressure. In mild to moderate congestive heart failure it improves heart function and quality of life. It improves circulation, dilates coronary arteries, and relieves hypoxemia. Hawthorn improves the efficiency of heart contractions and reduces ankle and leg swelling and discomfort.
Hawthorn is useful in cases of heart murmur, rapid pulse, angina, arrhythmic heartbeat, congestive heart failure, and atherosclerosis.
Safety: Hawthorn enhances the activity of cardio-active drugs such as Digitalis. It is also cardio-protective reducing the toxicity of heart drugs. People on heart medication may be able to reduce their drug dosage, in consultation with their doctor, when taking hawthorn.
Dosage: Syrup: ½ teaspoon 3 times daily. For acute conditions 1 teaspoon three times daily. In the elderly treatment should be continued over many months. Tincture: 2 ml 3 times daily.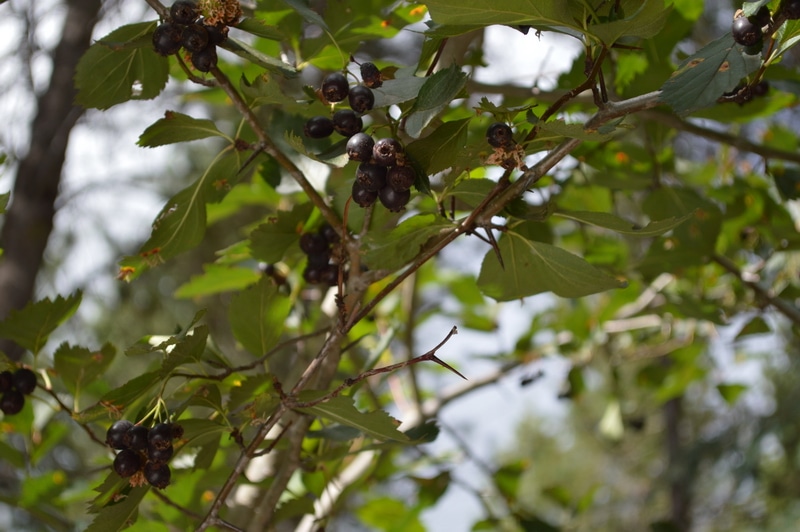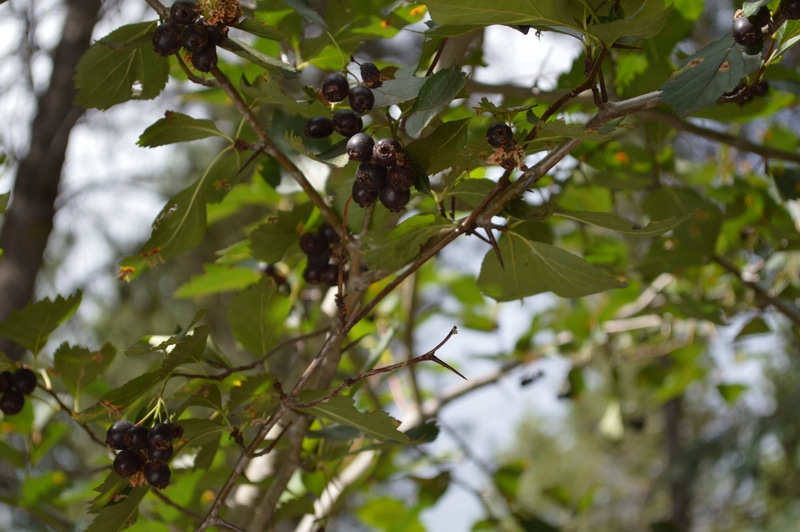 History of use:
Hawthorn has been used for heart problems for hundreds of year in Europe. Ellington, an American herbalist, said of hawthorn, "…it is superior to any of the well known and tried remedies…for the treatment of heart disease, because it seems to cure while other remedies are only palliative at best."
A 1994 German Mongraph recognized hawthorn as a heart remedy. According to the monograph hawthorn can be used for long term treatment of the loss of cardio-function, any condition where the patient feels a congestion or heaviness in the heart region, mild cardiac arrhythmias, and conditions of the aging heart that are not serious enough for digitalis. The monograph further states that hawthorn has no side effects or contraindications.
David Hoffman states that any degenerative condition of the cardio-vascular system will benefit from the use of hawthorn. It is safe and effective.
The flowers and leaves can be used in early spring as a potherb and salad green. The fruit remains on the plant in winter, unless eaten by wildlife. It can be foraged when other fruits are gone. The tree is drought resistant making hawthorn a good food in times of famine and war.
The inner bark of the black hawthorn (Crataegus douglasii) is used in a similar way to "Cramp Bark" from the high bush cranberry, which is related. It's a useful antispasmodic for period cramps and muscle cramps.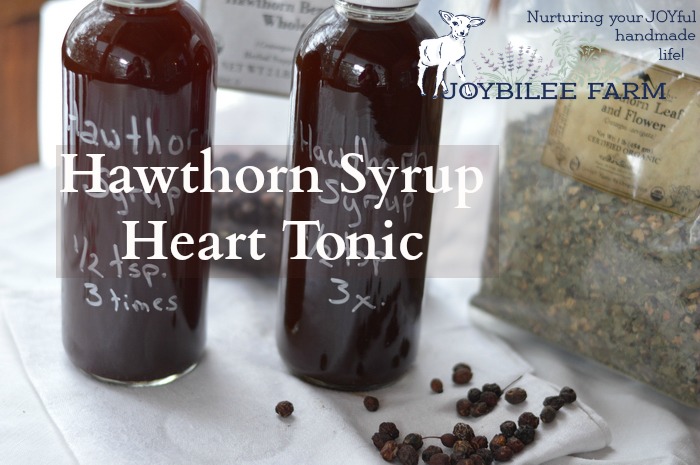 Download your FREE Hawthorn Materia Medica

Download your Hawthorn Materia Medica
References:
"Cardiotonic Amines from Crataegus Oxyacantha", Planta Medica, 1982, Vol. 45, pp. 98-101
"Evaluation of the activity on the mouse CNS of several plant extracts and a combination of them" Riv. Neurol., Sept-Oct 1981, 51(5), pp. 297-310, Italy
"Plants and hypotensive, antiatheromatous and coronarodilatating action", American Journal of Chinese Medicine, Autumn 1979, Vol. 7 (3),p. 197-236
David Hoffman, Medical Herbalism, 2003.
Mark Pederson, Nutritional Herbology, 2010.
Rigelsky JM, Sweet BV. Am J Health Syst Pharm. 2002 Mar 1; 59(5):417-22.
Tassell, M. C., Kingston, R., Gilroy, D., Lehane, M., & Furey, A. (2010). Hawthorn (Crataegus spp.) in the treatment of cardiovascular disease. Pharmacognosy Reviews, 4(7), 32–41. http://doi.org/10.4103/0973-7847.65324
Save
Save
Save
Save
Save