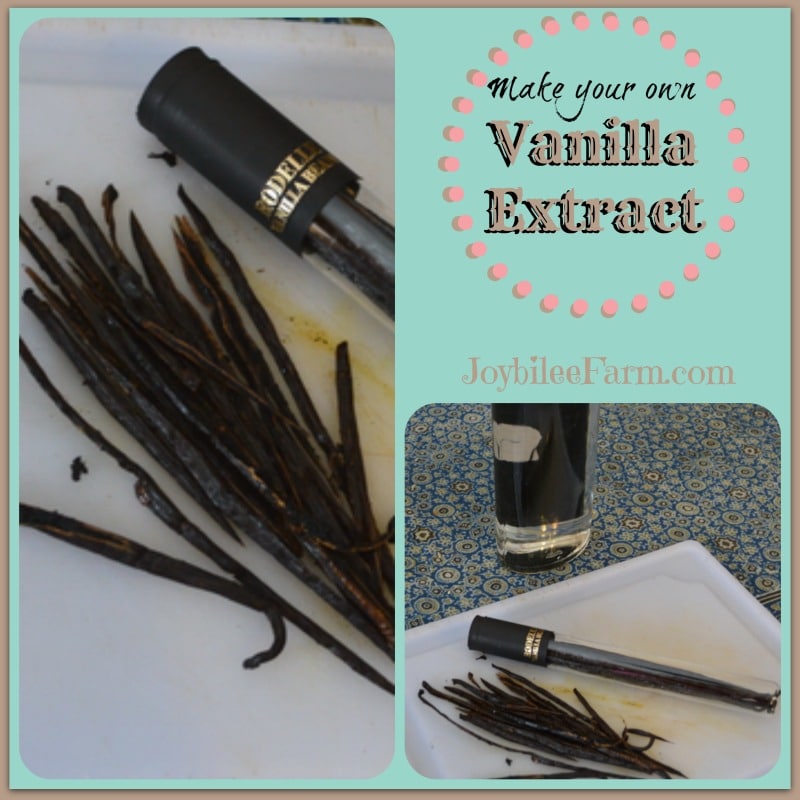 Vanilla extract is one of the easiest flavourings to make from scratch.  It only needs two ingredients — vanilla beans and alcohol.  Think of it as a tincture used for flavouring, rather than medicine.  It makes an exquisite gift, too, so while the vanilla is brewing, be one the lookout for giftable glass bottles to decant it into.
While commercial extracts have added sugar, the sugar isn't necessary to extract the flavour.  When I buy vanilla extract I get Costco's Kirkland brand which lists on the ingredient label vanilla bean extractives in water, alcohol (35%) and sugar.  That's a short list and a good substitute if you don't want to make your own.  But if you've ever tasted homemade vanilla, you won't be satisfied with store bought again.
Store bought natural vanilla is made with the least expensive vanilla beans, plus the cheapest alcohol.  It's a matter of economics.  Did you guess that the more expensive vanilla beans have more flavour?  You're right.
Artificial vanilla flavour is labelled vanillin — the chemical name for an extract made from lignin or wood pulp.  The chemical flavour of natural vanilla beans contains vanillin, too, plus over 100 other substances including flavinoids and poly-phenols.  Now that you know that, I'm sure you'll want to use natural vanilla rather than the artificial product, from now on.
Where vanilla comes from:
The vanilla bean is the fruit of the vanilla orchid.  A vanilla orchid has a .001% chance of being pollinated by nature.  Only one bee, native to Mexico and Central America, has been observed pollinating the orchids.  So for commercial production, vanilla orchids are pollinated by hand.  This makes vanilla the second most expensive spice, after saffron.
The fruit takes 9 months from pollination until harvest.  But the fruits don't have the vanilla scent at harvest time.  The fruit has to go through a four step process that includes fermentation before the fruit becomes the vanilla bean that we covet.

The complicated process that gives vanilla beans their amazing flavour
When you hear about how the vanilla gets into the bean, you'll wonder how on earth any one ever thought to do that.  First the beans are harvested, sized, and graded.  The beans are blanched to stop the ripening process and begin the vanillin production.  Vanillin is the characteristic flavour of the vanilla beans.   The beans are then wrapped and put in wooden crates to begin the fermentation. The beans are placed in the sun for a few hours each day, and then wrapped in cloth to keep in the warmth and crated — every evening.  This causes the moist beans to ferment, giving them their blackened appearance, and stimulating the vanilla scent and flavour in the beans.  After 10 days the fruits are dried slowly alternating between sun and shade.  If the drying process happens too fast, the beans lose their vanillin scent and flavour, so this is the most precarious step and needs the attention of an expert.  Then the beans are cured for 6 months in closed wooden boxes, maturing their fragrance and flavour.  Finally the vanilla beans are graded by fragrance and colour.
The grade B vanilla is usually used for extract.  It's less expensive than the top grade and just as flavourful, but usually has cosmetic challenges and a lower moisture content.  You don't need the extra moisture anyway.
If you are buying vanilla beans in a specialty grocery store, they should come packaged in glass tubes to preserve their flavour.  (Glass is nonreactive.)
This recipe makes regulation strength vanilla.  You will use this vanilla in the same way that you would use store bought vanilla.  I've seen a lot of vanilla extract recipes around the web that use only 4 to 6 beans per quart of alcohol.  If you opt for using fewer vanilla beans, you'll still get vanilla flavoured alcohol, but you'll need to use more homemade vanilla in your recipes, to get the same intense flavour as store bought.  You'll be adding more alcohol and more liquid to your recipes, too.  So if you want to get regulation strength vanilla extract, start with using 2 1/2 ounces of vanilla beans per 750ml of alcohol, and you won't be disappointed.
I buy my organic vanilla beans at Mountain Rose Herbs. They are sold by the ounce, and in 1/4 lb., 1/2 lb., and whole lb. sizes.  You'll need 2 1/2 ounces for this recipe or about 20 vanilla beans.
Making Vanilla Extract
Ingredients:
2.5 ounces whole vanilla beans (About 15 to 20)
750 ml of vodka or other 40% alcohol
Method:
Making vanilla extract couldn't be easier.
Split 15 to 20 vanilla beans down the middle
Remove a 1/2 cup of alcohol out of a bottle of vodka or bourbon.
Take the split vanilla beans, along with their seeds, and put them into the bottle of alcohol.
Top up the bottle with the reserved alcohol.  Cap tightly.
Shake daily, or as often as you think of it, and allow it to macerate for 6 to 8 weeks, up to 3 months.
Strain the liquid.  Bottle and use as you would regular vanilla.
Making vanilla sugar from the spent beans.
Don't toss the vanilla beans when you're finished though.  They still have lots of flavour.  Add them to a mason jar full of organic sugar.  And leave them for a month or more.  Stir the sugar a few times every week or shake the jar.  The beans will flavour the sugar, too.  Use vanilla sugar in ice cream, coffee, tea, and in baking or even for indulging sugar scrubs.
References:
Rose Mountain Herbs Catalog (p. 35)