Christmas Baking with DiY Chocolate Extract
Christmas baking used to be a big deal in my home. We'd begin in November baking all the favorite Christmas cookies like shortbread, pizzelles, chocolate chip, ginger cookies, sugar cookies, lemon cookies, and brownies. Chocolate figured strongly in these seasonal treats either as a flavourful addition or a decorative topping.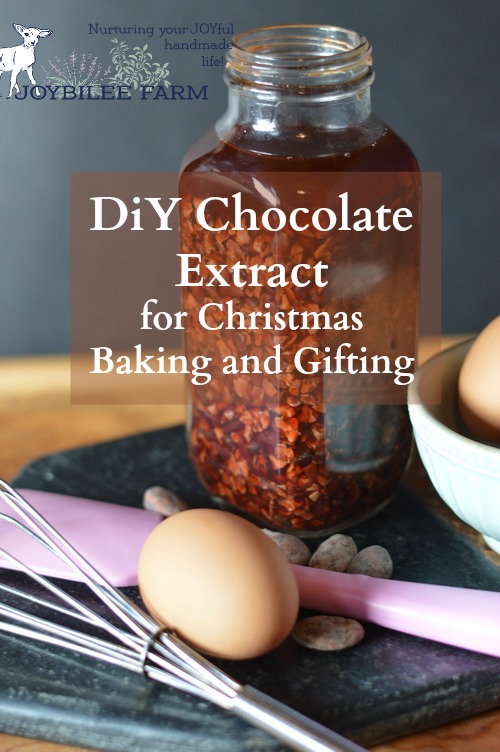 As I was making a batch of chocolate liqueur – Crème de Cacao – to share with the readers over at Attainable Sustainable, I also started a batch of chocolate extract, for Christmas gift giving and for my own Christmas baking. Making flavour extracts is super simple and very similar to making an herbal tincture or a liqueur. You just need to pour alcohol over the flavour source – whether that's bitter almonds, cocoa nibs, coffee beans, mint leaves, or vanilla beans. Then let it steep – either with or without sugar – for a month or more to extract every delicious drop of flavour.
The steeping or maceration process takes time and the longer you have to steep the extract, the deeper the flavour will be.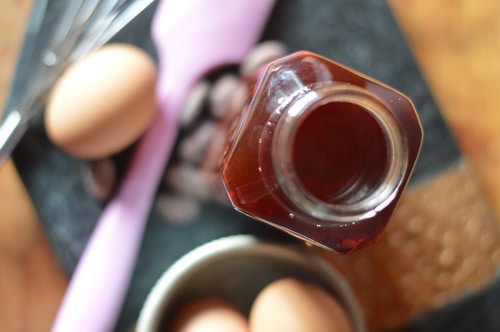 The World Wide Vanilla Shortage
This year several chocolate manufacturers made good on their pledge to use only natural vanilla flavour in their chocolate bars. A world shortage of vanilla beans is happening right now, from a combination of increased demand and lower crop yields. Where the price of vanilla beans was only a few dollars an ounce, just a year ago, in 2016 the price of vanilla has risen about 500%. Using chocolate extract this season is a way to stretch expensive natural vanilla beans and still have the healthiest and most flavourful baking. (And then hang on tight because the 2016 crop will be coming in December. The price might just come back down.)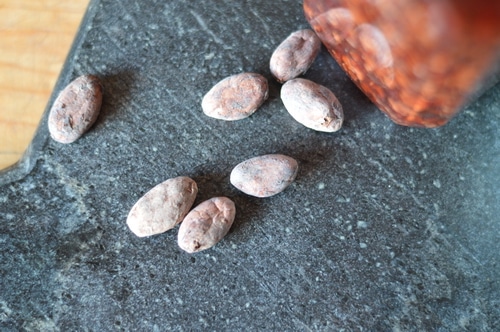 Homemade Chocolate Extract
Chocolate extract is a deeply flavourful extract that can be used in the place of vanilla extract in chocolate desserts. It adds a special touch to chocolate chip cookies, pastries, and even whipped cream and frosting. It takes only a few hands-on minutes to make and then a month to steep.
Make it now for Christmas baking and holiday gift-giving.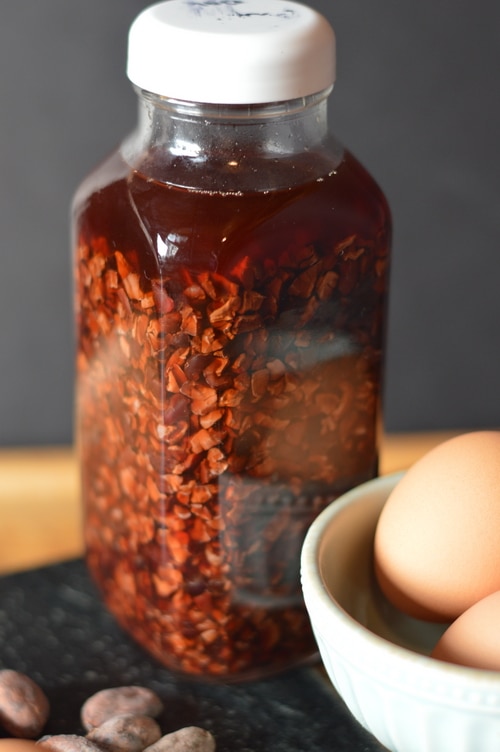 Yield: 3 cups or 750ml
Ingredients:
1 ½ cups organic cacao nibs
2 vanilla beans, split
2 cups of Scotch Whiskey
½ cup of sugar
½ cup water, boiling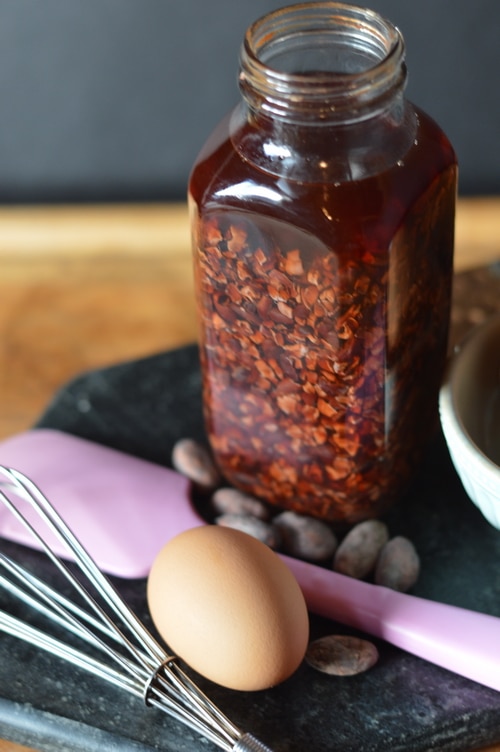 Method:
Place cacao nibs in a glass bottle. Add vanilla beans and whiskey. Cap the bottle and shake well to evenly distribute the whiskey. Make sugar syrup by adding sugar and boiling water together. Stir well to fully dissolve sugar. Allow the sugar syrup to cool. Add sugar syrup to the bottle. Cap and shake again.
Label and date the bottle. Put the bottle in a cool, dark cabinet. Shake the bottle once a day. Let it macerate for one month. Taste it to see if the flavour is to your liking. It can steep longer if you wish.
When it is ready, strain the mixture through a cheese cloth. Decant the liquid into clean, sanitized bottles. Label and date.
Use the left over chocolate nibs in baking, in the place of chocolate chips, in another recipe.
Chocolate extract will last indefinitely due to its high alcohol content.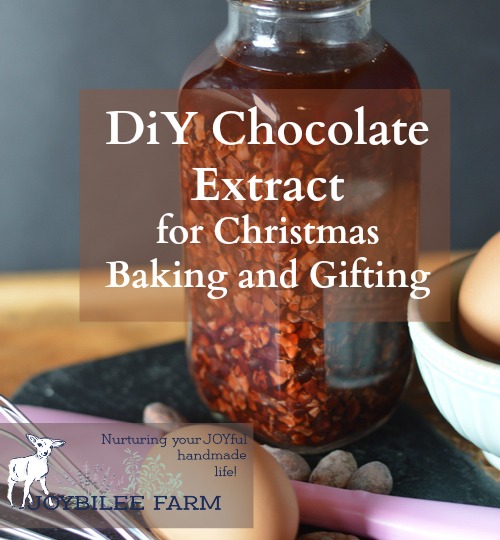 Use chocolate extract in
Frosting
Whipped cream
Hot chocolate
Mocha and espresso drinks
Muffins
Cookies
Cakes
Pastry filling
Biscuits
Quick Breads
Gifts
Use it to replace the vanilla in your favorite recipes on a spoonful by spoonful basis. It is a delightful and flavorful change.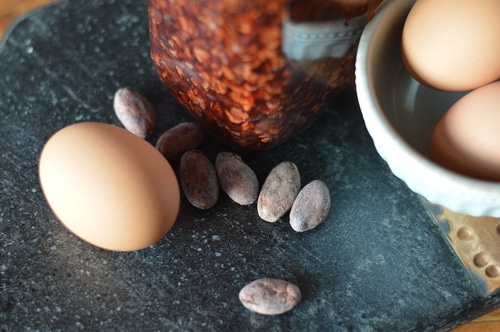 Other Extracts Suitable for Gift Giving and Baking
Almond Extract
Orange Extract
Coffee Extract
Your turn:
What flavour extract are you currently buying that you want to start making yourself from scratch?