DiY Chocolate Mint Extract
Chocolate Mint is a specific variety of peppermint plant with a very strong peppermint patty fragrance. The chocolate flavour doesn't come through as strongly in tea as the scent would hint at. But the cool peppermint flavour is solid. At least this is how it is in my zone 3 climate. But those in warmer areas may find their chocolate mint has a more chocolatey flavour.
That's the glory of gardening. Flavours vary according to soil and growing conditions. Your mint will be different than my mint. You rose will be different than my rose.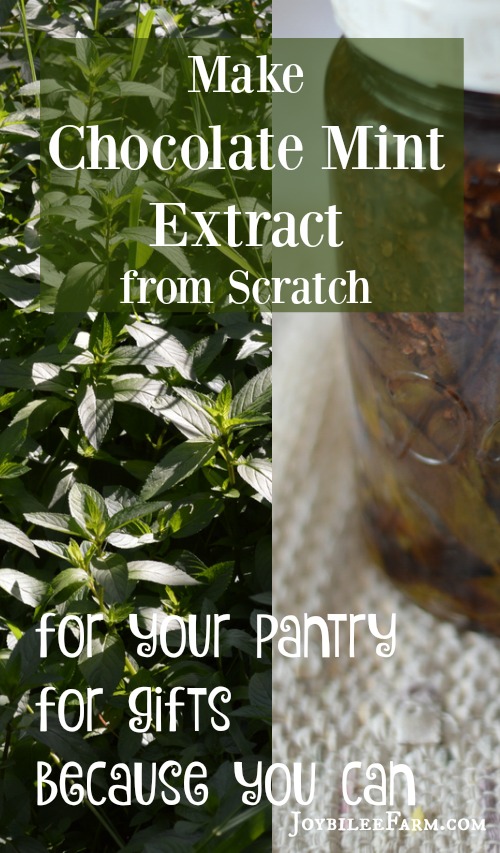 Chocolate Mint is one of those hardy garden herbs that just keep on growing and giving right through the first mild frosts. Even in my zone 3 climate, I harvest armloads of it from my tiny patch. If you are growing in a more hospitable zone, you may want to put it in an area where it can spread, or enclose it in a bottomless bucket, in the ground, to keep it from taking over your acreage.
In my harsher gardening climate I love any plant that will produce for me without coddling.
More about growing peppermint and other mints in your homestead garden. If you don't have chocolate mint in your garden right now, plan it into your garden for next year. I bought my chocolate mint plant from Richter's Herbs. (They ship live plants to the USA with a phytosanitary certificate.)
You can use dried organic peppermint leaves in this recipe in place of the fresh chocolate mint leaves. Mountain Rose Herbs has dried peppermint leaves that will work well in this recipe.
Peppermint Patty Flavoured Extract
This peppermint extract will not be as strongly flavoured as commercial peppermint extract, which uses peppermint oil as the main ingredient. You may need to use more extract in the recipe for the same flavour strength. But this extract is made from your own garden and that is so much better.
This will become a special ingredient in your own pantry or a thoughtful gift. One recipe makes 5 – 100 ml bottles so there's enough for you and a few to gift, besides.
Make Peppermint Extract
To make this extract you'll need to start with fresh or dried chocolate mint leaves. Harvest fresh leaves after the dew has dried on the leaves, in the morning. The oils in the leaves will be strongest in the morning.
If the snow is covering your mint, you can also use dried mint leaves for this extract. So don't despair that winter has come. Make it now for Christmas giving.
DiY Chocolate Mint Extract
Ingredients:
3 cups of fresh chocolate mint leaves, or other strong peppermint
½ cup roasted cacao nibs
3 cups of vodka
3 tbsp. organic sugar
2 tbsp. vanilla extract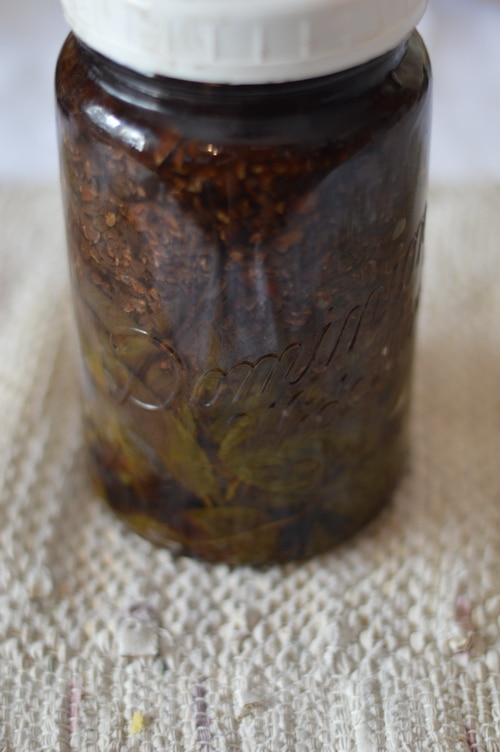 Directions:
If you are using fresh chocolate mint or peppermint leaves, wash them in cold water to remove dust and bugs. Remove the leaves from the stems. Put them in a salad spinner to remove excess water.
Place the leaves in a wide mouth quart jar. Pack the leaves in well if you are using fresh leaves. I estimated 3 packed cups of leaves but if you have more leaves, and they will fit in the jar, put in as many leaves as you can.
If you are using dried peppermint leaves, use only 2 cups of leaves. Dried leaves will expand in the jar as they absorb the alcohol.
Add ½ cup of cacao nibs.
Pour vodka over the leaves and cacao nibs. Insert a knife to displace any air bubbles. Add more vodka to fill the jar.
Cap the jar tightly. Place in a cool, dark cupboard. Shake the jar contents any time you think of it. Allow to macerate for 4 to 8 weeks. The longer you can wait the stronger the flavour will be.
Strain the mixture through a fine sieve.
Add 3 tbsp. of organic sugar and 2 tbsp. of vanilla extract. Stir well to dissolve the sugar.
Pour into dark glass bottles and cap. Label.
Store in a cool, dark place away from heat and light. This will last indefinitely if stored where it is protected from heat and light.
Makes 5 — 100 ml bottles of extract.
How to Use Chocolate Mint Extract
Use in baking as you would use peppermint or chocolate extact. Use to flavour coffee beverages. Flavour homemade ice cream. Flavour icing or glazes for bread and cakes.
Dig Deeper:
I was inspired to harvest the chocolate mint from my garden and try this chocolate mint extract from a post by Janet at Timbercreek Farm – How to Make Chocolate Mint Extract and this recipe by Laurie on Common Sense Homesteading
Try these other extracts:
Now that you see how easy making your own flavour extracts is, you'll wonder why you ever bought them in the store. Flavour extracts are just like making an herbal tincture. Yep, there's more than just flavour in that extract.
Put the herb in a jar.
Pour vodka or other liquor over the herb.
Cap and shake the jar. Wait.
Strain. Enjoy.
Here are a few more flavour extracts for you to make and gift
Regulation Strength Vanilla Extract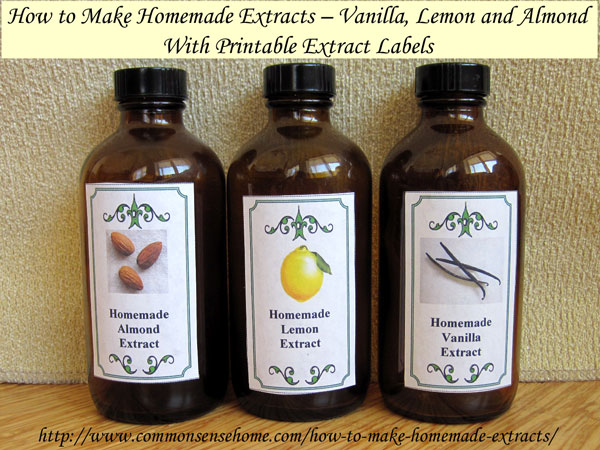 Vanilla, Lemon, and Almond Extract from Common Sense Homesteading with Printable Labels
Lemon extract and Lemon Crinkle cookies from Janet at Timbercreek Farm
Recipes for coffee, chocolate, orange, lemon, lime, almond, mint, and vanilla extracts from Susan at Learning and Yearning.
Your Turn:
What flavouring extract are you buying now for baking or gifting, that you would make from scratch if you had a recipe?