Elderberry syrup
Elderberry syrup is the first thing I grab when someone in my family has a sore throat, cough, or sniffles. Common cold remedies like elderberry syrup can actually work better than OTC meds in shortening the duration of viruses. Scientific studies show that elderberry prevents viruses from replicating in the body, shortening the duration of colds or flu. During flu season I use elderberry syrup as a favouring in our water bottles – 1 tsp per cup of water. It's a tasty, functional food that helps us stay healthy and strong during the season when all those around us are coughing and sniffing.
In the event that cold and flu symptoms take hold, we take elderberry syrup by the spoonful for its soothing action on the throat. Since its food and not a drug, you can take it as often as you like, even during the night, till you feel well again. My herbal books recommend taking it every two hours at the first symptom of a cold or other virus.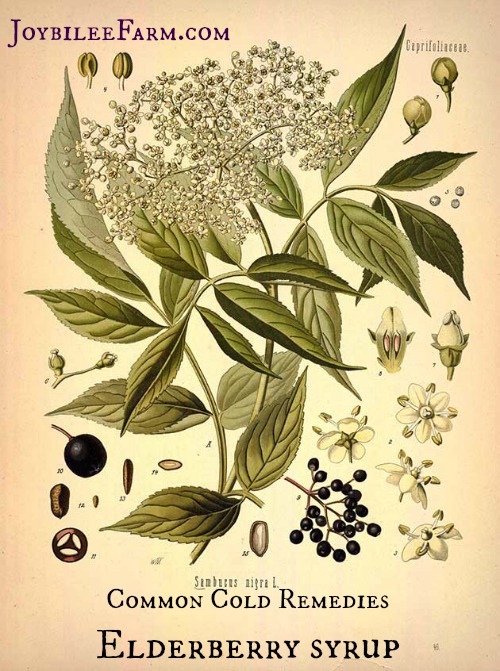 Black Elderberry syrup
½ cup dried elderberries
½ cup dried yarrow leaves and flowers (optional)
Juice from a 2 inch piece of raw organic ginger root (optional)
3 cups of filtered water
1 cup of raw local honey
Simmer the elderberries, yarrow and filtered water together in a covered pan for 30 minutes. Mash the elderberries with a potato masher. Strain them through a sieve, reserve the elderberry juice. To make ginger juice, cut the piece of ginger into ½ inch pieces and squeeze through a garlic press, catching the juice in a small container. Add raw ginger juice to the hot elderberry syrup. Add 1 cup of raw honey and stir thoroughly to incorporate the honey, without heating again. Allow the syrup to cool.
Yarrow makes you sweat (diaphoretic) and tricks your body into fighting the virus, even before it's taken hold. It's also beneficial for the lungs, which I find helpful during a cold.
The yarrow gives the syrup a faint medicinal taste, but it isn't over powering, yet it is still warming.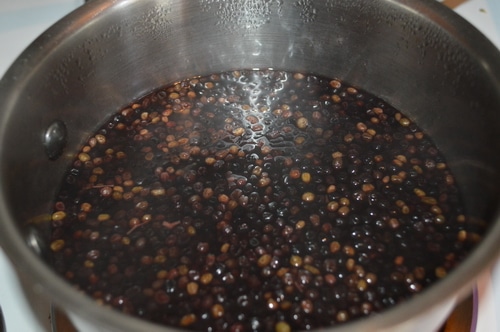 How to use this syrup
I made this when my daughter came down with a cold, just before she had to perform out of town.
Taking this syrup, as often as she needed it, as well as 1 tsp. of yarrow tincture and 1 tsp. St. Johns Wort tincture at bedtime, helped her manage the cold symptoms and helped her sleep. She was able to perform (voice and piano) and the cold was gone in 4 days, the day after she performed – usually the duration of a cold is 7 to 10 days at our house.
My husband and I caught her cold and started taking the syrup right away and our colds only lasted 3 days, with only mild symptoms. I keep elderberry syrup in my home apothecary, as well as dried elderberries. In fact, I planted 9 elderberry bushes to ensure our store of elderberries in the future.
You can take this syrup every two hours at the first sign of a cold or flu. Take it during the night, too. But you can also use this syrup to support your immune system all year. Just add a tsp. to your bottle of water that you carry around with you. It gives the water a nice flavour. Elderberries are functional food. Make them a regular part of your diet.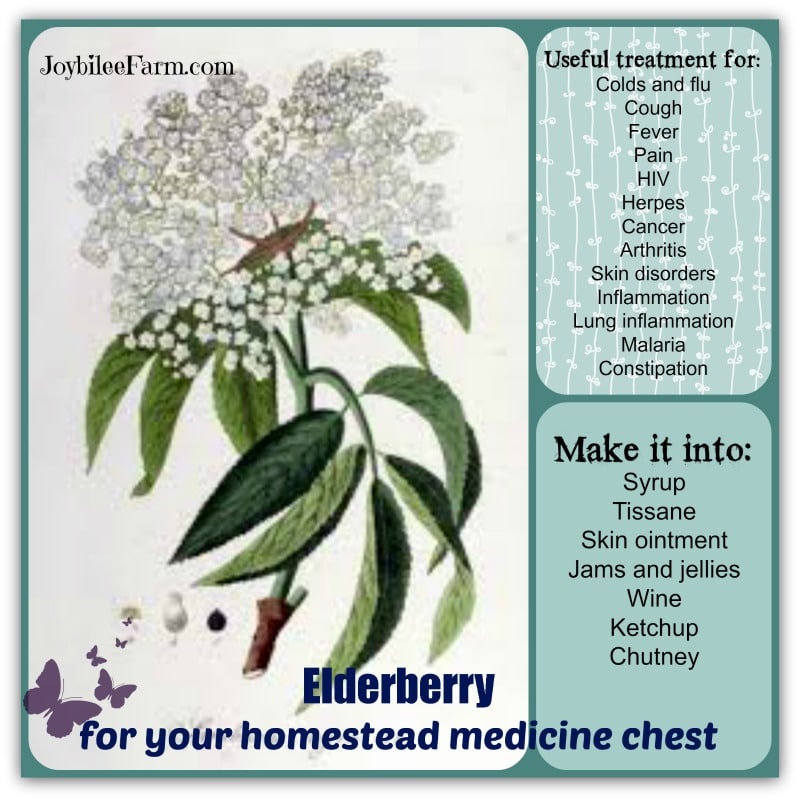 Find out more about growing and using elderberries here.
My herbal studies
This elderberry syrup recipe is one that I adapted from my course work in the Intermediate Herbal Course from HANES. I completed the course last week. Now that it's over I'd like to tell you about my experience.
The Intermediate Herbal Course is a serious course for those with some self-study of herbs. Those who have already started reading herbal books and researching herbal solutions online would benefit most from the course. If you are just starting to think about herbs but have no self-study, you would find the Beginner Herbal Course at a better pace for your enrichment. There is a jargon to herbalism and you need to have a basic understanding of the jargon to get the most out of the course.
How does the course work?
The course is divided into 10 units based on bodily functions. Each unit begins with a lesson on anatomy and physiology. You need to understand this in order to understand the herbal actions and how they help various maladies that affect the body. You may want to read it a second time to really get the most out of each unit.
The next lesson in each unit discusses common maladies that affect that specific body system and suggests herbal actions that are needed, not just to help alleviate symptoms, but also to bring holistic healing to the body. Then a more in depth material medica is introduced as each herb that is beneficial to that body system is mentioned briefly.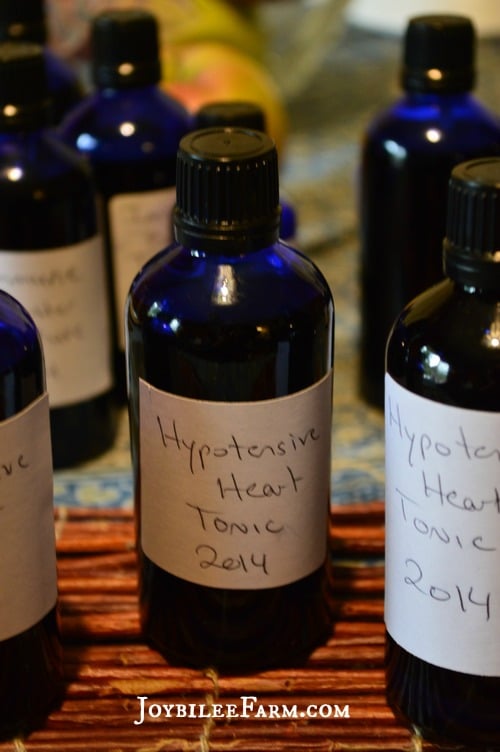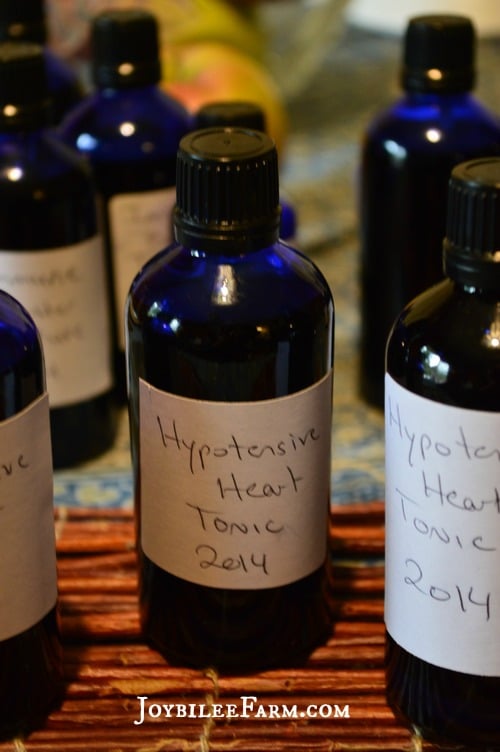 Recipes are offered that use these herbs synergistically to help alleviate problems and bring the body into balance. Some of these recipes are so simple you'd wonder why the recipe was even written down. But perhaps it would never occur to you to try it without the recipe. That's what I found.
For instance, I learned that a lot of sickness in the body is a result of poor digestion. Poor digestion and insufficient inner-fire and energy don't just show up as upset stomach and a bloated feeling. Poor digestion affects thinking and memory, blood pressure, the immune system, and many other areas of the body. While allopathic medicine might give you an antacid for your stomach complaint. That antacid might complicate your poor digestion adding to your trouble. Herbalism, instead, might suggest eating an organic orange peel or making a tea of ginger, orange peel, and chamomile flowers — a bitter aromatic tea blend that increases the release of bile from your liver, strengthening both your liver and your digestion, while it calms your central nervous system, allowing your body to do what it needs to do, without stress. Herbalism feeds your body what it needs to thrive as a whole, rather than just treating a symptom.
Advantages of a systematic study of herbalism
This is the great benefit of studying herbalism in a systematic way, rather than just relying on books and self-study. Herbs help the whole body recover its natural inner strength and fire. Herbs don't just treat symptoms. Herbs promote health and nutrition. When I was just relying on my books, I'd look up a symptom and look for an herb that treated that symptom, using herbs much like an OTC drug. So much of herbal information online is used this way – got a problem, grab a tincture, or capsule, or tea. But herbs are so much broader than a substitute for allopathic thinking.
Herbalism unites many branches of ancient healing arts. You'll learn the basic premises of Traditional Chinese Medicine, Ayurveda traditional practices, Islamic and Jewish traditional medicine, Aboriginal use of native plants, as well as Western herbal traditions, in your study of herbs. You'll also learn some botany, as you learn to identify plants for use in healing and strengthening your body. Invariably, you'll find yourself outside in the dirt, planting seeds or transplanting perennials and shrubs.
Herbalism demands more than just ordering some herbs online and putting them in vodka to make a tincture. Herbalism is about stewarding endangered species, harvesting with intention, and ensuring that the knowledge of many generations is passed on to our children and their children.
In your study of herbs you will increase your personal library. You'll need at least 3 good herbal materia medica resources for a thorough study of the herbs that are available to you. It's better to know a dozen herbs very well than to have a superficial knowledge of hundreds. Studying them, growing them, using them will give you the foundation that you need to make wise decisions for helping your own family members with their maladies and problems.
The Intermediate Herbal Course includes several printable flip books with recipes to enhance your herbal study. In unit 7 – the liver – The Holistic Skin Care book offers 23 recipes for skin care and hair care, including toners, moisturizers, shampoos, conditioners, and cleansers. Just maybe switching from chemical cosmetic products to homemade might save you enough money to pay for the course, while it strengthens your personal health and wellbeing.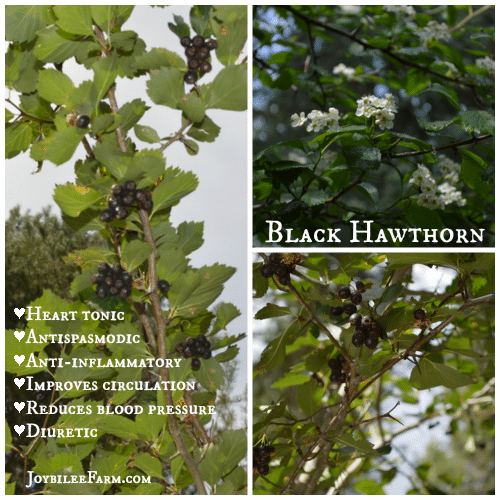 Never too old to begin
Some of my readers have expressed concern about the tests involved. If it's been a long time since you've been in school you may be nervous about taking exams. In the HANES course, unlike some of the herbal programs I've explored, the exams allow you to go back and try again as many times as you need to in order to master the material. There are no trick questions. Further, every unit has a hands-on "lab" section that gives you an opportunity to learn by doing. Gather the ingredients and make a tea, a tincture, a syrup, or even dinner and learn more about the taste, texture, and actions of the herbs you are studying.
I researched an aroma therapy certification program before I signed up with HANES. That program said that you did not need to have any essential oils at all in order to complete your strenuous certificate work. What? How can you learn if you don't touch, taste, smell, and see the herbs and oils that you are using? I didn't explore it further, because I believe that to really attain mastery you must use your eyes, your ears, your nose, and your hands in learning. Education that only fills the mind isn't really learning.
Herbology is a lifelong pursuit. It doesn't end when the course work is completed. In fact, like most of the wonders of the natural world it will engage your passion for a lifetime and give you many hours of studious enjoyment, much of it outdoors in the fresh air. Are you ready to begin your own journey into herbalism? Won't you join me at HANES?
What about the Chestnut School of Herbs?
The Chestnut School of Herbs offers both an Herbal Medicine Making Class and an advance herbal course. The Chestnut School of Herbs offers a stellar lineup of instructors including 7Song, Juliet Blankespoor, Joe Hollis, and many others.