Chai Tea Recipe
Warming, digestive, soothing, and comforting, homemade masala chai is nothing like the coffee shop drink. It's worth making your own Masala Chai from scratch, both for flavour and for its therapeutic benefit. This is my chai tea recipe.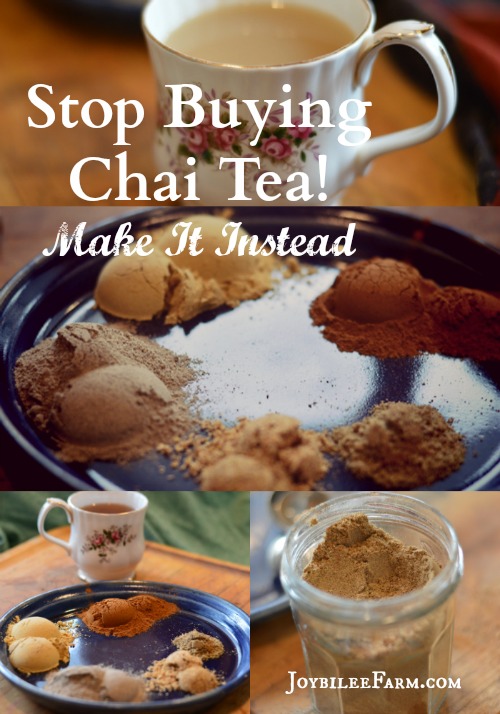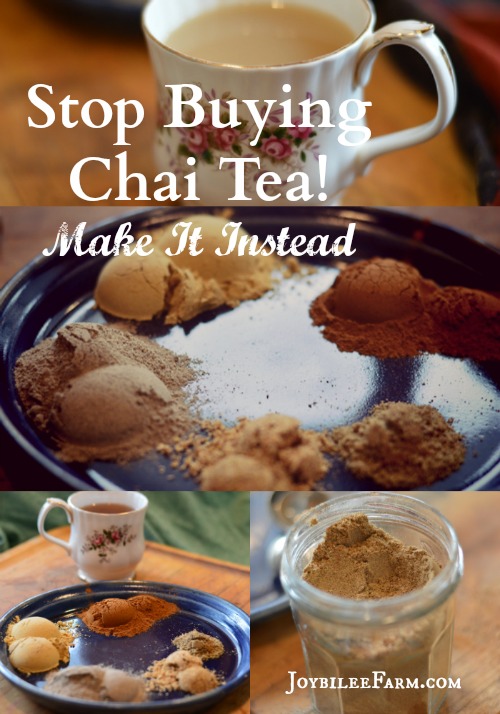 What is Masala Chai?
Chai is tea. Masala is the mixed spices that are added to the tea. The spice mix varies depending on where you sample your chai from but can contain any of the following spices:
Cinnamon
Anise seed
Pepper corns
Vanilla
Ginger
Turmeric
Nutmeg
Clove
Allspice
Green Cardamom
Holy Basil
Star Anise
Fennel seed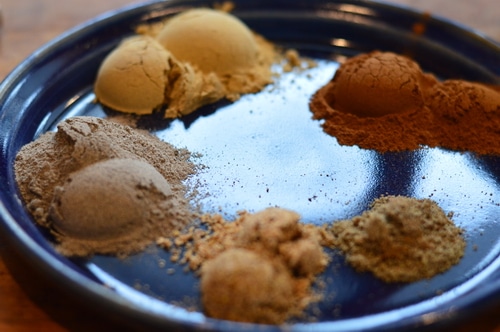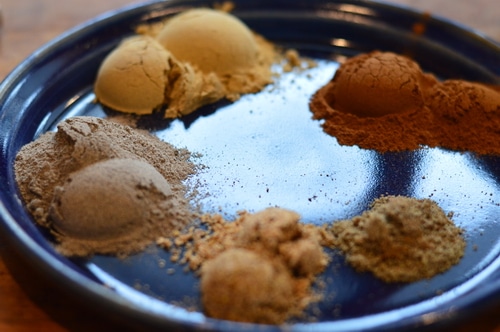 You probably noticed when you buy Chai Tea in tea bags; different brands have different spices predominating. Commercial chai tea bags usually have spices mixed based on price. You'll find fewer expensive spices like cardamom, with a heavier leaning on the cheaper spices like cinnamon and allspice. Some companies skip the real spices and add flavouring instead of spice, to save money.
If you speak to someone with Indian heritage you may find that their favorite Chai (tea) has only milk, sweetening and ginger. There is no official Masala Chai tea recipe. But everyone agrees, it shouldn't taste like curry.
You can make your own chai spice mix by choosing the spices you like best.
While you could use whole spices and mix them with the tea of your choice, my friend Connie brought over a powdered spice mix to make chai when she was camping. Following her example, I like to keep the powdered spice mix separate from the tea. It keeps the spices fresher. It's so easy to mix up a fresh batch as you need it.
Here's the simplest version of my chai tea recipe. This is the powered spice mix I favour.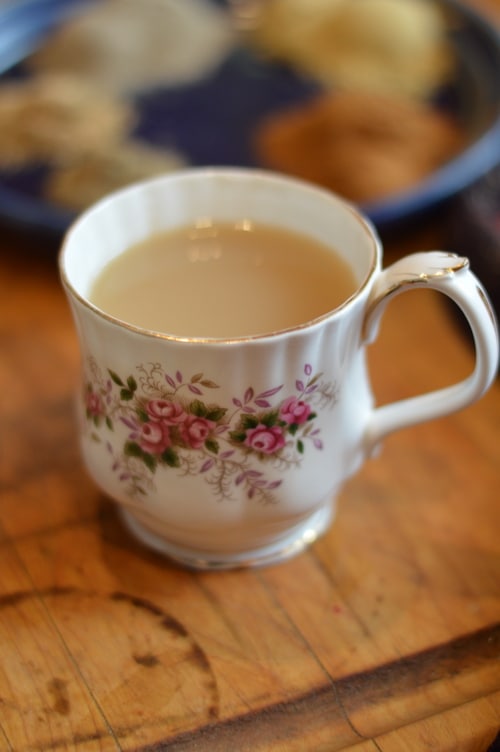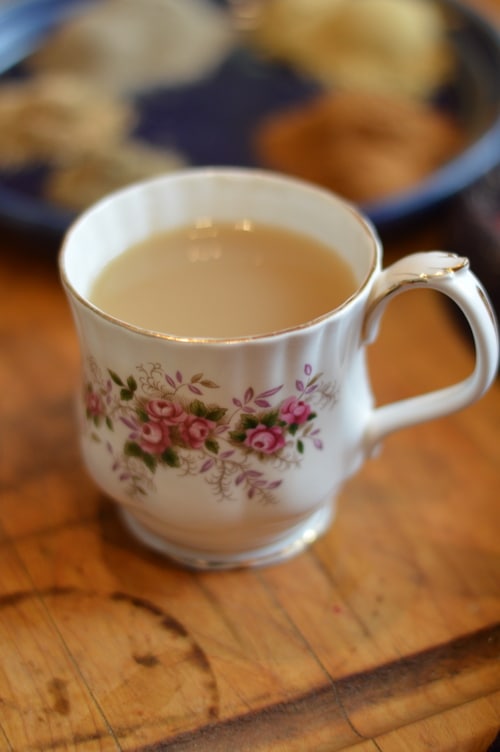 Chai Tea Recipe
Ingredients:
2 tbsp. powdered ginger
4 tsp. powdered cinnamon
1 tbsp. ground cardamom
2 tsp. freshly grated nutmeg
1 tsp. freshly ground pepper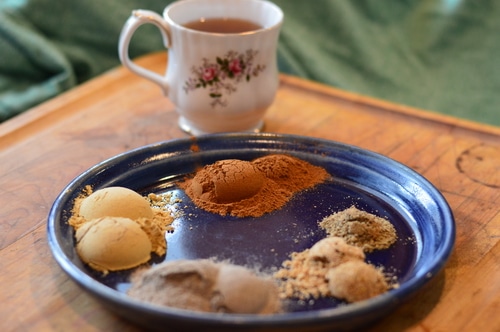 Method:
Mix the powdered spices together in a jar with a tight lid. Keep the jar in a cool cupboard away from heat.
To use:
Use 1/2 tsp. to 1 tsp. per cup of black or green tea. I like to put this in the tea strainer or tea bag and steep it with the tea, rather than stirring it directly into the cup, after the tea is brewed.
Enjoy!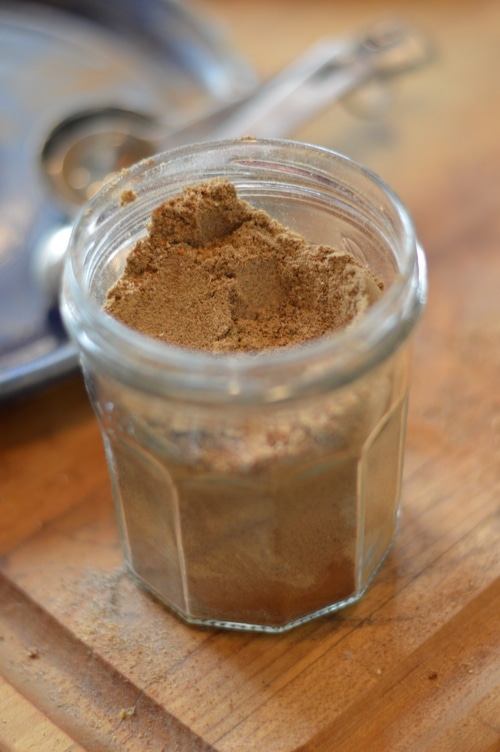 Other ways to use this Chai Tea Recipe
You can also add this spice mixture to:
Rice pudding
Smoothies
Ginger cookies (use this spice mix in place of the ginger the recipe calls for)
Lattes
Coconut Milk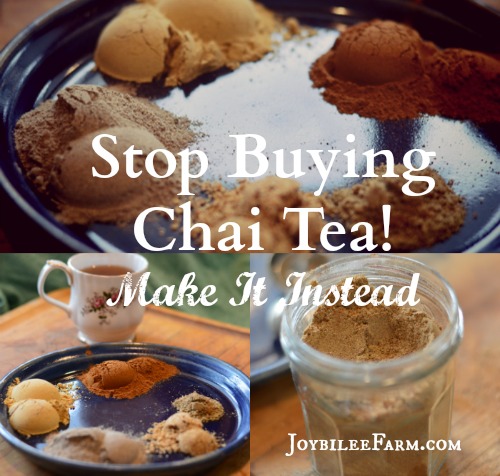 Using Stevia instead of Sugar
There's no sugar in the mixture. If you prefer a sweeter masala chai, you can use sugar or honey and sweeten to taste. If you are trying to cut back on sugar, I find that the spices add a hint of sweetness to the tea all by themselves. If that isn't enough for you, a mere pinch of ground stevia or a drop or two of stevia extract will give you the sweetness you crave without the blood glucose hike.
(Note: 1 tbsp. of ground stevia has the equivalent sweetness of 1 cup of sugar, so add it to your tea very sparingly. Too much stevia will leave a bitter aftertaste, that is unpalatable.)
Your Turn:
What are your favorite spices for masala chai? Do you prefer more anise or a little more pepper?
Save
Save
Save