Warming, digestive, soothing, and comforting, homemade masala chai is nothing like the coffee shop drink. It's worth making your own Masala Chai from scratch, both for flavour and for its therapeutic benefit. This is my favorite chai tea recipe.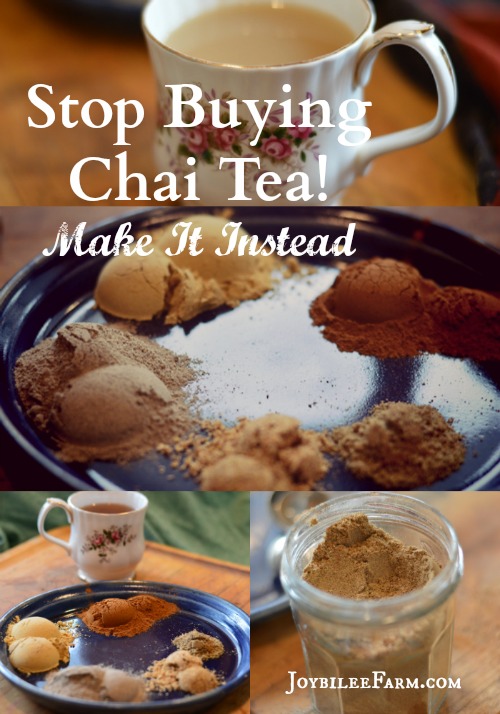 What is Masala Chai?
Chai is tea. Masala is the mixed spices that are added to the tea. The spice mix varies depending on where you sample your chai from but can contain any of the following spices:
Cinnamon
Anise seed
Peppercorns
Vanilla
Ginger
Turmeric
Nutmeg
Clove
Allspice
Green Cardamom
Holy Basil
Star Anise
Fennel seed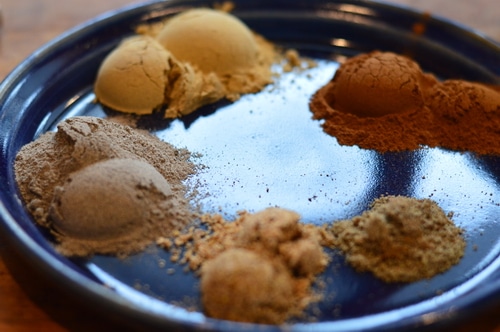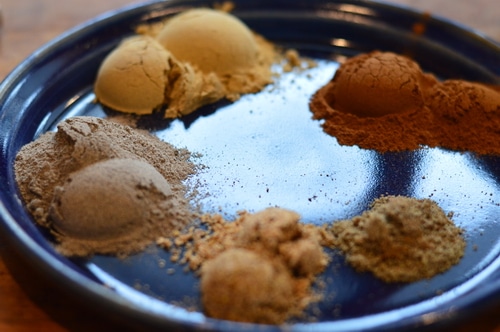 You probably noticed when you buy Chai Tea in tea bags; different brands have different spices predominating. Commercial chai tea bags usually have spices mixed based on price. You'll find fewer expensive spices like cardamom, with a heavier leaning on the cheaper spices like cinnamon and fennel. Some companies skip the real spices and add flavouring instead of spice, to save money.
If you speak to someone with Indian heritage you may find that their favorite Chai (tea) has only milk, sweetening, and ginger. There is no official Masala Chai tea recipe. But everyone agrees, it shouldn't taste like curry.
You can make your own chai spice mix by choosing the spices you like best.
While you could use whole spices and mix them with the tea of your choice, I like to keep the powdered spice mix separate from the tea. It keeps the spices fresher. It's so easy to mix up a fresh batch as you need it.
Here's the simplest version of my chai tea recipe. This is the powered spice mix I favour.  Feel free to adapt it to your own taste.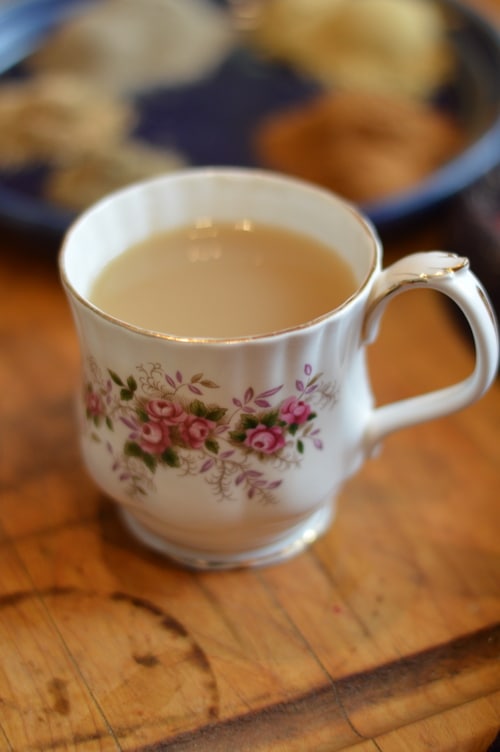 Chai Tea Recipe
Ingredients:
2 tablespoons powdered ginger
4 teaspoons powdered cinnamon
1 tablespoon ground cardamom
2 teaspoons freshly grated nutmeg
1 teaspoon freshly ground pepper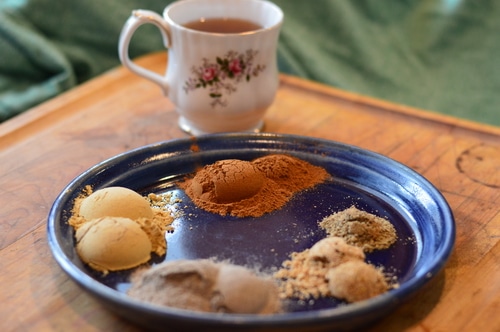 Method:
Mix the powdered spices together in a jar with a tight lid. Keep the jar in a cool cupboard away from heat.
To use:
Use 1/2 teaspoon to 1 teaspoon per cup of black or green tea. Or make your own caffeine-free fermented black tea using tannin-rich herbs, like raspberry leaves or fireweed, from your own garden.  (Here's the instructions) I like to put this chai tea mix in the tea strainer or tea bag and steep it with the tea, rather than stirring it directly into the cup after the tea is brewed.
Enjoy!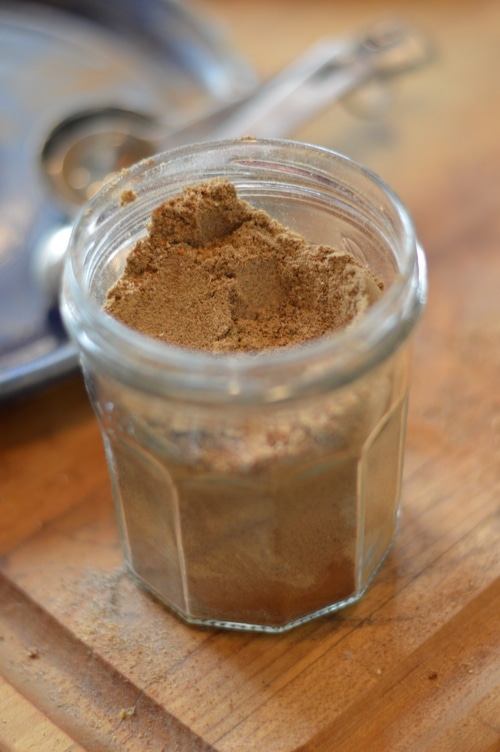 Should you add milk to tea?
Masala Chai traditionally is made with milk.  It's not just a preference for milk or no milk.  Milk serves a healthful function in the beverage.  Tea is rich in tannins.  Tannins are the bitter flavors in long-steeped tea that give you a dry feeling in your mouth and tighten the back of your throat.  They are astringent and help with digestion.  When you have a problem with dampness or diarrhea, tannins work in your digestion to dry up the looseness.  This is especially helpful in the summertime when people are more prone to bowel troubles when camping or vacationing.
Tannins are also antimicrobial and help inhibit the growth of many fungi, yeasts, bacteria, and viruses.  Tannins are anti-tumor and protect against some forms of cancer.  They are powerful antioxidants that contribute to heart health and stimulate metabolism, helping in weight loss.  Tannins also relax the body and calm the mind.
However, too much tannin can contribute to other health problems. Tannins can inhibit the absorption of some nutrients, like iron and while tannins can enhance digestion in small amounts, too much tannin can contribute to stomach upset.
The casein in milk, binds with tannins in tea, preventing the tannins from being active in the body. Soy milk, coconut milk, rice milk, and other vegetarian milks don't have the inhibitory effect on tannins that cow's milk, goat's milk, and camel's milk have.  Milk products that are high in butterfat contain very little casein. So choose your milk wisely and opt for at least half in half, dairy creamers, if you need to inhibit the effects of tannins in your diet.
But whether you add milk to your tea or enjoy your tannins straight, this chai tea spice mixture will enhance the flavour and health benefits of your favorite beverage.  I've heard that some of my readers even use this mix in their morning coffee.
Other ways to use this chai tea recipe
You can also add this spice mixture to:
Rice pudding
Smoothies
Ginger cookies (use this spice mix in place of the ginger the recipe calls for)
Coconut Milk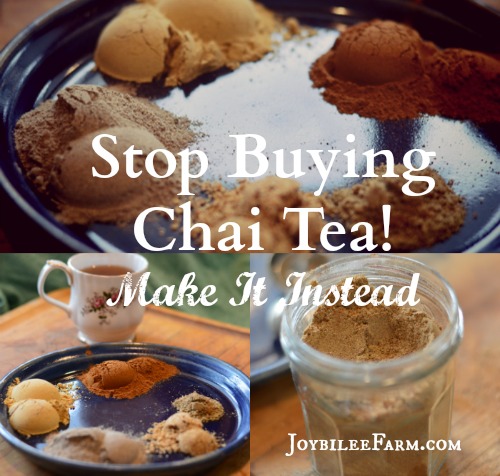 Using stevia instead of sugar
There's no sugar in the mixture. If you prefer a sweeter masala chai, you can use sugar or honey and sweeten to taste. If you are trying to cut back on sugar, I find that the spices add a hint of sweetness to the tea all by themselves. If that isn't enough for you, a mere pinch of ground stevia or a drop or two of stevia extract will give you the sweetness you crave without the blood glucose hike.
(Note: 1 tablespoon of ground stevia has the equivalent sweetness of 1 cup of sugar, so add it to your tea very sparingly. Too much stevia will leave a bitter aftertaste, that is unpalatable.)
Your Turn:
What are your favorite spices for masala chai?  Do you prefer a little anise or a little more cinnamon?
Save
Save
Save
Save
Save
Save