No need to drive out to Starbucks to get your fill of Pumpkin Lattes when you can make Pumpkin Latte at home. This recipe is for Pumpkin Chai Latte, but if you prefer Coffee to Tea, simply substitute a double shot of espresso for the chai tea and call it Pumpkin Spice Latte. The rest of the recipe is the same. Chai means "Life" in Hebrew, but tea in Hindi. In the English mind it means a warm spicy tea, often with milk and honey.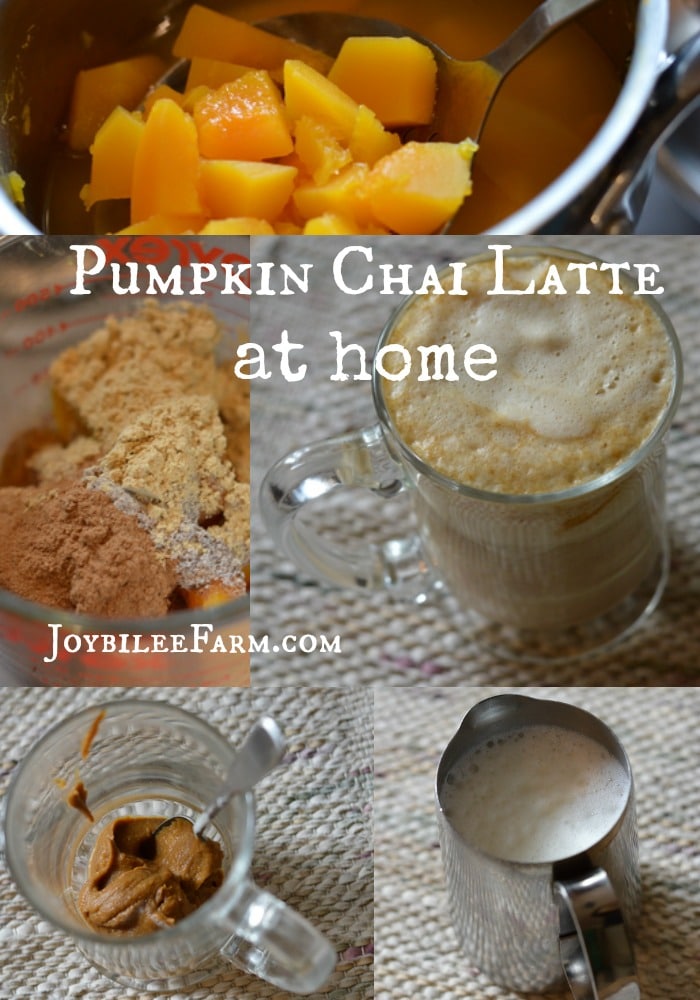 Enough semantics. What you really want to know is why there is no pumpkin in my pumpkin chai latte, right? It's because I stopped buying (and growing) pumpkins about 20 years ago. I switched to growing (or buying) mostly butternut squash instead.
Why I prefer butternut squash to pumpkin
Pumpkin and butternut squash can be used interchangably in recipes that call for pumpkin.
Butternut squash is easier to peel, firmer, and drier than pumpkin.
I broke an expensive butcher knife once cutting into a pumpkin. I've never had a problem peeling butternut squash.
Butternut squash also comes in a smaller size than pumpkin, allowing you to use just one squash for a recipe, instead of having a lot of leftover squash that you then have to process.
Butternut squash will keep in a cool, dry place from harvest till April, without loss of quality.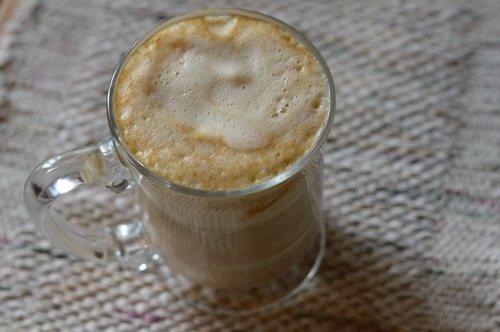 Pumpkin Chai Latte
(serves 2)
Ingredients:
1 cup butternut squash or pumpkin cooked, and drained
2 tbsp. heavy cream
2 tsp. organic cinnamon, ground
1/2 tsp. organic cardamom, ground
1 tsp. organic ginger, ground
1 tsp. maple syrup
1 cup milk, heated and frothed
1 cup of chai tea (I used two Tazo Chai Tea Bags per 2 cups boiling water)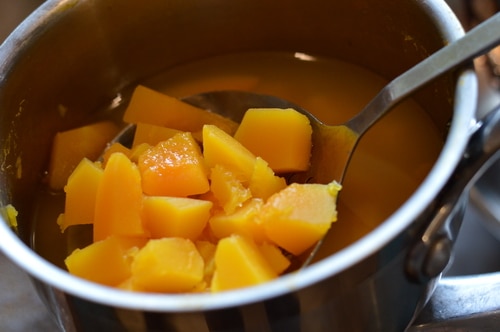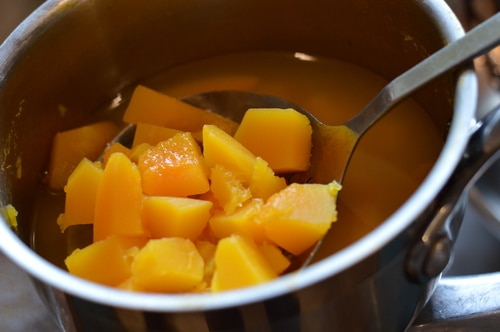 Method:
Cook 1 cup of cubed pumpkin or butternut squash until tender. Drain but reserve the liquid for soup stock. Place the cooked squash in a 2 cup glass measuring cup. Add heavy cream and spices to the squash. (I used Mountain Rose Organic Spices in my recipes.) Using a stick blender, puree the mixture of squash and spices until smooth and thick. This is the stick blender I use. KitchenAid KHB2561CU 5-Speed Hand Blender – Contour SilverSet aside.
Make a small pot of tea using 2 cups of boiling water and 2 Tazo Chai Tea bags or another chai tea brand. This is a black chai tea. If you prefer a tea without caffeine rooiboos chai or Tulsi Chai is caffeine-free.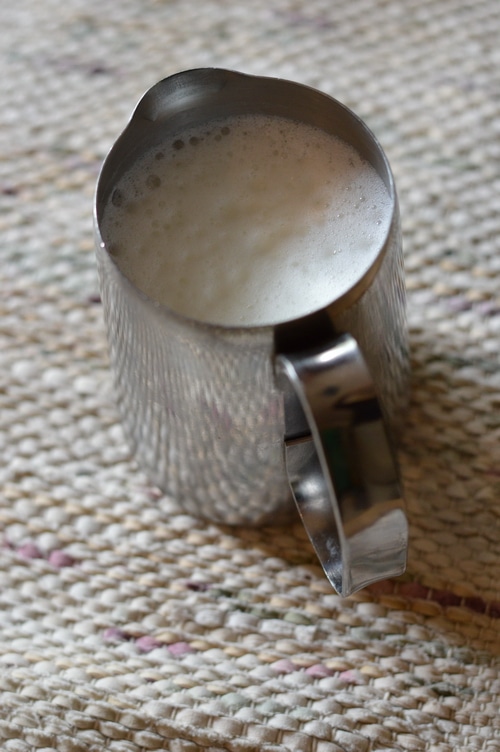 Meanwhile heat up 1 cup of milk — anykind of milk or milk substitute is fine. Heat it on the stove top just until a skin begins to form. Don't let it boil.
In another glass measuring cup or stainless steel frothing jug, froth the milk with a battery operated frother. I use this one.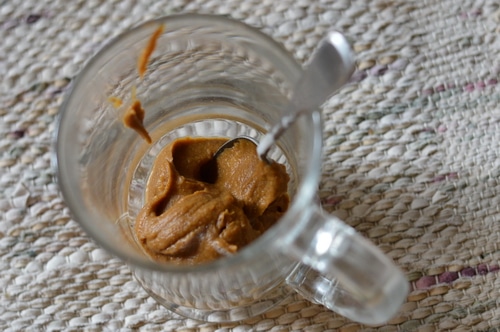 Assemble the Pumpkin Chai Latte as follows:
Place 2 tsp. of the pumpkin spice puree in the bottom of a mug.
Add 1/2 cup of strong chai tea. Stir to mix the pumpkin puree with the tea.
Top the mug with as much frothed milk as your mug will hold. Stir lightly.
Repeat with a second mug.
Enjoy.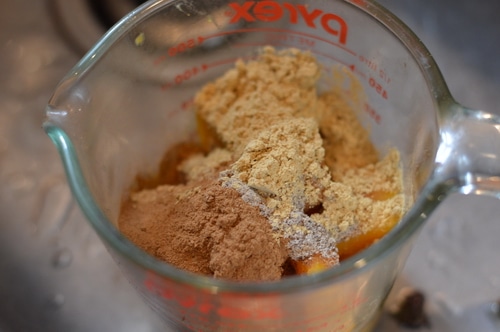 To make a Pumpkin Spice Latte using espresso instead of tea
Make your espresso in the way you prefer. I make mine in a mocha pot.
In the bottom of your mug put 1 or 2 shots of espresso.
Place 2 tsp. of pumpkin spice puree in the bottom of the mug and stir well.
Top the mup with as much frothed milk as your mug will hold. Stir lightly.
Other ways to use squash instead of pumpkin
(I promise you won't miss the pumpkin).
Once you've tasted the delicious pumpkin chai latte made with butternut squash instead of pumpkin, you'll realize that your yearning for pumpkin in December is misplaced, when butternut squash is available all winter long. Here's a few more ways to use this versatile vegetable. Your family won't even realize it's not pumpkin.
Try Mayan Hot Chocolate from Learning and Yearning
Try squash for dessert:
Squash Pie from Learning and Yearning or Butternut Squash Pie from Reformation Acres
Or try squash for breakfast:
Squaffles — Squash Waffles from Common Sense Homesteading
Squash Granola and Butternut Squash Grits from Homespun Seasonal Living
Or Squash for lunch:
Hubbard Squash and Sausage Soup, also from Homespun Seasonal Living
Your turn:
Have you tried squash in place of pumpkin in your favorite recipes? How did it work for you?