Butternut Spice Bundt Cake
With pumpkin and winter squash in abundance right now, add a festive mood to your afternoon tea or coffee break with this moist, bundt cake. Butternut, pumpkin, or other winter squash can be used interchangeable in the recipe.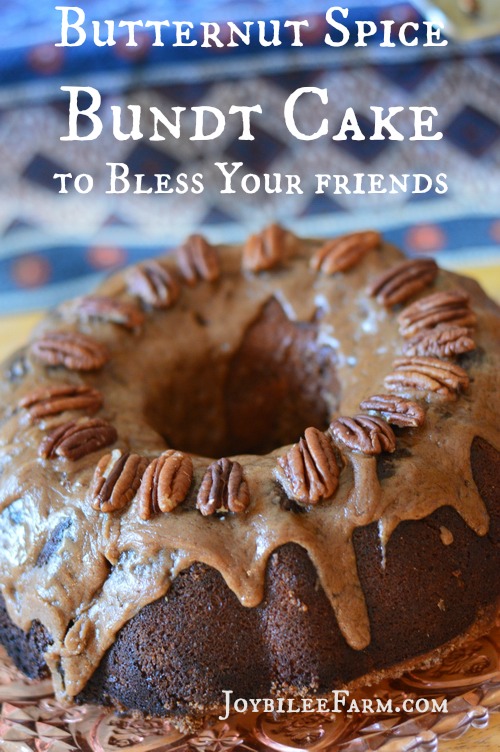 I prefer butternut to pumpkin or other winter squash because butternut is easy to peel. It is smaller than pumpkin or Hubbard squash so I can cut into the squash without planning an entire day to can or freeze leftovers. Butternut is less watery than pumpkin and just as sweet. The seed cavity is also small and easier to clean than larger pumpkin or Hubbard squash. The seed cavity is also drier than other squash.
Butternut, like other winter squash, can be stored for several months in a cold room or root cellar. Just wash and sanitize the skin with Thieves Vinegar cleaner or lemon vinegar cleaner before storage and you'll inhibit the bacteria that causes mold and decay.
Squash stores longer if the stem is left on the squash. If you have squash that the stem has broken off, use it first. The wound left by the stem is usually the first place that molds colonize.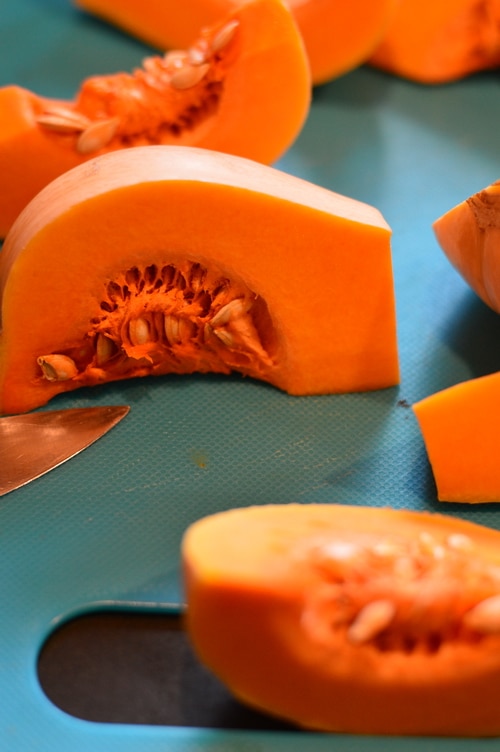 How to make butternut squash puree
This recipe calls for butternut squash puree. You can substitute 1 cup of canned, pureed, pumpkin. To make butternut squash puree, take a small butternut squash. Cut the squash into 8ths and peel the thin skin from the squash. Remove the seeds from the small seed cavity. I just scrape the seed cavity with the edge of a teaspoon and the seeds come away with the membrane, easily.
Cube the butternut squash into ½ inch cubes. Place in a saucepan with 1 cup of water for each 3 cups of squash. Cover the saucepan and simmer on low-medium heat until the squash is tender when pierced with a fork.
Drain the squash. Mash with a potato masher or an immersion blender until smooth. If the puree is difficult to get smooth, simply add a bit of the cooking water back into the squash, 1 tablespoon at a time.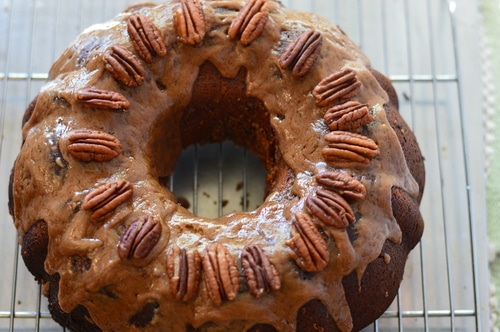 Butternut Squash Bundt Cake Recipe
This cake is moist, sweet, and perfect for fall and winter coffee breaks or afternoon tea. Consider making two, one for your own family and one to take to your next morning meeting. It will put everyone in a happy mood.*
Ingredients:
2 eggs
1 cup organic sugar
¼ cup organic coconut oil
1 cup of butternut squash puree
1 cup of yoghurt
½ tsp. cardamom
1 tsp. ginger
2 tsp. cinnamon
Zest and juice of 1 lemon
2 ½ cup whole wheat flour, freshly ground
2 tsp. baking powder
Streusel
1 cup of pecans, lightly toasted and ground coarsely
¼ c. organic sugar
1 tsp. cinnamon
¼ cup butter, cold
Glaze
2 tbsp. lemon juice
1 cup of icing sugar
1 tsp. cinnamon
1 tbsp. butter, melted
2 dozen pecan halves for garnish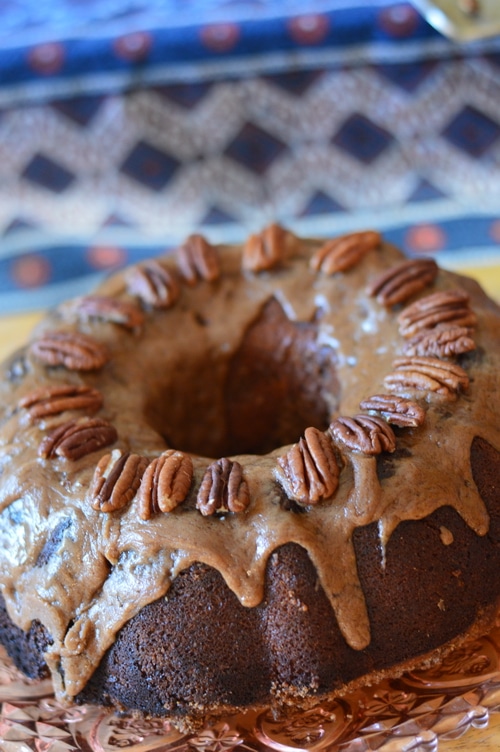 Directions:
Cream the coconut oil and sugar together, until light and fluffy. Put in eggs and continue beating until smooth. Add the butternut squash puree and yoghurt, and blend until smooth.
Add the spices, the lemon juice, and the lemon zest and beat until smooth.
Add the flour and baking powder together and beat until just blended.
Preheat the oven to 360°F.
Mix streusel topping
In a separate bowl, cut the butter into cubes. Add the coarsely ground pecans, sugar, and cinnamon and mix with your fingers until the mixture is uniform and crumbly.
Assemble cake
Prepare a fluted bundt pan by greasing and flouring the sides and bottom. Sprinkle 1 tbsp. of the streusel topping in the bottom of the bundt pan. Place ½ of the cake batter in the bundt pan. Spread it evenly in the pan. Top with ½ of the remaining streusel topping. Top with the remaining cake batter. Sprinkle the last of the streusel topping over the batter.
Bake at 360°F for 45 min. Or until a toothpick placed in the cake, comes out clean and the cake is pulling away from the sides of the pan.
Place the cake in the pan on a cooling rack for 15 min. Using a knife loosen the cake from the pan, gently. Invert the cake on a plate. Cool for a further 30 min.
Mix glaze
In a small mixing bowl, mix butter, lemon juice, sugar, and cinnamon. Mix well until all the lumps are gone. Pour glaze over the warm cake on the plate, allowing the excess to drip down the sides. Place pecan halves around the top of the cake, while the glaze is still moist. The glaze will firm up and keep them in place, as the cake cools.
Serve the cake while still warm, or allow it to cool completely.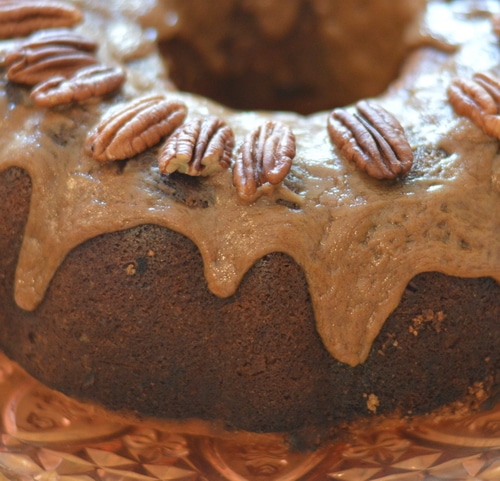 Gift a Bundt cake and make a Blessing
*In the book, Gift It from Scratch, Kathie Lapcevic, presents 60 recipes that are perfect for gift giving. I've taken a cue from Kathie and considered ways I could use a bundt cake like this one, to bless my friends and neighbors.
Showing up to a meeting, a visit with friends, a Bible study, or an appointment with a Bundt Cake Blessing is sure to surprise and delight. But how do you present it in such a way that you can let it go. Face it; most of us don't have a cupboard full of cake boxes just waiting to be filled.
Bundt cakes don't need special packaging because the glaze hardens as it cools. There's no messy icing. I look for large dinner plates or cake plates at thrift shops, just for the purpose of gifting lovely bundt cakes to my friends and neighbors. One such cake plate was a special Navy blue and white cake plate with the words, "This is your day. Celebrate." I don't expect the plates to be returned but rather passed on.
Isn't that fun?
To dress it up, place the cake on the plate, cover with plastic wrap or a beeswax cotton wrap. Place a pretty linen napkin over the top. And bless your friends.
Specialty Bundt Cake Pans
I've made bundt cakes in cast aluminum bundt pans with a no-stick coating. I've also made bundt cakes in an angel food cake pan. Both worked fine.
The bundt pan I use now is made by Paderno. It is enameled steel with silicone grips. Bundt pans may also be called "fluted tube pans" in the other countries.
They come in different shapes and sizes. Tessa, from Homestead Lady, told me that she has a bee skep shape, a train, and a gingerbread house. Here's a small sampling of Tessa's bundt pans.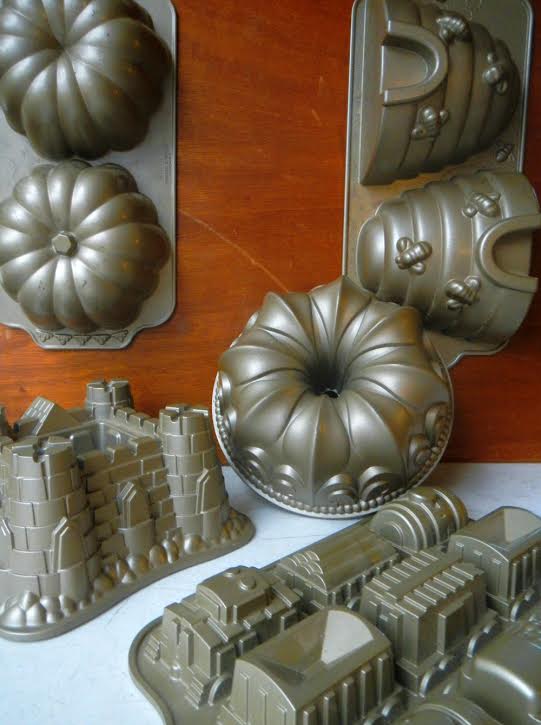 That led me to an Amazon search and I found even more unusual shapes for bundt cake pans. And these are only a sampling of what's available.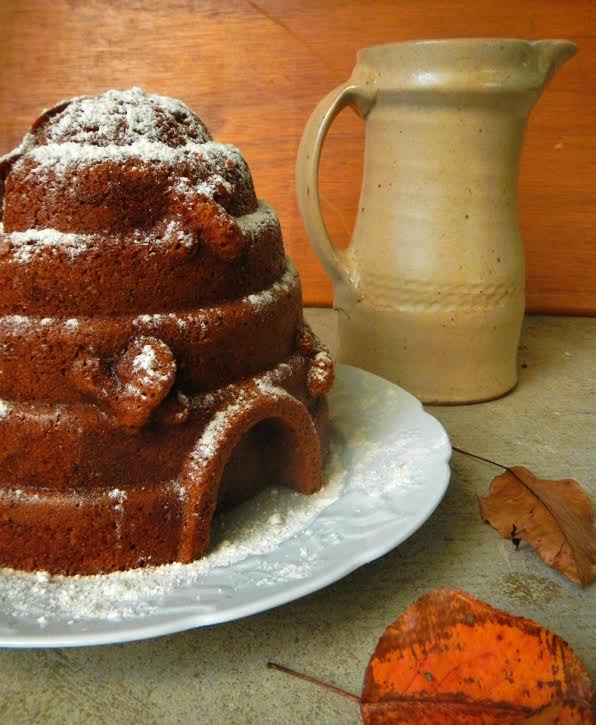 A special pan can make your gift even more remarkable and outstanding.
More bundt cake recipes
Other Bundt Cake Recipes you could add to your Bundt Cake Blessing Repertoire:
From the Joybilee Farm Blog:
Gluten-free Rhubarb bundt cake
From the Gift It from Scratch cook book:
Nutty Coffee Cake, page 58
Pumpkin Cake with Chocolate Glaze, page 62
Buy Gift it from Scratch and find 60 recipes for food gifts for everyone on your list. Even your Mother-In-Law. Yes, the recipes are tasty enough to impress even her!