Coconut milk yogurt is a viable alternative yogurt made suitable for dairy-free, gluten-free, paleo, and GAPS special diets.  It's easy to make at home with just 3 ingredients.
Yogurt has been around for at least 6,000 years.  As long as there have been nomads who milked goats, sheep, cows, and camels, fermenting milk as yogurt, kefir, or cheese, preserved fresh milk without refrigeration.  In fact it's only quite recently that fresh milk was preserved without fermentation.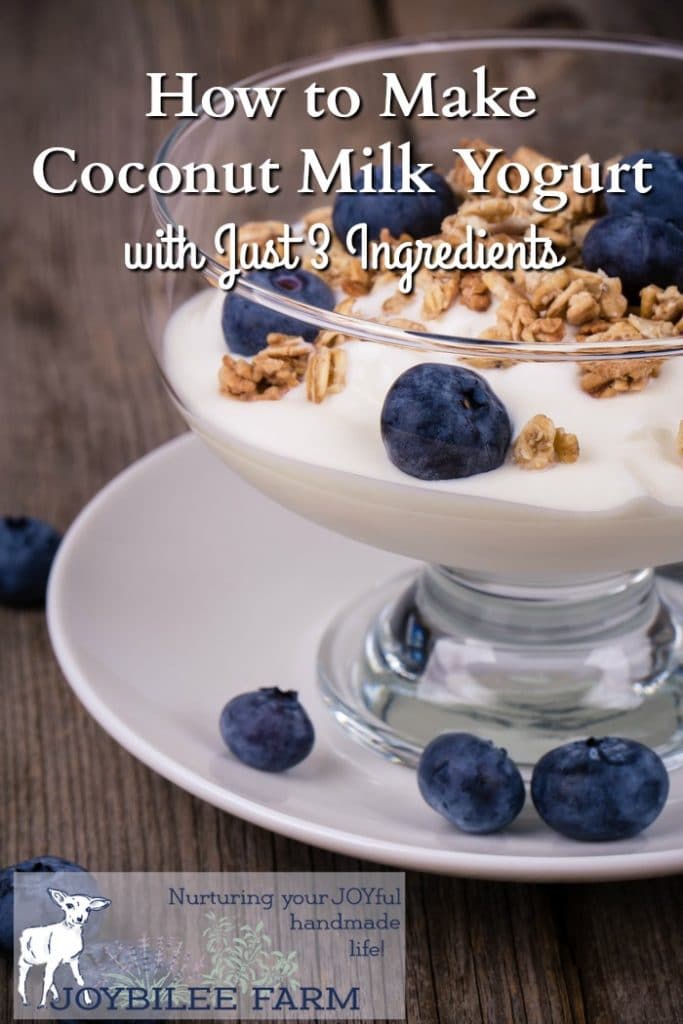 In case you need convincing that fermented milk is healthy milk, there are several scientific studies that show that yogurt and the milk cultures that create it like, Lactobacillus acidophilus, Lactobacillus bulgaricus and Streptococcus thermophilus, improve immune function, inhibit the formation of tumor cells, reduce inflammation, support heart health, lower insulin resistance, and stabilize weight.  Yogurt is healthy, even if it's made from cow's milk.
A Canadian study concluded that eating yogurt was associated with lower insulin levels, lower triglyceride levels, and heart health.  Further, eating yogurt encouraged healthy weight, with full fat yogurt satiating better than skim milk yogurt and therefore associated with a reduction in carbohydrates in the diet.
Another study of people eating a high fat diet plus yogurt found that those who consumed yogurt didn't have weight gains after fatty meals.
The Farmington study found that people who ate at least 3 servings of yogurt a week had less weight gain over a year without calorie restrictions than those who ate 1 serving of yogurt a week or less. Find out more about probiotics and weightloss here. (link)
But it wasn't actually necessary to consume milk yogurt to reap the benefits of yogurt consumption.  A Canadian study using a mouse model demonstrated that oral probiotic capsules of Lactobacillus acidophilus reduced inflammation and restored normal immune function, reducing the size and number of tumor cells, and stabilizing weight.
For those on a dairy-free diet, or a paleo diet, coconut milk yogurt is a reasonable alternative that can be made easily at home for less money than store bought yogurt.  Coconut yogurt is naturally sweet with a pleasant but mild coconut flavor and a slightly sour taste.
You control the flavor by how long you allow your coconut milk to ferment.  Coconut milk ferments faster than cow's milk, so taste it through the process after the first 6 hours, and every 4 hours after that, so that you can stop the fermentation when it reaches the sourness that you prefer.  The longer it ferments the higher the number of probiotics in every spoonful.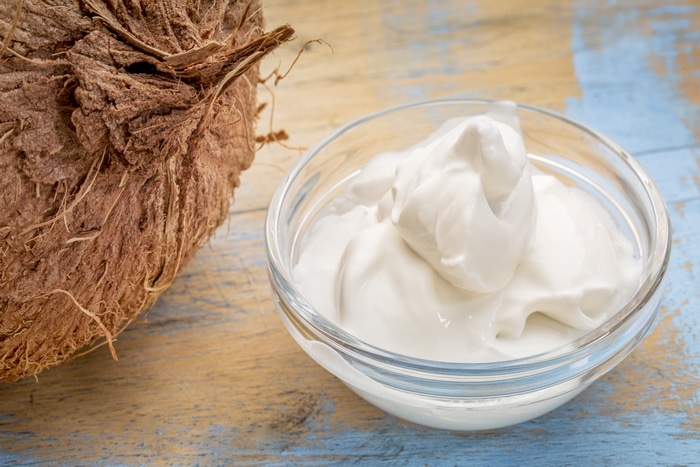 Make coconut yogurt in 2 steps.
First make coconut milk
Second, make yogurt.
How to Make Coconut Milk from Dried Coconut
You can easily open a ca n of coconut cream to make yogurt and skip this step, but coconut milk is easy to make if you have a blender or Vita-mix.
Yield: 1 quart
Ingredients:
For coconut milk:
2 2/3 cups of coconut, shredded, unsweetened (8 ounces)
4 cups of water, boiled and cooled so that it is no longer steaming
Directions:
Make the coconut milk
Place 2 cups of coconut and 4 cups water in a blender with a lid or Vitamix.  Blend on high for 3 minutes until the coconut is finely blended and resembles crumbs.
Use caution at this stage.  Blenders such as the nutribullet and Magic bullet can explode from the heat of boiling water.  (Speaking from experience.) An open blender where the pressure can be reduced is a better choice for this step.
Strain the coconut milk through a fine sieve.  After straining, place the coconut in a nut milk bag, and squeeze to retain as much liquid as possible.
Retain the coconut milk.  The coconut meat can be used for granola or dried for coconut flour.
Place the coconut milk in a one quart mason jar.  Allow it to cool to about 90°F.
How to make coconut milk yogurt
Homemade coconut milk works well for this recipe, as does canned coconut milk.  Avoid using the  coconut milk sold in cartons which have added stabilizers and additive.  These inhibit the fermentation process.
Yield: 4 cups
Ingredients:
4 cups of homemade coconut milk or canned coconut milk
¼ cup coconut yogurt, cow's milk yogurt, or 4 probiotic capsules
2 teaspoons bovine gelatin (or 1 teaspoon agar agar)
Directions:
There is no need to heat the coconut milk for this recipe.  Place the coconut milk in a mason jar.  Add ¼ cup of yogurt or 4 probiotic capsules to the coconut milk.   Stir until the mixture is smooth.
Place the jar in a bowl of warm water and place in your oven, with the heat turned off.  Turn on the oven light to maintain the temperature.  Leave it 6 to 8 hours or overnight.  The coconut milk will taste slightly soured and begin to separate.
Remove from the oven.  Remove ¼ cup from the coconut yogurt mixture for a starter for your next batch.
In the remaining yogurt, stir in the gelatin.  Allow the gelatin to soften for 5 minutes.  Stir again until the mixture is smooth.  Refrigerate for 2 hours.  The yogurt will thicken like Greek style yogurt.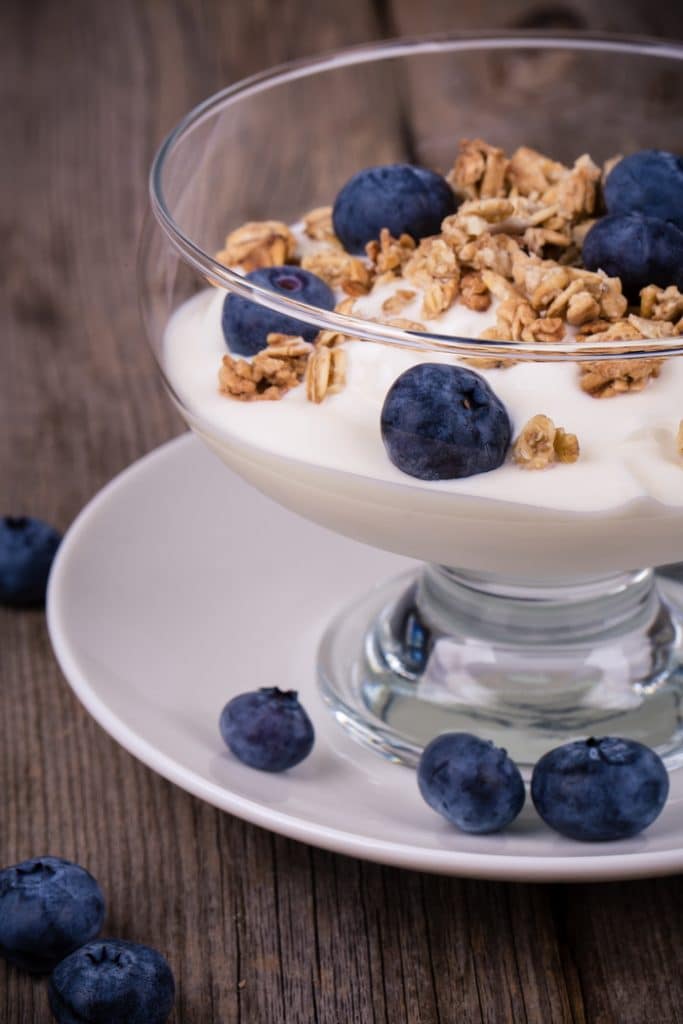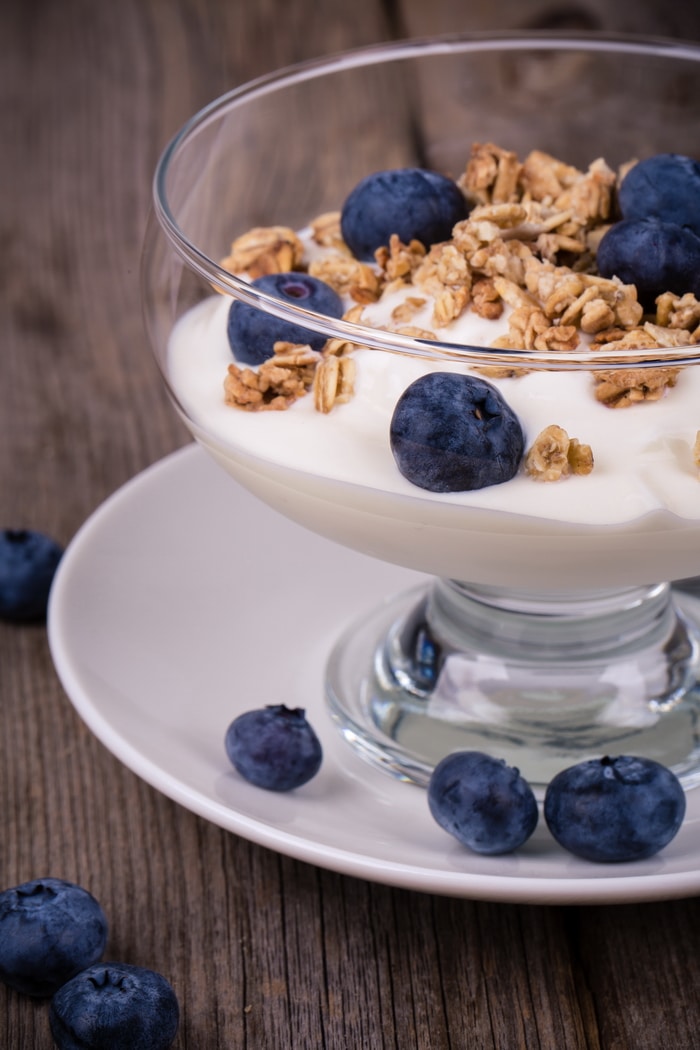 10 ways to use coconut yogurt:
Yogurt makes a meal in itself.  Add fresh fruit, nuts, oatmeal or jam.
Use yogurt as a base for a mayonnaise-style dressing using ¾ cups of yogurt and ¼ cup mayonnaise and season to taste.  (1/4 cup fresh chives, ½ teaspoon garlic powder, and ½ teaspoon onion powder makes ranch-style dressing.)
Strain the coconut yogurt through a cheese cloth for a thicker, creamy yogurt cheese.
Add yogurt to your smoothie.
Freeze yogurt for a frozen dessert.
Falafel dip
Mango Lassi  (Yogurt and mango smoothie)
Frozen yogurt pearls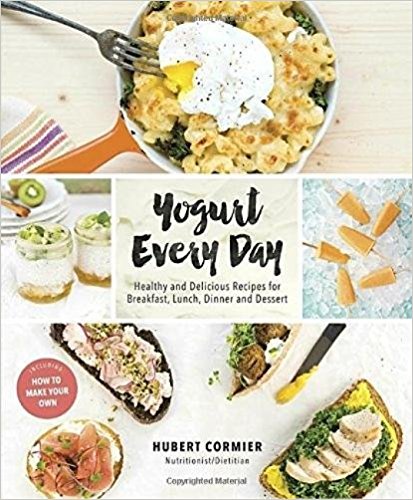 By using yogurt in your daily meal planning you can capitalize on yogurt's many health benefits.  Yogurt Every Day, Healthy and Delicious Recipes for Breakfast, Lunch, Dinner, and Dessert by Canadian nutritionist and dietician Hubert Cormier (Random House, 2017) is an outstanding book for fully incorporating yogurt into your daily menus.  If that tub of yogurt has been sitting in the fridge waiting to be eaten, Yogurt Every Day will inspire you to not only empty it into a nutritious and probiotic-rich, creamy, tangy recipe but it will coach you through making your own yogurt from scratch.
The recipe I shared is my own recipe for making coconut yogurt using dried coconut, but the book has recipes for coconut yogurt using canned coconut and probiotic capsules, making yogurt in a slow cooker, making yogurt with a yogurt maker, and making yogurt in the oven.
You can use any milk you want to make yogurt, from cow's milk, goat's milk, or camel's milk (the traditional way) or even coconut milk, soya milk, or nut milk.  The more fat in your milk, the richer, creamier, and more satiating your yogurt will be.  The full fat satiety accounts for several of the weight management and cardiovascular benefits of yogurt in the scientific studies cited above.
Yogurt Every Day is written by a dietician and as you'd expect contains nutritional values for most of the recipes, including calorie count, total fats, saturated fats, cholesterol, sodium, carbs, fiber, and protein. The photography is fabulous and inspiring with yogurt showcased with plenty of fruits and vegetables and healthier versions of classic dishes like butter chicken, brownies, donuts, and duck breast poutine.
I really liked this book and found it inspiring on two counts.  First it is by a Canadian author and blends many of the ethnic dishes that are common in Canadian culture from so many ethnic cuisines – butter chicken and avocado lassis from Indian cuisine, coquilles and poutine from French Canada, shepherd's pie and scones from the English side, to name just a few of the cuisines that the author borrowed in his creations.
Secondly, the book isn't just a cookbook.  It's a work of art.  The dishes are expertly plated and styled for each picture.  Nothing is boring or haphazard.  Bloggers and food photographers will gain inspiration here.
Thirdly, the use of yogurt is creative and expansive.  If you thought yogurt was just for soaking oatmeal or serving with fruit, you've got a wonderful adventure ahead of you.  But begin here, with making your own coconut milk yogurt at home.  Then get the book so you can see all the fabulous and healthy ways to incorporate it into your menu plan every day.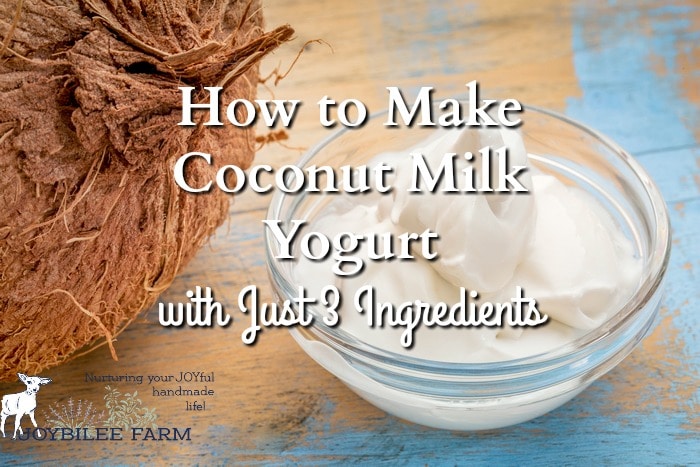 Disclaimer: I received a review copy of this book from Random House, the publisher, so that I could write an honest review here.
Back to you:
What is your favorite way to make yogurt at home?