When you have the abundance of cucumbers that August brings, mix up some fresh tzatziki, a yoghurt-cucumber dip that is delicious with potato chips, over a salad, or in a pita with falafel or lamb.  Fresh tzatziki tastes nothing at all like the bland stuff you get at Costco.  It's light, and refreshing and turns an ordinary meal into a memorable occasion.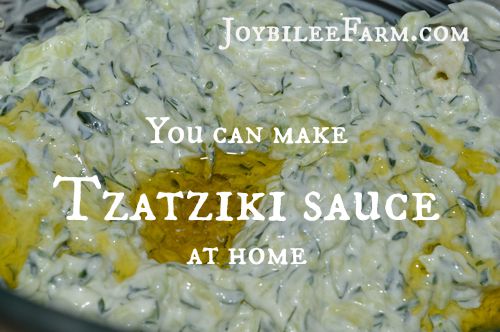 I learned to make tzatziki sauce from Ruth, an Israeli chef that visited Joybilee Farm as a wwoofer a few years ago. Ruth had finished her IDF duty and was visiting Canada on her year abroad. Ruth taught me to cook quite a few Israeli dishes. The memories of Ruth's visit are yummy ones. (Maybe Sarah will meet Ruth again on a bus in Israel. Wouldn't that be cool!)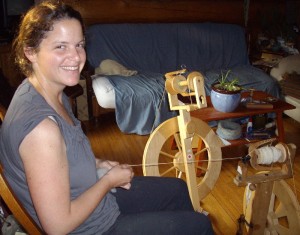 The day we made Tzatziki sauce we had homemade goats' milk yoghurt and grated cucumbers draining in separate colanders on the kitchen counter. At the end of the day we combined the ingredients and fresh herbs, and served it up with whole wheat and flax chapatis, filled with spicy ground lamb, lettuce and tomatoes. Not quite a gyro. More like a soft taco, without the salsa.   The leftover tzatziki tasted even better the next day.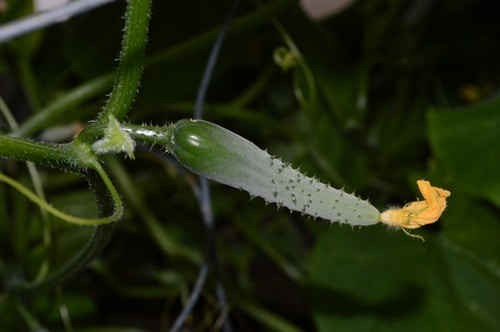 Store bought Tzatziki contains genetically modified canola or soybean oil. But the homemade version uses healthy olive oil. The oil isn't necessary for a smooth, creamy yoghurt dip, when you make this with full fat yoghurt and drain it overnight. Drained yoghurt is called "lebna" and has the consistency of cream cheese.
Use this tzatziki recipe to make a healthier version of tzatziki sauce and save money, too.
Tzatziki sauce recipe
(Yield) 2 cups
Ingredients:
3 cups of yoghurt (My yoghurt culture makes Bulgarian-style yoghurt that's a little runnier than store bought. If you are using store bought yoghurt use just 2 cups.)
2 tbsp. fresh dill leaves, finely chopped
1 small handful of chives, finely chopped
3 garlic cloves, crushed
3 med cucumbers, grated and drained
½ tsp. Himalayan salt
1 tbsp. good quality virgin olive oil
Method:
I didn't peel my cucumbers,  because I like the green colouring in the tzatziki, peel your cucumbers if you prefer white tazatziki.  Grate the cucumber and mix in the salt. Drain the cucumber for 3 hours in a fine colander, over a bowl. Drain the yoghurt for 3 hours in cheese cloth, over a bowl. The drained yoghurt is thicker like clotted cream and is called "lebna".
Reserve the whey and the cucumber juice. Mix them together. They make a refreshing, mineral rich, probiotic drink.
You'll end up with about 1 cup of lebna and 1 cup of drained cucumber.
Combine the lebna, fresh dill, chives, salt, and crushed garlic. Squeeze the cucumber to get as much liquid out as possible. Stir the drained cucumber with the lebna. Mix well.
Put the mixture through a food processor or blender and blend until smooth. Put in a jar and refrigerate until you are ready to serve it. The tzatziki sauce will keep for a week in the refrigerator. It will get thicker as it chills.  Makes 2 cups.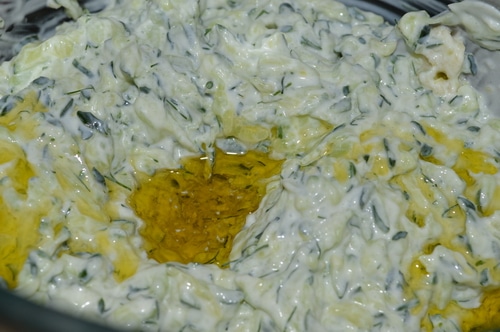 7 ways to serve Tzatziki sauce
Serve chilled with pita bread, or crackers.
Use it as a chip dip with potato chips.
Use as a spread in gyros or wraps. Top with tomato and cucumber slices and mild onions.
Use it as a vegetable dip.
Use tzatziki sauce as a salad dressing.
Serve it as a topping over rice or quinoa.
Eat it out of the jar with a spoon. (Shhh. Don't tell.)
Tzatziki is a versatile and healthy dip that you'll be glad to make at home. Make it when you have an excess of garden cucumbers and an overflow of homemade yoghurt.
If you don't have homemade yoghurt, check out this recipe that uses Greek yoghurt instead of lebna, from Attainable Sustainable.