Dead Sea Mud is famous for its detoxifying and therapeutic effects. This ancient mud is rich in magnesium, calcium, potassium, and iron.  It is unlike any other clay in the world.  People travel to Israel from all over the world just to spread its black clay-like mud all over their bodies and faces. And you thought you had to give up playing with mud pies when you reached adulthood!  Not so!
By using Dead Sea mud and soaking in the salt water of the Dead Sea your  skin will be noticably softer and more elastic.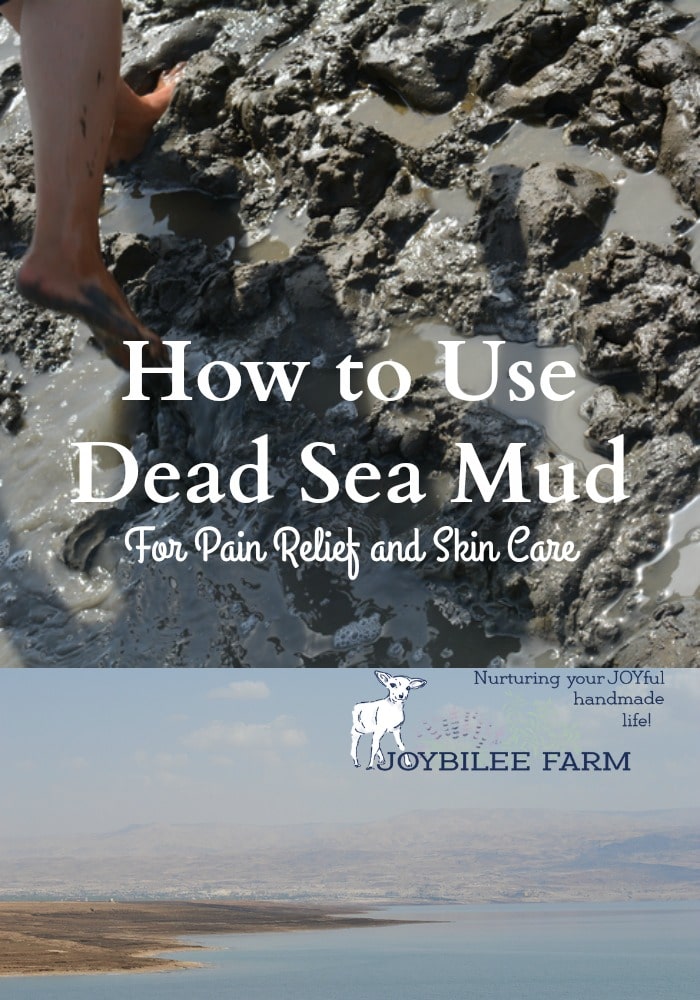 On a recent trip to Israel we visited Kalia Beach, on the north-west side of Dead Sea and got to try the therapeutic effects of the Dead Sea Mud ourselves. Kalia Beach is the closest beach from Jerusalem.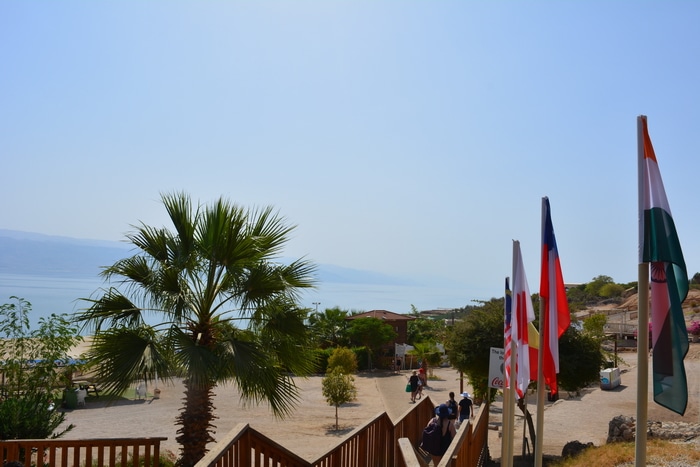 It is a resort beach that is well equiped with showers, change rooms, refreshment stands, and tourist shops.  The beach has a life guard and a swimming area, with lots of resort seating, shade umbrellas, and picnic tables.  There is a small admission charge — about $20 a person.  That's a low price to pay for the full spa experience that includes the lowest bar in the world — 420 meters below sea level.  (Massages and bar service not included)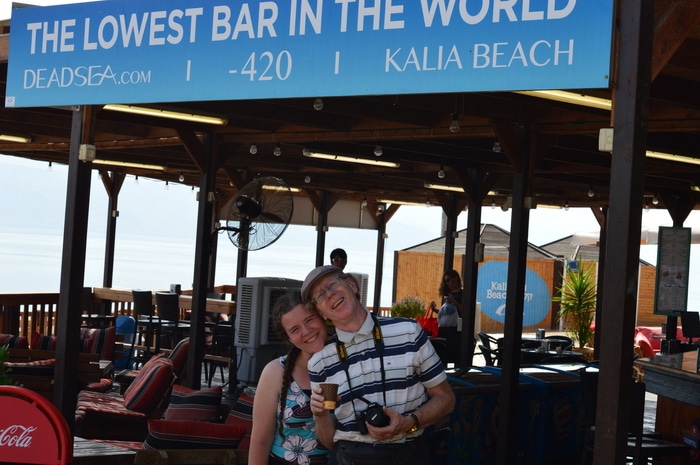 The beach has a mud hole where you can slather the salty clay-like mud all over your body.  You'll want to avoid your eyes and mouth though.  The mud is salty and alkaline and doesn't have a germicide.  In the heat of the Israeli desert bacteria can multiply rapidly.  No worries though, the life guards are prepared to give you emergency treatment if you accidently swallow a mouthful of the Dead Sea.  Yuk.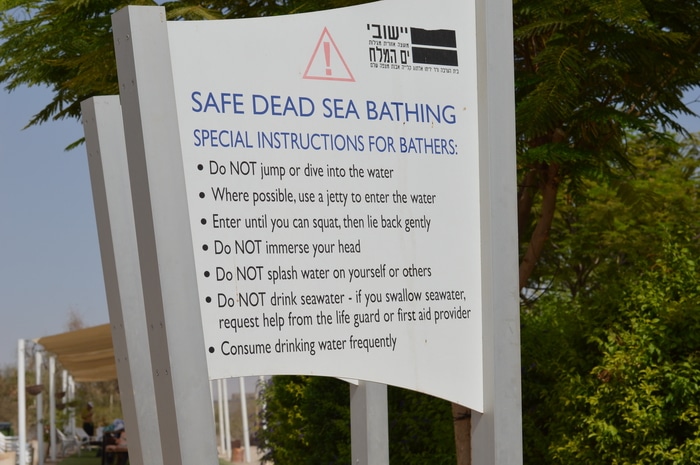 To use the mud you simply scoop it up off the beach and slap it on your skin.  No essential oils.  No soft music.  It's raw.  But it's fun. Just like making mud pies.
The heat of the Judean desert beats down on you.  The mud is warm from the constant sun.   Go ahead slather the mud from your toes all the way to your head.  You'll need a friend to slap it on your back.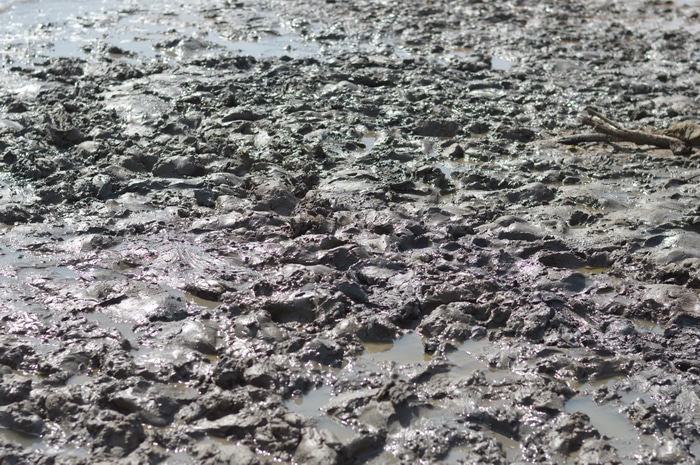 After applying the mud, we went for a Dead Sea float. Sarah call's it "corking".  The Dead Sea is so salty that you can't sink if you lie on your back.  In fact you have to fight to keep from bouncing over onto your stomach, something that's not allowed. (Probably because you are more likely to swallow the Dead Sea that way.)  Kalia beach had a life guard and anytime someone popped over on their stomach, the lifeguard yelled from his guard tower for them to roll over on their back.  Most of the yelling was in Hebrew but sometimes there was also English yelling.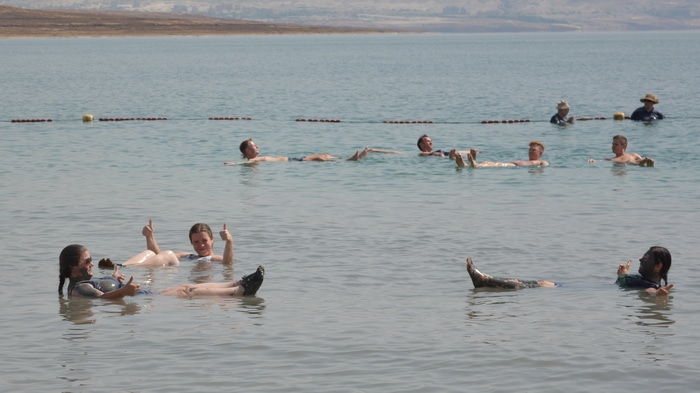 Studies done by the Ben Gurion University reveal that the Dead Sea is rich in sodium, magnesium, iron, bromide, chloride, calcium, and potassium.  These minerals are used by every cell in your body to regulate heart rate, circulation, and cell communication and regeneration.  The Dead Sea water is hyper saturated and has an oily feeling.
If you have a cut or a rash, you'll feel it.  But only for a minute or two.  The sting goes away quickly.  I spoke to a fellow at the Beach who said he used to have a skin rash, but he forced himself to bear the pain in the water and after a couple times, the rash resolved.  (I'm not recommending that.  I'm not mean.)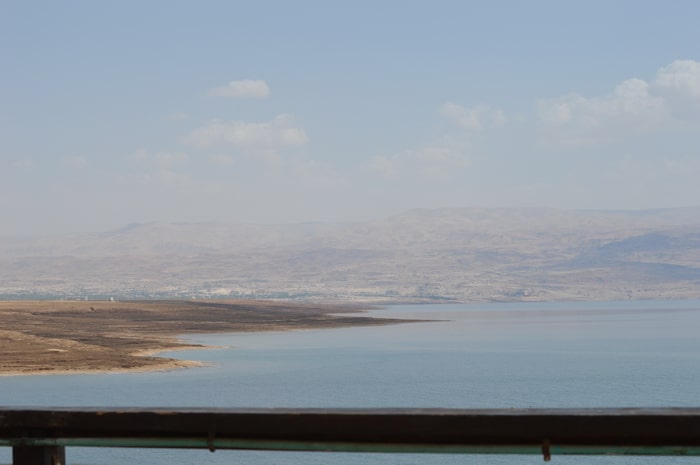 The Dead Sea's therapeutic benefits are especially noticeable in skin care and beauty products like moisturizers and masks whose main component is either Dead Sea salts or Dead Sea mud.
Some people like to soak in a bath of Dead Sea mineral salts to absorb the rich calcium-magnesium ions into their bodies to relieve stress, aching muscles, and fatigue.  You won't come close to the concentration of the Dead Sea at home though, even using Dead Sea salts.  However, even at lower concentrations Dead Sea salt is therapeutic for many skin conditions including eczema and psoriasis.  The Dead Sea mud adds to these benefits the skin purifying and detoxifying action of a clay mask, as well.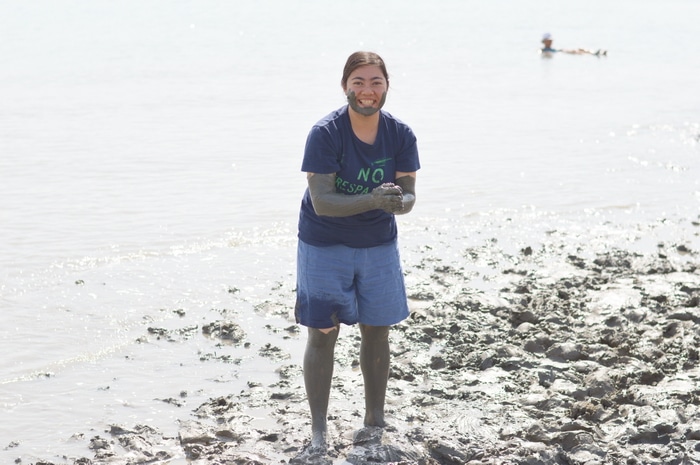 Dead Sea Mud
The Black mineral mud found in the Dead Sea is rich in magnesium, calcium, potassium, and iron.  It is helpful for maintaining healthy, supple skin. The natural properties of the mud are scientifically demonstrated to restore suppleness and moisture levels in dry skin while relieving and soothing soreness, roughness, redness and cracking.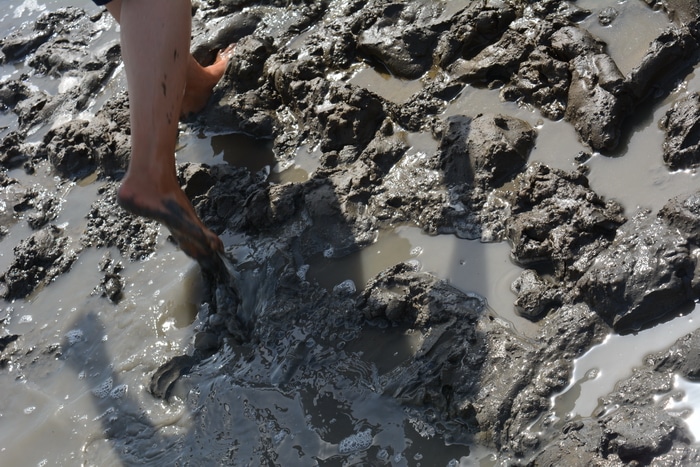 If you can't spend your weekends at the Dead Sea you can still get the therapeutic benefits of a day at the Dead Sea by ordering Dead Sea salt and Dead Sea mud online.
The Dead Sea mud comes in a jar or tub. Unlike most beauty clays that come as a dry, smooth powder, Dead Sea mud is distributed as a moist suspension – like um, mud.  It has a germicide added to keep the mud microbe-free.  This allows the mud to last for a long time.  You don't need much for therapeutic benefit.  A little bit of mud goes a long way.  In fact Dead Sea mud is the easiest natural clay facial mask or body mask that you can make and use at home.
Print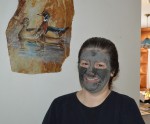 Dead Sea Mud Facial Mask
Author:

Prep Time:

5 minutes

Cook Time:

20 minutes

Total Time:

25 minutes

Yield:

1

application

1

x
---
Description
Mud masks are applied with the fingers to the face.  The Dead Sea mud is allowed to dry naturally on the skin, for about 20 minutes, and then washed off with warm water.  Dead Sea mud acts as a detoxifier, cleansing the skin, and removing impurities from the pores.  The skin is noticeably softer and more elastic after a spa treatment with Dead Sea mud.
---
---
Instructions
In a small bowl, mix all ingredients together to make a smoothe paste.
Wash face with warm water.  Pat dry.
Apply coconut oil or olive oil to the eye area and lips.
Apply the Dead Sea mud mask to the face, avoiding eye area and mouth.
Allow the mask to dry for 15 to 20 minutes.  It doesn't have to dry completely.  You'll feel a tightening as the mask tries.  The pulling sensation exfolliates and removes impurities from the skin and pores.
Rinse face and skin with warm water.  Pat dry.  Apply your favorite moisturizer.
---
Notes
Use a facial mask once a week to keep skin bright and soft.
Recipe Card powered by
Dead Sea mud mask
Mud masks are applied with the fingers to the face.  The Dead Sea mud is allowed to dry naturally on the skin, for about 20 minutes, and then washed off with warm water.  Dead Sea mud acts as a detoxifier, cleansing the skin, and removing impurities from the pores.  The skin is noticeably softer and more elastic after a spa treatment with Dead Sea mud.
What you'll need:
A wash cloth
A small bowl to mix the mud
A teaspoon
1 tsp. of Dead Sea Mud (about 5 mg)
4 drops Myrrh essential oil
2 drops Frankincense essential oil
1 drop of Rose or Rose Geranium essential oil (optional)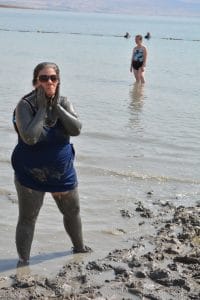 Step 1: Wash your face and open your pores
Begin by washing your face with water.  Remove any makeup or grease to leave your skin clean.  Soak a washcloth in hot water, wring it out and lay it on your face.  Make sure it's not too hot. You should be able to handle it without burning your skin.  Leave it on your face for 30 seconds, while the cloth cools naturally.  Repeat this at least once to open your pores.
Step 2: Mix your mud masque
In a small bowl mix together with a spoon, Dead Sea mud, myrrh essential oil, frankincense essential oil, and rose or rose geranium essential oil, if you are using it.
Step 3: Moisturize and protect your eyes
Apply a few drops of coconut oil or olive oil to the sensitive skin around your eyes.  Use your ring fingers to apply the oil around your eyes, as this keeps you from putting too much pressure on this thinner skin. Don't apply any mud to this area.
Step 4: Apply the mud to your face
Using your fingers, and gentle circular motions, apply the mud in a thin, even film over your face, and under your chin, avoiding your eye area.  If you have long hair, you may want to put it up out of the way, so that you don't get mud in your hair.  Avoid any areas of broken skin.
Step 5:  Relax for 20 to 30 minutes.
If you decide to lie down, protect your pillow or furniture with a towel.  Get a book.  Put on some soothing music and rest, while the mask dries.  It doesn't have to be fully dry in order for you to receive its benefits.  Let it remain on your skin for 20 to 30 minutes.  If at any time you sense a strong, burning sensation stop and remove the mask immediately – you could be experiencing an allergic reaction.  It will feel a little tingly as the mask dries but it shouldn't be painful.
Step 6: Rinse off the mask
Using warm but not hot water, rinse the mask off your face.  Continue to rinse with fresh water until all the mask is removed.  Gently pat your face dry.  Apply a moisturizer.
To make a body mask for fatigued muscles and painful joints:
In a small pot:
Mix ¼ cup of Dead Sea mud
10 drops of lavender essential oil
5 drops of rosemary essential oil
1 drop of peppermint essential oil
Gently heat the mask to slightly warmer than body temperature over a pot of steaming water.
Apply to sore muscles and joints.  Massage area with finger tips to stimulate circulation.  Allow the mask to dry.  Protect clothes and furniture from the mud with towels.  Once the mud is dry, wash off with warm water.  You'll noticed the skin softening effects immediately, while the deeper effects come as the minerals seep through your skin deeper into your joints and muscles.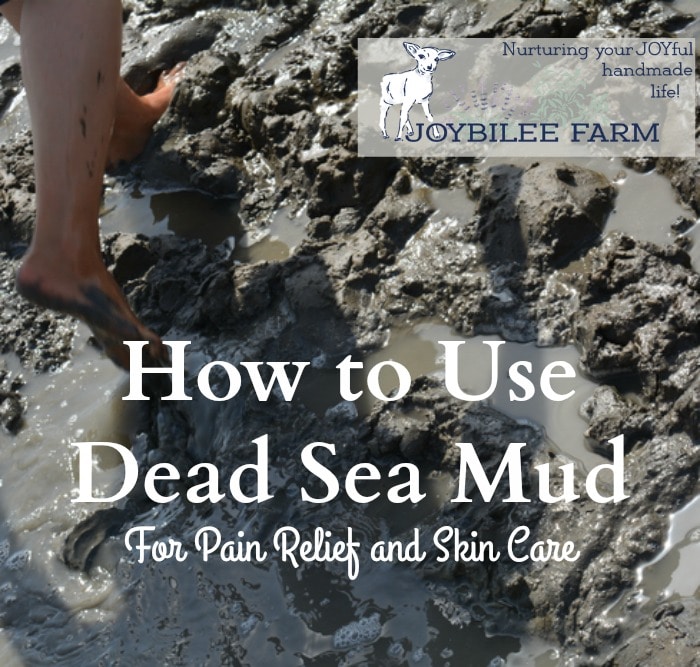 Dead Sea Mud is an ancient beauty treatment and therapy that is still coveted today.  You'll notice an immediate improvement in skin softness and elasticity in just one facial or body mask.  If you can spend a day at Kalia Beach by the Dead Sea in Israel, by all means do it.  But once you get home use this Dead Sea Mud Mask regularly to keep your skin soft and fresh, and your joints limber.  It's an accessible beauty treatment with added health benefits.
Hydrotherapy
Using Dead Sea Salt and Dead Sea Mud taps into the ancient art of hydrotherapy.  Hydrotherapy is used in:
Saline solutions
Nasal irrigation
Gargles
Wound irrigation
Therapeutic hot and cold treatments
Compresses
Soaks
Steams
Sweat therapy
Foot baths
Mud masks are similiar to poultices, which use water, clay, and herbs for their therapeutic benefits.
Other Dead Sea mud recipes
Give these other Dead Sea mud recipes a try, too.