St. Johns Wort oil is the ideal herb-infused oil for pain, especially shooting pain, muscle strain, and pain associated with neuralgia.
St. Johns Wort oil can be used liberally in external applications like massage oil, salve, or lotion bars.  This is an essential herb-infused oil in my DIY pantry.  I use it regularly along with calendula infused oil in many of my DIY Herbal salves.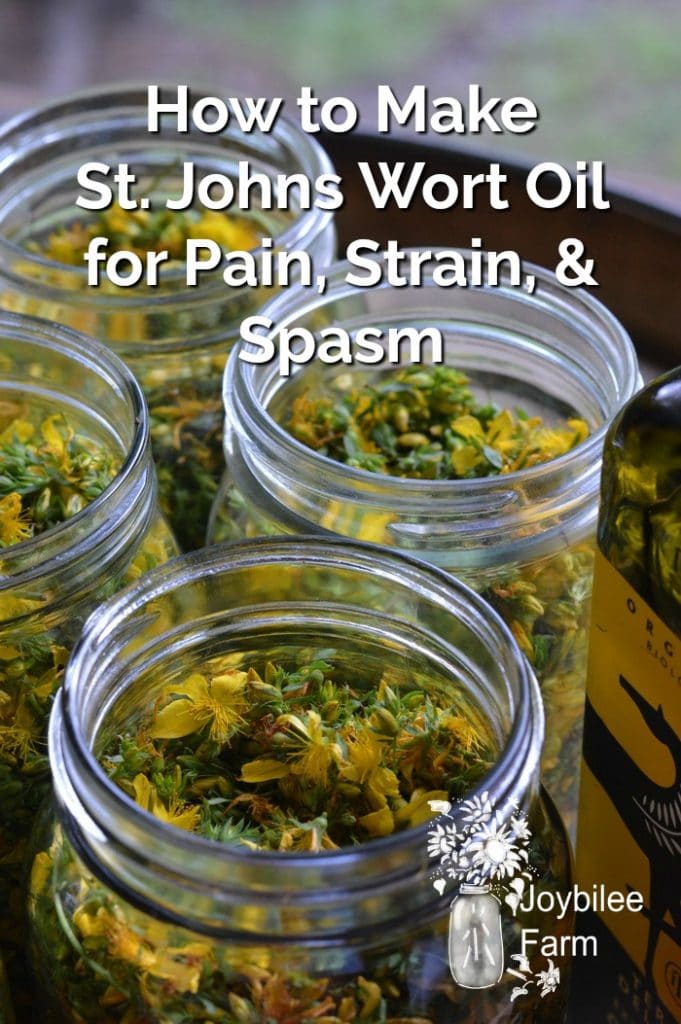 St. Johns Wort oil is made in much the same way as St. Johns Wort tincture, but instead of using alcohol for the herbal extraction, oil is used as the solvent.  The oil, like the tincture, will turn a deep red color from the anthocyanins and carotenoids in the plant.
When the oil is infused for a month and then strained it is exceptional for relieving pain and inflammation, including nerve pain.  You'll want to keep it on hand in your DIY Herbal Apothecary, at all times
DIY Herbal Tip:
Consider using St. Johns wort infused oil as a carrier oil for essential oils rollers that are meant for pain relief or first aid.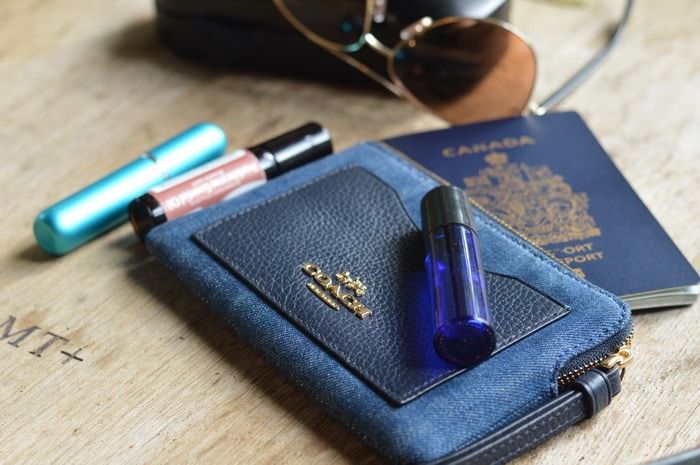 How St. Johns wort oil is used
St. Johns Wort is a nervine that relieves pain by correcting faulty nerve pathways and reducing inflammation.  Any time there is sudden pain, shooting pain, or stabbing pain that indicates that nerves are involved is a good time to reach for St. Johns wort oil.  I've personally found it more reliable than OTC NSAID and Tylenol No. 3s for relief of lower back pain, neck pain, or joint pain.  You may also combine using St. Johns Wort infused oil topically with the use of St. Johns Wort tincture internally, for severe, spasming pain. 

We've also used it with broken bones, or where there is sharp pain.  Both as a tincture and as an infused oil to rub (gently) where the pain is.  Hospitals don't set many broken bones now.  So using St. Johns wort infused oil is not impossible where there is no cast to interfere.  Mr. Joybilee found it very helpful when he broke his ribs, falling on the ice.  Combine it with yarrow infused oil for bruising or calendula infused oil for skin abrasions, bites, and rashes.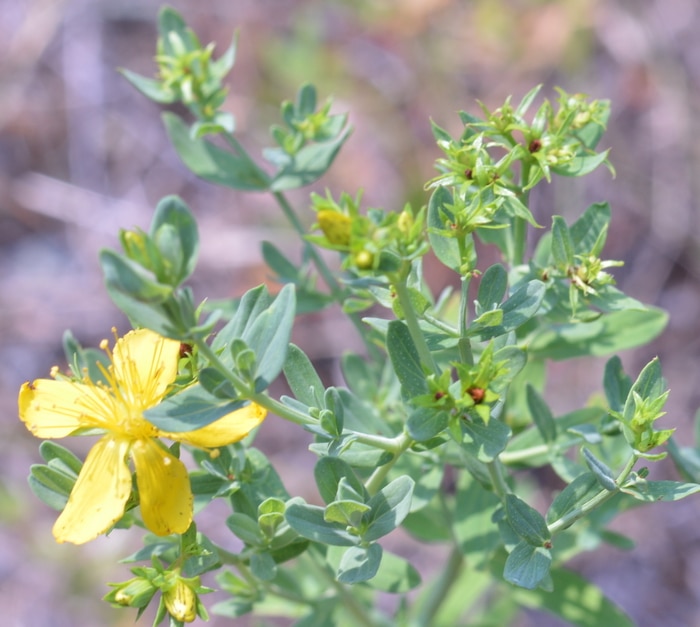 St. Johns wort infused oil is also excellent as a carrier oil for salves along with calendula, plantain, comfrey, or any of the other skin-supporting herbs. I use it in my herbal first aid salve.  The one my Daughter in Law calls, "The magic sauce" for sunburn and bites.
St. Johns wort infused oil is antibiotic for gram positive bacteria and is traditionally used for wound care where there is a risk of infection.   Soldiers have used St. Johns wort on the battlefield since Alexander the Great, and possibly even earlier than that.  This herb is also antiviral, antispasmodic, pain-relieving.  It is useful for painful periods and also for the shingles virus.  This makes St Johns wort oil useful for trauma salves, first aid salves, and massage oils for pain relief, inflammation, sprains, and strains.
In fact, St. Johns wort oil is the herbal extract to grab for any sudden, shocking pain or injury.
How to make St. Johns Wort Oil
4 cups St. Johns Wort flowers, fresh but wilted
3 to 4 cups olive oil or another carrier oil
Directions:
When you get the flowers home, leave them in the basket to wilt for 4 to 8 hours. Then, using a clean and sanitized quart wide-mouth mason jar, fill the jar with freshly picked and wilted St. Johns Wort flowers.
Pour olive oil or another carrier oil over the flowers in the jar.
Use a knife to dislodge any air bubbles.
Cover with additional olive oil if necessary.
Cap tightly and shake the jar to evenly distribute the oil with the flowers.  Top up with more oil if necessary so that the flowers remain under the oil in the jar.
Put this in a sunny window and let the solar radiation draw the hypericin into the oil. The oil will turn ruby red after 2 or 3 days.
Leave the oil for 4 to 6 weeks. Shake the jar once a day, or as often as you think of it, to redistribute the oil among the flowers. This will make your infused oil more potent
After 30 days, strain the flowers from the oil.  The oil will be red.  Pour the ruby red oil into tinted jars to protect the St. John's wort infused oil from light damage and cap tightly. Label with the name of the flower, type of oil used, and date that the oil was infused. Store in a cool, dark place protected from heat and light.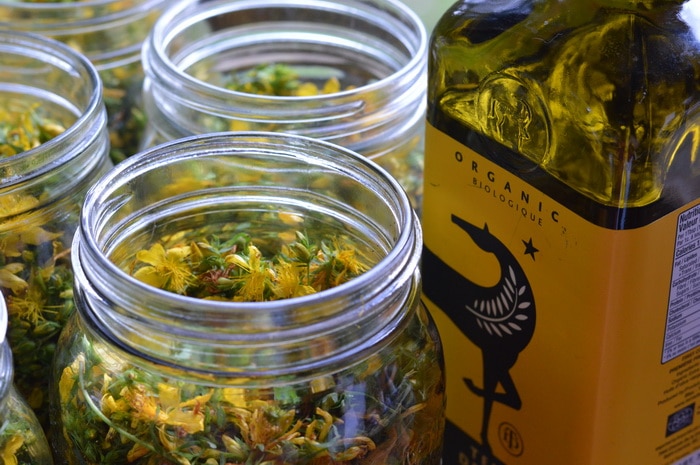 St Johns wort infused oil will have the same shelf life as the oil that you used to make it.  The rich anthocyanins in St. Johns wort are antioxidant and contribute to the longevity of the oil.  If you use a carrier oil with a long shelf life, like jojoba or extra virgin olive oil, the infused oil will last longer than if you use a carrier oil with a short shelf life.  Keep this in mind when choosing the carrier oil for this project.
Fractionated coconut oil, which is liquid at room temperature, can be used instead of olive oil in this project.  Any oil that is solid at room temperature would not be a good choice for an herb infusion.  (Use this guide to help you make informed decisions about substituting carrier oils in your DIY herbal projects.)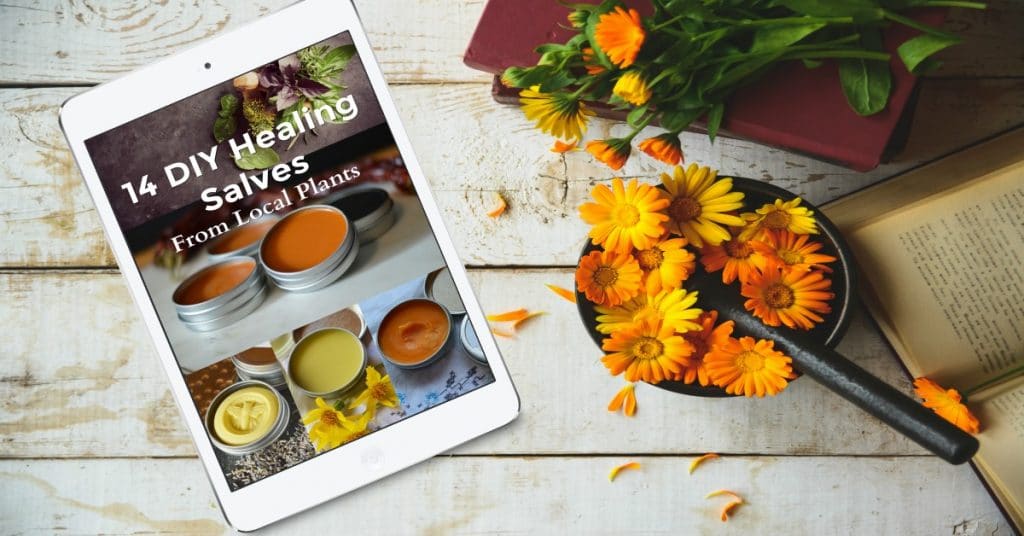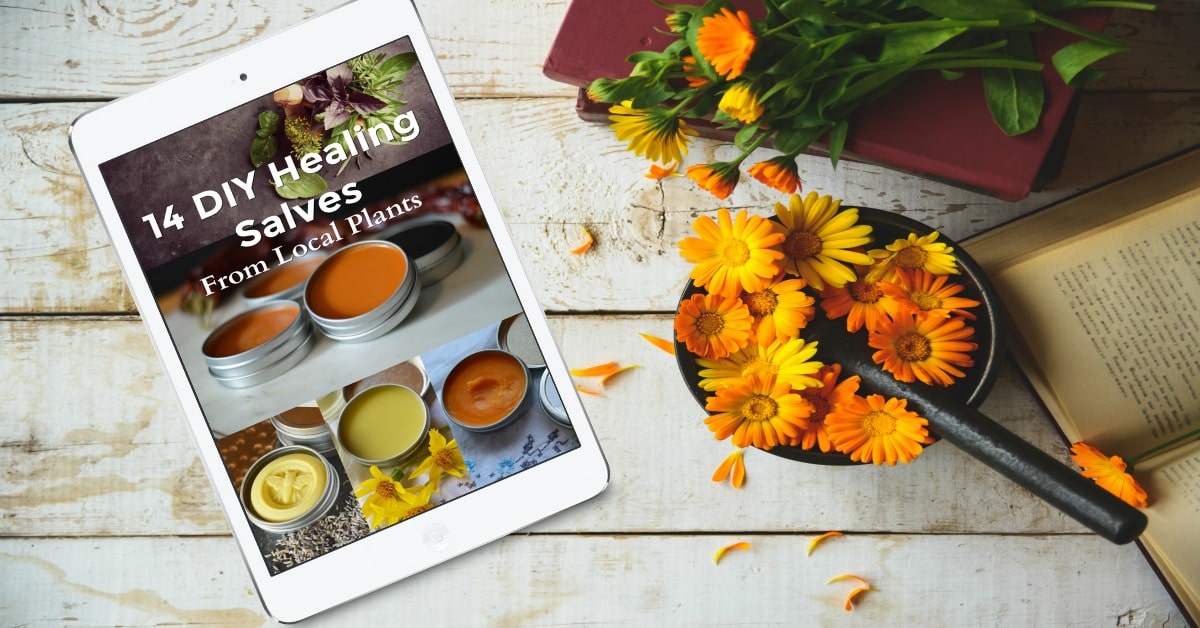 Grab my FREE ebook and learn how to use St. Johns wort infused oil and other herb-infused oils to make all the salves your family needs for first aid and skin care, pain relief, and colds and flu symptoms.