Sourdough Bread
Making sourdough bread is a slow-food process. While the instructions may seem complicated, it doesn't really take a lot of effort to bake a sourdough bread recipe. But it does take time. Time for the bread to rise. Time for the flavours to develop. Time for the structure to ripen.
If you don't yet have a sourdough starter, this loaf will take a week to make. If you have a starter to draw from plan to mix the preferment the night before. In the morning you'll make the sourdough bread dough, let it rise and you'll have hot bread for dinner. Once you taste it, though, it will be worth the wait.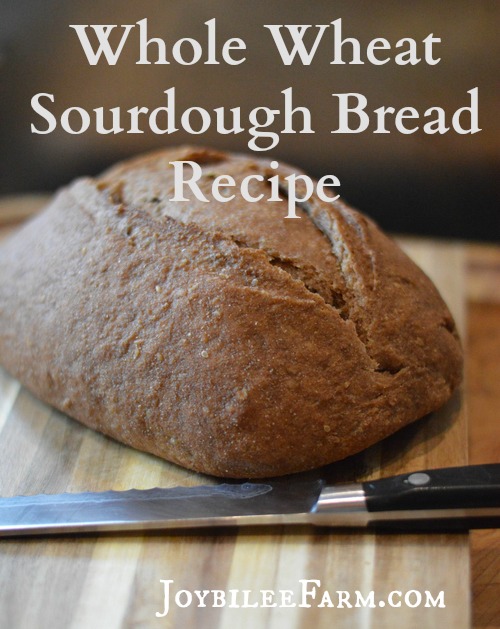 Sourdough is made in 3 stages. First, the starter is created. Second, a pre-ferment is made using the sourdough. Then a bread dough is made using a portion of the pre-ferment.
If you have an older sourdough, that hasn't been used for a while, test its potency by feeding it 2 tbsp. of flour and 2 tbsp. of warm water. If the sourdough is active, your dough will froth and bubble within 12 hours. If it bubbles you can proceed to the pre-ferment recipe. If it seems inactive, begin with fresh flour and fresh water in a clean jar and catch a new starter. There are healthy probiotics in the air of your home, and on the outside of the grain that the flour is made from. Using freshly ground flour ensures that the microbes that are in your starter are fresh, active, and of the correct nature to give you a healthy ferment. See this post for more on the microbes.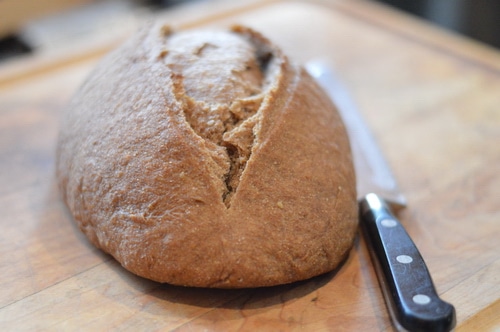 Make the whole wheat sourdough starter
Just flour and water
(Yield: ¼ cup of sourdough starter)
Since sourdough is just flour and water, it's important to use the highest quality of flour when you begin your starter. The flour should be fresh, unbleached, whole wheat flour. Ideally you would mill the whole wheat berries from Hard Red Winter Wheat, just before you use it. This is the grain mill I use. If you are buying already milled flour, get the freshest flour possible, from a local mill or online from Bob's Red Mill. The water should be luke warm, and filtered of any chemicals that will inhibit the good microbes from invading the flour. Don't use chorinated tap water for this recipe.
If you have a sourdough starter already, skip to the pre-ferment recipe, below. If you are starting with nothing but the flour, begin here. If the sourdough starter that you have is inactive, start here, as well.
Mix 1 tbsp. freshly ground whole wheat flour and 1 tbsp. water. Put it in a pint jar and cover with a loose fitting lid.
Leave it 24 hours. Dump the dough and without washing the jar, add 1tbsp. of whole wheat flour and 1 tbsp. of water back into the jar. Mix well. Put the lid back on. Wait.
Repeat this every day for 5 days. On the 5th day add 2 tbsp. of whole wheat flour and 2 tbsp. of water to the dough, do not dump the dough. Leave the dough for 12 hours. Your sourdough starter should be bubbly.
My sourdough starter smelled of apples, rather than like the sourdough I made with rye flour. This isn't a problem. If the dough isn't bubbly, continue dumping the batter and adding flour and water until your dough is bubbly. If this fails after a week, the fault is with your flour. Get freshly milled whole wheat flour and start again on day 1.
At this stage, you can add flour and water in equal parts to expand your sourdough starter, anytime you need more.
To keep your starter healthy, it should be fed once every 48 hours if left at room temperature or once a week if refrigerated. To feed your starter remove 1 tablespoon of starter. Replace with 1 tablespoon each of flour and water. Stir well. Replace the lid, loosely to allow gas to escape.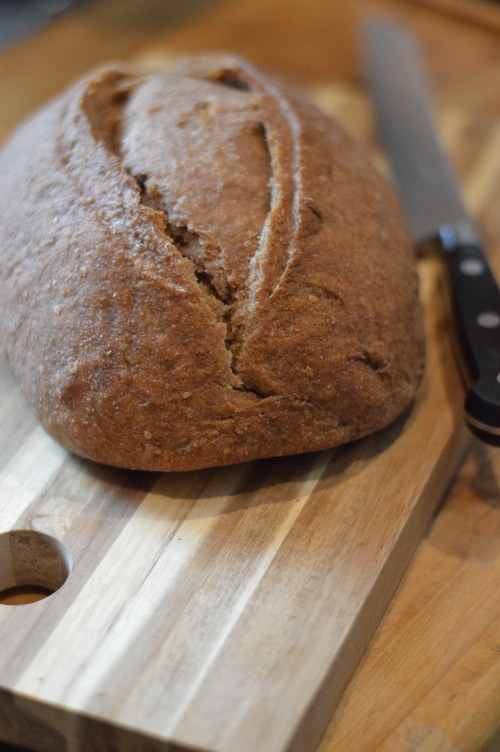 Make the sourdough pre-ferment
(Yield: enough pre-ferment for 3 loaves of sourdough bread)
Ingredients:
¼ cup sourdough starter
½ cup warm water
1 ½ cups of whole wheat flour
1 tsp. Himalayan salt
Plus flour and water to replenish the sourdough starter in the jar
Method:
Remove the sourdough starter from the jar and put it into a mixing bowl. Do not wash the jar. Replace the starter in the jar with 2 tbsp. of whole wheat flour and 2 tbsp. of water. Stir well. Place the lid on loosely and set aside, to preserve your sourdough starter.
Put warm water in a bowl. Add flour, salt, and sourdough starter. Mix on low speed for 2 minutes until well combined into shaggy, moist dough.
Cover the bowl with a tight fitting lid and let stand at room temperature overnight.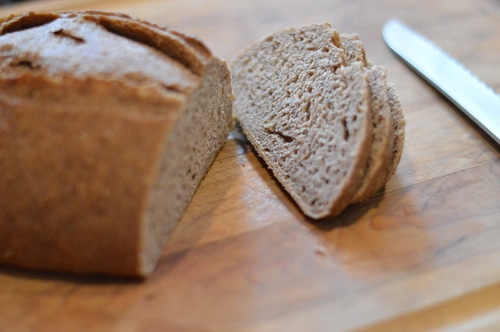 Rustic Whole Wheat Sourdough Batard
Ingredients:
1 ¼ cup warm water
3 cups of whole wheat flour plus ½ cup of flour for kneading
½ cup of pre-ferment dough
1 tsp. of Himalayan salt
1/8th tsp. of active dry yeast
1 tbsp. of virgin olive oil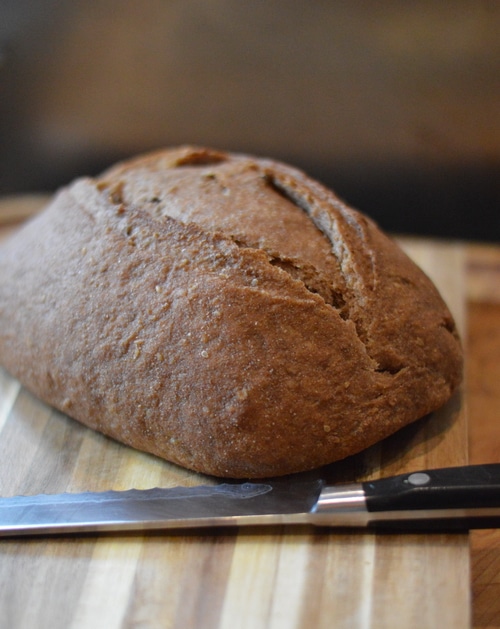 Method:
Combine water, whole wheat flour, pre-ferment dough, yeast, olive oil, and salt in a bowl. Mix on low with a dough hook, until well combined.
Increase the speed to medium and continue mixing until the dough pulls away from the side of the bowl and makes a slapping sound against the sides of the bowl. The sides of the bowl will be clean. This will take about 4 minutes. The dough will be moist. Less flour is better than too much flour.
Remove the bowl from the mixer and cover with plastic wrap or a tight fitting lid. I use the lid that come with my Kitchen Aid mixer.
Allow to rise for a 4 to 6 hours. Punch down and knead in a scant amount of flour so that dough can be handled without messing up your fingers.
Form the dough into an oval loaf. Place the dough on a greased baking sheet. Slice the top to allow for rise. Cover with a cloth and allow to rise about 45 minutes.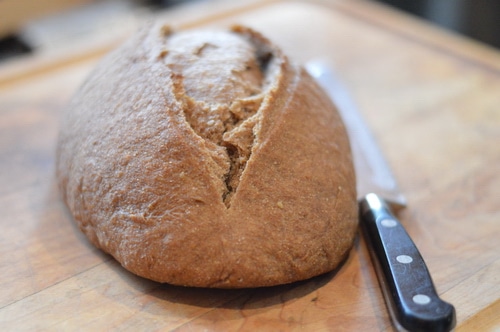 Preheat oven to 450°F. Place a shallow pan of water into the oven during the preheating time to create steam in the oven.
Place the risen loaf in the oven. Splash a ¼ cup of water into the floor of the oven. Quickly close the oven door.
Bake the loaf for 40 minutes until the loaf is well browned. It will rise in the centre where the loaf was sliced.
Test doneness
When the loaf is done the crust will be brown and the bottom of the loaf will sound hollow when tapped.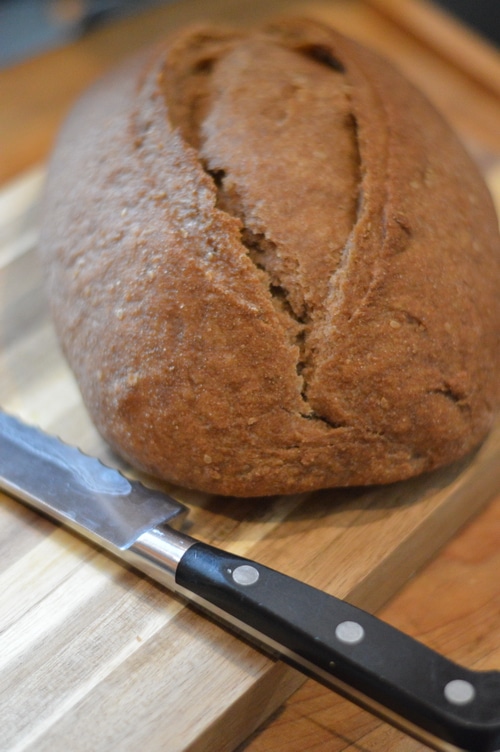 The perfect batard rises high in the centre of the loaf with a ragged, crisp edge. It's beautiful.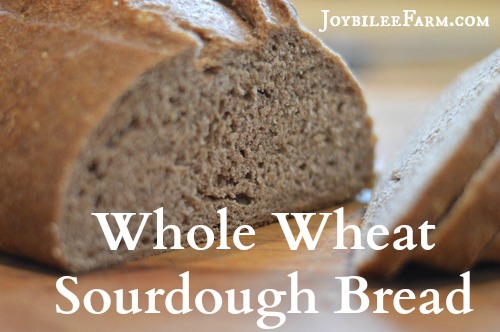 I've struggled for a long time to make a good whole wheat sourdough bread. I could get a passable bread using all white flour but my whole wheat sourdough was a flop. Either the loaf would hardly rise and be more like a brick door stop, or the loaf would be too loose and spread sideways on the baking sheet, more like focaccia than a loaf of bread.
Craftsy Class – Handmade Sourdough from starter to baked loaf
I signed up for the Craftsy class (#affiliate) "Handmade Sourdough from starter to baked loaf" last spring. This class is taught by Richard Miscovich, author of From the Wood-Fired Oven, New and Traditional Techniques for Cooking and Baking with Fire (2013, Chelsea Green)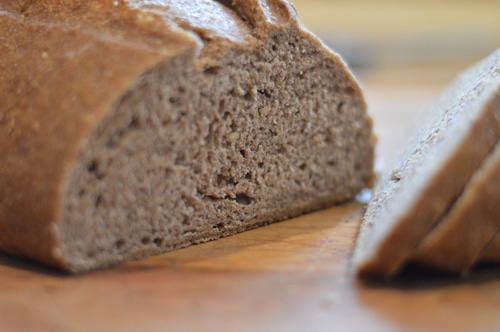 I signed up and paid for the class. (It wasn't a free gift from Craftsy.) The class is 6 lessons. You could sit and watch the whole class in about 2 1/2 hours and pick up a lot of tips to improve your sourdough baking. Or you could go through each lesson — none are longer than 30 minutes — and take notes, try each recipe and get tips directly from Richard, to improve your loaves. The first time through the course I just watched it. Now I'm going back, trying the recipes, sharing my successes and failures on the class project files, and getting pointers to improve.
Craftsy has a great system for introverts like me. You don't even have to raise your hand to ask for help. Seriously awesome.
I've been baking all my own whole grain bread for over 30 years. I learned a lot from this class that I didn't know before. Sourdough baking has different rules than baking with Baker's yeast. But even when you apply all the rules perfectly, successful sourdough baking comes from hands on experience, and learning how the dough should look and feel. It's as much art as science.
I'm pleased with how my sourdough bread recipes are turning out now. Pleased enough to share pictures with you. I didn't share all the failures, but there were a few. In fact I almost gave up completely before taking this class. If you are struggling with getting wonderful, tall, crusty, and flavourful sourdough loaves this Craftsy class may help you, too.
Use your sourdough starter:
Sourdough tortillas , Buttery Sourdough Crackers, and Whole Wheat Sourdough Sandwich Bread from Quinn at Reformation Acres
Cheesy Garlic Sourdough Crackers, Sourdough Brownies, and Sourdough Cookies from Laurie at Common Sense Homesteading
No Knead Sourdough Bread from Colleen Codekas at Grow, Forage, Cook, Ferment
Sourdough Breakfast Pitas from Tessa at Homestead Lady