Sourdough is the perfect bread. Crusty with complex flavours and a chewy crumb, artisan bakers command high prices for the perfect loaf of sourdough bread. And well they should. The process is time consuming, though not complicated.
I love the chewy texture and tart taste of warm sourdough French bread slathered in garlic butter. It's the perfect accompaniment to cheesy onion soup, or spaghetti with mizithra cheese and spicy meat sauce. And the good news is, you don't have to go to a fancy restaurant to get real, sourdough French bread. You can make sourdough bread at home.
Once a good sourdough starter is obtained and maintained, the process is relatively simple, requiring just flour and water to keep it going. Like making cheese, pickles, sauerkraut, and kombucha, sourdough bread relies on lactobacillus bacteria for its taste, and health benefits. While you can get your sourdough starter from a neighbor or order one online, you can also make your own with just two ingredients.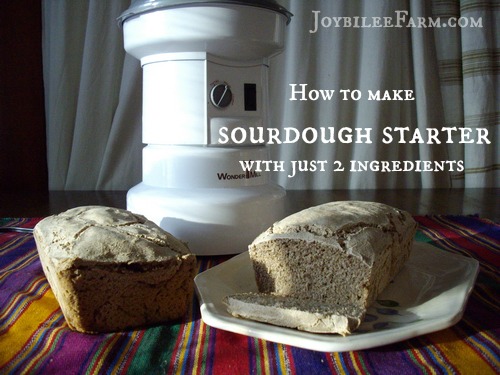 How to make sourdough starter
There are lots of intriguing recipes for creating your own sourdough starter out of thin air. These claim to capture "wild" yeasts. However, the best sourdough starter relies on the natural micro-organisms already found on whole grains.
Don't use bleached flours to make sourdough starters. Bleached flours are sterilized, chlorinated or bromated, precisely to get rid of these naturally occurring micro-organisms and extend shelf life. For best results use organic. unbleached whole grain flours, or even better mill the grain yourself as you need it and use the whole grain.
This is the grain mill that I use.
Sourdough Starter Recipe
What you'll need:
Organic rye flour, freshly milled
Filtered water
Widemouth glass jar with a lid, sanitized
Time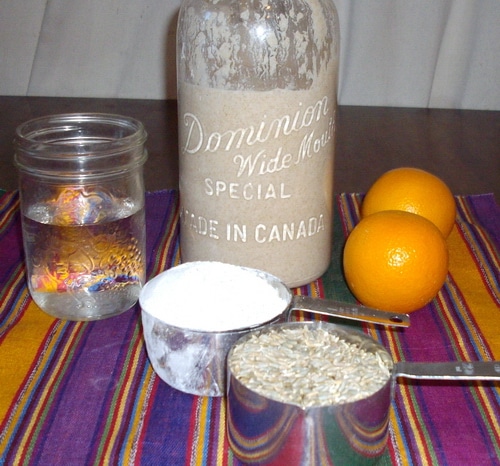 Why grow your own sourdough starter?
A good sourdough starter can last for years or even decades if you take good care of it.
You can grow your own sourdough starter without the need to catch "wild yeast".
Sourdough improves the taste and texture of home baked bread.
Sourdough bread, because of its longer fermentation times, is healthier and tastier than conventional breads.
The lactic acid in long-fermented sourdough bread helps to remove some toxins found in grains
True sourdough bread flavour and texture can't be found in commercially baked bread, where time is money. Instead, you have to capture it at home, or buy from an artisan bakery.
How to make sourdough starter from scratch
Use the freshest rye flour that you can find. The freshest flour will contain more of the beneficial lacto-bacillus bacteria on the grain, and fewer spoilage micro-organisms. If you are milling it yourself, use organic whole rye berries to make your sourdough starter. You'll need about 2 to 3 lbs to get a thriving sourdough starter if you are starting from nothing.
Day 1: Mix ½ cup of rye flour with ½ cup of water in a glass jar. Mix well and cover with a loose lid.
Day 2: Add ½ cup of rye flour and ½ cup of water. Mix well. By now you should see some bubbles start to form.
Day 3: By now your mixture should be bubbly and beginning to rise in the jar. If not, repeat Day 2. If it is active and has started to rise, remove ½ of the starter, and throw it away. Replace with ½ cup of rye flour and ½ cup of water. By tossing out some of your starter and adding fresh flour and water, you reduce the alcohol bacteria and give the yeast a chance to strengthen in the starter.
The lactic acid bacteria need more time to reproduce than the yeast bacteria, so by tossing out some of the starter, you remove some of the yeast and give the lactic acid a better chance to populate your starter.
Day 4: By now your culture should be active and able to double or triple in volume in a 24 hour period. At this point, again remove ½ your starter and toss it out. Replace with ½ cup of rye flour and ½ cup of water.
Day 5: Your starter should double or triple in volume after each fresh addition. If it doesn't repeat day 4 until it does. Once it is reliably active you can let your starter rest on the counter for a few days.
Day 6 – 8: Your starter is resting and developing a fruity smell. Your starter is ready to bake bread when it doubles in volume within 8 hours.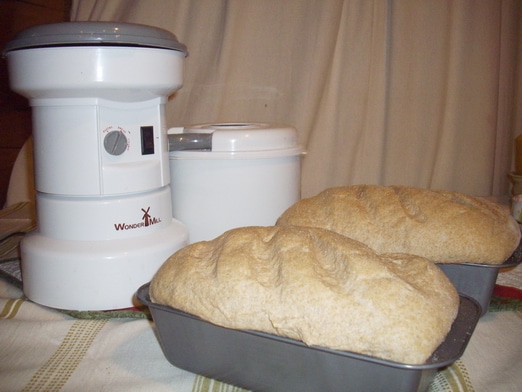 How to maintain your sourdough starter:
Keep your sourdough starter in the fridge and take it out the night before baking day. This allows the sourdough starter to come to room temperature. Remove half the starter from the jar and replace with ½ cup of rye flour and ½ cup of water. Only feed your starter with rye flour and water. Never add anything else to your starter. Leave it at room temperature for a few hours until it begins to bubble. Then you can put it back in the fridge until you need it again.
The starter that you removed becomes the starter for your sourdough recipe.
Trouble shooting:
If your starter develops off smells or mould toss it and start again with sterilized equipment and freshly milled rye flour.
If your sourdough starter becomes inactive, activate it again by removing half of the starter and replacing with ½ cup of rye flour and ½ cup of water. Continue to do this until the starter doubles in volume within 8 hours. Your starter needs to be fed with fresh rye flour and water at least once every 7 to 10 days.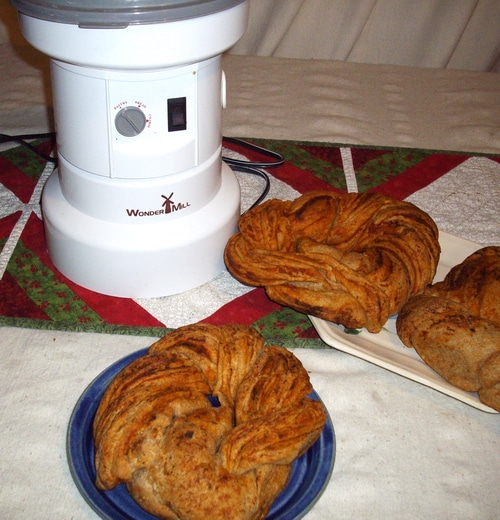 How to use your sourdough starter to bake sourdough bread
The Day Before: The day before you plan to bake bread, remove the starter from the fridge. Let it come to room temperature.
Feed your starter with 1 cup of rye flour and 1 cup of water. Mix well. Allow it to double in volume. This takes 6 to 8 hours. Feed your starter again with an additional 1 cup of rye flour and 1 cup of water, mixed in well. Allow it to double in volume. Before you make your bread, remove 1 cup of starter and put it in a clean, sanitized jar, cover and put it back in your fridge.
Bread Baking Day:
You should have 2 cups of sour dough starter to bake bread with. Add to this 2 cups of wheat flour and 1 cup of water to make a sponge. Allow to double in volume. And then proceed with your recipe.
This sourdough starter recipe makes a liquid starter about the viscosity of pancake batter.
A gift idea:
Keep your homebaked sourdough bread fresher with a linen bread bag. You can sew one with beginner sewing skills, and a thrift store linen napkin.  See my tutorial on the Attainable Sustainable blog here.
Now bake a loaf of sourdough bread.
Add a jar of this sourdough starter.
And a handwritten recipe and you've got a gift fit for your BFF, for a hostess gift, or for your DIL, that costs under $5.
 Learn more from Craftsy:
(affiliate)
Learn more about baking handmade sourdough bread from Craftsy (#ad): Handmade Sourdough: From Starter to Baked Loaf, with Richard Miscovich.
I am currently enrolled in this class.  It's amazing.  I'm learning so much I didn't know, even though I've been baking bread for more than 30 years.  If you want to master sourdough baking, you'll really benefit from this online class.