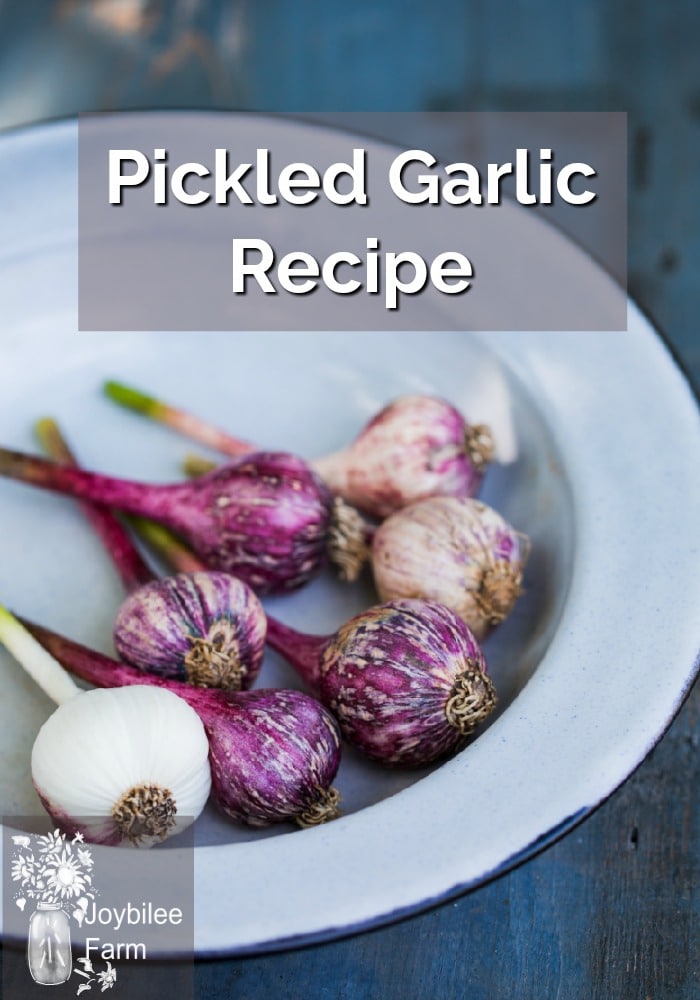 Pickled garlic is sold at the farmer's market around here.  It is crunchy, and garlicky but more mild than raw garlic.
Recipe:  Pickled Garlic
This recipe makes 3 pints of pickled garlic.
12 heads of garlic, separated into cloves, blanched and peeled.
3 cups white vinegar
1 cup white wine
1 tbsp. sea salt
2 tbsp. white sugar
Sprig of fresh oregano, basil or rosemary for each jar
In a large saucepan bring vinegar, wine, salt, sugar to a boil.  Boil for one minute.  Remove from heat.  Add garlic.   Stir constantly for one minute.
Spoon garlic into prepared canning jars.  Cover with liquid, leaving 1/2 inch head-space.  Add sprig of herbs to each jar.  Complete two piece seal with prepared discs and rings.  Process in boiling water canner for 10 minutes.  Remove from canner and allow to cool at room temperature, ensuring that jars are sealed before storing.
Want to know more about growing this easy crop?  My neighbours, the Boundary Garlic Farm in Midway, have lots of recipes, some history and tips for growing garlic, on their website.  Sonia and Henry are growing over 120 different kinds of garlic.  They also sell garlic for seed online.  Now is when you should order your seed garlic for fall planting.   Sonia sells her seed garlic all over North America.  Check out what she has to offer. (no affiliation.)
Are you growing garlic?  What's your favourite garlic recipe?  Leave a comment.