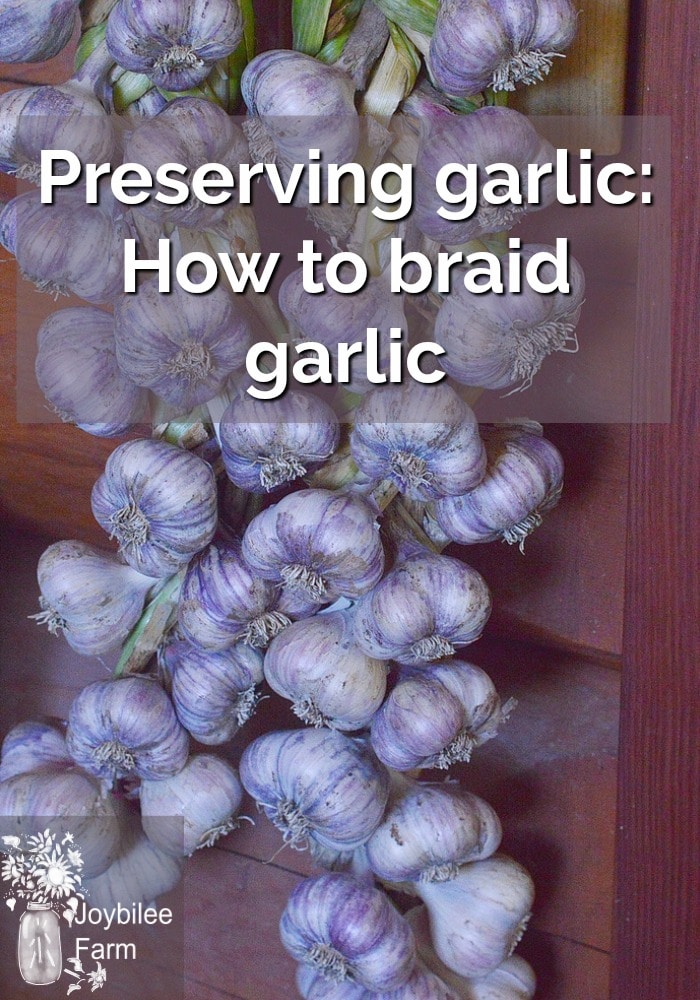 Yesterday I wrote about garlic self sufficiency — How to grow your own garlic.  But once  harvested what is the best way to preserve the garlic goodness for winter use? Storing garlic Traditionally garlic and onions were left with their green leaves on and braided to preserve them for the winter.  In an era without refrigeration, where garlic was essential to health, this allowed garlic to be stored, hung from the rafters, protected by the papery wrappers in each head. Don't keep your garlic in the fridge.  When refrigerated, garlic responds to cold temperatures by sprouting. Loose garlic – how you usually find it in the grocery store — has a short shelf life.  Garlic, when separated from its green leaves, stored as a loose head, dries out quickly and sprouts.  Even if you keep it in a clay garlic jar, it still dries out in just a few weeks. But Garlic stored as a braid, at room temperature, away from direct sun, lasts through the winter and often into the next summer.  It may sprout toward midsummer.  Braiding is the best method of retaining all the goodness of your garlic crop for the longest time. You don't have to grow your own to do this.  If you are still buying your garlic at the farmer's market, let the farmer know that you want to buy it with the green leaves intact because you want to braid it.  If you've established a relationship with the farmer he will be happy to comply with the request. Braiding garlic Making a garlic braid is similar to French Braiding.  You will need 10 to 12 heads of garlic with their green leaves attached.  Trim the roots.  Brush off clumps of dirt from the heads.  Do not wash in water.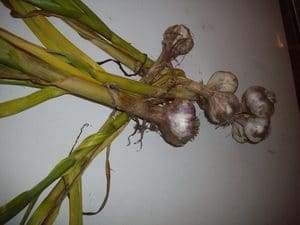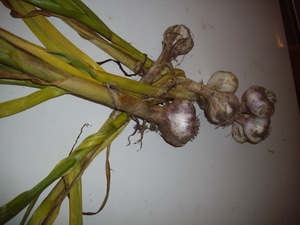 Take 3 stalks and match up the heads.  Secure them with an elastic band.  Keeping the heads upright, begin to braid the 3 stocks making a 3 strand braid.  They will twist as you start but press them and make a bend in the stalk as you braid.  This will ensure a neat, controlled braid.   Once you get the first course of braid done — Add in one garlic stalk on your next braid, following along the same stalk on the right — head up.  Add another garlic stalk on the left side braid, head up, and braid the stalks in.  Add another on the right and braid the stalk in, always maintaining 3 strands of your braid.  Add another on the left and braid in.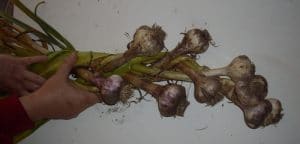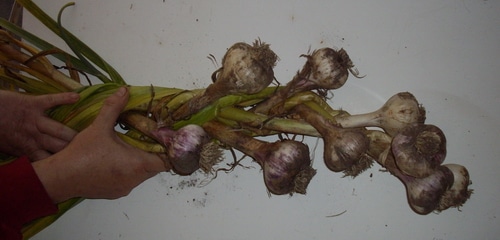 Continue adding a stalk of garlic, keeping the heads upright, on both the right and the left for every course of braid, until all 12 heads are used up.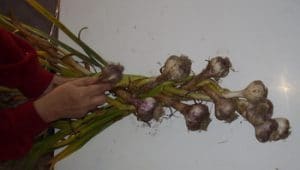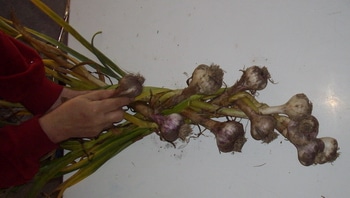 Braid the remaining green stalks into the braid, until the stalks are too narrow to catch them in the braid.  Secure the top by wrapping with twine, add a loop for hanging at the back. Add a ribbon or bow if you plan to give the garlic as a gift.
Trim any loose stalks and hang in the shade, in a cool, airy place to allow to fully dry.  Keep out of direct sun.  Protect from moisture.  After a week or two, brush off any residual dirt from the garlic heads and bring indoors.  The colour on the garlic parchment-like wrap will continue to develop as it dries.  My garlic variety is Red Russian Giant and deepens to a pinky red in storage.  The green leaves dry to a parchment brown colour.
Hang in your kitchen for easy access to fresh garlic year round.
Don't forget to save your largest heads of garlic for planting in October for next year's crop.
How many cloves will you need for planting?  I aim for 60 cloves for our family's use.   Plant extra and you'll have enough to give away or sell.
Tomorrow, I'll share another way of preserving garlic.  Yum.
Here's some incredible books about using garlic, to let you explore this more fully:
Grandma Putt's Old-Time Vinegar, Garlic, Baking Soda, and 101 More Problem Solvers: 2,500 Super Solutions for Your Home, Health, and Garden
Growing and Using Garlic: Storey's Country Wisdom Bulletin A-183 (Storey Country Wisdom Bulletin)
Garlic, Garlic, Garlic: More than 200 Exceptional Recipes for the World's Most Indispensable Ingredient
What's your favourite way to preserve garlic's goodness year round?  Do you have a favourite garlic cure? Let me know in the comments section.
Save
Save