Make hummus with fresh garlic scapes?
I harvested an abundance of garlic scapes from the garden this week. I plant about 200 garlic bulbs every October so there are, well, about 200 garlic scapes, all ready to harvest over a 2 week period in July. Every year I have great intentions to actually make good use of this homestead abundance. And mostly I just feed them to the goats and sheep. Kind of a waste, when they are so flavourful and good for you.
I'm determined to do better this year, so I've gathered a few recipes to take advantage of the garlic scape bounty, including basil garlic scape pesto, sel gris with fresh herbs including garlic scapes, and this garlic scape hummus, just to expand your horizons on this abundant and useful herbal harvest of garlic scapes.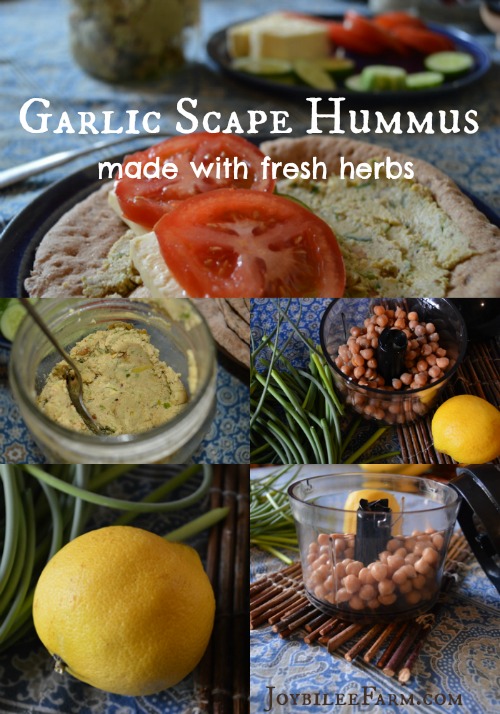 How to make hummus
Hummus is a versatile and healthy snack. Every cook should know how to make hummus. Hummus made at home is healthier and cheaper than the hummus from the store. And it tastes better than store bought. If you have cooked chickpeas or canned chickpeas in your pantry, you can have hummus on the table in 10 minutes.
Chickpeas and garbanzo beans are the same legume. "Chickpea" is the English word and it is called "garbanzo" in Spanish. If you don't like chickpeas, you can substitute white navy beans or another canned, dried bean for the chickpeas.
Here's how to make hummus from scratch. This one has a lemony-garlic flavour that's a little more pungent. If you prefer it with less garlic taste, use 8 to 10 garlic scapes or 1 garlic clove, instead of the 15 garlic scapes that the recipe calls for.

Hummus and garlic scapes
Yield: 3 cups (750ml) of hummus
Time: About 10 minutes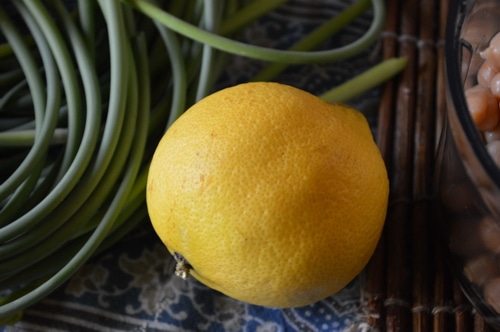 Ingredients:
Zest and juice from 1 lemon
2 cups of cooked chickpeas or 1 can of garbanzo beans/chickpeas
10 – 15 garlic scapes, chopped (if you like it mild use the lower number)
¼ cup tahini (sesame seed butter)
2 tbsp. toasted sesame oil
2 tbsp. olive oil
Salt and pepper to taste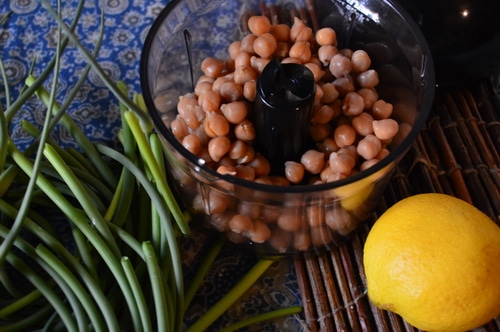 Method:
Put the garlic scapes, sesame oil, olive oil, lemon juice and lemon zest in the bowl of a food processor and process till smooth. Add tahini and process until well blended. Rinse the chickpeas under cold water until the water runs clear, to remove indigestible starches. Drain well. Add chickpeas to the food processor mixture ½ cup at a time, and process until smooth. Scrape the side of the food processor bowl to move the unprocessed chickpeas into the blades. (of course, do this with the food processor turned off.) Continue processing the remainder of the chickpeas ½ cup at a time, until the mixture is smooth. Taste it. Add salt and pepper to taste.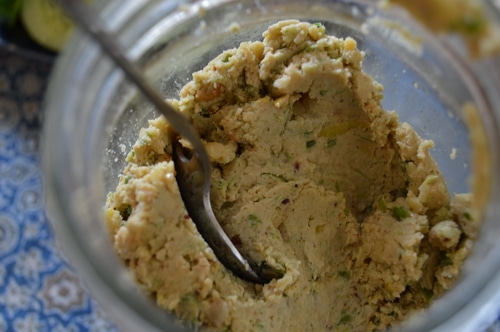 Place in a wide mouth quart jar with lid. Refrigerate.
Serve with pita bread, crackers, or chapattis and Israeli salad for a lunch or a light supper.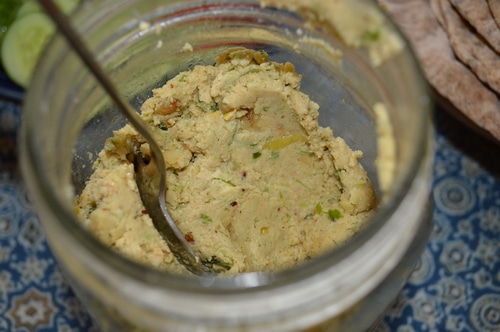 Lunch is homemade hummus
We had this for lunch today wrapped in freshly baked pita bread with tomato slices, cucumber slices (just picked from the greenhouse), and feta cheese. Outrageously satisfying. Hummus will keep for a week in the fridge. If you need it to keep longer, put it in 1 cup portion sizes in ½ pint jars with a lid, and put it in the freezer. You'll get 1 ½ pint jar to eat now and 2 for the freezer.
Now you know how to make hummus. I hope you never have to succumb to buying store bought again.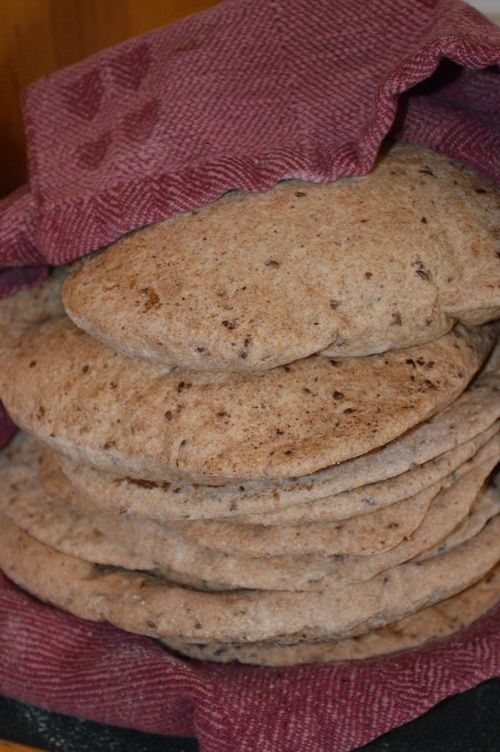 Homemade hummus is the perfect accompaniment to homemade pita bread. Here's my secret to perfect pitas every time.
How to make hummus with variations
Garlic scape hummus is just one variation, as you know, if you've ever bought hummus in the store.
Here's a few other hummus recipes to stretch your repertoire:
.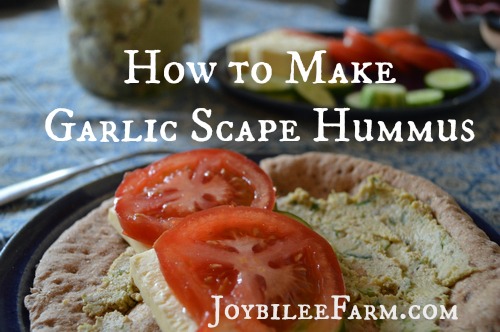 The homemade hummus from Kris at Attainable Sustainable has garlic cloves and cumin