Garlic scape and hazelnut pesto, a new twist on a classic basil pesto recipe
Hazelnuts and hazelnut oil flavour along with freshly picked basil leaves pare well together. There is no cheese in this pesto nor pinenuts.  Garlic scapes replace the traditional minced garlic, for a milder fire that doesn't need to be quenched with dairy products.    It's a versatile herbed condiment that you'll want to keep in stock, while basil is fresh.

MY LATEST VIDEOS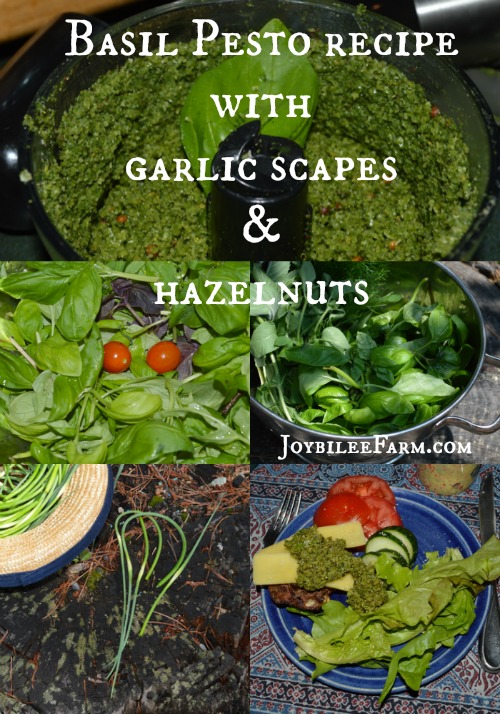 Note: If you have a nut allergy you don't need to skip this recipe.  Just substitute pumpkin seeds and olive oil for the nuts and nut oil.  The flavour will be different but still delicious.  Fresh basil and garlic scapes are a combination of herbs that you just can't get enough of, before the short season is passed.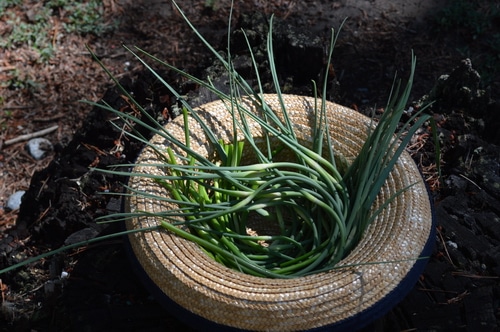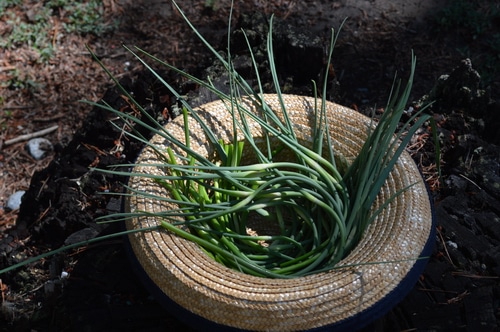 Basil Pesto Recipe
Ingredients:
1/2 cup hazelnuts
2 cups of fresh basil leaves
1/2 cup of hazelnut oil
15 garlic scapes
1/2 tsp. herbed salt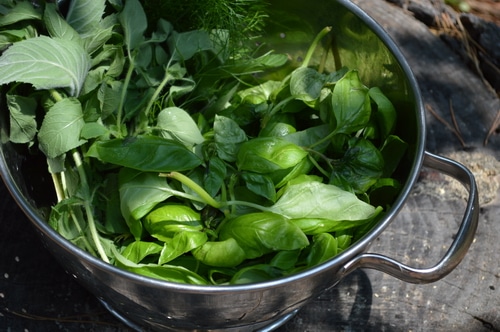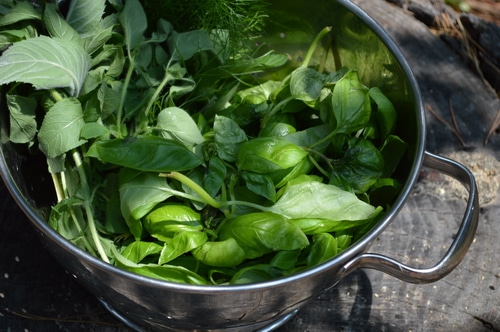 Method:
Lightly toast the hazelnuts in a frying pan over medium heat.  Remove from heat and allow to cool.  Process the cooled hazelnuts in a food processor until finely chopped.  Remove from the food processor and set aside.  Snap off the blossom part of each garlic scape.  Snap the remainder of the garlic scape stem into 1/2 inch pieces.  In the small bowl of a food processor or in the chopper attachment of a hand blender like this one, place the garlic scape pieces and hazelnut oil. Pulse the food processor until the garlic scapes and hazelnut oil are finely blended.  Add half the basil leaves and continue pulsing until finely chopped.  Add the remaining basil leaves and pulse until finely chopped and well blended.  Add half the chopped hazelnuts and continue pulsing until well mixed.  The mixture should have a fine paste-like texture.  Add the last of the hazelnut and 1/2 tsp. of herbed sel gris (French grey sea salt).  Mix well until mixture has a uniform, fine texture.  If the pesto is too firm to blend freely, add more hazelnut oil, 1 tsp. at a time, until it will blend smoothly.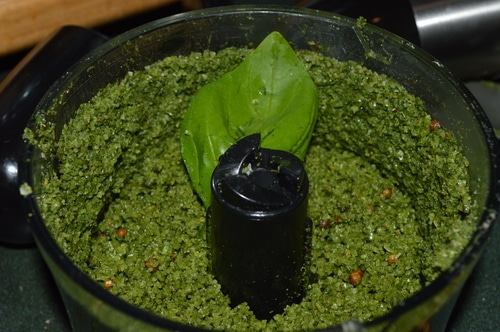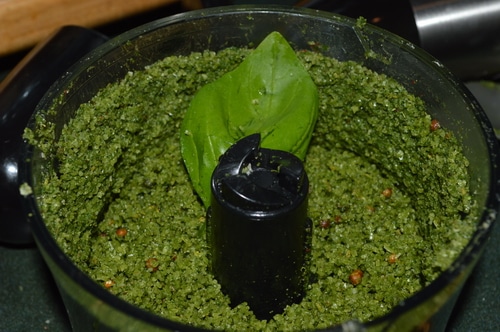 5 Ways to Use this basil pesto recipe
When I have an abundance of fresh basil in the greenhouse I make this in 2 cup portions and serve it generously.  This pesto is amazing and seasonal.
Pesto Quinoa
This takes only 15 minutes to prepare.  Put 1 cup of quinoa in 2 cups of water in a small saucepan.  Cover pan and bring to a boil.  Turn off heat and allow the Quinoa to swell — about 10 minutes.  Put 2 tablespoons of Basil Pesto in 2 cups of hot quinoa, instead of olive oil. Mix it in well and serve Basil quinoa hot.  Or allow it to cool, and serve it as a salad.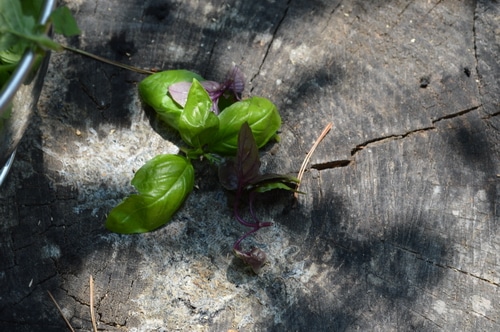 Pesto chicken
Grill 4 chicken breasts.  Remove from flame.  While still hot, top each chicken breast with 1 tsp. of Basil Pesto.  Spread over the chicken breast to coat the top evenly.  Serve immediately.
Pesto Rice
Cook 1 cup of basmati ricein 2 cups of cold water on the stove top or according to your rice cookers instruction manual.   After rice is cooked, add 1/3rd cup of prepared basil pesto.  Stir well.  Serve immediately.
Pesto salad dressing
Zest and juice from 1 lemon
1 tsp. dijon mustard
2 tbsp. pesto
Place the ingredients in a 1/2 pint jar with a tight fitting lid.  Using a fork, mix well.  Place the lid tightly and shake to emulsify the oil and lemon juice.  The dressing will thicken.  Serve over a green salad.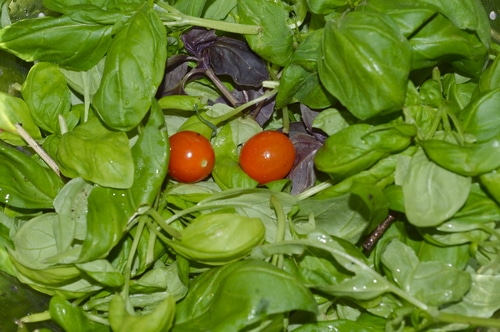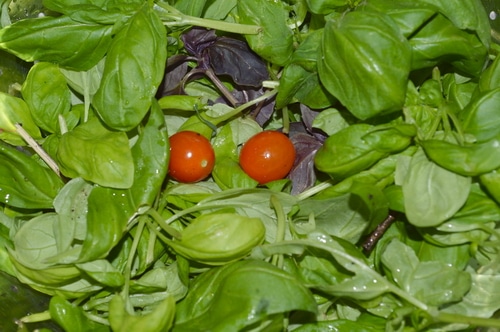 Pesto Bruschetta
1 loaf of french bread cut into thick slices
1/2 cup of prepared basil pesto
1 tomato thinly sliced (optional)
Spread each slice of bread with a generous layer of pesto.  Top each piece of bread with a thin slice of tomato. Grill under the broiler or on a barbeque just until the pesto is bubbly.  Serve warm.