This week my recipe for Fermented Carrot Sticks for Lunchbox treats is live on the Fermentools Blog.  One question that came up was what do you do if this is your first batch of fermented vegetables and you don't have a starter culture?
While you can try your luck at making fermented kimchi, sauerkraut, kosher dills, and pickled carrot sticks without any added culture.  Adding the right probiotic culture to your brine can ensure success, shorten the time it takes to ferment vegetables, as well as allow you to use less salt in a batch of fermented vegetables.  Typically with a starter culture you can use just 1 tbsp of salt per quart of raw vegetables and brine, instead of 3 or 4 tbsp of salt.  Using a starter culture also gives you more uniform results.  And uniformity is important when you are making school lunches day by day.

MY LATEST VIDEOS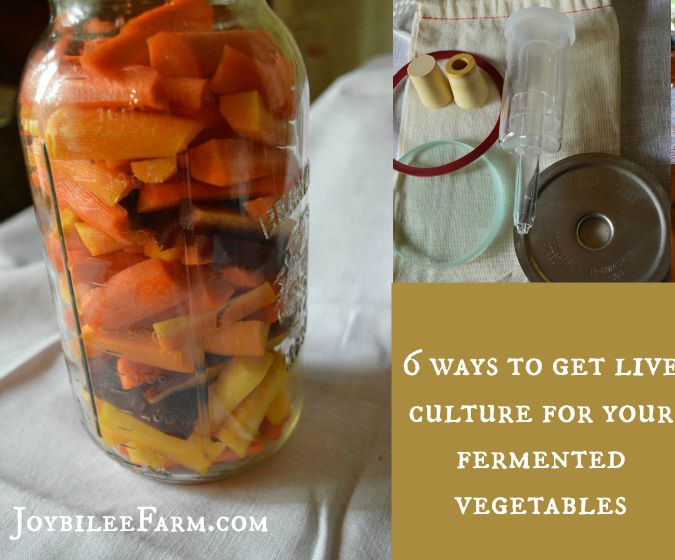 If this is your very first batch of fermented vegetables you won't have a batch of successful ferments to use as a starter culture.  No problem.  Here's 6 ways to get a tablespoon of active lacto-bacteria for your first batch of kosher dills or carrot sticks.  Once you've got it working, you can take a tablespoon from that batch and innoculate your next batch, just like you do for sourdough or yoghurt.
6 ways to find a starter culture for fermented vegetables
1) Use whey that you can drain from a batch of live culture yoghurt
Simply line a colander with a cheese cloth and set the colander over a bowl or large measuring cup.  Pour your yoghurt in the colander.  The whey will drip out the bottom.  What you have left in the cloth-lined colander is lebna, a delicious, creamy cheese.  Use the whey to innoculate your pickles or kraut.  Use the lebna to make Tzatziki.
2) Buy kimchi, kosher dills, sauerkraut with live culture
You'll find it in the refrigerator section of your organic food store.  If it has live culture it should say on the label. Use a tablespoon of the juice to innoculate your own batch of pickles or kraut and you can keep it going.
3) Use a cabbage leaf,
Press a cabbage leaf down under the brine at the top of the jar. Cabbage has the correct bacteria already on the leaves.  By using the cabbage leaf under the weight, below the surface of your ferment brine, the good probiotics will naturally infuse your ferment.
4) Use a supplement
The correct lactobacteria can be found in the supplement section of your healthfood store. If it is a quality supplement it will be kept in the refrigerator section.  Just empty the contents of this quality probiotic supplement capsule into your brine.  Stir the brine to distribute well and then pour it over your vegetables in the jar or crock.  If you can't find it at your local healthfood store this one from Dr. Mercola is the one I recommend.  It is available through Amazon.
5) Buy it on Amazon
Yes Amazon carries live starter culture for fermented vegetables.  There are several to choose from .  Once you have it going you can use a tablespoon of brine from a successful batch, so you only need a small packet of starter for success.
6)  Ask a friend
Someone who has done successful ferments may trade you a pint of fermented vegetables for a pint of jam, jelly, or even a loaf of bread.  Then use the juice from your friends fermented veggies to innoculate your own.
Caution
A word of caution: Using the correct innoculation will give you crisp pickles and clear brine.  If the pickles are mushy, you might have the wrong bacteria in the jar.  It's not a calamity.  If it smells all right and there's no mold, it won't harm you.  But your pickles will stay crunchier and your sauerkraut  taste better is you have the correct lactobacteria working in your batch.  Don't use the brine from a batch of mushy pickles to make more pickles.  Get a different starter.  You'll be happier with the results.
More Lacto-fermented Resources:
I found a couple of comprehensive resources to help you with your lacto-fermentation
Learn to Ferment Vegetables: 50+ Recipes to Get You Started (Attainable Sustainable)
and My three favorite fermentation cookbooks:
The Art of Fermentation
Nourishing Traditions
The Nourished Kitchen