How to make doughnuts at home
The doughnut – a fried yeast dough, is an international pastry.  The doughnut was originally a round piece of dough, the size of walnut, deep friend in lard.  The hole was added in the mid 1800s to make sure that the dough was cooked all the way through.  Doughnuts in other parts of the world vary in shape, from twisted dough, to flat ovals that are filled with jam or cream, to the circles with a hole.  Per capita, Canadians consume the most doughnuts, and Canada has the most doughnut stores per capita than any other nation.
At last something for us Canadians to be proud of!
Here's my version of doughnuts, although any sweet, moist yeast dough will work.  Whole grain dough give a more bread like texture to doughnuts, but I have made doughnuts with whole grains, too.
Joybilee Farm doughnuts (not gluten-free)
Makes a 16 to 20 doughnuts or rolls
Dissolve:
1 tbsp. yeast
1 c. warm water
Allow yeast mixture to froth. 
In another bowl combine:
1 cup warmed milk
1 cup mashed potatoes (leftover mashed potatoes can be used)
2 tbsp. butter
½ cup warmed honey
When mixture is lukewarm to the touch add in yeast mixture and 3 cups of all purpose, unbleached flour.  Let stand until mixture starts to bubble up and has a sponge like consistency.
Add in 1 egg, beaten
1 tsp Celtic salt
4 additional cups of flour, additional flour may be needed if your kitchen is humid.
Dough should be soft.  Turn out on floured counter and knead until satiny, and pliable. Let rise in a warm place until doubled in bulk.
To make doughnuts, Roll out dough until 1 inch thick and cut with a doughnut cutter, or take a ball of dough about the size of a small orange, work it till it is a smooth ball, then poke your two thumbs through the centre and work a small hole about the size of your thumbs.  Place on greased and floured baking sheet.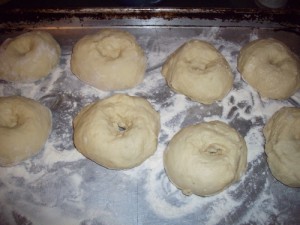 Cover and allow to rise until not quite doubled in bulk.
When doughnuts are ready to fry, put 2 inches of coconut oil in the bottom of a deep skillet.  Heat to 375F – oil should not smoke.  Do not leave oil unattended – oil that gets too hot can spontaneously burst into flame.
Carefully place doughnuts 3 to 4 at a time into hot oil.  Oil will bubble rapidly, so be careful not to get burned with splattering grease. 
Cook on each side until lightly browned, about 45 to 60 seconds.  If oil is too hot, doughnuts will brown too fast and remain doughy in the centre.  If oil is too cold, doughnuts will get greasy and absorb too much oil instead of browning.
Remove the finished doughnuts from the oil and drain on paper towels.  I put 3 to 4 thicknesses of paper towels on a shallow pan to catch the excess grease.  Once drained and while still warm, lay out doughnuts on a baking sheet and glaze with the glaze of your choice.
Glazing Doughnuts
Make glaze in a shallow dish and dip each doughnut into the glaze of your choice.  Sprinkle with candy sprinkles, toasted coconut, chocolate bits, or crushed candy bars to decorate your doughnuts.  Extra doughnuts can be frozen to keep for the future.
Glaze:
1 cup icing sugar
1 tsp. butter
½ tsp. vanilla
Enough cream to make a thin icing
Orange glaze
1 cup icing sugar
1 tsp butter
½ tsp orange extract
Zest from 1 orange
Cinnamon sugar
¼ cup organic sugar
1 tsp cinnamon
Combine mixture and put into a brown paper bag, 1 tbsp at a time.  Place donuts while still warm into bag, one at a time, and shake them in the mixture.  Add more cinnamon sugar, 1 tbsp at a time, as the sugar in the bag is used up.
Chocolate glaze
1 cup of icing sugar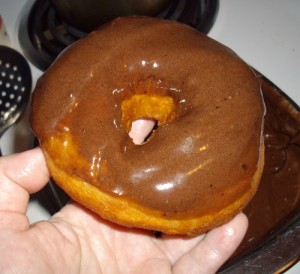 ¼ cup of cocoa powder
1 tbsp butter
1 – 2 tbsp rich cream
Alternative:
This yeast dough can also be used to make cinnamon buns, sticky buns, dinner rolls, cinnamon twist bread, and coffee cake.  You can prepare it the night before and keep it in the fridge overnight.  Take it out in the morning and you can make fresh rolls for lunch with the dough.  They are a very soft, light, spongy roll – much like commercial dinner rolls or commercial cinnamon buns.
Extra doughnuts or rolls can be frozen.  The dough can also be frozen after the first rising, if you want to make it ahead and then thaw it a few hours before you are ready to use it.  Commercial donut shops even form the dough and then freeze them.  Take them out of the freezer 3 hours before you need them and thaw at room temperature.
Technique video 2
Watch the video for the technique of frying doughnuts and applying the glaze.