Joybilee Farm gluten-free, corn-free, flour tortillas
These tortillas fill the need for soft, pliable flour tortillas or wraps for those on a gluten-free diet.  They are soft and pliable like flour tortillas, and will hold a filling for sandwiches, without cracking or tearing. And did I mention they taste delicious.  But there is no gluten in them, and only a few tablespoons of grain-flour.
While these tortillas will hold together for rolling out, the prep time is shortened if you have a tortilla press.  It's best if you can, to grind the nuts, and seeds immediately before making these to ensure that the oils are freshest.
Ingredients:
1 cup of freshly ground flax seed, divided into 2 portions of ½ cup each

MY LATEST VIDEOS
1 cup of boiling hot water
½ tsp. coarse Celtic sea salt (you can use the salt you have, this is what I used)
¾ cup of freshly ground almonds, (unblanched)
½ cup buckwheat flour
1 tbsp. sesame seeds, ground
1 tbsp. toasted sesame oil
Additional coconut oil for frying
This dough ends up less sticky, and more pliable than other gluten-free dough that we've used up till now in the course.  The addition of the sesame oil seems to make it more pliable.
Note:
I ground all my seeds, and nuts in the Delfino coffee grinder.  I use it a lot in my kitchen.  What I love about it is that the grinding bowl detaches from the grinder so that it can be thoroughly washed between uses.  It's the perfect appliance for grinding flax seed for baking.  It allows me to grind the flax seed fresh just before I need it.  And it will grind almonds or sesame seeds to a fine flour in just a few seconds.
Delfino Intelligent Coffee & Spice Grinder
Method:
Make a flax slurry using ½ cup of ground flax seed plus 1 cup of boiling water.  You want to beat the flax slurry well to make it as viscose and sticky as possible.  You are looking for the texture of thick egg whites.  I beat mine with a fork for about 5 minutes to get the slurry as thick as possible.
Add in the salt and continue beating for a minute longer.
Add to the flax slurry the remaining ½ cup of flax, the almonds, buckwheat flour, and the sesame seeds and sesame oil.  Mix it together until it forms a soft ball.  Begin to knead it with your hands until the ball becomes dry and pliable.  It will begin to get the consistency of playdough.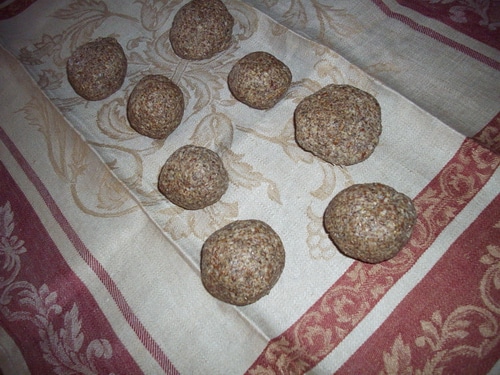 Form into 8 balls the size of a kiwi fruit.  Roll the balls in your hands, moistening  your hands with water, if necessary to keep the dough from sticking.
Using a tortilla press:
Using a single piece of parchment paper, folded in half, on the bottom of a tortilla press, makes it easier to work with these gluten-free tortillas.
Place a ball of dough inside the unfolded parchment paper.  Fold the parchment paper to cover the ball of dough.  Press down on the tortilla press to flatten the ball of dough.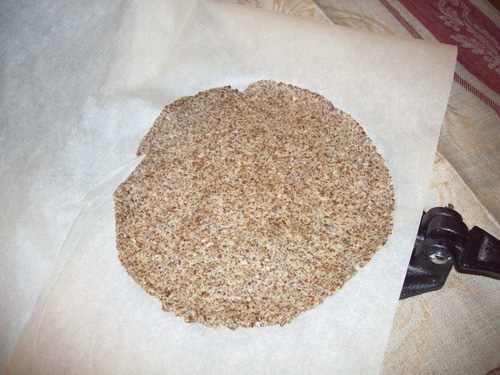 Open the tortilla press and turn the parchment paper 180 degrees and press down a second time.
Heat ½ tsp. of coconut oil or lard in a skillet on medium heat.  Do not allow the oil to smoke.
Peel the tortilla from the parchment paper and place in the preheated frying pan.  Cook the tortilla on one side for 60 seconds and gently flip the tortilla to cook the other side for an additional 30 to 60 seconds.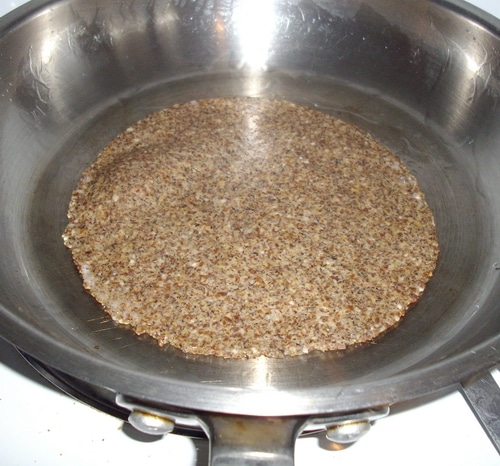 Remove tortilla from frying pan and place on a plate that you have covered with a folded tea towel.  Cover cooked tortillas while you press and fry the remainder of your dough, one tortilla at a time.  Add additional oil, ½ tsp. at a time as the oil in your frying pan is absorbed in the cooking.  If your frying pan is dry, your gluten free tortillas may stick to the pan and tear.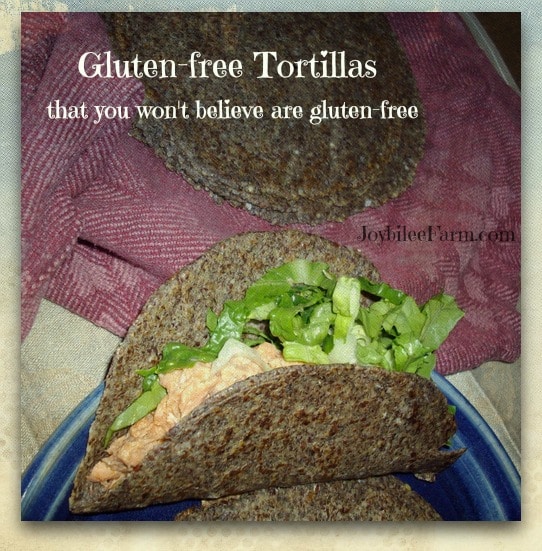 What to do if you don't have a tortilla press?
You can also roll these tortillas out between two pieces of parchment paper
Be cautious not to roll them too thin.  You are aiming for a tortilla the thickness of a corn tortilla.  If it is thinner it will cook too crisp, and not be pliable for folding and filling with the filling of your choice.
Using other flours than the flours listed?
The essential stickiness in this recipe comes from the flax slurry.  While other gluten-free flours behave differently, feel free to experiment.
You can substitute ground chia seed or a combination of chia seed and flax seed in the slurry
If you substitute coconut flour for the almond flour, begin by cutting the proportion of flour in half and allowing the coconut flour to swell up for 20 minutes before proceeding with the recipe.  Coconut flour is usually substituted at a ratio of 1/3rd to 1.
Other nut flours or ground sunflower seeds can be substituted for the ground almonds
Buckwheat flour is what gives this its grain like texture that is so close to wheat flour tortillas.  You could try other gluten-free flours and see how you like them.
The JOY of cooking from scratch is experimentation and creativity.  Once you try a recipe and get used to the ingredients and how they behave in a particular recipe, it's your turn to play.  Make sure, if you find an especially successful combination, you write it down in your Scratch Cooking notebook, so that you will be able to do it again.
Creative gluten-free Fun
Here's some fun and creative ways to play with this Gluten-free flour tortilla recipe:
Tortilla Chips
Mix the dough, press the tortillas, and fry them according to the recipe.  Take the 6 inch tortillas and cut them into strips about an inch wide.  Heat ½ inch of oil in the bottom of the skillet to 375degrees F. and fry the strips until crispy, only a minute or two.  Drain on paper towels.  Sprinkle with salt and spices.
Nachos
Serve like corn chips or top with ground meat, sliced olives, sliced salsa, grated cheese, and broil in the oven, until the cheese melts.  Serve with sour cream and guacamole.
Lasagna
You could also use these tortillas in the place of lasagna noodles when you make a gluten free lasagna.  Roll them out to long rectangles, as thinly as possible.  Layer them in your lasagna recipe.  Use less tomato sauce than you normally wood, so that the gluten free noodles don't lose their shape.
Gluten-free crackers
When you mix the dough, add ½ tsp. onion powder, and 1 tbsp. poppy seeds, or whole sesame seeds.  Roll out ½ the dough between two pieces of parchment paper, on a baking sheet.  Peel off the parchment paper, and score the crackers with a sharp knife.
Bake on a buttered baking sheet at 350F for 15 to 20 minutes.
How are you going to use gluten-free tortillas?
Some equipment that you will find helpful to create this recipe: