Cinnamon Twist Bread for Breakfast, yes, please
Cinnamon Twist Bread is simply a variation on cinnamon rolls or cinnamon buns.  Start with any sweet dough or bread dough that you like.  Your bread in 5 minutes a day recipe works for this one or you can make a fresh batch of dough.
Here's bread that is a family favorite at my house, but you can use any bread recipe that you love.  The special instructions for cinnamon twist bread come at the end of the recipe.  If you already have your dough, just jump to the end of the recipe.
Oatmeal bread
(makes enough for 2 loaves of bread or 1 loaf and one batch of cinnamon twist bread.)
Ingredients:
I cup of old fashioned oats
½ cup ground flax seed, or ground chia seed
½ cup of whole wheat flour
½ cup organic sugar
1 Tbsp Celtic salt
2 Tbsp butter
2 cups boiling water
1 Tbsp yeast
½ c. warm water
5 – 6 cups all-purpose flour or bread flour, (amount of flour will vary, depending on the humidity in your kitchen)
Method
Dissolve yeast in ½ cup of warm water.  Set aside.
In a separate bowl add oats, whole wheat flour, sugar, salt, and butter.  Pour boiling water over the mixture and stir well.  Set aside to cool.  When it is cooled to luke warm, add the yeast mixture and mix well.
Add the all-purpose flour, one cup at a time, beating well with a wooden spoon.  If you are mixing with a stand mixture, use the dough hook.
When dough is stiff enough to handle, turn onto floured counter top and knead for 10 minutes by hand, until dough is smooth and elastic.  Place dough in a bowl that has been greased with butter.  Cover and let rise until doubled in bulk.   Punch the dough down and let it rise again.
After the second rise, divide dough into two halves.   Take one half to make cinnamon twist bread and the other half to make a normal loaf of bread or 8 rolls.
Making the Cinnamon Twist Bread
Ingredients
1 half of the above dough or 1.5 lbs of dough from another recipe
2 – 4 Tbsp melted butter
¼ cup organic sugar
1 tsp cinnamon
Method
Roll out the dough to 1/3rd inch thickness, into a large rectangle.  Using a pastry brush, brush the dough rectangle with melted butter, except for one long edge of the dough.  You'll need this edge free of butter and spices, in order to seal the edge.  Mix the cinnamon and the sugar together and sprinkle the mixture evenly over the dough, omitting the long edge, that you left free of butter.  You can also add nuts or dried fruit like craisins, raisins, or pieces of dried apple.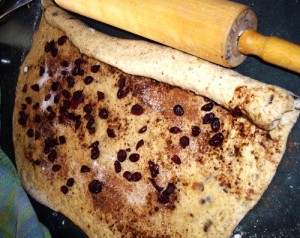 Once you've added your chosen fillings, begin at the long side that you covered with butter and cinnamon sugar.  Roll the dough up jelly roll fashion.  When you get to the long edge, and the dough is rolled up tightly, pinch the clean edge with the side of the rolled dough to seal it.
This is what you'd do if you were making cinnamon buns/rolls.  And this is where the cinnamon twist roll diverges from common practice.

Take a sharp knife and cut the roll lengthwise into two equal pieces.  You will expose the many layers of sweet goodness by doing this.  Now lay the two pieces cut side up and twist one piece over the other, being careful to turn the cut edge up.  You can leave the loaf as a straight, twisted rope, or you can join the two ends, by tucking the ends under at the join, to make a wreath.
Now take the left over melted butter and brush the cut edges, that are sweet with cinnamon sugar with any butter that you have left over.
Cover and let rise for 30 minutes in a warm place.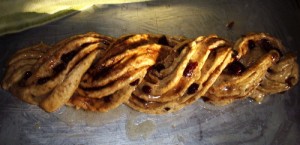 Preheat oven to 375F.  Bake this loaf for 25 minutes.  Serve while warm and crispy.