Have you ever wondered how they got the jelly into the jelly doughnut?  While I knew that regular round doughnuts with the hole in the middle were within reach of my culinary skills, I thought if I wanted a cream filled Bismarck doughnut – Tim Horton's Canadian Maple Cream, comes to mind – I would have to buy from the professionals.  No longer!  Take that Tim Hortons!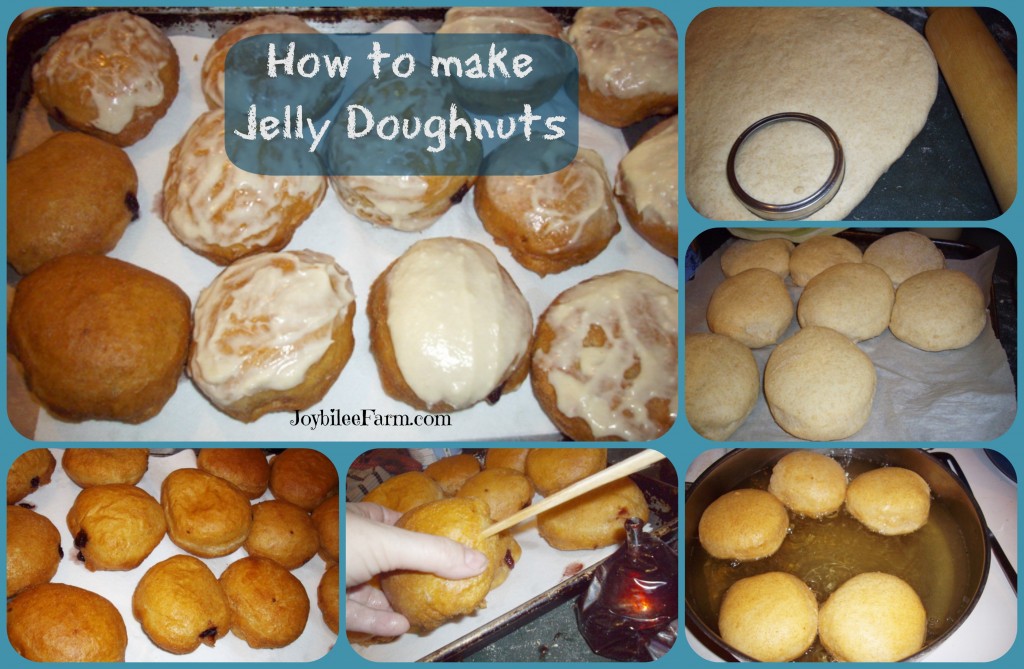 Jelly doughnuts are a traditional Israeli Chanukah treat. They are a little fiddlier than regular doughnuts, but worth the extra effort for a special celebration.  If you want a cream-filled doughnut take your favorite vanilla custard recipe, cook it to perfection and allow it to cool, then proceed, using the same technique that I used for filling Jelly doughnuts.
Commercial doughnuts are a made from factory-made dough that is preshaped and frozen so that the doughnut store only needs to cook them and decorate them.  When you make your own at home, you can choose ingredients based on quality and taste rather than economics.  You can avoid genetically modified ingredients, if you choose.  And the final donuts are sensational!  Doughnuts are a special treat for a special celebration and they just became even more awesome!
Joybilee Farm Jelly Doughnuts (not gluten-free)
Makes a 12 to 18 doughnuts; This recipe can be used for regular doughnuts, and rolls, too.
Dissolve:
1 tbsp. yeast
1 c. warm water
Allow yeast mixture to froth. 
In another bowl combine:
1 cup warmed milk
1 cup mashed potatoes (leftover mashed potatoes can be used)
2 tbsp. butter or coconut oil
½ cup warmed honey
When mixture is lukewarm to the touch add in yeast mixture and 3 cups of all purpose, unbleached flour.  Let stand until mixture starts to bubble up and has a sponge like consistency.
Add in 1 egg, beaten
1 tsp Celtic salt
4 additional cups of all-purpose flour, additional flour may be needed if your kitchen is humid.
Dough should be soft.  Turn out on floured counter and knead until satiny, and pliable. Let rise in a warm place until doubled in bulk.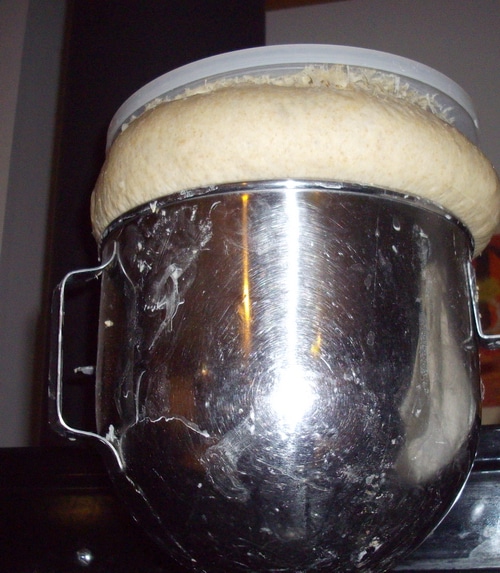 To make doughnuts, Roll out dough until 1 inch thick and cut with a biscuit cutter or other round shape.  I used a canning jar lid.  Place on greased and floured baking sheet.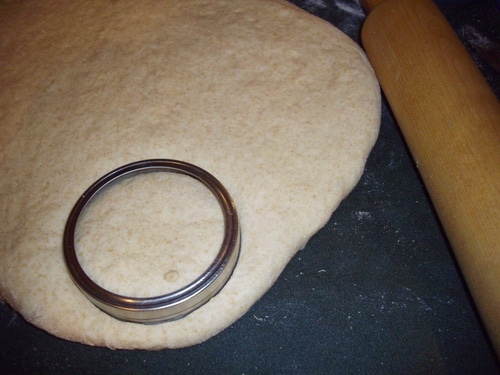 Cover and allow to rise until not quite doubled in bulk.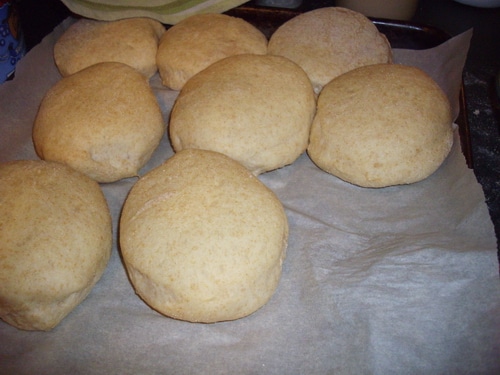 When doughnuts are ready to fry, put 2 inches of coconut oil in the bottom of a deep skillet.  Heat to 375F – oil should not smoke.  Do not leave oil unattended – oil that gets too hot can spontaneously burst into flame.  Palm oil or lard can also be used to safely deep fry.  Do not use liquid oils like grape seed oil, olive oil, or canola oil, as these oils create health-damaging, free-radicals when heated to deep fry temperatures.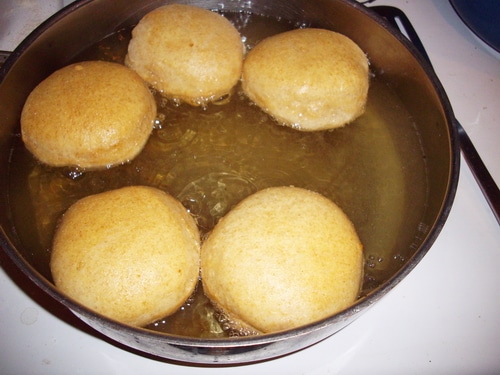 Carefully place doughnuts 3 to 4 at a time into hot oil.  Oil will bubble rapidly, so be careful not to get burned with splattering grease. 
Cook on each side until lightly browned, about 45 to 60 seconds.  If oil is too hot, doughnuts will brown too fast and remain doughy in the centre.  If oil is too cold, doughnuts will get greasy and absorb too much oil instead of browning.
Remove the finished doughnuts from the oil and drain on paper towels.  I put 3 to 4 thicknesses of paper towels on a shallow pan to catch the excess grease.  Remove and fill with the jelly or custard filling of your choice.
How to fill jelly doughnuts:
Tools you'll need:
You'll need 1 cup of grape jelly, raspberry jam, or other filling, like custard.
! Very small metal funnel
Ziploc sandwich bag
Chopstick
Method:
Using the chop stick, make a small hole in the side of the doughnut.  Insert the chopstick into the hole and wiggle it back and forth and up and down, gently, to tear the crumb inside the doughnut.  Be careful not to be so rough that you tear the outside of the doughnut.  You are making a small cavity to fill with the jelly.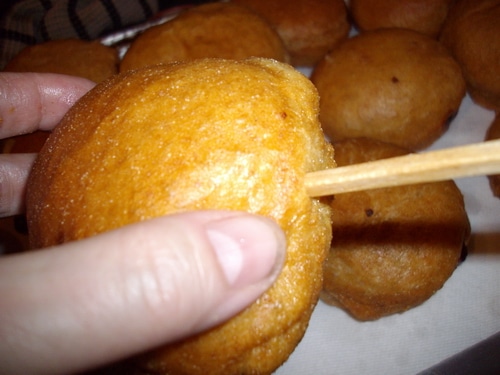 Make a small hole in the corner of the empty sandwich bag.  Insert the metal funnel and put the spout through the hole.
Fill the bag with 1 cup of jelly, jam, pie filling, or custard.
Insert the funnel spout into the hole that you made with the chop stick.  Put gentle pressure on the closed Ziploc bag to exude some of the filling.  Watch carefully, so that you don't overfill the doughnut.  Release the pressure on the bag, before removing the funnel spout from the hole.  Gravity will force more of the filling out of the bag, so once you remove it from the doughnut cavity; turn it with the funnel spout pointing up.
Repeat with each doughnut. 
Insert chopstick, make a cavity, insert filling using the funnel/Ziploc bag.  If you have a pastry tube you can use that instead.  You need a tube that can fit into the hole that the chopstick made and go deep enough into the doughnut, while not enlarging the hole.
Once all the doughnuts are filled, top them with icing, glaze, or sprinkle with sugar.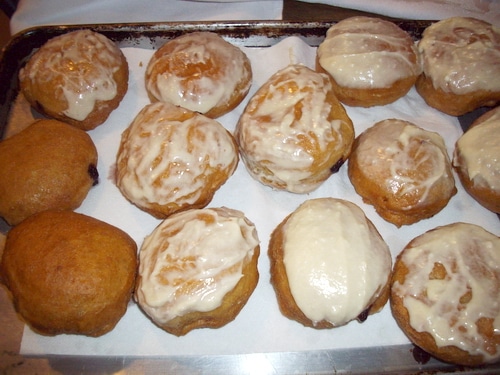 Glazing Doughnuts
Make glaze in a shallow dish and dip each doughnut into the glaze of your choice.  Sprinkle with candy sprinkles, toasted coconut, chocolate bits, or crushed candy bars to decorate your doughnuts.  Extra doughnuts can be frozen to keep for the future.
Glaze:
1 cup icing sugar
1 tsp. butter
½ tsp. vanilla
Enough cream to make a thin icing
Orange glaze
1 cup icing sugar
1 tsp butter
½ tsp orange extract
Zest from 1 orange
Cinnamon sugar
¼ cup organic sugar
1 tsp cinnamon
Combine mixture and put into a brown paper bag, 1 tbsp at a time.  Place donuts while still warm into bag, one at a time, and shake them in the mixture.  Add more cinnamon sugar, 1 tbsp at a time, as the sugar in the bag is used up.
Chocolate glaze
1 cup of icing sugar
¼ cup of cocoa powder
1 tbsp butter
1 – 2 tbsp rich cream