Bread baking is an art and a science
Bread Baking is both an art and a science.  Good bread depends on having yeast, either commercial or sour dough to create carbon dioxide in the loaf to create air bubbles, as well as gluten or another substance, to create elasticity in the dough to hold the gasses in the loaf and prevent their escape.   Gluten occurs naturally in some grains like wheat, barley, or rye.  Folks with gluten-intolerance or celiacs disease must avoid gluten and therefore, gluten substitutes are used as dough additives with gluten free flours to reproduce elasticity in the dough.
What causes the dough to rise?
Carbon dioxide causes gas bubbles in the dough, which causes the dough to rise.  This is true for both gluten-free baking and traditional baking.  In quick breads the carbon dioxide is caused by baking soda or baking powder, which is a pre-mix of baking soda and an acid, plus a stabilizer. In yeast breads, the yeast is fed by the starch, and sugars in the dough, and the by-product of nourishing the yeast is carbon dioxide.  In sour dough breads the yeast is fed more slowly and so the by-product of the yeast, carbon dioxide, is slower in creating air bubbles in the dough.  Much patience is needed in sour dough baking to achieve a lighter bread, or the addition of commercial yeast.
In the ideal loaf, the gluten or the gluten substitute traps this carbon dioxide in the dough, preventing its escape.   The best loaves double in bulk at room temperature and then as the carbon dioxide gases are heated in the loaf, in the oven, there is an expansion of gases and the loaf rises again in the oven.  This is our aim as wheaten bread bakers, to time the rising and baking of the loaf so that the final oven rising is successful.
Additives to make a better loaf of bread
Protein – gluten-free breads benefit from the addition of milk or eggs to give protein for the yeast to feed on.  Gluten is the protein part of the grain, so when you use non-gluten flours, generally there is less protein to feed the yeast.  Gluten flours provide the protein in traditional bread.  The addition of milk or eggs makes traditional bread moister.

MY LATEST VIDEOS
Oil or fat – in gluten-free breads, and in traditional breads the addition of butter or olive oil improves the tenderness of the crust,  and prevents the bread from drying out and going stale too soon.
Gums like guar gum and xanthan gum are often added to gluten free baking to create elasticity in the dough.  It's not the same as the elasticity in wheat bread, and so gluten free breads require gentler handling.  Both gums are high in indigestible fiber and can cause stomach upset in celiac sufferers.
Seeds – like flax seed or chia seed add texture, crunch, and fiber to traditional loaves.  In gluten-free baking the mixture of ground flax or chia seeds and boiling water, creates a jelly like liquid that helps hold the loaf together, in the place of gluten. and makes the use of xanthan gum or guar gum unnecessary.
Dough Conditioners
Ginger – a dough conditioner that improves the rising power of the yeasty breads without affecting taste.  Use 1 tsp. per 5 cups of flour.
Lemon Juice – a dough conditioner that improves the rising power of yeasty breads without affecting taste.  Use 1 tbsp. per 5 cups of flour.
Vital Wheat Gluten – In lower gluten wheat flours, like all-purpose flour, and whole wheat flour, vital wheat gluten is often added to encourage rising of the bread dough, and hence a lighter loaf of bread.  Just 2 tbsp. of vital wheat gluten to 5 to 6 cups of flour can make a big difference in the texture and rising of your yeast bread, when using low gluten flour or all-purpose flour.  Bread flour and bread machine flour has vital gluten already added.  (Of course, you don't add vital gluten to gluten-free bread.  That would defeat the purpose of gluten-free baking.)
A Loaf for learning (wheat) (makes 1 loaf)
4 cups bread flour
1 tbsp. yeast
1 ½ cups of warm water (103F)
2 tbsp. organic sugar
2 tsp. Celtic salt or Himalayan salt
1 tbsp. butter or coconut oil
½ cup of additional grains such as ¼ c. freshly ground flax, ¼ c. ground nuts or sunflower seeds
Dissolve yeast in warm water, with 1 tbsp. of sugar.  Once yeast is bubbly pour it in a mixer bowl.  Add 4 cups of flour, the other tbsp. of sugar, salt, butter or oil, and ¼ cup of freshly ground flax seed, plus ¼ cup of ground nuts or other seeds.  I used ground sunflower seeds in my example.
Mix using the dough hook of your stand mixer until dough forms into a ball.  Remove dough from mixer and knead by hand for a few seconds until dough is smooth and elastic.  Put dough into mixer bowl, cover with a towel or plastic bowl cover to retain humidity, and keep dough from drying out.
Allow dough to rise 1 ½ to 2 hours in warm place, until dough is double in bulk.  Rising spot should be at least 70F but not more than 90F.  Higher temperatures will kill the yeast and prevent rising.  If your home is fairly cool, you can put the dough inside your electric oven with the light bulb turned on but the oven turned off.  You can also put it inside a gas oven with just the pilot light on.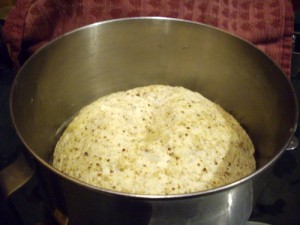 When the dough has doubled in bulk, remove the dough from the bowl.  Knead briefly.  Allow dough to rest, covered for 10 minutes.  Form the dough into an oblong loaf.  Place on a greased baking sheet.  Top with a sprinkling of ground nuts.  Cut the top to allow the dough to rise unimpeded.  If you don't cut the top of the loaf, the loaf can form a dry crust that inhibits rising. Cover the loaf with a kitchen towel and allow to rise for 40 to 60 min.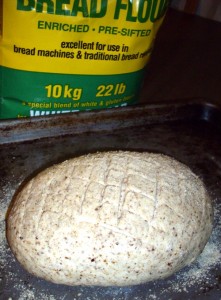 Preheat oven to 375F.  Place baking sheet with loaf in the oven and bake for 10 minutes.  Turn heat down to 350F and bake an additional 20 minutes.  Remove loaf.  If bread is done the loaf will sound hollow when tapped on the underside.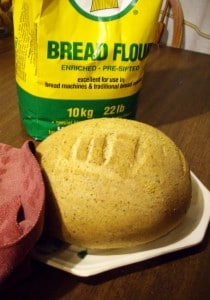 Allow to cool completely on a wire rack before slicing.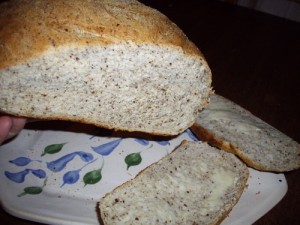 Tips for success:
Use warm but not hot water to activate the yeast.  Hot water will kill the yeast.
Rise the dough at room temperature.  If its cooler than 70F, the rising will take a bit longer but it won't harm the yeast.  If its warmer than 90F the yeast could be killed and then your bread won't rise.
Use bread flour rather than all-purpose flour.  Bread flour has extra protein/gluten which gives the yeast the right environment for proper growth and multiplication.  It will make lighter bread.  You can add up to 1 cup of other flours or grains for every 4 cups of bread flour that you are using in your recipe, without harming the finished product.
Be sure to knead your dough long enough.  Kneading is necessary to develop the elasticity in the gluten when working with gluten flours.  If you are kneading by hand, knead your dough for at least 10 minutes and set a timer so that you knead it long enough.  If you are using a stand mixer and a dough hook, finish the kneading by hand. You may only need an additional 1 or 2 minutes.  It's almost impossible to over knead bread dough make with high gluten flour.
Cover your loaves with plastic wrap to rise, rather than a tea towel, if you have put an egg glaze on the loaves before rising.  Egg glazes, such as are used in Challah, are famous for sticking to the tea towel.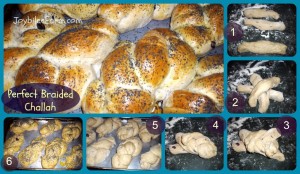 Once you form the loaves and are letting it rise for the final time, before baking, don't go into town to run errands or get lost in other work.  Rise the bread for 30 to 60 minutes, depending on how warm your kitchen is.  Let it double in bulk.  If it rises too long, your bread will cave in and you will lose loft and lightness of your loaf.  If you start to make bread and find that you have to run into town during the first rising, you can put the bread in a cook place, grease the top well to keep it from drying out, cover with plastic wrap or a plastic lid.  You can safely leave the first rising for several hours, without ill effect, provided that the dough doesn't have eggs in it. (Refrigerate it if it has eggs in it and you'll be leaving it more than 2 hours.)
Preheat the oven to 375F before putting the bread in to bake.  Then turn it down to 350F after 10 minutes of baking.  This will let the first poofy-rise happen and prevent the top from burning before the centre crumb is cooked through.
Here's some helpful links to aid your learning process:
Breadtopia –  This is a helpful website with videos that cover many aspects of bread baking, including sour dough, gluten-free, no-knead bread,
Artisan Bread in 5 minutes a Day – There are great recipes on this site, using a methodology where a batch of dough, high in salt, is mixed and refrigerated.  Each day you take off a batch of dough for bread baking from the bin of dough in the fridge.
The Fresh Loaf – Check the artisan bread recipes on the lower-right hand side of this site.