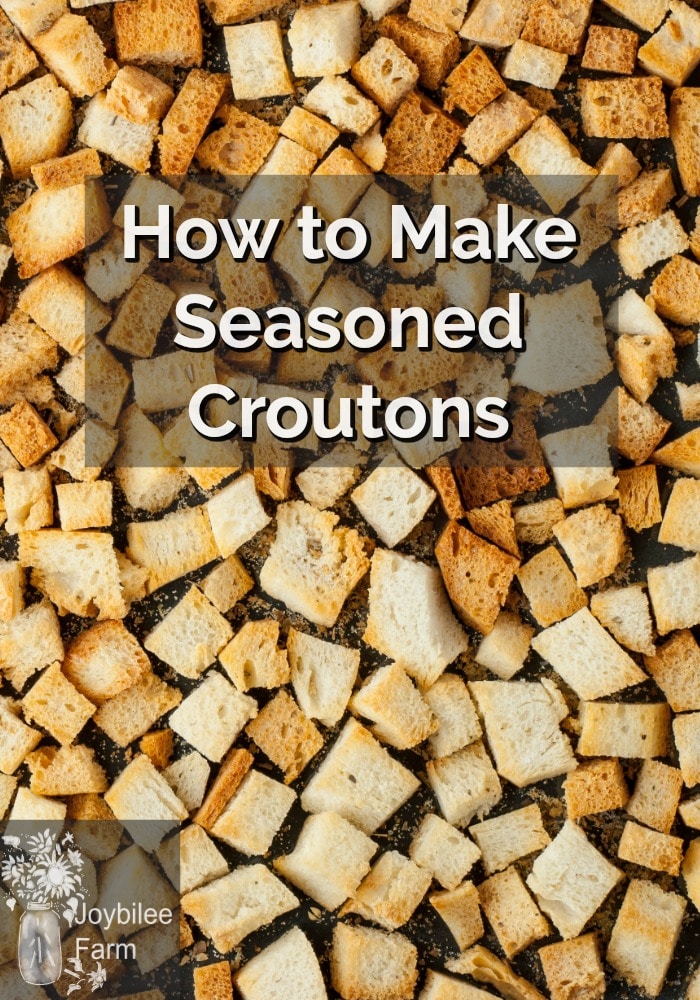 Croutons are crunchy, melt in your mouth goodness in a small package.  Store bought croutons have the taste and texture of cardboard, in comparison.  Croutons are made from stale bread, before it goes mouldy.  If you see any green, hairy growth on the loaf, toss it and don't make croutons from it.
Croutons can be made from both traditional bread and gluten-free bread.  You want to start with an airy, yeasty loaf.  Flat breads can be toasted for crackers, but for croutons start with a loaf of bread with lots of air bubbles.  These hold the oil and spices best.
Cut your loaf of bread into slices.  Cut each slice into cubes.  Leave the crust on.  Your cubes don't have to be uniform.  There will be crumbs.  Leave them in for now.
Put all the cubes of bread and crumbs into a mixing bowl.  In a separate bowl add: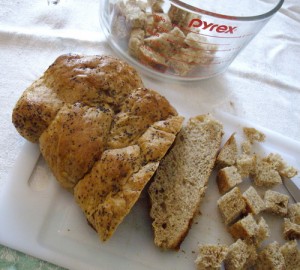 Seasoning:
2 tbsp. coconut oil
1 tsp. tomato powder
½ tsp. garlic powder
1 tsp. onion, dried
½ tsp. Himalayan salt
½ tsp. oregano, dried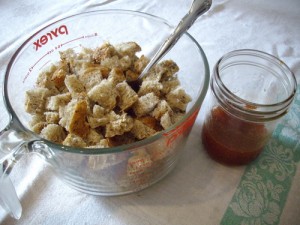 Mix all seasoning ingredients together and pour over bread cubes.  Fold seasoning mixture into bread cubes until the bread cubes are well coated.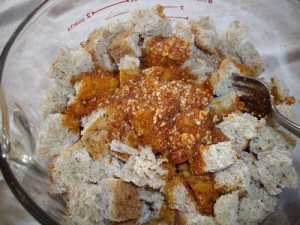 Fold gently so that the cubes retain their shape, or you'll end up with bread crumbs instead of croutons.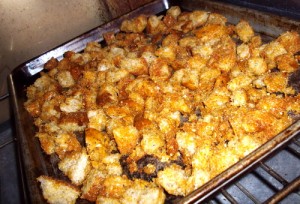 Spread in a single layer on a baking sheet, greased or lined with parchment paper.
Place in a medium oven at 300F and bake slowly.  After 30 minutes turn the croutons to bake the other side.  Stir again in 30 minutes.  Croutons should be baked until they are dry and crisp and no softness remains in the centre of the bread cube.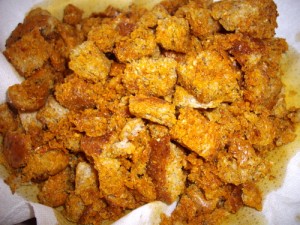 Allow to cool completely, before storing in a glass jar with a tight fitting lid, at room temperature.  They will keep for several weeks if you used coconut oil to make them.