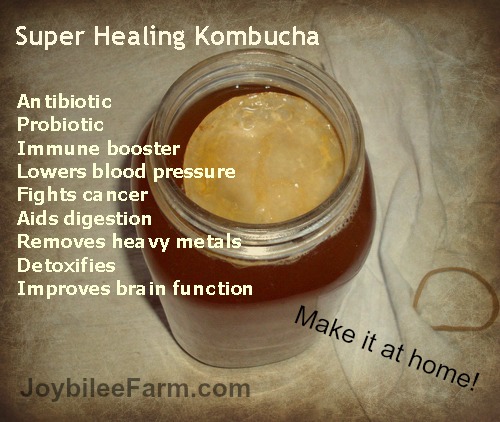 How to make Fizzy, refreshing Kombucha and break the soda habit
You know drinking Diet Pop or Dr Pepper(TM) can hurt your body.  Your body can't fuel on sugar substitutes and high fructose corn syrup is hurting you, spiking your blood sugar, hurting your eyes, and harming your brain cells.  Plus it robs you of the energy that you were hoping to get by drinking it.  Kombucha to the rescue.  While Kombucha is made with tea and sugar, the fermentation process converts the sugar into acetic acid (aka. vinegar) and a small amount of alcohol (less than 1%).  An 8 oz bottle of Kombucha has less than 30 calories and only 2 grams of sugar.  Kombucha that's gone through a second fermentation process in a bottle is full of refreshing fizz and flavour.  In fact, switch your soda habit to a Kombucha habit and your body will respond by craving Kombucha to increase your energy level and healing the damage to your digestion that the soda habit caused in the first place.
Kombucha is a traditional tonic drink made from sweetened tea and a symbiotic culture.  It is known for its detoxifying, and energizing effects.  Coveted by health nuts for decades, it can be found in health food stores and some natural markets that cater to the organic elite.  The bottles are pricey when purchased individually but Kombucha can be made at home for the cost of a few tea bags and a cup of sugar.
While all the health benefits of kombucha are found in the fermented elixir, putting kombucha through a short, second ferment in a capped bottle pushes this tonic into the realms of perfection.  First ferment kombucha can be slightly sour and effervescent or strongly acid and flat tasting, depending on how long the ferment was allowed to progress.  You can test the fermentation with pH test strips.  I found that the best tasting kombucha is around a 3 pH.  Fizzy, bottled kombucha, on the other hand, has a pleasant taste, with a sweet and slightly alcoholic flavour, like a cider drink, while maintaining its healthy beneficial attributes, and staying low in sugars and calories.

MY LATEST VIDEOS
To make fizzy, bottled kombucha follow these simple steps: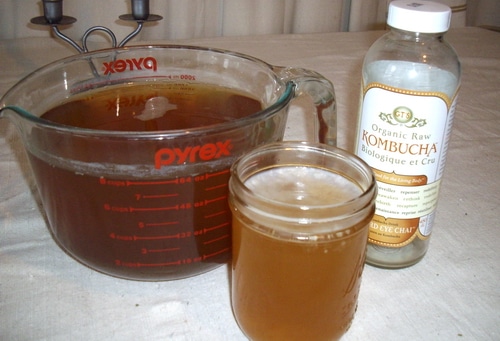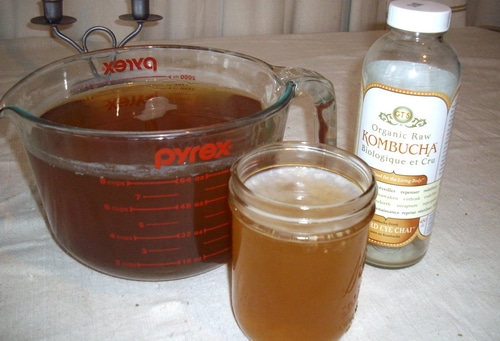 Start your next batch of Kombucha using tea, sugar, and your Kombucha starter and scoby from the last batch.  To do this:  Boil water and steep 5 tea bags and ½ cup of organic sugar in a glass measuring cup that holds 8 cups of tea.  Allow to cool to body temperature of around 98F.  Pour 7 cups of tea into your fermentation container – I use a 2 quart wide mouth mason jar.  Add 1 cup of a previous batch of kombucha or kombucha starter.  Gently place the scoby from a previous batch of kombucha on the surface of the liquid in the fermentation container or jar.  Cover with a cloth, such as a clean pocket handkerchief.  Secure with rubber band.  Place in a warming cupboard, away from extremes of temperature.  Ignore for 5 days.
Take the remaining fermented kombucha from the batch that you took the starter and scoby from.  It should be 7 cups of fermented kombucha.  Put it into an 8 cup/2 quart glass measuring bowl.  Add 1 cup of fruit juice such as grape, pomegranate, blueberry, or raspberry.  Stir well.  Pour into clean pop or beer bottles.  Leave at least 1 to 1 ½ inches of head space to allow for pressure to build inside the bottles. 8 cups of liquid will fill 6 – 10 ounce bottles.
Cap bottles using metal crimp caps and a bottle capper, or complete the closures according to the manufacturer's instructions.
Allow the bottled kombucha to sit for 24 to 48 hours on the counter or in a warm place.  Test the kombucha after 24 hours, as you don't want it to ferment too long and begin to taste like beer.
The kombucha is ready when an opened bottle fizzes when it is poured into a glass, makes a small foam on top of the drink when poured and has a slight fizzy feel on your tongue when you drink it.  Depending on how warm your home is, these bottles could be ready in 24 hours or a bit longer, up to 48 hours.  Once the bottles are deemed ready, refrigerate your finished kombucha to slow down the fermentation.
Enjoy at least one bottle of kombucha a day to realize the health benefits.  If you have enough kombucha you could drink one bottle three times a day, every day to get the full benefits which include a reduction of blood sugar levels, lower blood pressure, weight loss, detoxification, cancer prevention and a reduction in tumour size, better digestion, increase metabolism, lessening of stomach symptoms, cure for enteritis and noroviruses, increased energy and vitality.
This is the 3rd post in a series of posts on the healthful benefits of Kombucha Tea.
Articles in this Joybilee Farm series

Secret super-healing power of Kombucha and how to grow your own — Part 1
Making your own super-star healing tonic in sufficient quantities for your family – Part 2
Super-star secrets to help you break the soda habit — 2nd ferment Kombucha – Part 3 (This post)

What can go wrong?  Trouble Shooting your Kombucha problems – Part 4
6 Ways to incorporate Kombucha into your lifestyle – Part 5
Shared on: