How to make Kombucha from a starter (part 2)
Kombucha benefits:
Kombucha is a nourishing beverage, full of B vitamins.  It helps your body deal with stress.  Kombucha benefits are over the top!  Kombucha is a super star for health and energy.  It's helpful for many immune disorders including MS, arthritis, cancer, chrohns disease, AIDS, asthma, chronic fatigue, diabetes, hair loss, psoriasis, menstrual and menopausal issues, prostrate problems, and weight gain.
You can make Kombucha easily at home from simple ingredients that you probably already have on hand.  Tea, filtered water, and sugar are the main ingredients, and a kombucha starter.  You can reuse your Kombucha starter and kombucha scoby over and over again, for subsequent batches of Kombucha.  The Kombucha scoby will thicken with each batch and eventually it will grow Kombucha babies for you, so that you can increase your own Kombucha or give them to friends, so that they can make Kombucha.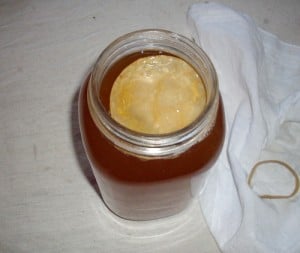 How to make kombucha using a kombucha mushroom and kombucha starter
To make 2 quarts of kombucha you will need:
2 quarts/litres of filtered water

MY LATEST VIDEOS
5 tea bags (black, English Breakfast, or green)
½ cup white or organic raw sugar
1 cup kombucha starter from a previous batch
1 kombucha scoby (symbiotic culture of bacteria and yeast) from a previous batch of kombucha
¼ tsp. Celtic sea salt
2 quart glass jar
Long handled wooden spoon or glass rod for stirring tea and kombucha (do not use metal or plastic)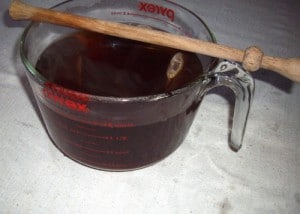 How to increase the amount of kombucha that you make:
If you have a one gallon jar you can double all the ingredients and make a one gallon batch of Kombucha.  You will need to use 2 cups of starter, but only one Kombucha scoby.  If you have 2 – 2 litre glass jars, I suggest making the tea twice and using 2 kombucha scobies, rather than doubling the recipe.
Regardless of the size of the container that you will make your Kombucha in, you want to use 1 cup of starter for every 7 or 8 cups of brewed tea and sugar.  This inoculates the tea to prevent the wrong bacteria from getting a hold before the lacto bacteria have a change to proliferate in the solution.
Method to make Kombucha at home
The kombucha mushroom is a symbiotic combination of lacto-bacteria, yeast, and lichen.  The tea provides nitrogen to support the lichen.  The sugar feeds the yeast and bacteria.  Don't cut back on either the tea or the sugar in the recipe.  Both
black tea and green tea can be used interchangeably.  Herbal teas are not as vital for the scoby, but can be used successfully in the second ferment to provide health benefits and flavouring.
Boil the filtered water.  Pour into a 2 quart/litre glass measuring dish.  Add tea bags.  Stir in sugar.  Allow to sit until the water is cooled to room temperature.  Remove tea bags.  Pour 6 cups of cooled tea into wide mouth glass 2 quart jar.  Add 1 cup of kombucha from a previous, active batch.  Gently place the kombucha scoby on the surface of the tea in the jar, smooth side up.  If it sinks it will still be alright.  As the acid increases in the jar, the scoby will rise to the surface on its own.  At this point the pH in the jar will be slightly more acidic than your water source, as the tea contributes tannic acid.
Cover the jar with a clean cloth or handkerchief and secure with a rubber band.  Don't use a two-piece lid as the kombucha bacteria need oxygen to thrive.  Place in a warm place where the temperature is fairly stable.
We heat with wood and so the temperature isn't stable in my kitchen.  It gets quite hot during the day, when the wood cook stove is going, but at night the temperature drops 10 degrees centigrade.  To compensate, I put my kombucha jars inside my cupboard.  This offers insulation and protection from the somewhat erratic temperatures in winter.
After 5 to 7 days, check the pH of your Kombucha.  It should be between 2 and 4.  When it is between 2 and 3, it is ready to drink as is, or to ferment again with fruit, juice, or herbal tea and bottle, to make a fizzy, refreshing drink – similar to store bought Kombucha.  Once it is ready you will want to start a new batch of kombucha, following this recipe and refrigerate your finished Kombucha.  You can drink it now.  Or you can add fruit, juice, or spices to flavor it and then bottle it for a second ferment of just 2 or 3 days.  This makes a fizzy, flavourful drink — more like store bought kombucha.  (Tutorial for this coming next time).
If you leave it too long it will become more acidic, like vinegar.  You won't want to drink it then, but you can use it in salad dressings, marinades, and sauces as you would vinegar.  It will still impart its health benefits.  You can also use it as starter for a new batch.
What can go wrong.
It's important that your jars, and utensils are very clean.  Most problems with Kombucha culture are introduced with bacteria and bad microbes.  Kombucha itself is anti-microbial, and will counteract most bacteria and grow faster.  However, your hands should be very clean and well washed before you handle the jars or the scoby.  You will place the scoby on top of your tea in the jar, with your hands.  You don't want to introduce any bad bacteria that could ruin your scoby.
Mold can grow on top of your scoby.  If you see any hairy mold on the top or edge of your jars, toss the kombucha and the scoby.  Wash your jars and utensils well, and sterilize them.  Begin again with a new scoby.  If you have any bottled kombucha or a good batch of finished kombucha, you can grow a new scoby to replace the lost one using my directions on how to make a kombucha starter from a store bought bottle.
I use black tea when brewing my kombucha.  I read one article that suggested alternating green tea and black tea in your brewing of kombucha by using black tea one week, and green tea the next, in order to revitalize the scoby.
If the Kombucha smells bad or tastes bad, don't drink it – dump it.  You are working with a carefully balanced combination of lacto-bacteria, yeast, and lichen.  When made properly it will continue to reproduce good Kombucha for a long time.  After all, this traditional drink has been made for generations in Russia, the Balkans, and Asia.
If the tea is too hot when you add the starter and the scoby, you will kill the live bacterial culture and your kombucha will not reproduce.  The tea should be room temperature before adding the starter culture and the kombucha.
If metal touches the scoby, it can cause a die-off of the good bacteria.  Ensure that only wood or glass are used to stir the kombucha.  Lift the scoby and place it in the jar using clean hands.
If you use bleach when washing your equipment and the residue remains on the glass jar, it could adversely effect your culture.  Kombucha is a live beneficial bacteria.
If chlorinated water is used to make the tea, the kombucha bacteria may be adversely effected.
(More trouble shooting coming in another post.)
Conclusion:
Kombucha is a healthful drink that helps detox your body, and supports your body as it heals itself from many degenerative diseases that science is unable to treat successfully.  You can make Kombucha at home using simple ingredients that you already have at hand.  There are very few things that can actually go wrong in making kombucha, if you keep the process clean, and support the beneficial bacterial growth in your culture.  If something does go wrong your kombucha will tell you with visible mold on the surface of your scoby, or with a tell tale disagreeable odor.  Don't drink Kombucha that has gone moldy or smells bad.  Very little can go wrong with making Kombucha at home, and Kombucha is so easy to make successfully, now you know how to make Kombucha at home.
Articles in this Joybilee Farm series

Secret super-healing power of Kombucha and how to grow your own — Part 1
Making your own super-star healing tonic in sufficient quantities for your family – Part 2
Super-star secrets to help you break the soda habit — 2nd ferment Kombucha – Part 3
What can go wrong?  Trouble Shooting your Kombucha problems – Part 4
6 Ways to incorporate Kombucha into your lifestyle – Part 5