Holiday meals can leave you feeling lethargic, and bloated.  With all that rich food, you can do yourself a big favour by including some probiotic, fermented foods along with your holiday favourites.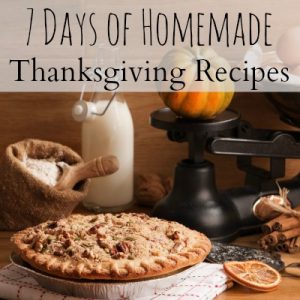 Cranberry Kombucha is an effervescent, tangy-sweet beverage that you can enjoy before your holiday meal, during, or at the end.  Not only does it taste great, but it will help you by easing the bloating, and overfull feeling that the holidays sometimes bring.
Kombucha is full of good probiotics that aid digestion.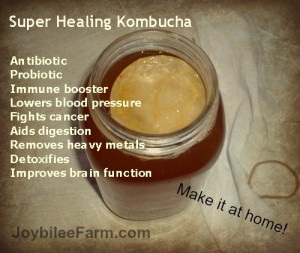 Plus it has a lot of immune boosting benefits.  It even helps with the holiday blues.  So make up a batch for your holiday gathering and share the goodness with family and friends.   To have this ready for Thanksgiving begin it no later Wednesday or 8 days before your event.
Cranberry Kombucha
(Makes 12 capped 8 oz. bottles)
Make Kombucha Tea in a 1 gallon jar or two – 2 quart jars
For a 1 gallon jar combine
4 quarts of boiling water – 10 tea bags or 2 tbsp of loose tea in a tea strainer
1 cup of organic sugar (don't substitute honey or maple syrup)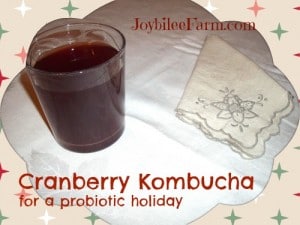 8 days before your event:  Make a strong tea and allow the tea to cool completely to room temperature.   Pour the tea in a 1 gallon jar and include 2 cups of previously made kombucha plus 1 kombucha scoby.  To grow your first Kombucha scoby from store bought Kombucha see my post.  Cover the jar with a clean handkerchief and hold in place with an elastic band.  This will keep dust, bugs, and bad bacteria out of your kombucha starter.  Place in a moderate room with a temperature no cooler than 65F and no warmer than 75F.   Now you can ignore your Kombucha for a week.
The second ferment — here's where the magic transformation happens
On the day before your event — ideally 24 hours before hand — take the kombucha that you've brewed and pour into a pitcher, all but 2 cups of the liquid.  Make more tea and sugar mixture according to the above recipe, cool, and pour back into the Kombucha jar and cover with the handkerchief and elastic band and put it away for another week, to brew more Kombucha.
Now you are ready to make magic. 
You'll need:
14 cups of brewed Kombucha
2 cups of cranberry juice, cranberry cocktail, cranberry-grape cocktail, or cranberry-pomegranate cocktail
Glass bottles with spring caps or glass bottles +crimp caps + capper
7 days after you've make your kombucha, it's time to make your flavour-magic.  Put the brewed Kombucha in a pitcher and add the fruit juice of your choice.  Pour into clean glass bottles and cap by your preferred method.
Set aside in a warm spot overnight and up to 24 hours.  Refrigerate.  Serve when cold, poured into fancy glasses or straight from the bottle.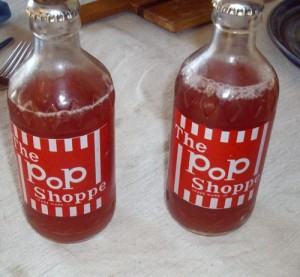 During the final 24 hours the Kombucha builds up carbon dioxide inside the bottle and when you pour it into the glass it will bubble up like soda pop.  At 24 hours the fizzy kombucha is tangy-sweet.  It will turn less sweet and more sour as it sits at room temperature, as the sugars in the juice are converted to vinegar.  Refrigeration slows down the fermentation process.
Enjoy!  Even my friend who doesn't like Kombucha ("It tastes nasty!") enjoyed this beverage served cold.