Nothing says fall and cooler days than hearty bean dishes and snacks. One of our favourites is hummus dip. Try my version with a hint of lime. Or used preserved lemons and process them with the chick peas in your food processor.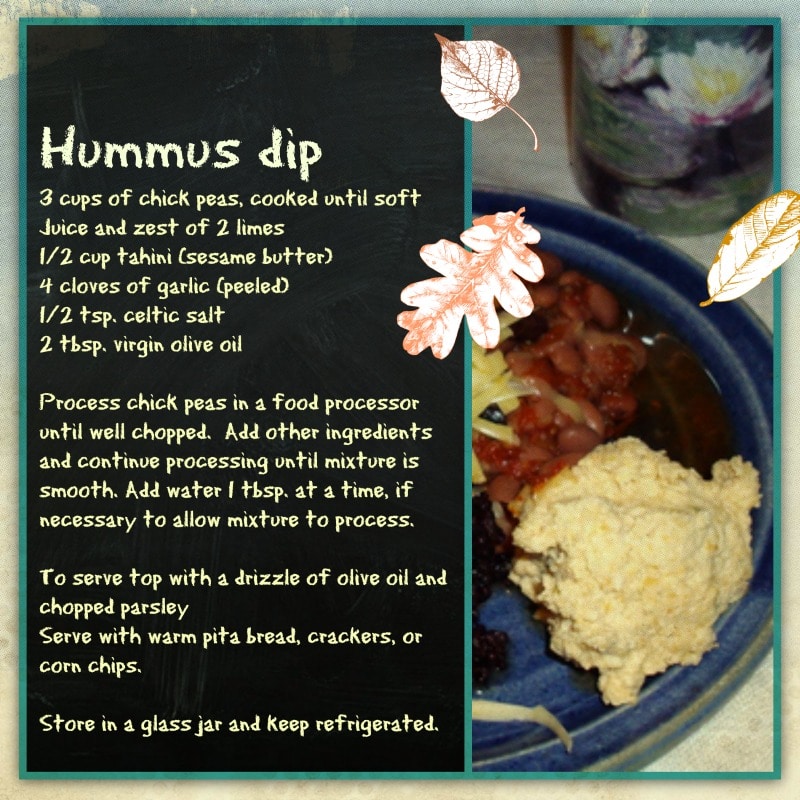 Use fresh tahini in this dip. Tahini is ground sesame seeds. You can make your own at home with this recipe. Some tahini has a sharp, bitter taste, an indication of rancidity. Be sure your tahini is fresh and still sweet tasting, similiar to peanut butter. Or try substituting almond butter or sunflower butter for the tahini in this recipe.
Hummus dip
3 cups of chick peas, cooked until soft
Juice and zest of 2 limes or 2 lemons
1/2 cup tahini (sesame butter)
4 cloves of garlic (peeled)
1/2 tsp. celtic salt
2 tbsp. virgin olive oil
Process chick peas in a food processor until well chopped. (This is the one that I use.) Add other ingredients and continue processing until mixture is smooth. Add water 1 tbsp. at a time, if necessary to allow mixture to process.
To serve top with a drizzle of olive oil and chopped parsley
Serve with warm pita bread, crackers, or corn chips.
Store in a glass jar and keep refrigerated.
While you are soaking your chick peas over night for this dish, (you'll only need to soak 1 1/2 cups) why not soak a few more cups and can a few jars of chickpeas for the next time you need a quick snack or a dip to take to a potluck. Out of 8 cups of dried chick peas, soaked, I got 2 batches of hummus, plus 14 pints of canned chick peas.
Note: Dried beans are pressure canned at 10 lbs pressure (15 pounds at higher elevations) 75 minutes for pints and 90 minutes for quarts.