Herbs for high blood pressure/hypertension
30% of the English, 29% of Americans, and 20% of Canadians have a blood pressure above 140/90 or hypertension. Blood pressure is the force of the blood pushing against the walls of the arteries, carrying blood throughout the body. The heart beats at 60 to 70 times per minute and with each pulse it pushes blood through the arteries. Blood pressure is highest when the heart contracts to pump the blood. When the heart muscles relax the blood pressure falls. The top number of the blood pressure ratio is the pressure of the heart contracting (systolic pressure) and the bottom number is the pressure of the heart relaxing (diastolic pressure).
Blood pressure changes with the normal activities of life. It naturally goes up during exertion and lowers during rest. It is only when blood pressure remains high over a period of time that a diagnosis of high blood pressure is made.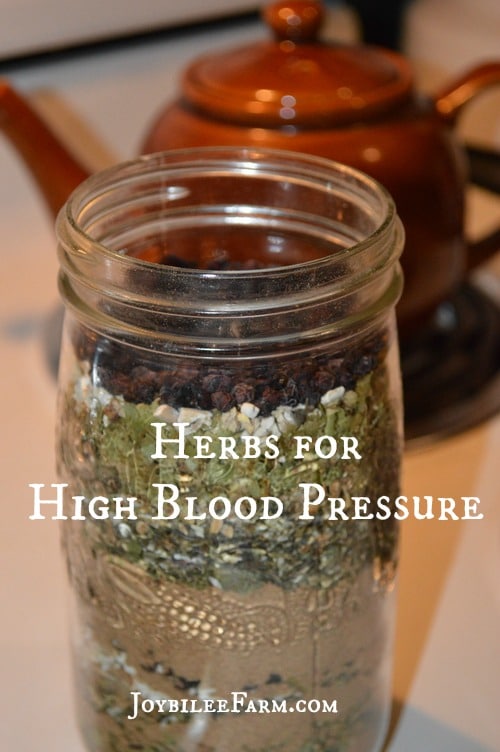 Health effects of high blood pressure
If untreated, high blood pressure can lead to serious health consequences such as damage to the arterial walls, heart attack, stroke, kidney damage, and damage to the heart. While pharmaceutical treatment of high blood pressure focuses on the symptoms, herbal remedies for high blood pressure provide a tonic to support the body and increase the efficiency of the heart and blood circulation.
Herbs for high blood pressure
Several herbs for high blood pressure are used synergistically. David Hoffman (Medical Herbalism, 304) recommends Hawthorn (Crataegus spp.), Linden (Tilia platyphyllod), Yarrow (Achillea millefolium), Cramp bark or High Bush Cranberry (Vibernum opulus, aka V. tilobum), and Valerian (Valeriana officinalis). Herbs for high blood pressure need to provide not just the lowering of the blood pressure, but also a tonic to the heart, a diuretic, an antispasmodic, a vascular tonic, and a relaxant.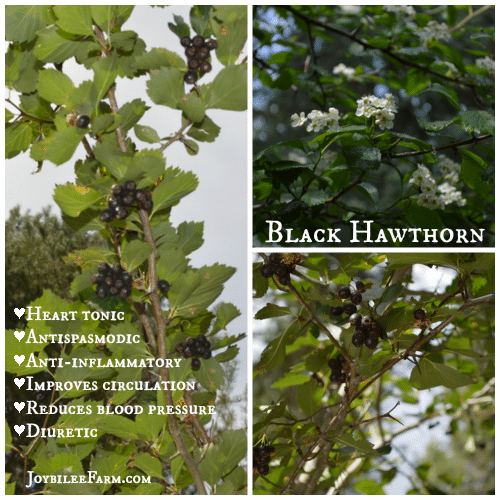 Hawthorn
I love hawthorn. I have a Black Hawthorn (Viburnum prunifolium or Crataegus douglasii) growing outside my kitchen window. The flowers, berries, and inner bark can all be used medicinally, but beware the thorns. The black hawthorn has 2 inch thorns on its branches. In fact the size of the thorns is one way to tell the difference between black hawthorn and Columbian hawthorn, before the berries ripen and reveal the type. Columbian hawthorns (C. columbiana) have dark scarlet berries, while black hawthorns have, wait for it, blue-black berries. We have both black and columbian hawthorn growing wild at Joybilee Farm. We can sometimes even harvest the berries, if we can get to them before the cedar waxwings.
Hawthorn is a hardy, shrubby tree that grows in damp places on the edges of streams and meadows. It prefers low to middle elevations. We are at 2,700 feet and are in zone 3. We had to protect the bark from my female llamas because they like to nibble at it in early summer, when they are close to birth. The inner bark of hawthorn can be used in place of the commercial cramp bark, another Viburnum species. Hawthorn reduces spasms – both uterine and heart.
Hawthorn is the heart medicine of choice in situations where the heart is in need of a tonic. Those who are feeling "broken hearted" can also benefit from its gentle healing. It takes a while to fully take effect but its effects are permanent and curative. It reduces blood pressure, tones and strengthens the pulse, the heart, and the vascular system, and is a diuretic. The darker purple-black native haws (C. Douglasii) are also rich in antioxidants, good for heart health.
Linden
The linden does everything the hawthorn does and is also a relaxant, and an antispasmodic. The linden tree is a large, leafy tree native to North America. It is also called basswood or lime tree. The small leafed linden's (Tilia cordata) heart shaped leaves are suggestive of its use as a heart tonic. It's the leaves and flowers that are used in herbal medicine. You may find it growing in your neighborhood if you live in hardiness zones 4 to 7.
Yarrow
The yarrow flowers and leaves reduce blood pressure, act as a diuretic and vascular tonic, strengthen the lungs, support the liver, reduce spasms, and increase blood flow. Yarrow grows wild all around me. It is a hardy perennial well worth growing for its multitudinous medicinal uses. According to Rosemary Gladstar, the wild plants are stronger medicinally than their tamer, more flamboyant sisters.
Cramp bark – High bush Cranberry
Related to the showy snowball bush and black hawthorn, cramp bark reduces spasms and relaxes the nerves, while lowering blood pressure. If you don't have access to cramp bark, the inner bark of the black hawthorn (Viburnum prunifolium also called C. Douglasii, in older field guides) can be used in its place. The native high bush cranberry, hardy to zone 2, can be found growing in damp, shaded areas throughout the colder regions of North America.
Valerian root
Valerian root is a relaxant and nervine that lowers blood pressure and reduces spasming. But it's not for everyone. Michael Moore in Medicinal Plants of the Pacific West tells us that "Valerian stimulates digestive function, increases the depth and efficiency of respiration, slows and strengthens the pulse, and sedates the brain. It is a tonic sedative."(250). However, those who have a lot of adrenaline and cortisone stress in their bodies, with cardiac excess, and a challenging intestinal tract will find valerian accentuates the functions that are already in excess leaving the person with both sedation and physical stimulation. If that's you – this is not your herb. Gentler Chamomile can be used in place of valerian in this formula for its relaxing and antispasmodic synergy. It is also a mild digestive aid and helps when hypertension is accompanied by indigestion.

When I need a specific herb and I can't grow or forage for it locally, I purchase all my herbs and teas from Mountain Rose Herbs. I trust them to provide organic, ethically sourced herbs that are fresh and medicinally potent. I love that my herbs and teas are packaged from my order. Teas are scooped and put into bags, herbs are scooped and sealed after I make my order. Not like when you buy herbs from other online venues and you have no idea how long the herbs sat on the shelf in the warehouse before they were shipped. With Mountain Rose I even know who packaged my order.
Are you ready to study herbs?
I am a student in the Intermediate Herbal Course with the Herbal Academy of New England. Studying herbs has released me to a lifestyle of dancing with plants. While previously I thought of herbs as something I could grow in my garden or forage on my acreage that would substitutes for pharmaceutical medicine, the course reminds me that herbs are food, as well as medicine. Making teas and tinctures and having to wait for the tea to steep or the tincture to macerate reminds me that life is not a rush to the grave. Life is to be savoured and sipped slowly. This subtle change in perspective is healing to my mind because with a short 40 to 60 day growing season, it's easy to feel stressed and overwhelmed, as if I'm battling for survival with my garden. Studying herbs reminds me that it is not a battle for survival that we are invited to, but rather a dance with life.
Recipe: Hypotensive heart tonic
1 cup Hawthorn berries, dried
½ c. Linden leaves and flowers, dried
½ c. Yarrow flowers and leaves, dried
½ c. Cramp bark or Black Hawthorn bark, dried and chopped
½ c. German Chamomile flowers,
Method:
Add the herbs to a 1 quart/litre mason jar. The jar will be 3/4s full. The contents will sift together to fill the jar about ½ full. Fill the jar with vodka or another 100 proof or higher mild tasting liquor. Overnight the dried herbs will absorb the alcohol and swell filling the jar almost to the top. Top up with more alcohol to keep the herbs completely covered. Allow menstruum to macerate in the jar for 6 to 8 weeks, shaking the jar daily or as often as you think of it.
After 6 to 8 weeks strain out the plant material and reserve the liquid. The liquid is the medicinal tincture. The spent plant material can be composted.
Bottle the liquid tincture in 2 oz/100 ml. dark glass bottles and label with the name of the tincture and the date, plus the dosage. I love the blue glass bottles. They just make me happy.
Yield 5 x 100ml bottles. 100 doses – enough for a month at full strength.
Adult dose: 1 tsp up to three times a day for therpeutic use.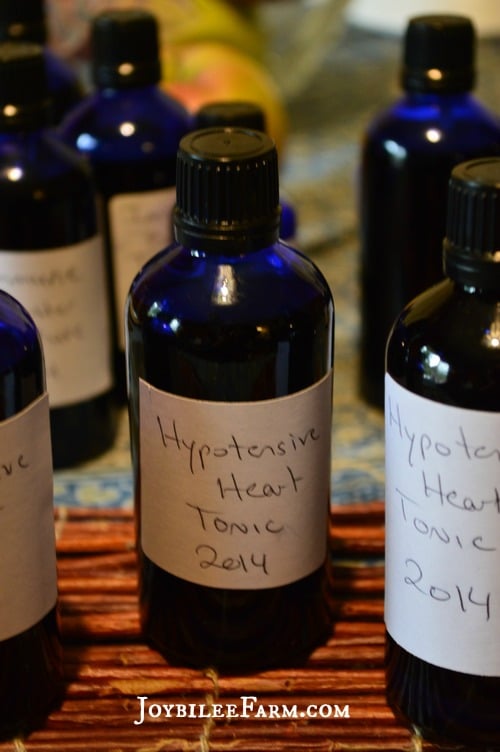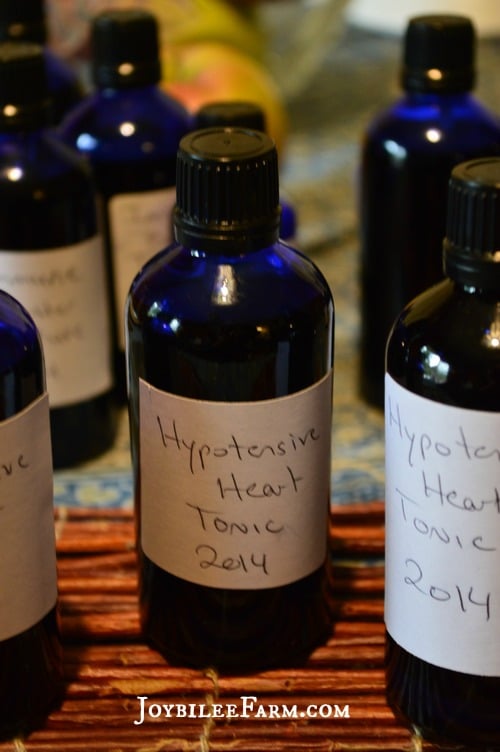 My experience with this herbal remedy
I used powdered hawthorn berries when I made this herbal tincture for high blood pressure the first time. The powdered berries resisted being wetted by the alcohol. In my next batch I will lightly crush whole hawthorn berries rather than powder them.
The tincture is cloudy and needs to be shaken before measuring a teaspoon dose. It has a pleasant flavour and is not overly medicinal tasting. This will help with compliance and no additional flavouring or sweetening is necessary.
If you have high blood pressure
All experienced herbalists will tell you that holistic medicine prescribes for the whole person and the whole lifestyle. Its goal, as the name implies, is wholeness and integration, not simply alleviating symptoms. Thus, herbal remedies for high blood pressure are not simply a substitute for pharmaceutical drugs.
Herbal tinctures alone, are not enough to reduce high blood pressure. A change in lifestyle that includes reducing stress, avoiding excesses of alcohol, tobacco, and caffeine, increasing consumption of potassium and magnesium, regular exercise, adequate sleep, and reducing excess sugars and grains may help to bring your blood pressure back to normal levels, for those whose blood pressure is in the first level of hypertension. For those who have been on hypertensive medication, do not reduce your medication without consulting with your personal medical practitioner.
See also Herbal Capsules for hypertension
Disclaimer: All information offered herein is for educational purposes only. Always do your own research and consult your own trusted medical professional before self-prescribing.
References:
Hypertension prevalence, awareness, treatment and control in national surveys from England, the USA and Canada, and correlation with stroke and ischaemic heart disease mortality: a cross-sectional study
David Hoffman. Medical Herbalism
Michael Moore. Medicinal Plants of the Pacific West
C.P. Lyons. Trees, Shrubs, and Flowers to Know in British Columbia (1952, 1965) (I have the 2nd edition, paperback, 1972. This is my most used, most intuitive, and most favorite botany field guide. Alas it is out of print.)
Save
Save