How to make Vegetable noodles
There's something comforting and satisfying about noodles. Whether the word noodles makes you think of your childhood mac 'n' cheese, spaghetti, ramen, or stroganoff or just chicken noodle soup – noodles are comfort food. However, there are many reasons to stave off indulging in their starchy comfort including dietary restrictions, food sensitivies,  blood sugar anomalies, or even cancer. Vegetable noodles – noodles made by cutting firm colourful vegetables into long julienne strips, are delicious on their own, and satisfy your noodle craving.  They may even help you to lose weight or beat cancer.
Why you want to learn how to make vegetable noodles
Vegetable noodles are a healthier choice than white pasta
Vegetable noodles are a healthy option when you are avoiding wheat, starches, or calories. Vegetable noodles are lower in calories, higher in vitamins and minerals, and easier to make and cook than wheat pasta or gluten free pasta. And best of all, if you are avoiding wheat – vegetable noodles give you the al dente feel in your mouth, without the blood sugar hike that ramen noodles give you. I was blown away by how much they satisfy my noodle need. Next year I'm definitely going to grow noodles in my garden.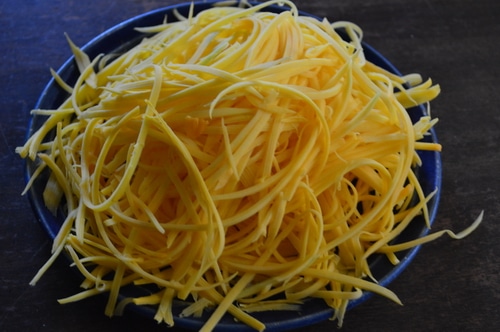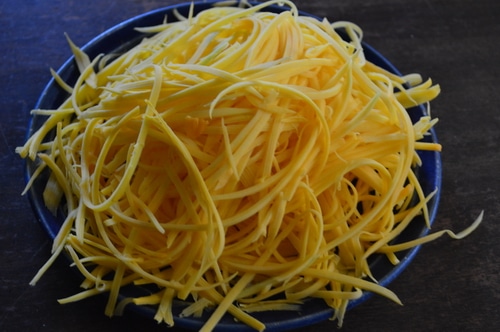 Vegetable noodles can help you fight cancer
Eating vegetable noodles also helps you increase the fruits and vegetables in your diet. Brightly coloured fruits and vegetables increase the antioxidants in our bodies, help us detoxify, and can be part of preventing diseases like cancer. Eating a diet full of brightly coloured fruits and vegetables helps fight cancer in a process called anti-angiogenesis, cutting off the blood supply to cancerous cells, inhibiting their growth. Vegetables that are perfect for making vegetable noodles are also vegetables that we can enlist in the fight against cancer – like butternut squash, zucchini, carrots, beets, radishes, and sweet potatoes.   (See "Eat to Beat" to learn about the foods you can eat that will help you beat cancer.)

MY LATEST VIDEOS
Check out this TED talk by Dr. William Li about the way colourful fruits and vegetable cut off the blood supply to cancerous cells and cause them to self destruct.  Keep watching till the end of the video — they found a link between anti-angiogenesis and weight loss, too.  That made me more motivated to plant a veggie noodle garden next year.
Making vegetable noodles is easier than making pasta
You don't need a fancy spiralizer that takes up lots of counter space, with so many pieces that you spend more time washing up than actually using the gadget. You can make vegetable noodles with just a Julienne peeler and have enough to serve 4 people in less time than it takes to boil a pot of water. In fact vegetables can be cut into noodles, and stir fried with onions, garlic, a dash of sesame oil, and other vegetables, before the pot of water for ramen is even boiled. The Julien peeler that I use is also a regular peeler, and cleans up as fast as a box grater or a kitchen knife. (If you haven't bought one yet grab the coupon before you do.)
Making vegetable noodles is faster than making pasta
They are a healthy, fast food option when you are in a hurry. They can be eaten raw, lightly steamed, or quickly stir fried.  You just need a julienne peeler and a long, cylindrical vegetable.
Which vegetables can be made into vegetable noodles
You already know vegetable noodles can be made out of zucchini. Those are called zoo noodles. But did you know that any long, cylindrical shaped vegetable can be made into vegetable noodles. The possibilities are only limited by what you grow in your own garden or can purchase from your local farmer's market.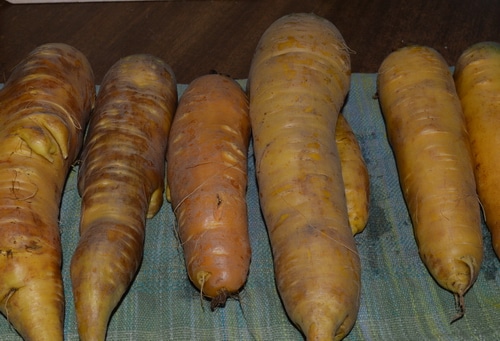 The ideal vegetable to use for veggie noodles should be at least 6 – 8 inches long and of firm flesh. Butternut squash, cylindrical beets, carrots, daikon radishes, immature spaghetti squash, pumpkin, cucumbers, yams, and sweet potatoes are just some of the vegetables you can turn into delicious, low calorie, nutrient dense noodles. Avoid watery or starchy vegetables like regular potatoes because the high starch content and moisture will gum up your cooking pot and they don't hold their shape when cooked.
Preparing vegetables for veggie noodles
If the peel is hard or dirty you can peel it first, but many vegetables don't need to be peeled before you make noodles out of them. A light scrubbing with a brush, under water is all they need. Carrots, daikon radishes, zucchini all just need to be washed. Vegetables like winter squash or pumpkin, of course, need to be peeled unless they are immature with a soft skin. The skin of these mature vegetables is too fibrous to eat.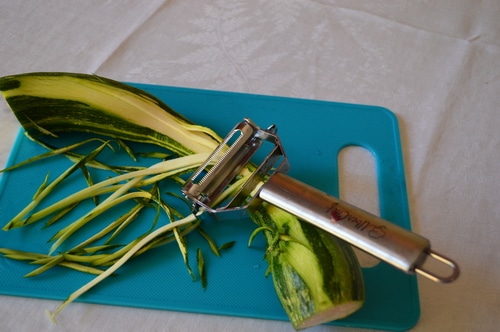 How to make vegetable noodles
With the julienne peeler that I use, the thickness of the noodle is determined by how hard you press the peeler into the flesh of the vegetable as you make your stroke down the length of it. The harder you press, the thicker the vegetable noodles. You'll want to play a bit and decide what your ideal thickness is for your own cooking. If they aren't uniform in thickness with your first attempts, no problem. The cooking pot is forgiving and the vegetable noodles turn out even if the julienne thickness varies.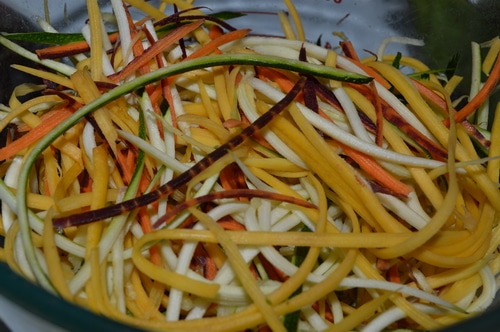 Consider using several colours of vegetables when you make your noodles – red cylindrical beets, yellow Amarillo carrots, orange butternut squash, and pale daikon radishes or sweet potatoes make a stunning and attractive vegetable noodle plate when mixed and matched.
Safety first
Do watch your fingers as you are using the julienne peeler. The peeler is very sharp and if you accidently get your fingertips in the way of the blade it will hurt. I use a fork to anchor the vegetable on a cutting board as I'm peeling the julienne strips from the main vegetable. You can also wear a glove or leather fingertip guard to protect your hands. But although I offer this warning, it's really not a dangerous tool to use. Normal knife precautions will keep your fingers safe.
4 Fast and satisfying vegetable noodle dishes for days when there's no time to cook
Here's the vegetable noodle dishes I fall back on when I'm in a hurry: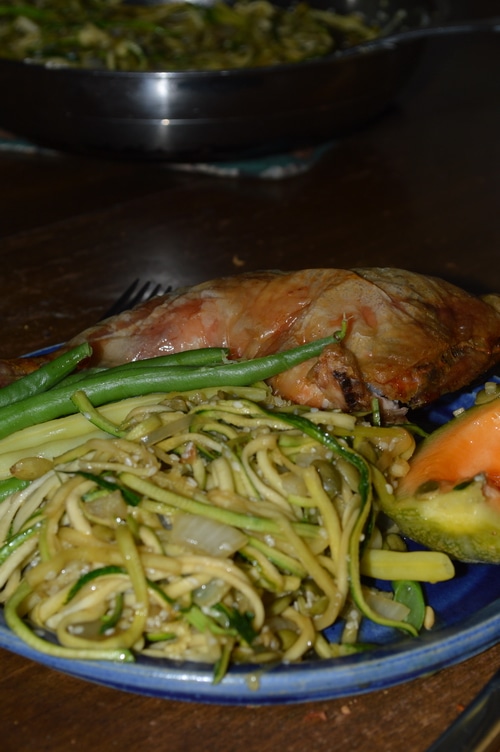 1.    Stir Fry Sesame veggie noodles with leftover meat ( 20 min.)
Ingredients:
4 cups of vegetable noodles like julienned carrots, julienned beets, or julienned butternut squash
1 cup of chopped, cooked meat like chicken, beef, turkey or other left overs (optional)
2 tbsp. coconut oil
1 onion, thinly sliced
1 clove garlic, minced
½ inch piece of fresh ginger, peeled and finely grated
2 tbsp. sesame seeds
1 tbsp. sesame oil
1 tsp. organic tamari or Braggs aminos
Method:
In a 10 inch frying pan or wok, heat the oil until it melts and begins to sizzle lightly. Stir in onion and saute until onion begins to brown. Add garlic, ginger, sesame oil, and sesame seeds and stir lightly until garlic is fully sautéed. This will only take about 10 to 15 seconds. If you are adding left over, cooked meat add it now and stir until meat is heated through. Add tamari sauce. It will spit and spatter.
Stir in julienned vegetable noodles and stir fry lightly until the vegetables are heated through and slightly limp – about 3 to 5 minutes. Just cook until the vegetable noodles loose their stiffness. Veggie pasta will remain al dente in texture.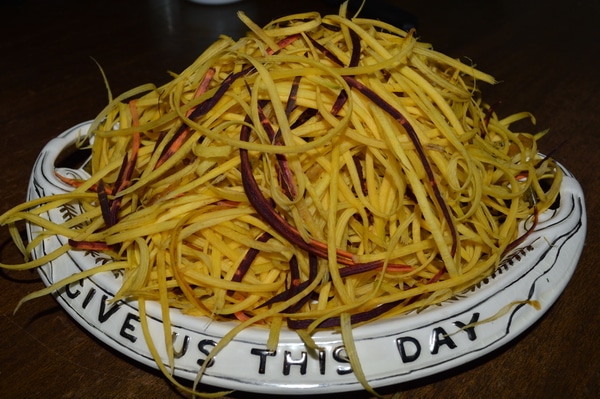 2.    Poppyseed Buttered vegetable noodles (10 min.)
Add 1 tbsp coconut oil to your frying pan and heat oil on medium heat until it sputters when a few drops of water are added to the pan. Stir in prepared vegetable noodles. Stir until lightly coated with oil. Add ½ cup of water to the frying pan and cover with a lid. Steam noodles just until limp. Add 1 tbsp of butter and 1 tsp of poppy seeds to every 4 cups of prepared vegetable noodles. Top with ½ cup of grated Gouda or Monterey Jack cheese. Replace lid and turn off heat. Serve when cheese if melted.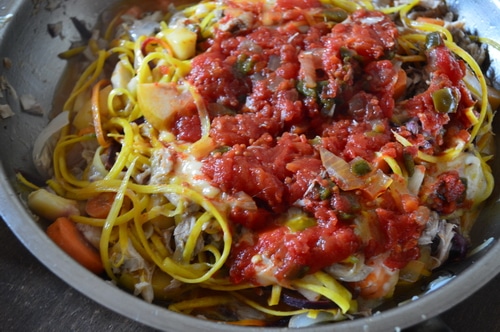 3.    Spaghetti Veggie Noodles (15 min. )
Prepare veggie noodles. Stir fry until just limp.   In the meantime heat a jar of spicy tomato sauce that you canned during the harvest season. Add leftover ground beef, ground lamb, or seafood or prepared lentils if desired. Serve the tomato sauce over the cooked vegetable noodles and top with grated cheese.
4.    Quick alfredo sauce with Veggie Noodles (25 min.)
Prepare veggie noodles and stir fry until limp. In the meantime prepare alfredo sauce from scratch.
Alfredo Sauce
2 tbsp. coconut oil
2 tbsp. tapioca starch
1 onion finely diced
1 nutmeg finely grated
½ cup milk
½ cup heavy cream
Directions:
Stir fry the onion in the coconut oil until limp and translucent. Add the tapioca starch to the frying pan and brown lightly. Pour in the milk, while whisking to prevent lumps forming. Once the sauce is smooth, pour in the heavy cream and the grated nutmeg and continue whisking until sauce is heated through. Salt and pepper to taste.
Lightly stir fry veggie noodles until limp but still firm. Pour alfredo sauce over veggie noodles to serve. Top with freshly grated gouda or mizithra cheese.
 Take action
Get yourself a julienne peeler and start on the path to better health this winter by making fast and easy vegetable noodles — "voodles" — the next time you are looking for comfort food.  The julienne peeler makes a great hostess gift, neighbor gift, and gardener gift.  So grab two and use the coupon.  I bought two I liked the first one I bought so much.
If you are looking for more recipes check out Zucchini noodles.