Help for older skin
As we get older our skin thins and sags. I've noticed it gets a little drier, too. Where I used to be able to get away with just a splash of water, this year I seem to be slathering on hand balm and using soothing elderflower anti-aging serum around my eyes more often.
If you're in need of a little extra moisture in this season, don't reach for the costly commercial eye serums. They're full of questionable ingredients, synthetic dyes, and chemical fragrances. Not something you want or need on your face. Plus you'd have to sell your first-born to afford it. The fountain of youth isn't cheap.
Instead try my personal anti-aging serum recipe. I find this soothes the tiredness and takes away the dryness. It also reduces the appearance of fine lines. When I formulated the recipe I picked oils, herbs, and essential oils that were known to fight the signs of aging, protect from free radical damage, and repair and rejuvenate the skin, as well as moisturize.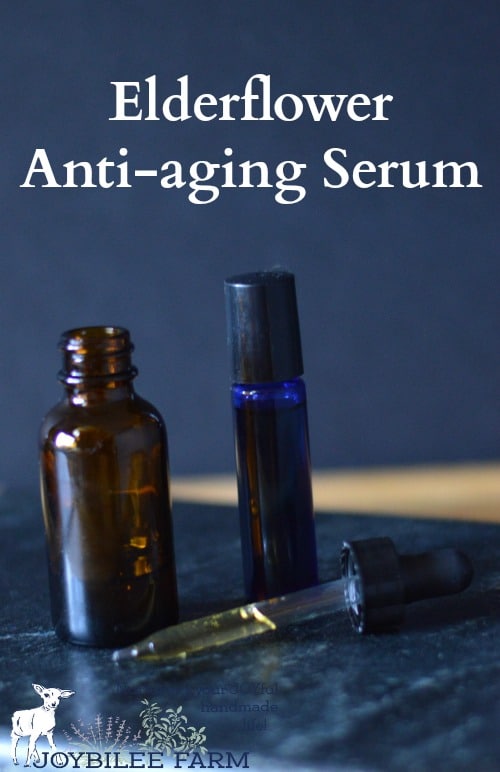 ♥ The rosehip seed oil is a dry oil that is quickly absorbed. It's high in antioxidants that combat free radical damage.
♥ Pomegranate oil is another oil that is rich in antioxidants and is especially helpful when you are working in the garden and exposing your skin to the sun and outdoor pollutants. It is a light oil that is quickly absorbed by the skin.
♥ Argan oil is another oil that is quickly absorbed. It repairs the skin and reduces the appearance of fine lines.
♥ Elderflowers are in bloom throughout the summer and you can use them fresh or dried for this recipe. They are known for soothing and improving the complexion. Elderflowers are especially useful for older skin.
♥ Frankincense essential oil is anti-inflammatory and is one of the best essential oils to use for aging skin. Frankincense has been used in skin care products for millennium.
♥ Rose is also useful for aging skin. It is astringent, cooling, and uplifting. The fragrance will make you smile. A little goes a long way. If it isn't in your budget, it can be omitted from this recipe.
Elderflower Anti-aging Serum
You're going to love how soothing this feels.
Ingredients:
2 tbsp. Argan oil infused with 2 tbsp. elderflowers
1 tbsp. Rosehip seed oil
1 tbsp. Pomegranate seed oil
¼ tsp. vitamin E oil
12 drops frankincense essential oil
5 drops rose absolute (optional, but fabulous)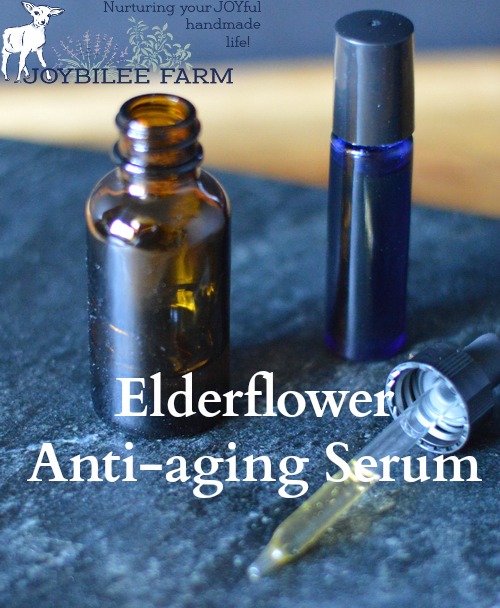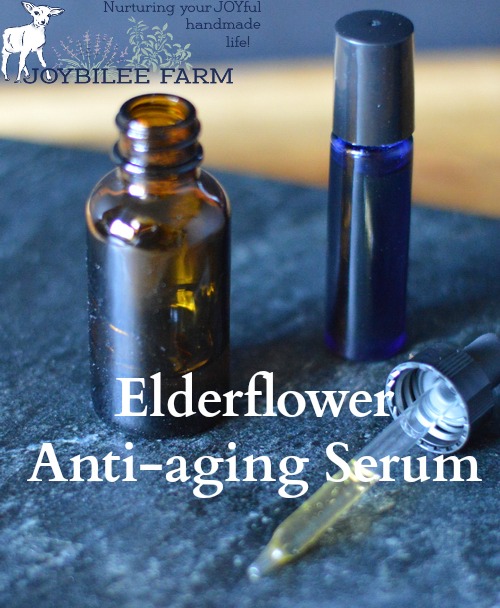 Method:
To infuse argan oil, place argan oil in a glass pyrex measuring cup, inside a saucepan of water. Rest the bottom of the pyrex on a canning jar ring to keep it off the bottom of the pan. Simmer the oil with the flowers for 60 minutes. Shut off the heat and let the oil cool naturally. Strain the oil. Squeeze the elderflowers well to recover as much of the argan oil as possible. (I use a potato ricer for this).
Once the oil is cooled to room temperature, mix the argan oil, pomegranate oil, and rose hip seed oil in a 4 ounce glass bottle. Add the vitamin E and essential oils. Cap tightly and shake well. I store this in a roller top bottle and just roll it gently over the skin around my eyes before I sleep and anytime my eyes feel tired during the day.

To use:
Gently rub around the thin skin of the eye, over the cheeks, lips and anywhere that the skin is dry and sensitive. Use at night before retiring. Use during the day under makeup or as needed to soothe tired eyes.
I hope you enjoy this recipe. I've been using it myself for quite awhile.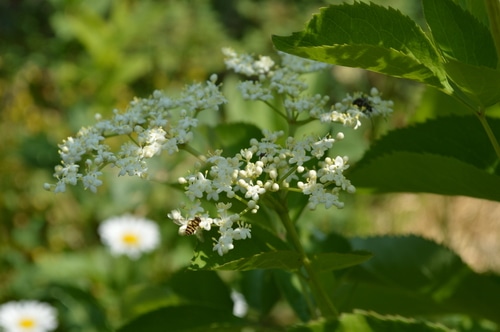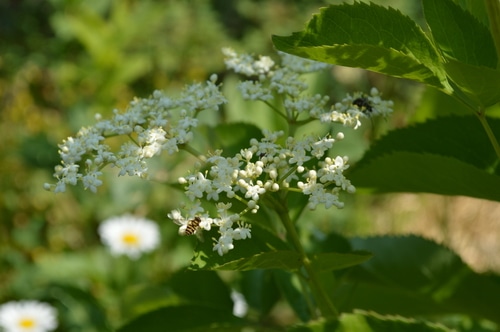 I hope you'll join me on this journey to embrace herbs and essential oils and learn more about integrating them into our DiY lives. You can get weekly encouragement, recipes, tutorials, lessons, and alerts about special offers when you subscribe to my newsletters here. Get my free ebook, when you subscribe.
Save
Save
Save
Save
Save
Save
Save
Save
Save