The window to the soul
You've heard it said that "the eyes are the window to the soul." Tired, burning, strained eyes, dry, wrinkled eyes, bagged eyes, or smile lines, these features get more pronounced the older we get. When your eyes are tired your whole body is tired. Even when you feel bagged your eyes don't have to have bags. Elder eye cream will improve the look and feel of your hard working eyes, brightening your soul just a little bit, too.
Hint: This would make a lovely gift for your Mother (or yourself) on Mother's Day.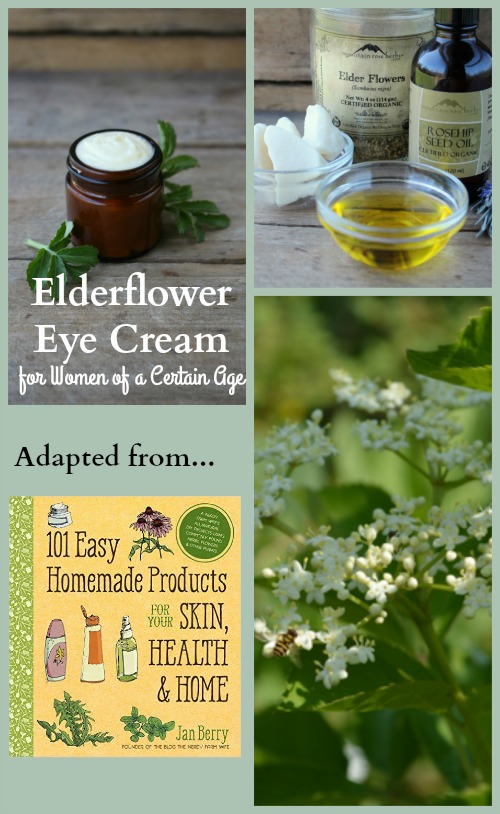 I recently received a review copy of Jan Berry's new book 101 Easy Homemade Products for your Skin, Health & Home from Page Street Publishing. This book is the kind of book you'll love. It's full of amazing and enticing photography, herbal recipes, and step by step instructions to make your own cosmetics, toiletries, and cleaning products from the plants and weeds in your garden, plus a few basic oils and bases. My Elderflower eye cream is an adaptation from this book.
Who is Jan Berry?
Jan Berry is the blogger at The Nerdy Farm Wife. Jan has been blogging and writing about natural remedies, soap making, and natural cosmetics since 2012. She's a homesteader, homeschooler, and natural DiYer. You can find out more about Jan here.
101 Easy Homemade Products for your Skin, Health & Home
101 Easy Homemade Products for your Skin, Health, & Home is a full length, traditionally published book being released at the end of March. You've seen books that promise 101 recipes before but they end up being the same recipes that everyone else is publishing. How many recipes for putting lemon peels in vinegar does one person need?
But this book isn't the same-old same-old. Every recipe is an original. While I noticed that some of the recipes seem a bit familiar, Jan has her own twist on them utilizing the fresh herbs and flowers from her garden with traditional techniques.
Jan and her publisher, Page Street Publishing, gave me permission to share this recipe for eye cream from Jan's new book.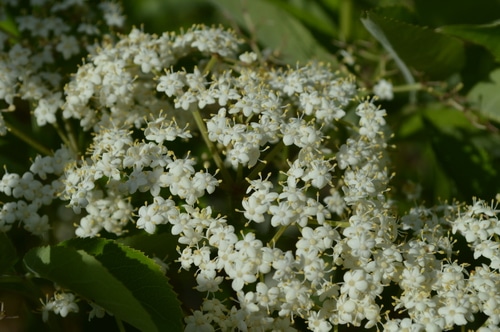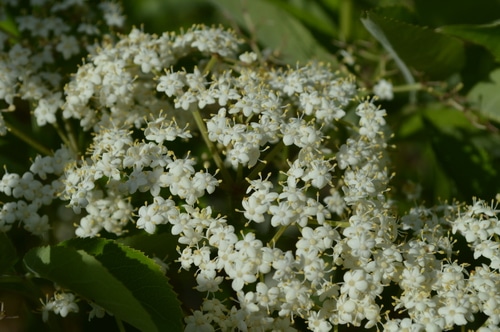 Elder Flower Eye Cream
(adapted from the recipe in 101 Easy Homemade Products for your Skin, Health & Home, A Nerdy Farm Wife's All-Natural DIY Projects Using Commonly Found Herbs, Flowers & Other Plants(Page Street Publishing:Salem, MA, 2016). Page 88. Used with permission of the author.)
This eye cream is made with rich oils to help combat puffy eyes, crow's feet, and sagging skin. It will soothe tired eyes, and alleviate dry skin around the eyes. It may even reduce the visibility of fine lines.
While some anti-aging eye serums are oil based, like the one in my own book The Beginners' Book of Essential Oils, this one is a lotion. A lotion is an emulsion made with both oil based and water based ingredients. If you've made mayonnaise you can make a lotion.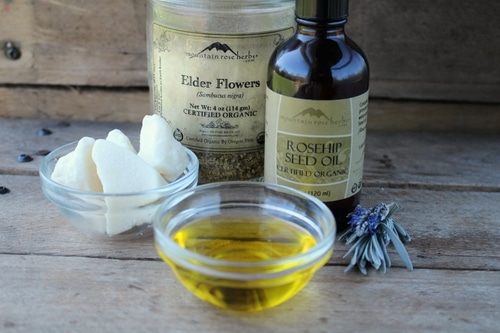 What's in it?
These oils are luxurious. While you may think that argan oil, mango butter, and Rosehip seed oil are pricey. It is much less than buying name brand eye serum. Instead this eye lotion contains no damaging chemicals, only nutritious moisturizers and skin healthy herbs.
Have a look at what's in it:
Argan oil from Morocco is a nut oil that improves and repairs skin texture. It is used for hair care as well as skin care. It's a bit pricey but you only need a tiny bit. If you have a nut allergy, you may also react to argan oil so proceed with caution. Although Jan recommends sweet almond oil, olive oil can be substituted in this recipe, for those who have nut allergies.
Rosehip seed oil is renowned for its antiaging, regenerative actions. It reduces the appearance of scars and smooths out wrinkles. Rich in antioxidants and vitamin C, it's nourishing to the skin.
Mango butter is another oil that reduces the appearance of fine lines and softens and conditions the skin. It's skin nourishing.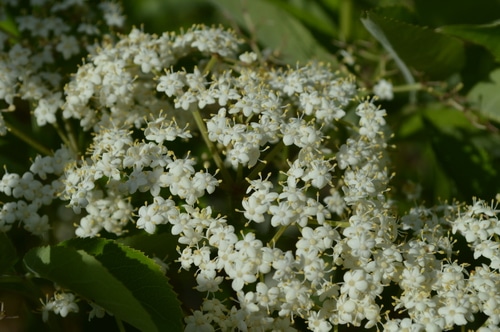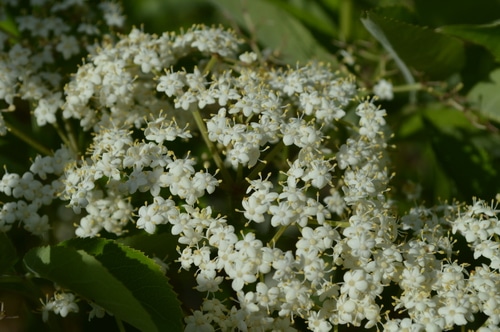 Elder flowers are an age old therapy for a flawless complexion. Rosemary Gladstar mentions elderflower water as a facial astringent. while modern research has shown elderflowers to be rich in antioxidant and anti-inflammatory properties as well.
Frankincense essential oil soothes that burning sensation in tired, strained eyes.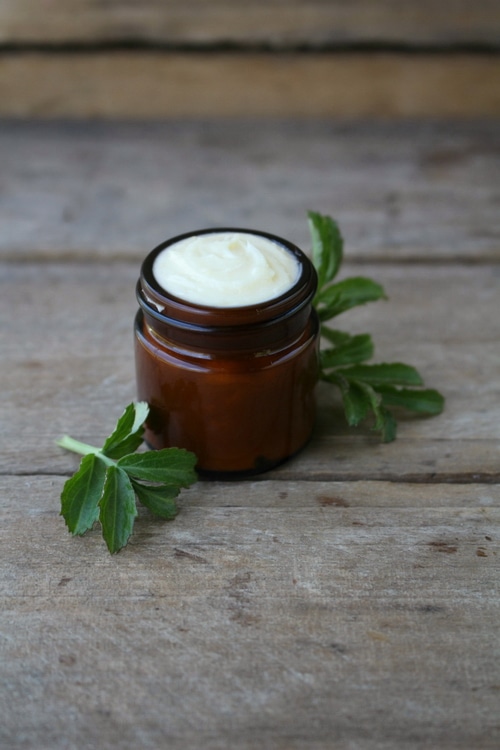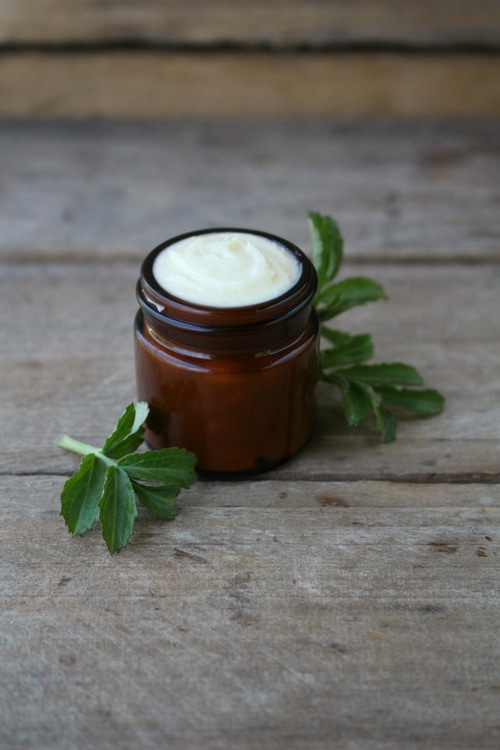 Elderflower Eye Cream Recipe
(adaptation of the recipe in the book)
Note ingredients can be purchased online from Mountain Rose Herbs, and The Bulk Herb Store.
YIELD: 2 OUNCES (60 ML)
1 tbsp. (14 ml) elderflower-infused argan oil (3 tbsp. (14 grams) of dried elderflowers plus 75 ml argan oil)
1 tbsp. (14 ml) mango butter
1/2 oz. (14 g) beeswax, grated or pastilles
1 tbsp. (14 ml) rosehip seed oil
10 drops of Frankincense essential oil
1 ½ tbsp (22 ml) distilled water
To make the elderflower infused argan oil, place 3 tbsp. of dried elder flowers in an 8 oz/250ml jar. Cover the flowers in the jar with 5 tbsp. (75ml) argan oil. Place a lid on the jar but don't tighten the lid. Leave room for any pressure build up to escape. Put 2 inches of water on the bottom of your crock pot . Turn the crock pot on its lowest setting. Simmer the argan oil and elderflowers for 2 hours. Keep the temperature under 115°F if you can. I used the yoghurt setting on my Instant Pot, and left the jar in for 8 hours. Turn off the heat. Remove the jar from the crock pot and place it on your kitchen counter. Allow the jar to come to room temperature naturally.

Strain the infused argon oil, reserving the oil. Press the plant material through a potato ricer to get the last of the oil. The oil next to the plant material is the richest in antioxidants and beneficial properties so you'll want to retain as much of it as possible. Discard the spent elderflowers. They can be composted.
Measure 1 tablespoon of infused argon oil you'll need for the recipe and set aside the remaining argon oil for another use. Place the measured elderflower-infused argan oil, mango butter and beeswax in a heatproof jar or container. Set the jar down in your crock pot, and add 2 inches (2.5 to 5 cm) of hot water in the bottom. Heat on low just until the beeswax has melted. Do not exceed 155°F.
As soon as the wax is melted remove from heat and stir in the rosehip seed oil. Let the mixture cool to around 85 to 95°F (29 to 35°C). Add the frankincense essential oil.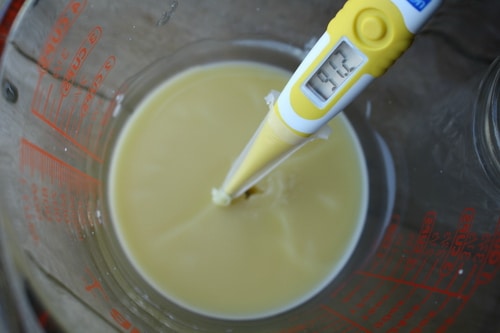 In a small saucepan, heat the water slightly until it matches the temperature of the oil. The oil and water portions really need to be within 5 degrees Fahrenheit (about 3 degrees Celsius) of each other for the most successful emulsion.
This next step is the tricky part. If you've made homemade mayonnaise you'll know how to make an emulsion.
Put the warm oil mixture in a bowl. Using a hand held mixer, or immersion blender, begin beating the warm oils. Slowly drizzle the water, a few drips at a time, into the oil mixture as you continue beating it. It may take around a minute to accomplish this step. Beat for 5 to 10 minutes or until the mixture begins to look like whipped cream.
If you're adding a natural preservative, (see page 28 of the book) check the temperature to see if it is correct for the preservative of your choice. The choices are more complex than the breadth of this article. Please see the book for more details.
Spoon the finished eye cream into a glass jar. If you didn't add a preservative, keep the cream in the refrigerator and use within 2 weeks.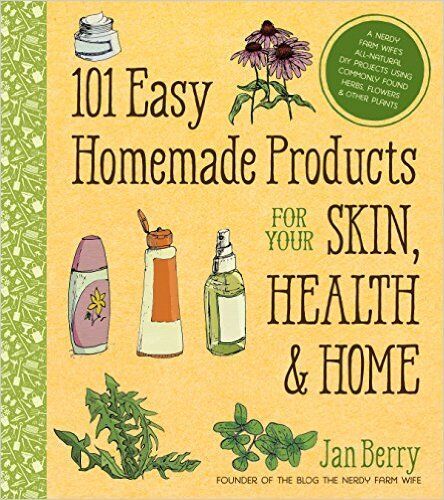 Did you like this recipe?
You'll find 100 more creative and useful recipes in the Jan's new book. The recipes include:
Herbal home remedies
Salves and Balms
Homemade soap
Body butters and lotion Bars
Creams and lotions
Haircare
Lip care
Skin care
Bath salts, soaks, melts, and scrubs
Pet care
Nontoxic cleaning solutions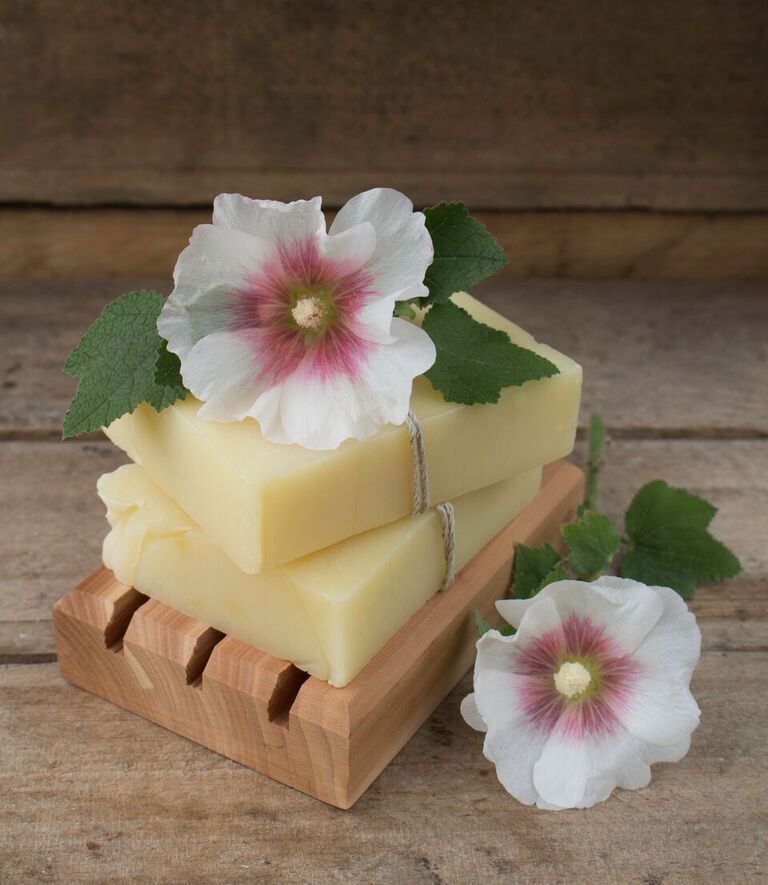 Where this book really shines
The photography is inspiring. The recipes are short and use few ingredients so you won't have to wait for a Mountain Rose order before you can enjoy making the recipes up with herbs and flowers from your garden. I love that Jan Berry's recipes don't require a huge order from your online herb supplier. She utilizes ingredients found in your garden or in the wild.
The selection of fresh herb ingredients is manageable and local. 27 commonly available herbs, like hollyhock, dandelion, mint, and lavender, are listed with their botanical benefits to help you choose your ingredients.. Where exotic oils are called for, Jan offers suggestions for cheaper substitutions, so you can avoid a purchase if necessary. For instance instead of argon oil, Jan suggest sweet almond oil.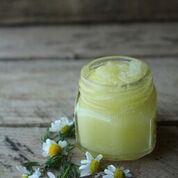 Jan gives tips on harvesting and preserving your herbs and flowers so that you can use them in these recipes after you've put your garden to bed.
If you are just beginning to explore natural remedies and herbs, this is a safe introduction to a few easy to grow herbs and how to use them. Making these recipes is a really good introduction to the study of plants and their uses, while improving your wellness and removing toxic chemical products from your home.
This is the kind of book you'll keep handy for inspiration this summer, on the shelf right beside Rosemary Gladstar's Herbal Recipes for Vibrant Health.
Update: I've been using this book for a few months now. I'm so impressed with the wealth and diversity of DiY products included. I've used it for inspiration for a number of projects this summer, while my garden is producing such treasures as plantain, rose petals, yarrow, self-heal, dandelions, and violets. So many of the recipes would make fabulous gifts, too, so consider drying herbs now to make gifts in the fall for the Christmas/Hannukah season. I heard a rumour that author Jan Berry is working on another book. I can't wait.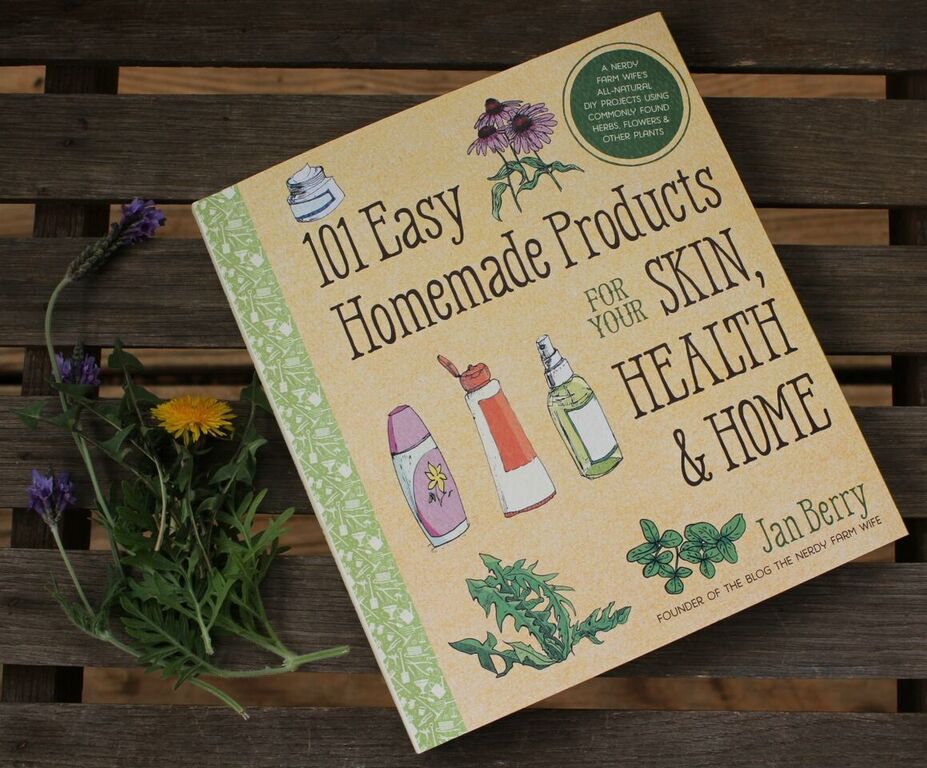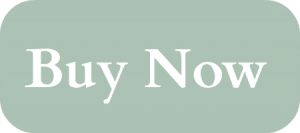 Buy the book here.
Disclaimer: I received a review copy of this book from the publisher for the purpose of review. This represents my honest opinion of this book. This post contains affiliate links.
Photos ©Jan Berry, The Nerdy Farmwife
Save
Save