You can handcraft many DIY Christmas gifts that will show your respect, esteem, and love toward those special men in your life. Pick from over a dozen projects.
Do you have good intentions to create DIY Christmas gifts every year, but then the holiday tsunami sweeps you away? December comes and you are browsing Amazon to find last-minute gifts because you think you'll run out of time to create something more meaningful for your family and friends?
Stick with me and together we'll craft and cook to fill that gift list with amazing, and appreciated DIY Christmas gifts that are better, more sustainable, and healthier than anything you could buy in a store.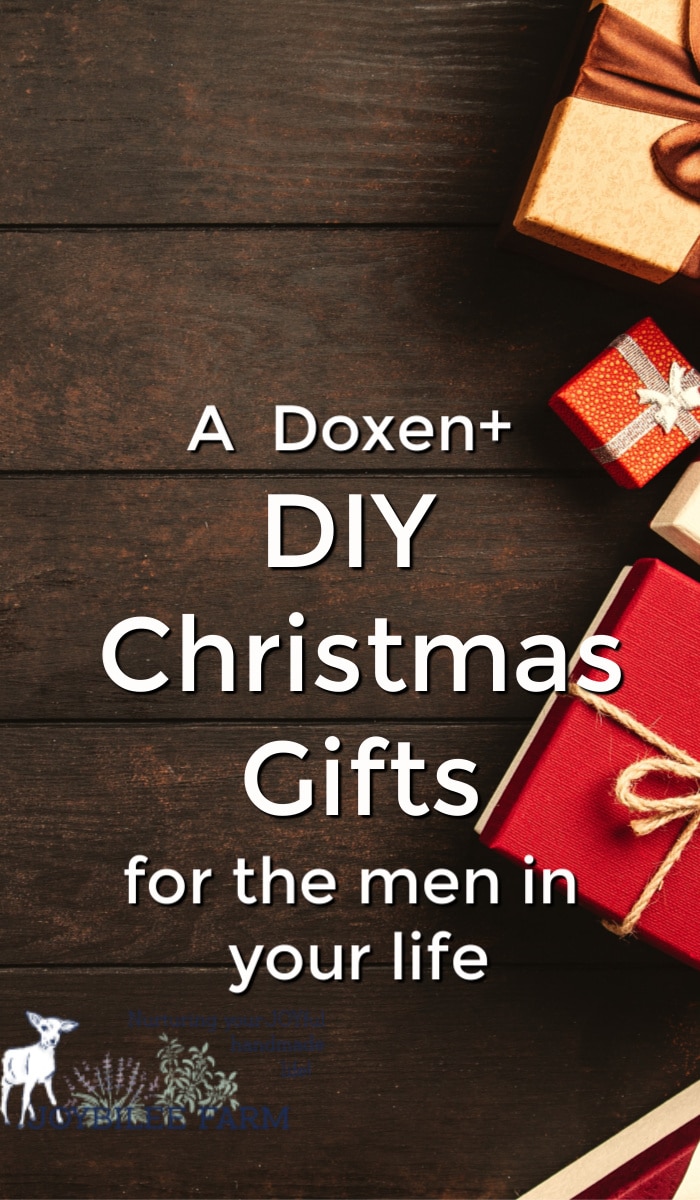 Let this be the year that you do December without debt, and without guilt. You can crush this and be happier and healthier, while you give "presence" to your friends and loved ones. Really, unless it's an engagement ring or another milestone gift – your handmade gifts will be more remembered and appreciated than anything that they can buy with a gift card.
Let's finish the year strong in the resolve to:
Stay out of debt
Practice the self-sufficiency skills we've devoted the year to mastering.
Gain confidence in our lifestyle choices
Spread the love of self-sufficiency and sustainability to family and friends
Pass on the knowledge
Choose JOY
Give presence not presents
Live fearlessly
Say, "NO" to Christmas on Credit
Say, "Yes" to the holiness (set-apartness) of the season
Say, "Yes" to kindness, compassion, and love
A dozen DIY Christmas gifts for men
Men are the hardest people in your life to make gifts for. Not because they have everything they want, but because their needs are so much less – or so much more expensive. It's not easy to handcraft a new sports car, a fishing rod, or a laptop.  But you can handcraft many DIY Christmas gifts that will show your respect, esteem, and love toward those special men in your life.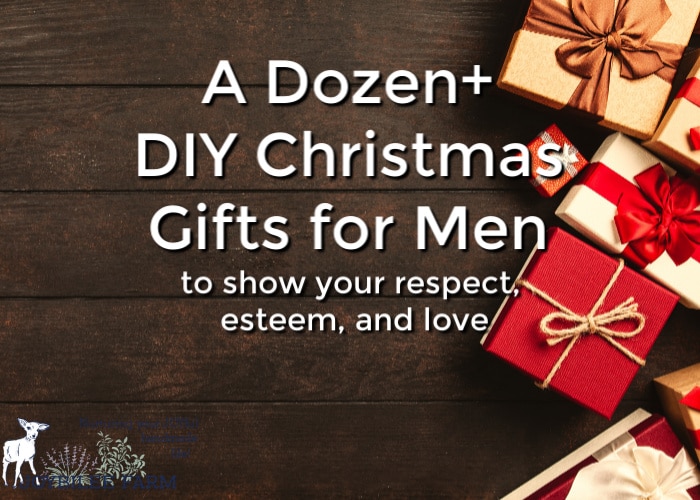 5 Toiletries for the man in your life
These 5 toiletries can fill a Christmas stocking or fill out a gift basket.   They can be made in an afternoon and show that you care as much about how good he looks and feels, as he does.  From chemical-free mustache wax to shaving cream and aftershave, you've got his best looks in mind.
Frankincense mustache wax with a wonderful earthy, masculine scent, Soapless Shaving Cream in Rosemary and Mint that will wake up his face in the morning, or unscented Shaving Cream with soap and creamy lather.
Make some Soap on a Rope (using soap scraps) to enjoy in the shower, and refreshing, and gloriously scented aftershave lotion and toner. Or try these two recipes from the Art of Manliness for Bay Rum aftershave.
3 ways to keep his laptop in top condition
Men can be pretty rough on electronics.  Help him keep his laptop in good condition and protect it on his morning commute with a handmade laptop cover or slipcase.
They take some intermediate sewing skills to pull off, but if you took sewing in high school, you can manage this one. A laptop case from a vintage suit jacket or another custom lab top case using masculine fabrics or solids, or try this one in masculine fabrics for a manly laptop sleeve.
4 gifts for your homestead warrior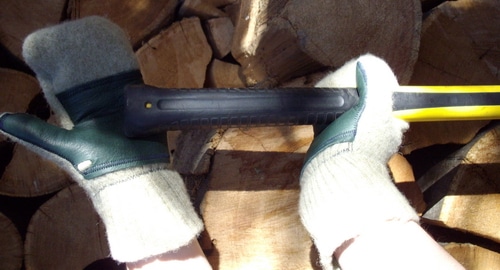 These chose mittens are made from a felted wool sweater and a scrap of leather – it's upcycling at it's best.  It takes about 1.5 hours to make a pair of chore mittens.  You'll need a sewing machine for this and basic sewing skills. You could sew by hand but it will take longer. Fingerless gloves are another option and they can be knit by hand. You can make a pair in a week or less.
This leather tool pouch is a bit more complicated but doable.  It is made of leather with loops and pockets for on the job efficiency.
A tool organizer – the tool organizer has pockets for the wrench set and embroidered details to make finding the tool you want easier.  With a tool organizer like this, he may even get around to all the honey-dos you've got on his list.
This tool roll holds all the tools for the job at hand in a handy case so that he can take it to the job site and bring it in an organized way back to the shop.  No more tools left out in the rain.
Food gifts for your hungry man
Still stumped for a meaningful gift? Food is always welcome.
Try making a batch of beef jerky using different brine flavours.  How about making a gift bag by combining jerky with homemade gourmet crackers and chevre cheese?
This heirloom brownie recipe pleases family and guests alike.
Try a batch of fermented hot sauce for the spice lover on your list.
You can find other DIY Gift ideas in these posts – 55 Last Minute Herbal DIY Gifts – 25 Inspiring Gift Ideas for DIY'ers – DIY Sustainable Stocking Stuffers for Women and – 10 Free Herbal Projects for DIY Gifts.