Crackers are a staple in most kitchens. Whether your family prefers saltines, wheat thins, or gourmet crackers there's probably a box hanging out in the pantry. It surprises me that many families that cook from scratch have a cookie jar full of homemade cookies but still buy crackers in a box. Gourmet crackers are as easy to make at home as cookies, bread, and other baked goods. If you just lacked a recipe, try my recipe for gourmet crackers and you'll never go back to store bought again.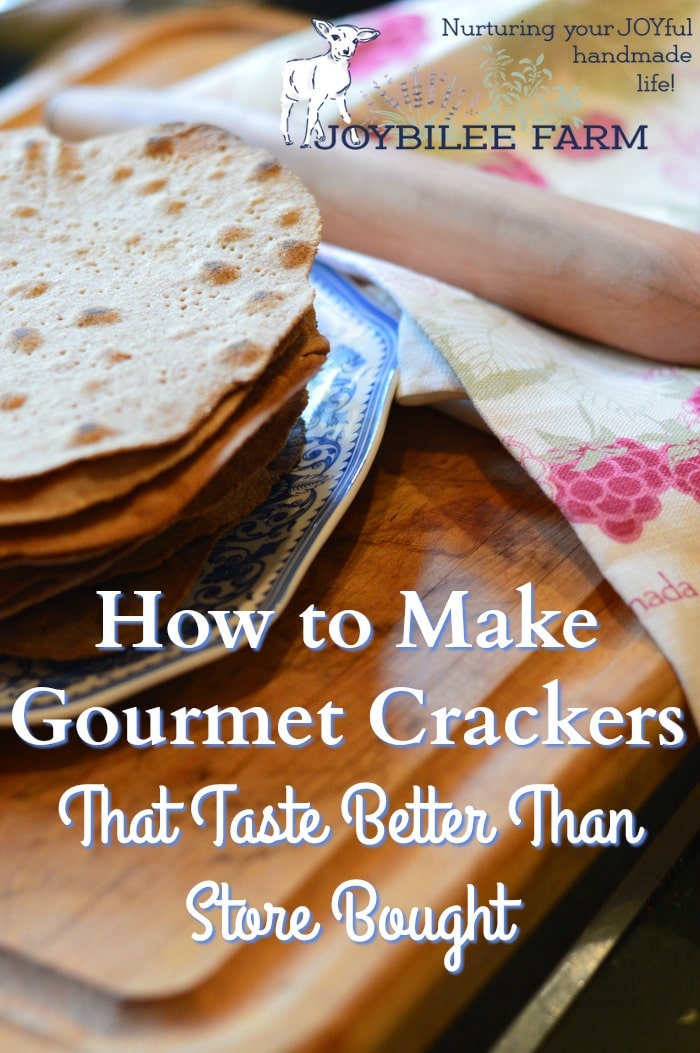 Homemade crackers are great tasting, with a crispy texture. When you make them at home you can avoid those questionable ingredients like soy bean oil, GMO canola oil, or rancid vegetable oils. You can use certified organic wheat and avoid the gyphosate dangers of conventional flour. And your homemade crackers actually taste better.
Homemade crackers can be kosher for passover matzo or fragrant and crispy sides to homemade soup. They can be the base for homemade appetizers. They can accompany cheese and wine at a party. Don't settle for second rate boxed crackers. Your family will love these gourmet crackers.
3 Seed Gourmet Crackers (unleavened) Recipe
Crackers and cheese, soup and crackers, crackers and peanut butter, and crackers for snackin', crackers are a staple in most of our homes. But while many of us bake bread from scratch, crackers are a mystery. Gourmet crackers are actually easier to make than homemade bread. In fact the time from bowl to table is quicker with crackers, because there is no rising time to contend with.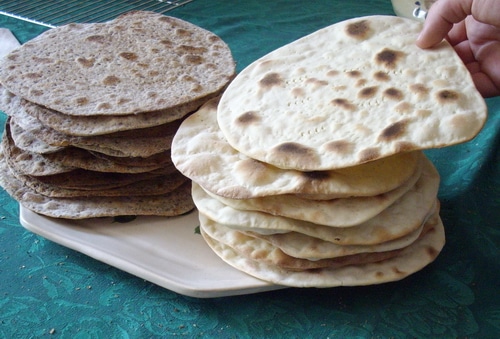 These 3 seed gourmet crackers are a Joybilee Farm specialty. Made without yeast or baking powder, and without GMOs, these crackers are based on a matzo (Jewish Passover cracker) recipe that my friend, Beatrice shared with me a couple of years ago. (Thanks, Beatrice!)
Time: 50 min.
Yield: 700 grams of crackers
Preheat oven to 450F
Ingredients
3 cups of freshly ground, organic, hard winter wheat flour
¼ cup extra flour for working with the dough
¼ cup vital wheat gluten
2 tbsp. sesame seeds
2 tbsp. poppy seeds
½ cup flax seed, freshly ground
½ tsp. Himalayan salt
2 tbsp. coconut oil or virgin olive oil
1 ½ cups plus 2 tbsp. H2O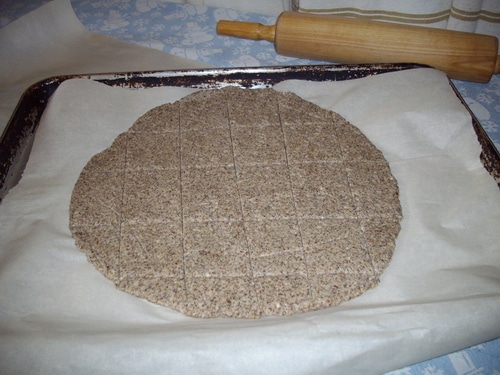 Method:
Add 3 cups of flour, vital wheat gluten, sesame seeds, poppy seeds, flax seed, salt, coconut oil, and water to mixing bowl. Mix with a dough hook until dough is smooth and elastic. I used a Kitchen Aid Mixer to mix the dough, but you can mix it and knead it by hand. The Kitchen Aid Mixer saves you a bit of time and effort, but isn't necessary. Cover the mixing bowl and allow to rest for 15 min. Knead dough until smooth, and divide into 16 portions. Keep covered and work with one portion at a time.
I used a manual pasta machine to roll out the dough into thin sheets. My pasta machine is an Atlas 150 Wellness Pasta machine. It is stainless steel and made in Italy. It is easy to use and lessens the rolling time and effort when making crackers. It is a dream to make pasta with, too. It is quiet, and its operation is smooth and effortless. There are no electrical parts to break down. It's built to last and will give you decades of use. When I bought this pasta machine, I gave away the pasta maker attachment for my Kitchen Aid mixer.
While I used the Kitchen Aid pasta attachment occasionally, it was noisy. And it was uncomfortable to use, as it sat at my chin level when my Kitchen Aid was on the kitchen counter. If you have a pasta maker attachment for your mixer, go ahead and use that to roll out the crackers.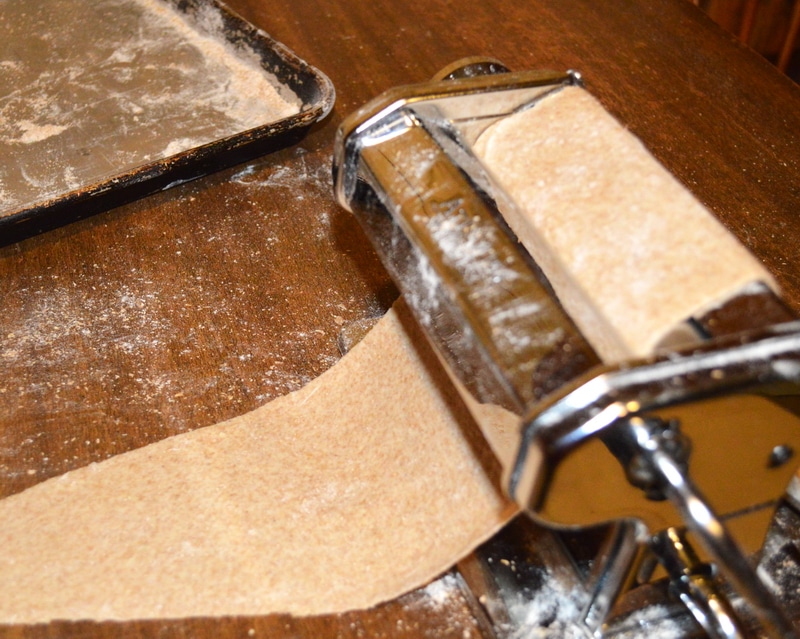 Rolling out the crackers without a pasta machine
And if you lack a pasta machine, feel free to roll them out with a rolling pin. You may want to roll them out, set them aside to rest, and continue rolling them 5 minutes later, to get them as thin as possible, without tearing them.
To use the pasta machine to roll out the crackers:
Take one of the portions of dough, roll into a ball, and then flatten the ball between your palms. Here's where you need the extra portion of flour. I spread the extra flour on a baking sheet next to the pasta machine. Take your flattened ball of dough and dredge it through the flour. Now turning the handle of the pasta machine with the machine set on "0" roll the dough through the rollers. If the dough is a bit sticky, dredge it through the flour again. Then set the rollers on "1" and roll the dough through again. Continue in this manner from 0 to 4. If you were using plain dough, without the seeds you could go to "5" but with the seeds, setting the rollers any closer and you will tear the dough irrepairably.
Set the rolled oval of dough aside. Roll out 2 more portions of dough in the same manner. I was able to bake 3 portions of dough at a time.
This is the pasta machine I use.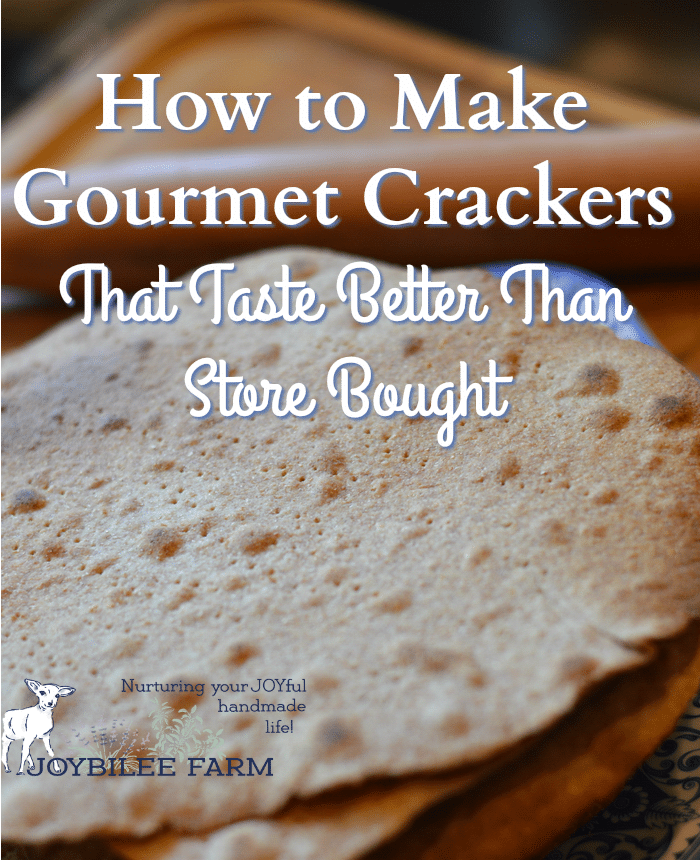 Baking the crackers
Meanwhile, set the oven to 450F and get two large baking sheets. Lightly flour the baking sheets. Each baking sheet will hold 3 portions of dough.
Roll the oblong of dough with a rolling pin sideways to stretch it out just a little thinner. You want the dough as thin as possible for crisp, crackers. Take the piece of dough and place it on the baking sheet. If you prefer rectangular crackers, you may cut them with a knife or pair of scissors to size before placing them on the baking sheet. Place as many crackers on the baking sheet as you can without overlapping. Crackers will not expand on the baking sheet. Poke the crackers with a fork in several places (optional).
Place the tray with crackers in the oven at 450F for 4 minutes. Turn and bake the other side for 3 additional minutes. Remove from baking sheet to a cooling rack. Cool in a single layer to speed cooling. Only bake a single baking sheet in the oven at a time, unless you have a convention oven. In a convection oven the temperature is stable throughout the oven and you will be able to put a baking sheet on each rack in your oven.
Crackers will blister, and turn golden brown. Don't over-brown. Adjust times or temperature as necessary to achieve a crisp, golden cracker. Crackers will be firm when they are done and will finish crisping up on the cooling rack.
While the crackers are baking, work with the remaining dough, one portion at a time, in the same manner as above.
The yield is 16 crackers. Once the crackers are cooled, store in a plastic bag or an air tight container, to keep crisp.
These do not contain any chemicals or preservatives and will keep fresh at room temperature for 1 week. Re-crisp them in the oven, if they get less crunchy. For longer storage, place in air tight container and store in the freezer.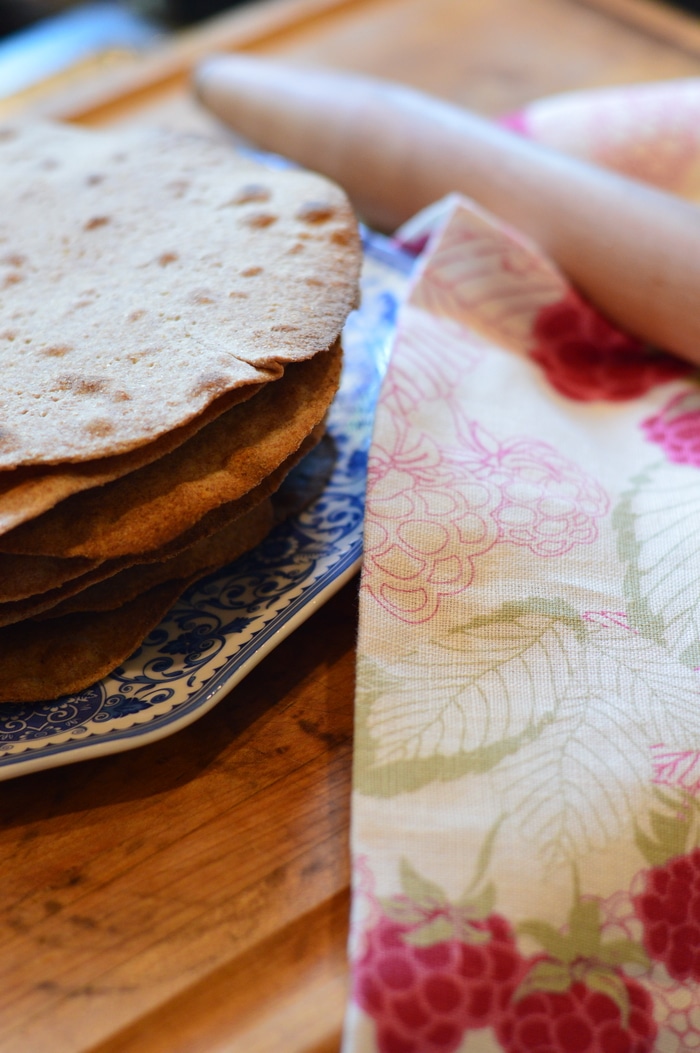 Why use organic wheat?
Wheat grown on factory farms is not the healthful grain that we once got at the grocery store or the miller. Today, wheat is sprayed with herbicide in the seed stage to encourage it to mature and dry down faster. This leaves residual herbicide on the grain, which translates to an increase in toxic chemicals, herbicides, and pesticides in your food. Organic wheat, while not completely free of contamination, avoids the use of most toxic chemicals, pesticides, and herbicides. Organic wheat must be nonGMO, and must be allowed to mature naturally, on the stock.
I buy my organic wheat from my local bulk food market. If you are new to buying organic wheat, look for hard winter wheat either in flour, or in whole wheat berries. This is the best wheat for bread baking, crackers, or pasta making. Lesser quality wheat can be improved by the addition of vital wheat gluten, whole eggs, and lemon juice. Use organic wheat when ever possible. Nonorganic wheat may have been dried down at harvest with glyphosate and contain residual herbicides. (aka. poison).
Why grind your own flour?
Seeds and grains have natural oils in the germ. These oils deteriorate quickly after the seed is ground. Commercial flour has the germ and oils removed after the grain in ground and before storage. If it is not removed, the flour must be kept refrigerated to ensure that the oil does not become rancid during storage. Rancid oils are toxic, and carcinogenic. By grinding your own as you need it, you ensure that your flour is the freshest possible and you control the level of contamination as well. I used a Wondermill Grain Mill to grind the wheat flour for this recipe. It is quiet and very easy to use – taking only minutes each week, to grind 8 cups of wheat berries for bread making, and baking.
I hope you found this post helpful. Please share it with your friends and help me spread the word about sustainable, self-reliance.
Save
Save