Matzo Recipes and Cracker recipes from scratch
I am a label reader. Crackers used to be on my list of store bought staples. Then I noticed that more and more of the crackers on the shelf contained genetically modified ingredients like Canola oil, soybean oil, corn syrup and even corn based preservatives. And often the crackers were already rancid tasting when you opened a fresh box. Liquid oils go rancid quickly. That's pretty disappointing when you live rurally, and have to travel for 20 miles to get to your nearest grocery store. Now you can make crackers on your homestead, using the staples you already have in your kitchen. Just follow my recipes and your family won't ask you to buy factory made crackers ever again.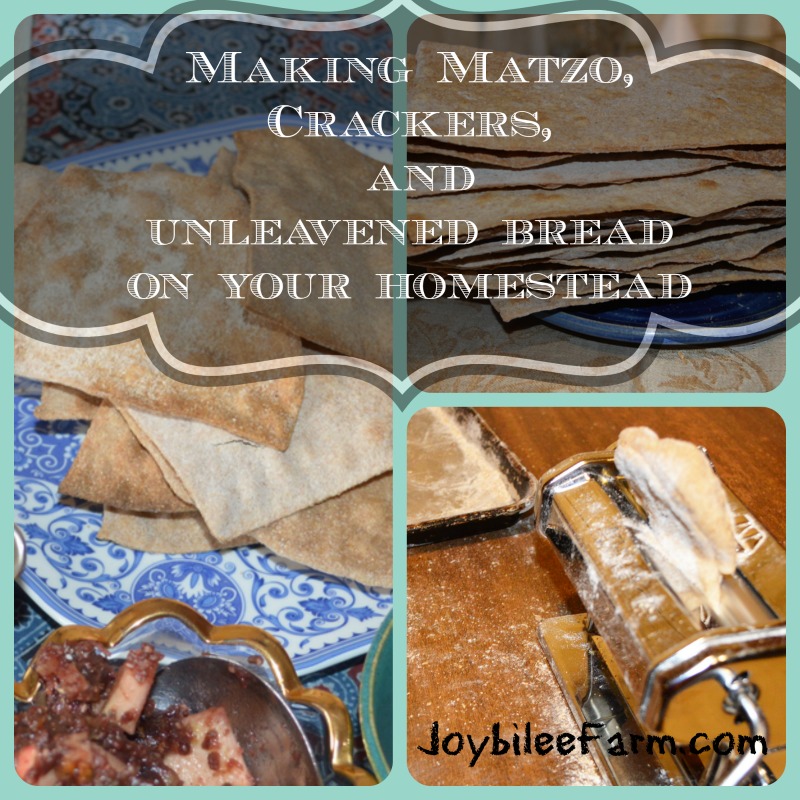 I've made crackers at home before and shared the recipe with you. When you make it yourself you control the ingredients, you save money, and you guarantee freshness. But those crackers were a little fiddly, requiring you to roll them thin and cut them out with a cookie cutter.

This week I was looking for Matzo in the store, since its close to Passover and Easter. I have childhood memories of eating Matzo, in Vancouver, and the dry, crispy texture and unique blistered taste. But here in our rural area there is no Matzo. My friend suggested I make it myself. What? You can make Matzo at home? Yes, I guess, before Matzo factories, people must have made it at home. Duh!
This is not Kosher for Passover Matzo. If you want that you will have to find Kosher Flour, which I don't have access to. You will want to set a kitchen time when you add water to your recipe, for 18 minutes, and be finished cooking the Matzo in that time. Its a challenge — it took me 19 minutes when working alone. Add a helper and you might make it.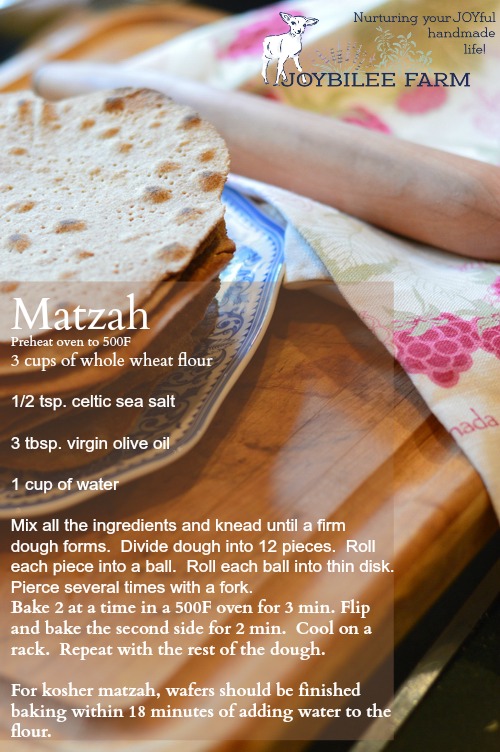 But if you just want Matzo, without the Kosher for Passover, here's my recipe.
Matzo Recipe or Matzah
Preheat your oven to 5ooF. Have 3 baking sheets ready.
3 cups of all purpose, flour or bread machine flour
1/2 tsp. celtic sea salt
3 tbsp. virgin olive oil
1 cup of water
Mix flour, salt, and oil. Add water and start your timer (optional). Make a thick dough. Knead briefly until dough is smooth and elastic. If you want them Kosher for Passover, you'll want to keep going here, but if not, you can let the dough rest for 15 minutes before proceeding. This makes it easier to roll thinly. Divide into 16 balls, about the size of a walnut. Roll into thin 7 inch circles. They should be paper thin and you will see the colour of the counter top peaking through the opaque dough, when they are thin enough. Place on ungreased baking sheet. Poke thoroughly with a fork, or rotary tool made for the purpose. Bake in 500F oven for 3 minutes. Flip and bake on the other side for about 2 minutes. Watch them carefully as they burn easily. You want the surface to blister, with speckles of brown on the blisters. Remove from heat and cool individually on a cooling rack. As you take each baking sheet out of the oven, put a fresh baking sheet in.
Alternatively, if you prefer a rectangular shape to your Matzos you can use a noodle roller to get the dough thin. Then prick with a fork and bake as above.
(These also make wonderful communion crackers, and if your church has been using rancid saltines for communion, offer to bake Matzos for them instead. You'll get the GMOs out of the communion service, too. And when you "eat this in remembrance", it won't leave a bad taste lingering in your mouth.)

If you are going to be making a lot of Matzo consider investing in a dough perforator and a pasta machine, two tools to make the job easier, and faster.
Multigrain Crackers Recipe

Once you've made matzos and seen for yourself how easy it is, you'll be ready to tackle making delicious, seedy, crunchy, crackers for year round enjoyment, too. You can make a batch in less than 30 minutes from start to finish, if you are in a hurry. Or mix the dough and let it rest overnight. Then roll and bake them in the morning. That's quicker than driving to the store — and you control the ingredients.
2 cups all purpose flour
1 cup whole wheat flour (or rye flour)
1/2 cup flax seed, freshly ground
2 tbsp poppy seed
1 tbsp toasted sesame oil
2 tbsp coconut oil
1/2 tsp Celtic sea salt
1 1/3 c. water
Mix flour, seeds, salt, and oil together well. Add water and mix until it forms a stiff ball. Knead until smooth and elastic. Allow to rest for 15 minutes. At this point I often put it in a Ziploc bag and let it rest until the next day, at room temperature. When you are ready to proceed, preheat oven to 500 F and gather 3 baking sheets. Divide dough into 16 balls, the size of a walnut. Roll each ball into a 7 inch circle that is as thin as possible. You should be able to see the counter top through the opaque surface of your rolled dough. Place on ungreased baking sheet. Thoroughly poke with a fork. (If you neglect this part, the crackers will rise like pitas, and will not get crispy). Bake for 3 minutes on the first side. Flip and bake for an additional 2 minutes. Watch carefully as they burn easily. If they aren't crispy when you take them out of the oven, bake an additional 30 seconds. Repeat until all the crackers are baked. Cool on cooling rack. Serve cold.
You can experiment with this recipe by substituting ground nuts, or different flours.
Make them round or rectangular, depending on how your roll them. Serve them like crackers, with cheese, or soup. Or just eat them as a nutritious snack. These recipes make the equivalent of a 750 gram (1 1/2 lbs.) package of crackers — the jumbo box size, for the cost of flour and a bit of water. What's not to love?
Now you've seen how easy it is to make wholesome, delicious matzo, crackers, and unleavened bread at home in your own homestead kitchen. I hope you'll try these recipes and share them with your friends.
Check out my other Matzo recipe.
Back to you:
What is your favourite cracker and have you tried to make them at home? What would you need to change in the basic recipe to make the cracker you love the best at home? Leave a comment.
This post contains affiliate links. If you buy something through my affiliate link I may make a small commission from your purchase.