How to make fruit leather from crabapples
My crabapple trees were loaded this year.  So loaded with crabapples that I was looking for another crabapple recipe. In the past I've made crabapple pectin from the harvest, but my family has cut down on jam eating, as we've cut back on sugar consumption, and reduced our bread consumption. I used to bake 8 loaves of bread a week, when my boys were home, but now I bake just two loaves of challah on Fridays and some of that gets dried for croutons and saved for later.
Last year I fed the whole crabapple harvest to my goats and sheep. They loved it. In fact they fought over every mouthful. You could see the apple juice trickling out of the sides of their mouths, as they swung their heads to the side to discourage the competition. But this year I wanted to be more conscientious and preserve the harvest for human consumption. Sorry, Finna, you'll have to be satisfied with the peels from apple pie baking.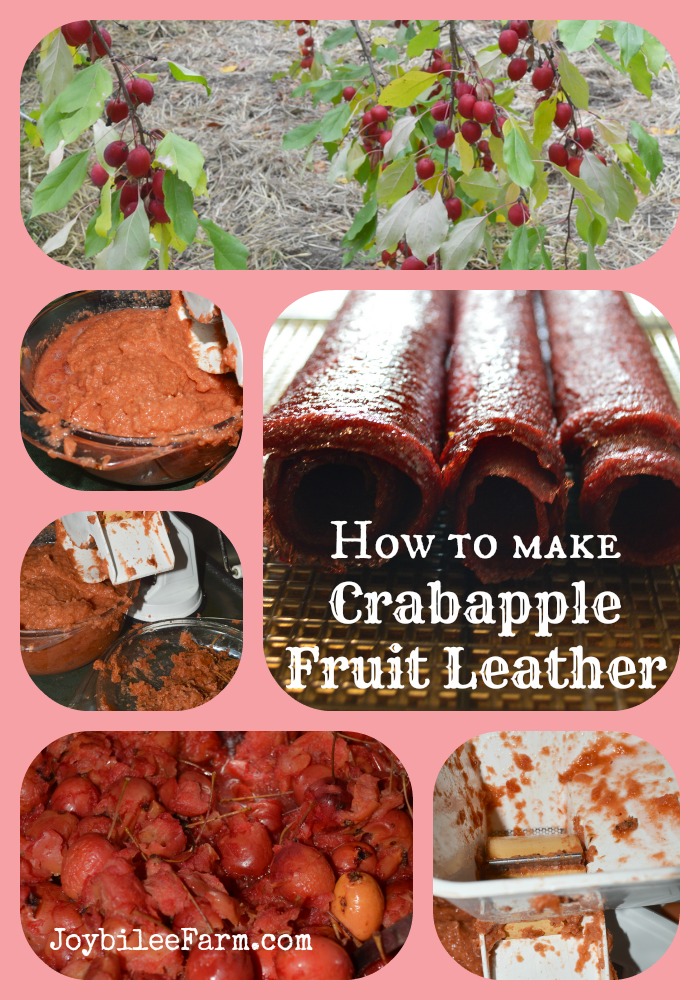 How to make fruit leather
Fruit leather is made with apple sauce, pureed and sweetened to taste. The prepared apple sauce is then poured onto prepared trays and dehydrated. My first encounter with homemade fruit leather was the Christmas that I spent with Mr. Joybilee's parents, after our engagement. I received 3 long rolls of fruit leather in my Christmas stocking, wrapped in waxed paper. There were no "fruit rollups" in those days, and so my first introduction to fruit leather was "Wow! You actually made this?" I had to find out how. Mom D. was super helpful in teaching me anything that I desired to know. Never pushy, and with a full, and eclectic library, she was the best MIL a novice homesteader could desire.

MY LATEST VIDEOS
My future MIL made applesauce, meticulously peeling and coring her homegrown apples, cooking them down, and straining them through a cone strainer to a fine, even texture. She put wax paper on baking sheets (jelly roll pans) and put the pans in her oven, turned to the lowest temperature possible. She kept the oven door ajar to keep the heat from building up inside the oven, and dried the fruit leather overnight. She rotated the trays occasionally to help them dry evenly. That year she made 18 sheets of fruit leather for our Christmas stockings – the equivalent of 18 quarts of apple sauce.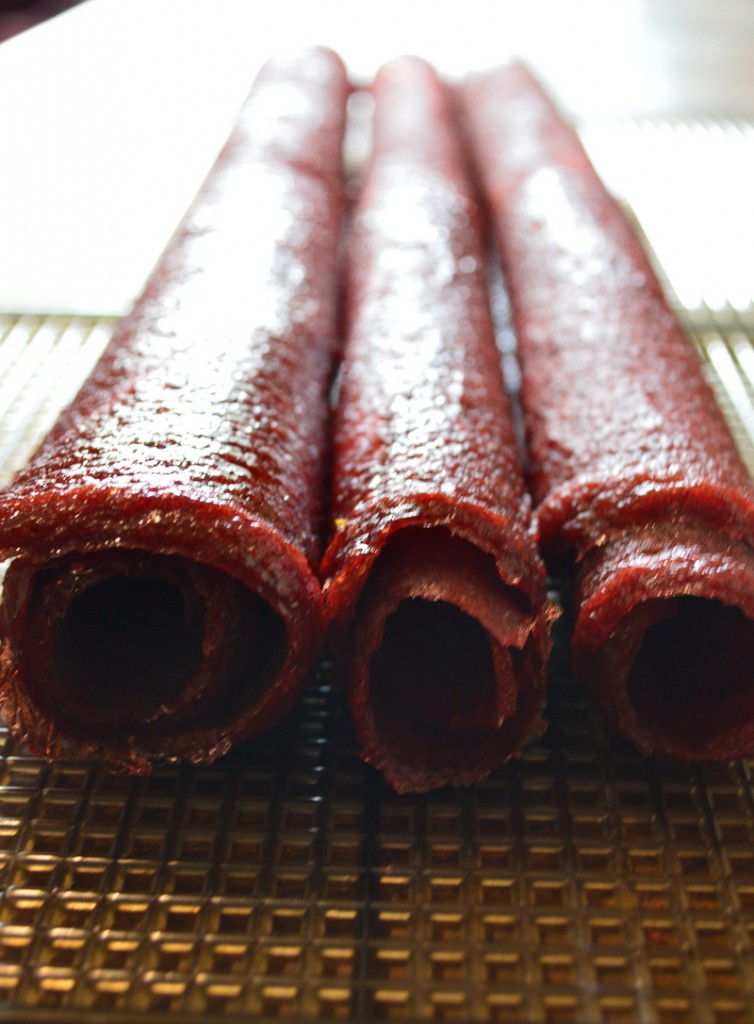 Making fruit leather begins with making apple sauce
When my boys were young, I'd batch cook apple sauce, using the apples from our own trees, and other apples that I picked from local fruit trees that were abandoned or neglected. Lots of the apples had worms, scabs, or brown spots, so it took days to trim and peel the hundreds of pounds of apples each year. I used an apple peeler that cored the larger apples, while peeling, but it still required removing the bad spots. And it only worked on fresh, firm, large apples. Apples that had started to soften in storage, and smaller apples still had to be peeled by hand.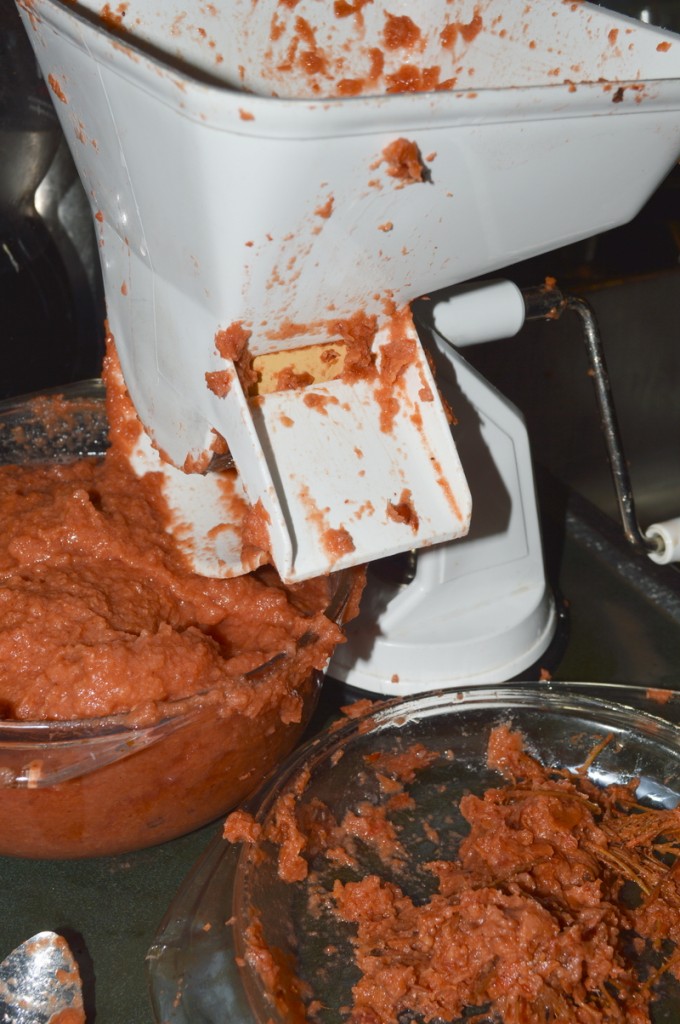 You will want a food mill/apple sauce maker if you have a lot of apples
Then I found an apple sauce strainer, aka 'food mill'. While you can peel, core, cook, and then process your sauce in a food processor, when I bought my food mill, it transformed my apple sauce making. Apples only need to have bad spots removed – they can remain unpeeled and uncored in the process. With my apple sauce strainer I can quarter the apples, removing any bad spots, and put them in the sauce pan to cook. Once the apples soften from cooking, you simply put them in the hopper of the apple sauce strainer, turn the handle, and catch the goodness in a bowl. The peels, seeds, and hard core are spit out the side, to be discarded in the compost.
Apples that cook down fully, like Macintosh, are best for apple sauce that you will make into fruit leather. Pie apples hold their shape after cooking and are harder to puree. My favorite sauce apple is Duchess of Oldenburg, a hardy heritage apple that is prolific and ripens in early September in my zone 3.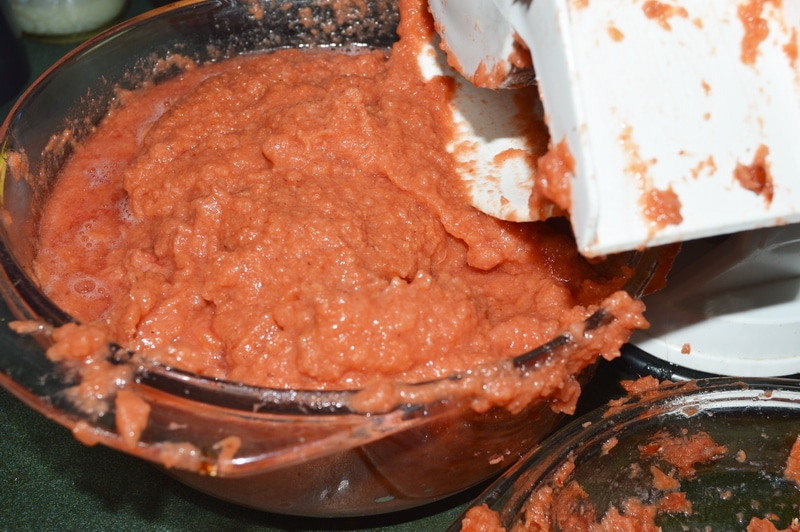 Making Dolgo crabapple sauce
This is the first time I've tried to make apple sauce from crabapples. I planted Dolgo crabapples because apples need a cross pollinator to set fruit. The Dolgo crabapple flowers early and has an extended flowering period so that it can act as a pollinator for several different heritage apple varieties. It is a prolific blossoming tree and was loaded with bumble bees and mason bees for the full flowering period. I have two Dolgo trees and harvested over 30 lbs of crabapples this year.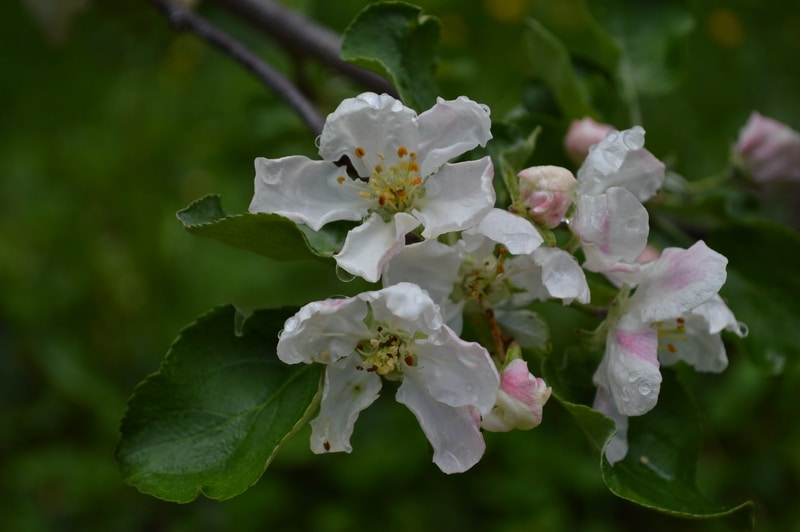 If I had a lot of other apples to make apple sauce from I'd put Dolgos into the mix with the other apples. The Dolgos add a pink blush to the apple sauce when added with other apples. The apple sauce made with just the Dolgos was deep red – almost burgundy in colour.
Crabapples have a higher percentage of apple pectin than other varieties of apples. Pectin is the soluble fiber in apples that makes jellies and jam firm, and gives apple sauce its texture. When you try to make fruit leather from other fruits that are low in pectin, like peaches, or strawberries, adding 50% apples sauce will give the fruit leather a better, more chewy texture than using the low pectin fruit alone. Pectin also helps the fruit leather hold together in a sheet, and gives it the elasticity to allow you to roll it up, without cracking.
Crabapple sauce, with its higher pectin content is a really good base for low pectin fruit leather – try 50% crabapple and 50% other fruit for best results. Crabapple sauce alone is thicker, chewier, and almost like gummy bears or jujubes when turned into apple sauce.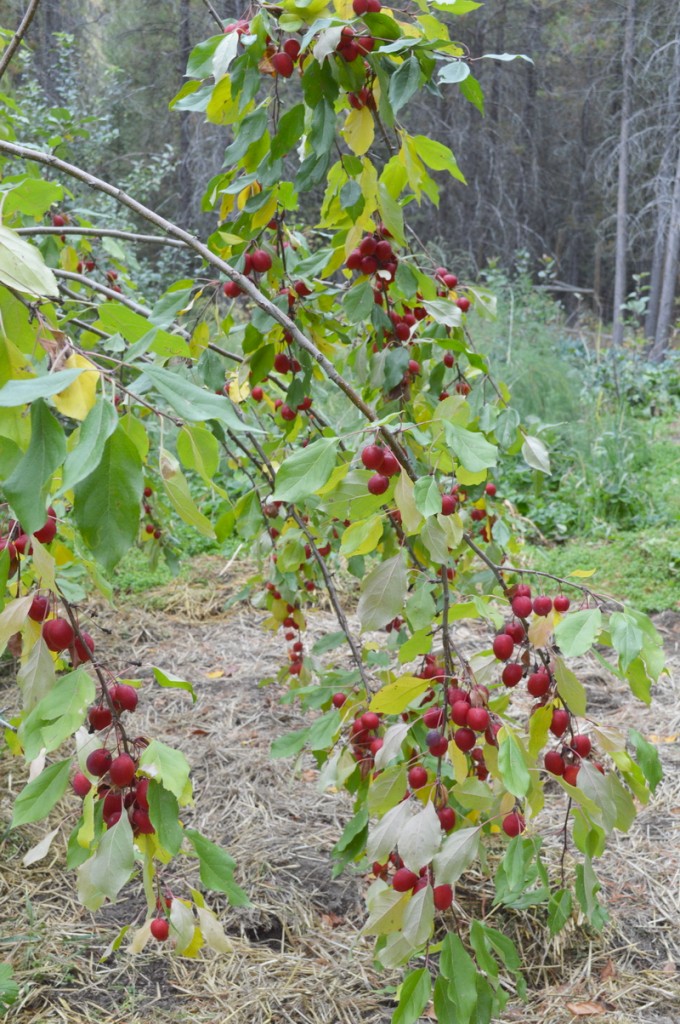 Remove the stem and wash the crabapples
For ease of putting the crabapples through the food mill, remove the stem from the apples. I didn't and had to take the mill apart after every quart, to clean the trap of apple stems. Lower your frustration level by popping off the apple stems when you wash the apples. (Note to self for next year.)
Cook the apples till soft
Put the crabapples in a large stock pot. Add 1 cup of water for every gallon of apples. Cook until the apples are soft, stirring occasionally to prevent scorching.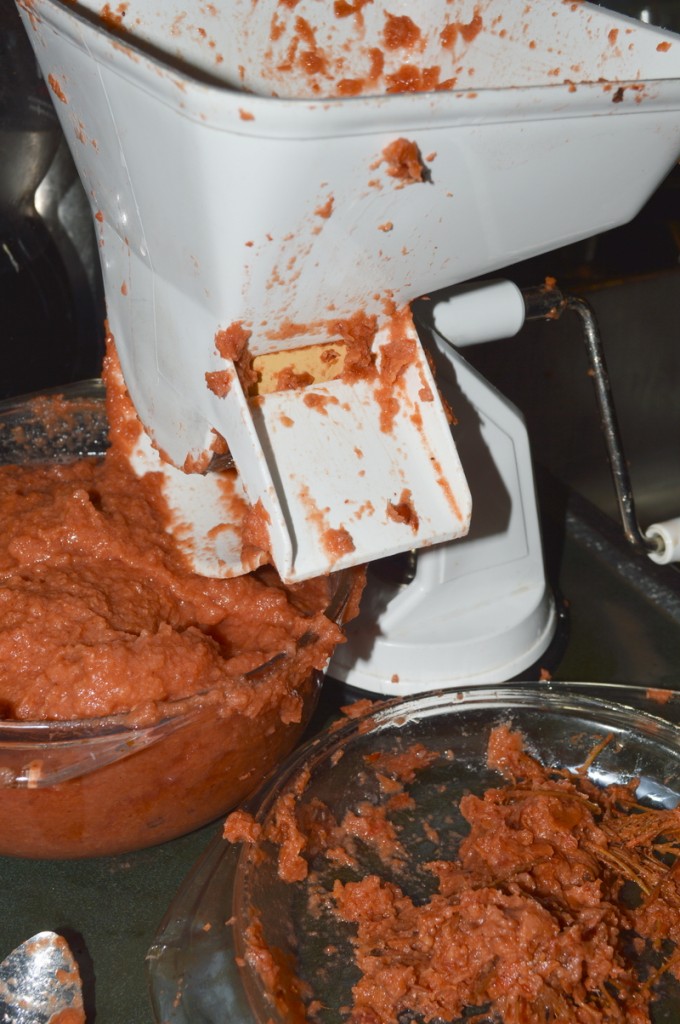 Put the apples through a food mill
I put my apples through my Norpro Food Mill. You can press them through a manual food mill instead. This makes the job quick and the clean up is easy.   The apple sauce is a rich red due to the healthy red pigment in the apple skins of crabapples. The deeper the red, the healthier to apple sauce for you, and the higher in antioxidants your finished fruit leather will be.
Sweeten to taste
While you don't need to add much sugar, if your family likes sour candies, for most people you'll want to sweeten up the apple sauce before you dehydrate it into fruit leather. I usually put ½ cup of organic sugar per 4 cups of apple sauce. This tastes sour-sweet, very similar to sour candies. The flavours intensify when it's dry, but it doesn't get any sweeter. Mr. Joybilee likes dried damson plums, too.
Prepare dehydrator trays
Some dehydrators have dedicated sheets for making fruit leather. My dehydrator doesn't. I simply put plastic wrap over the dehydrator trays, to keep the apple sauce on the trays. If you are avoiding plastic, you can use parchment paper or waxed paper (not entirely free of plastic, I'm afraid.) If you know of a non- plastic alternative I'd love to hear about it in the comments.
Pour the crabapple sauce on the dehydrator trays
Pour the crabapple sauce on the dehydrator trays. Use a spatula to get every last bit of goodness out of the bowl, and to spread the apple sauce in an even layer over the trays. Keep the sauce at least 2 inches away from the edges of the dehydrator tray. The apple sauce will spread a little as it settles on the tray over the first hour of drying time.
Dehydrate the fruit leather overnight in your dehydrator
I move the dehydrator trays around after about 6 hours of drying time, moving the top tray to the bottom position and turning the front to the back. This helps the fruit leather dry evenly. When the trays are almost done, I peel the fruit leather off the plastic wrap and turn it upside down, to dry the bottom fully.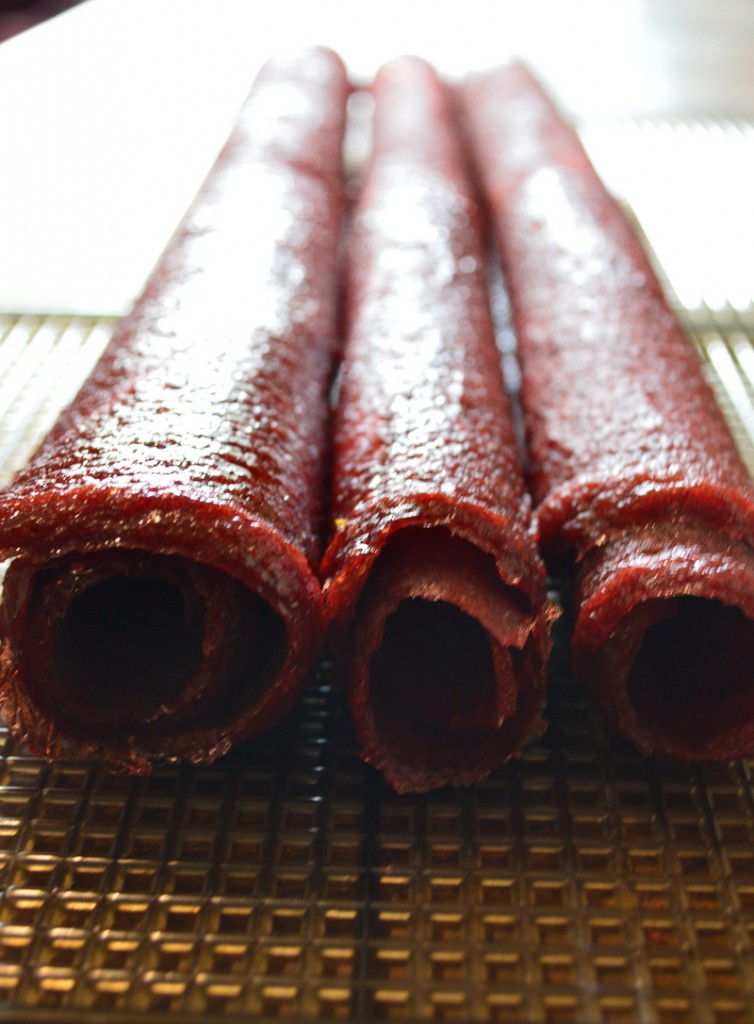 How to tell when it's done
When it's completely dry it will be pliable, but have no mushy areas, evenly firm throughout the thickness of the sheet.
Roll up the fruit leather and cut it
Once it's fully dry remove the fruit leather from the dehydrator and remove the plastic wrap. While it's still warm, cut it into 2 inch wide pieces using sharp kitchen shears, well lubricated with coconut oil. You can make fruit roll ups by rolling each piece up into a tight roll, and wrapping individually in parchment paper or more plastic wrap. Alternatively, cut into 2 inch by 4 inch rectangles and stack in a zip lock. Commercial fruit leather is oiled to keep it from sticking together.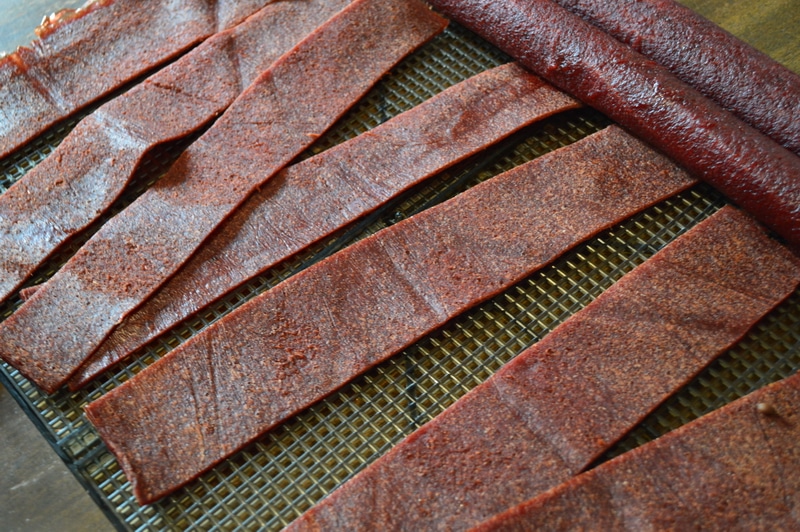 How to use fruit leather
Fruit leather is a nutritious snack, great for car trips, lunch boxes, and in your bug out bag. The more colourful your fruit leather is, the more antioxidants it contains. This makes crabapples the ideal basis for your fruit leather. Try adding 50% strawberry puree or blue berry puree to your crab apple fruit leather. You'll never ignore the crab apple harvest again.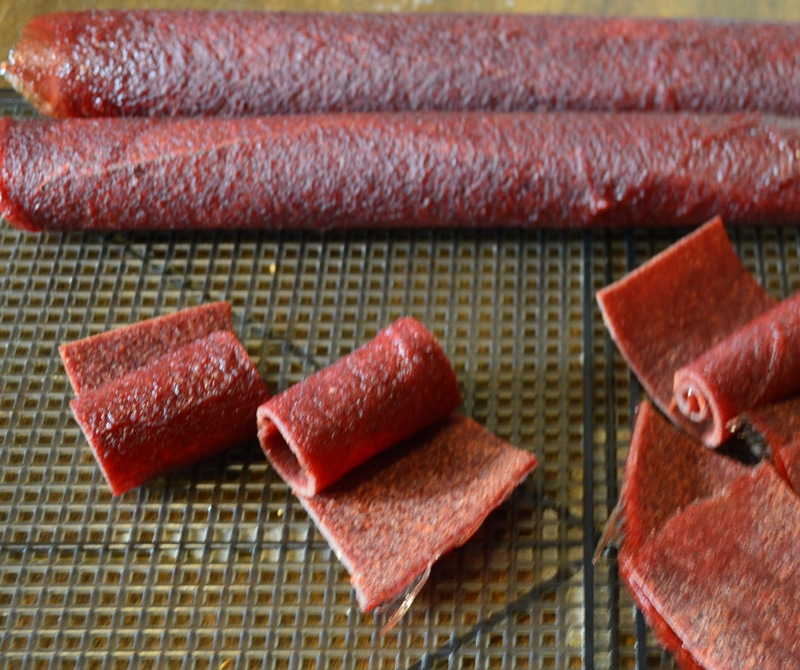 Be sure to check out my other articles to help you get the most from your dehydrator:
How to use your dehydrator to its full potential