An abundance of crab apples and a peck of you-pick jalapeños equal either hot pepper jelly or cowboy candy. Here's how I got both and decreased my food waste. I think you'll see, it was ingenious
Hot Pepper Jelly without Certo®
I've actually been buying hot pepper jelly at the Christmas Faire at the Grand Forks Art Gallery every year. But it is made with Certo®. Even though it tastes great with turkey and stuffing – better than cranberry sauce, in my opinion, it wasn't from scratch, not really.
This year my two Dolgo crabapple trees are loaded with crabapples. I thought it would be great to try a Certo®-free hot pepper jelly. But it's what I did with the leftover pulp that will impress you with my zero-waste prowess.
First here's my hot pepper jelly recipe made with just 4 ingredients and water.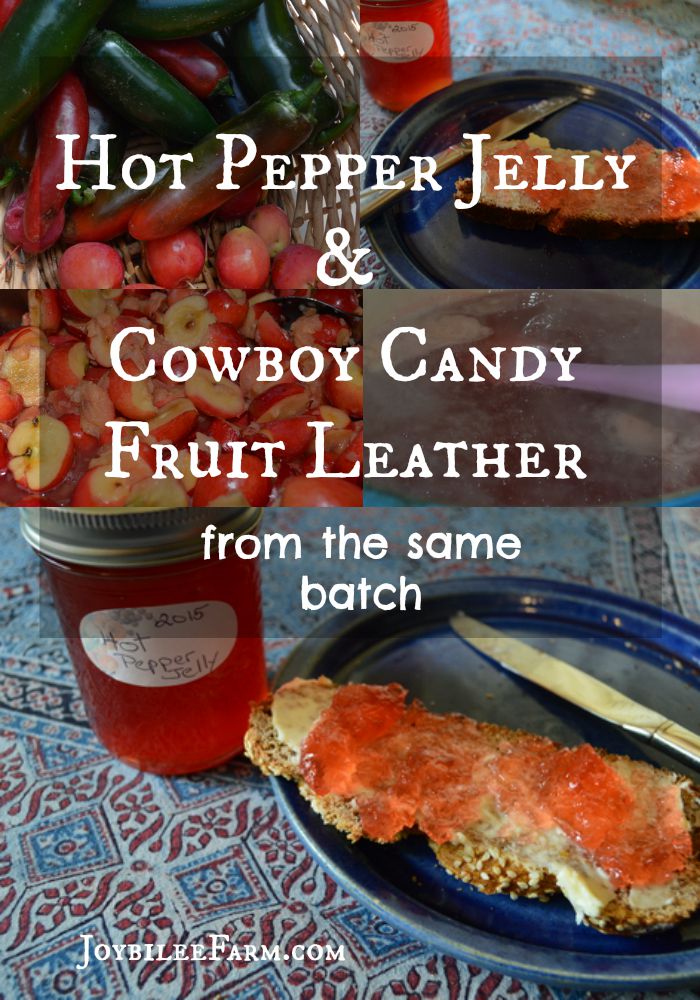 Hot pepper jelly with crabapples
Yields 7 – 1 cup (8 oz.) (250ml) jars

18 cups of crab apples (6 lbs.)
8 cups of water
16 jalapeño peppers (1 to 1 ½ lbs)
1 cup cider vinegar
4 1/2 cups of organic sugar
Wash the crab apples. Sort them for any imperfections or bruises. Remove the stem and blossom ends and cut them in half. This extra step helps them cook down faster. Cut out any bruises or bad spots. Add water and apples to an 8 quart pot. Simmer on low heat until the crabapples are soft.
Wearing disposable gloves*, chop the hot peppers. Cut off the stem end of the hot pepper. No need to core, and seed them. Slice the peppers into rounds. Add them to the pot, including seeds. The seeds have their own heat.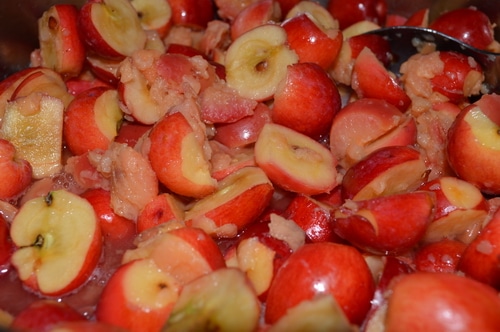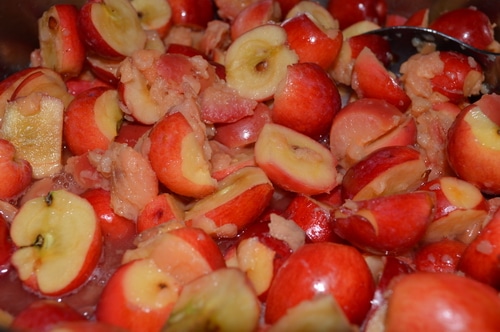 Put the prepared hot peppers in the pot with the crab apples. Simmer until soft. About 30 minutes. Don't hold your face directly over the steam. It can be irritating to your lungs.
Mash the peppers and apples with a potato masher to release as much juice as possible.
Wet a cloth or jelly bag and wring out excess moisture. Line a colander with the wet cloth or use a jelly funnel. (I use a gauze diaper, purchased specifically for kitchen use.) Pour the cooked and mashed crabapples, and peppers through the cloth, catching the juice in a clean bowl. Tie up and suspend the cloth over the bowl to catch the drips. Leave it at least 4 hours or overnight. Don't squeeze the cloth or your jelly will be cloudy.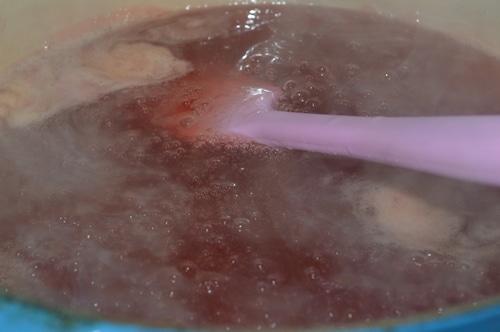 Add the juice, at least 6 cups, to a large sauce pan. Add vinegar and sugar. Bring the juice, vinegar, and sugar to a full rolling boil. Boil for 15 to 18 minutes until the liquid passes the gel test.
Remove from the heat. Skim off any foam.
Pour into 7 — 250 ml/ 1 cup jelly jars. Cap with sterilized lids and rings. Tighten rings until finger tight. Process in a boiling water bath for 10 minutes.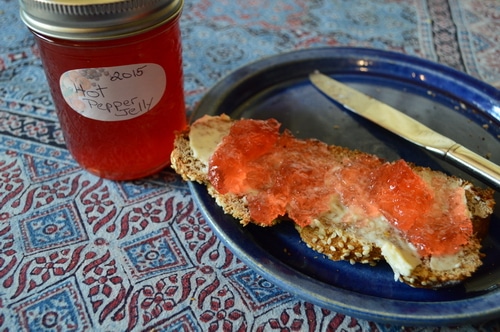 Remove from the water and cool on a tea towel for a few hours or overnight. Jelly will solidify while the jars cool. Sometimes it takes a few days for the jelly to become more solid. Don't despair. If it passed the gel test, it will gel when it is cool.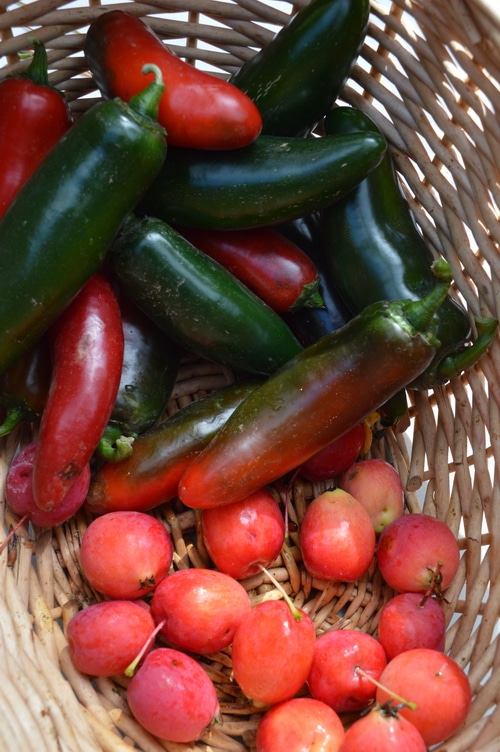 *Some cautions while working with hot peppers.
If you get pepper oils on your skin, near your eyes, or any other mucus membranes, always rinse immediately with milk, sour cream, or yoghurt. Then use soap and water. Washing with water alone will drive the hot pepper oils deeper into the tissue. Wear gloves while handling, or chopping hot peppers. Don't touch your face or mucus membranes.
Don't put your face directly over the pot while the crab apples and peppers are simmering. Avert your face. The hot pepper fumes can cause coughing fits and make it a bit hard to catch your breath. If you have pets or babies in the room, it's a good idea to move them to another room, too.
Now for the genius part – Cowboy Candy Fruit Leather
(Yield: 48 2 inch x 6 inch pieces of Fruit Leather)
Take the left over pulp from making the hot pepper jelly and turn it into Cowboy Candy Fruit Leather. With just two simple steps.
Cowboy Candy is a combination of jalapeños, vinegar, and sugar. The crabapple sauce is naturally tart-sweet so there is no need to add vinegar. The apple sauce will sweeten as it dries. Of course you can add 2 tbsp. of organic sugar per cup of sauce, if you prefer. We made ours sugarless. The flavour will be stronger and the heat level will be more intense when the fruit leather is dried, so keep that in mind when you are adjusting for sweetness.
You'll need a food mill and a dehydrator to make Cowboy Candy Fruit Leather. I use this food mill. I've been using it successfully for 30 years. But I have this one on my wish list, because it's sturdier and all-metal. And I'm sure someday the plastic food mill will wear out…. This is the dehydrator I recommend.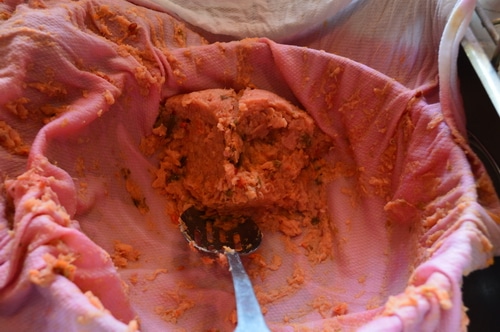 How to use a food mill
Put the left over pulp through your food mill. If you've never used a food mill before, here's how it works. You pour the pulp, which includes the seeds and skins into the hopper. Turn the handle of the food mill. The seeds and skin spit out the side and the sauce is squeezed through tiny holes to make it evenly smooth, and pours into an awaiting bowl. I use a glass bread pan for this step because it fits perfectly under the spout, catching every delicious drop.
If you find the sauce too sour you can add sugar at this point in the recipe.
Line the trays of your dehydrator for fruit leather. I used parchment paper to line my dehydrator trays.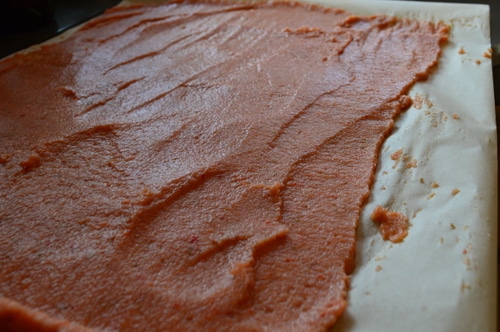 Place about 2 cups of the sieved pulp on each rectangular dehydrator tray. Spread it evenly with a spatula.
This amount of apple-pepper sauce (aka Cowboy Candy) makes 4 rectangular trays of Cowboy Candy Fruit Leather. If you have a smaller dehydrator, use less pulp.
The pureed sauce is thicker and more dense because most of the liquid was filtered out when the Hot Pepper Jelly was made. So it will dry fast. Plan to rotate the trays after 4 hours, and check them again about 4 hours after that. Turn down the thermostat if they seem to be drying too quickly.  Fruit leather should be dry but pliable when it is finished.
The flavour is tart-sweet and picante.
When the tray is completely dry, peel the parchment paper from the back of the fruit leather.  Using sharp scissors, cut each sheet of fruit leather into 12 pieces. Each piece will be 2 inches wide x approximately 6 inches long.
These are spicy.  Drying them really turns up the heat. Perfect for the hot sauce lover in your life.
Back to you:
Next time you make jelly and have all this flavourful pulp left over, consider making fruit leather from the leftovers. We'll enjoy our Cowboy Candy Fruit Leather a little piece at a time.