Which dehydrator should I get?
Lots of folks ask me which dehydrator I would recommend. I have a 30 year old, 10 tray, Berron Dehydrator, made in BC, Canada by an older gentleman back in the 1980s. Mr. Joybilee has repaired it 3 times with minor repairs, over the years. It's a workhorse that dries 20 lbs of fruits or vegetables at a time. It is no longer being made. Mr. Berron was past retirement when we met him in the '90s. If you ever find one of these at a garage sale – snap it up. I bought mine new at a health food store for $200 – that's less than $1 per year of use. It was worth every penny!
The Rolls Royce of Dehydrators
Today, I'd buy an Excalibur 10 tray model. Ok, that one was the Rolls Royce of Dehydrators.  I'd actually probably settle for this one.  My girlfriend let me give hers a trial run, for two weeks, while we were waiting for a new thermostat for my Berron. I loved it. I was secretly hoping that my Berron was beyond repair. (Don't tell.) It is quieter than my Berron. It is a tiny bit more efficient. It uses less electricity. It has a smaller foot print. And it is lighter weight. The trays are a little smaller on the Excalibur, but you probably wouldn't notice the difference. My Berron is so heavy – that it has its own designated cabinet, where it lives, plugged in, year round, even when it's not in use. The Excalibur is light enough that you can put it away when not in use, and easily bring it out during harvest season.
When do you need a dehydrator?
Save your pennies and get a dehydrator if you have a garden or you have access to fruit by the box, or you have fruit trees or berry bushes in your neighborhood. Both fruits and vegetables can be dehydrated. You can also use your dehydrator to make fruit leather, jerky, and dried herbs. It's a very versatile piece of kitchen equipment, which will serve you for decades.
Some tips to keep in mind when using your dehydrator
Always dry food until it is no longer cool to the touch
Inadequately dried food can make you sick. Fruit that is inadequately dried will mold. Throw it out if you notice any signs of spoilage – mold, off smell, slime in the jars, etc. When drying vegetables, meat, and herbs the food should be hard and brittle. You shouldn't able to bend it. It should shatter on impact. If not, dry a bit longer.
Fruit should be completely dry to the touch. When you pinch it between thumb and fore finger, there should be no give in the fruit, and no juicy centre. At room temperature the fruit will be uniform with no cooler areas. Coolness is a sign that there is still moisture in the fruit or vegetable. Fruit may remain somewhat pliable but will be completely dry.
Smaller slices of fruit or vegetables dry faster than larger slices.
Food that is being dehydrated should be placed on a single layer on the dehydrator trays. Turn food over halfway through the drying time. I like to rotate the dryer trays by placing the upper trays on the bottom and the bottom trays on the top, and turning the front of the trays to the back of the dehydrator for more even drying of the food. After 12 to 24 hours, when most of the food is dried, I consolidate the food onto 2 or 3 trays and place them at the bottom of the dehydrator, in order to allow them to complete their drying process. Then I refill the now empty trays with fresh fruits or veggies, to start a new batch.
Don't dry strong smelling foods like bananas, garlic, or onions with mild tasting food as the dehydrator will transfer flavours between foods. Same with highly spicy foods, like hot peppers, they will make milder foods on lower trays spicy.
When storing dried food place stronger smelling foods like garlic, bananas, or peppers in glass jars with tight fitting lids to keep flavours from transferring between foods.
Store dried food in a glass jars in a cool, dry place. Protect from rodents and insects. If you choose instead to package in plastic Ziploc bags, place the bags inside a metal can or a plastic bin with a tight fitting lid. Don't package strong smelling dried food in plastic as the strong smells will permeate the bags.
Drying fruit
To prepare fruit for drying, simple remove the pit or core and cut into thin slices. Small fruit like cherries or apricots can be cut in half. Light coloured fruit that tends to oxidize easily, like bananas or pears can be dipped in lemon juice before drying, to preserve their lighter colour. I find that the heat from the dehydrator seals the surface of the fruit well, so no pre-treatment is necessary for most fruits. Commercial fruit is fumigated with sulfur compounds during the drying process. Home dryers can omit this potentially toxic treatment with good conscience.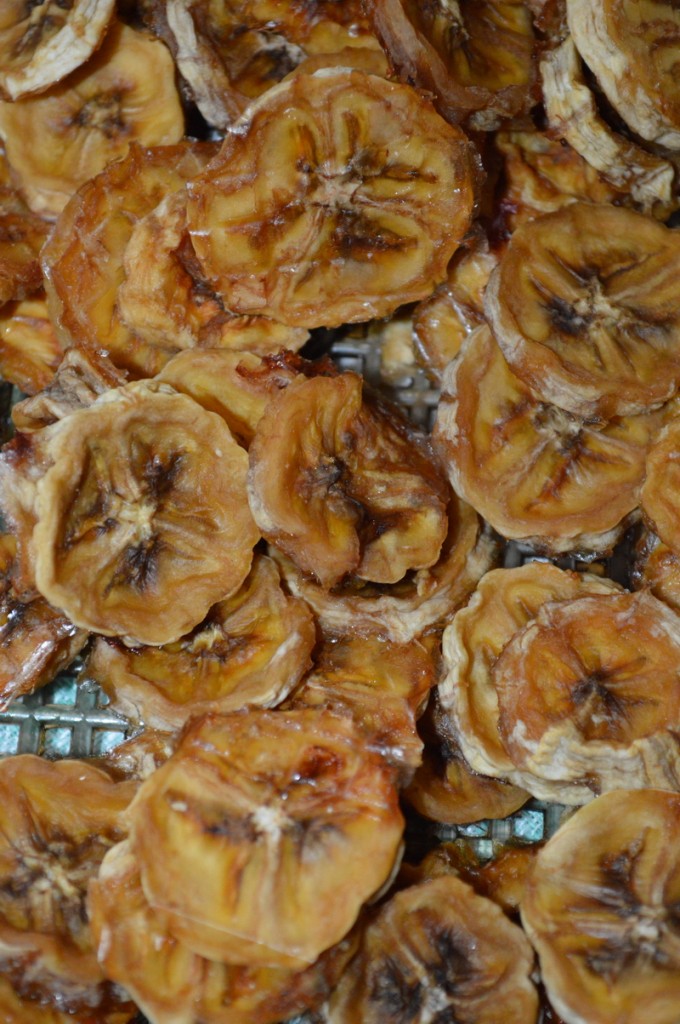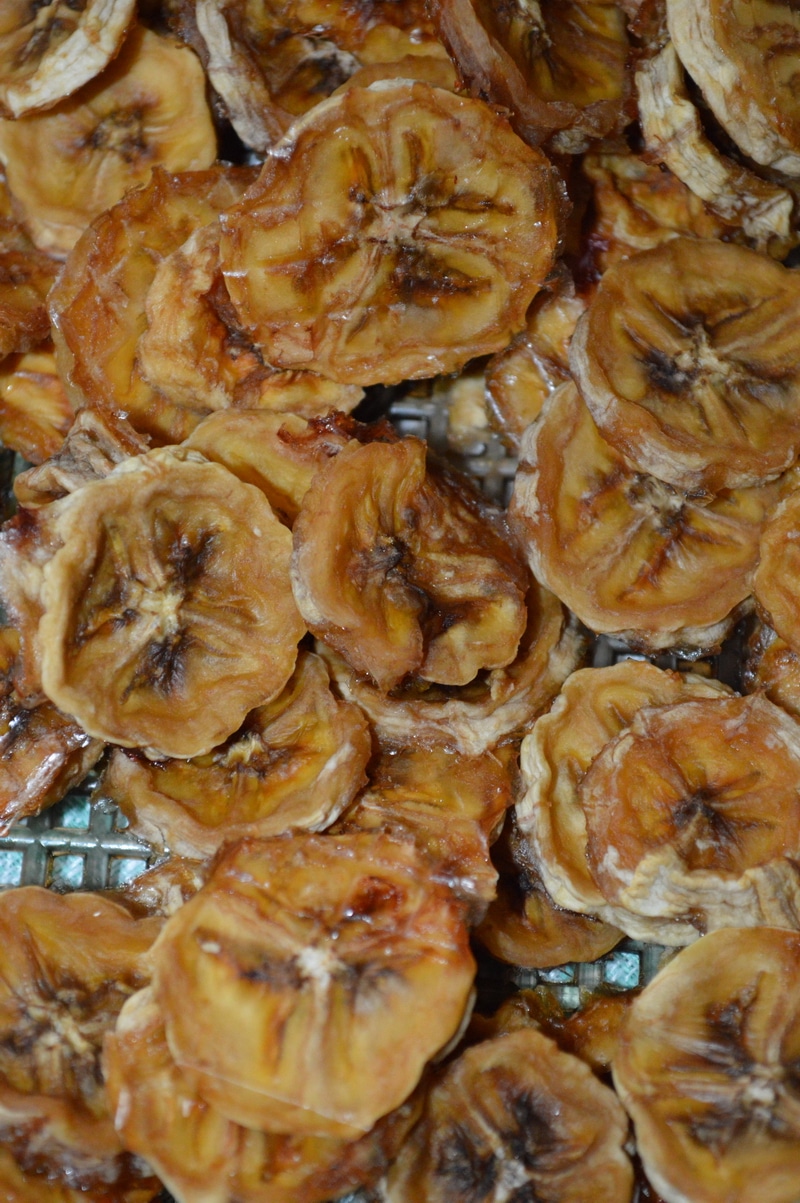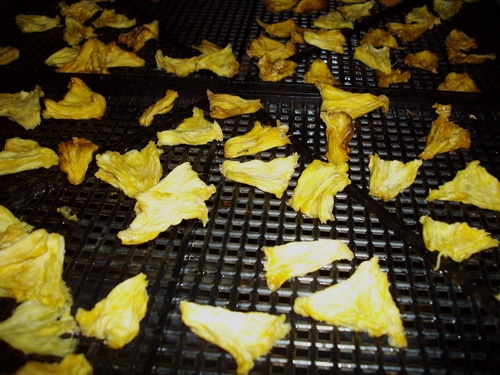 How to dry apples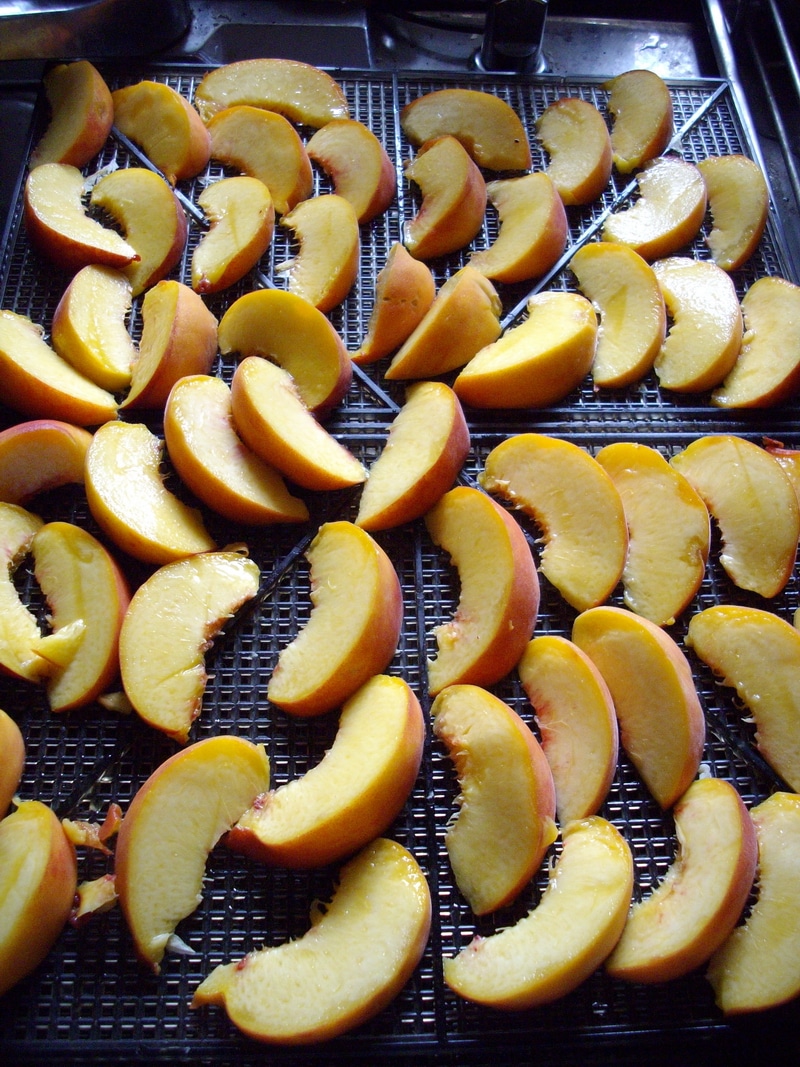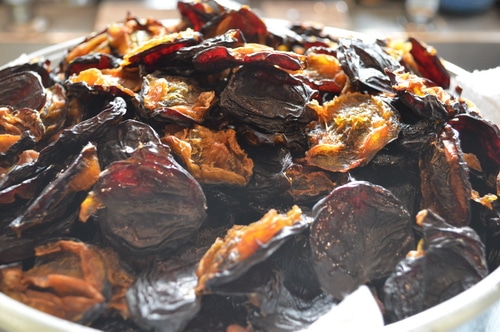 How to dry blueberries
How to dry strawberries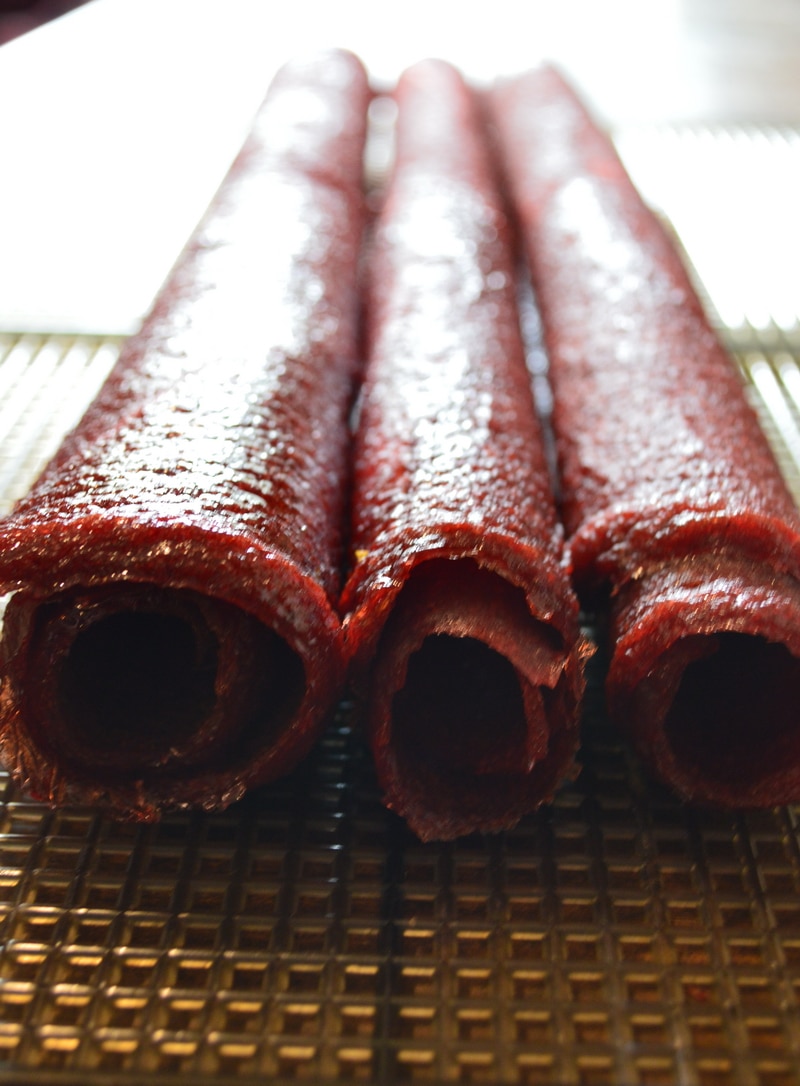 Dehydrating vegetables
Most vegetables should be blanched in steam or boiling before drying to stifle the ripening enzymes in the food.
How to make greens supplement powder
How to dry beans
How to dry corn
How to dry winter squash
How to dry potatoes
How to dry broccoli
Drying herbs and spices
Herbs should be dried on the lowest heat setting to preserve the volatile oils in the herbs.
Making jerky at home
Homemade jerky is amazing. Marinate tougher cuts of meat in over-proofed, vinegary tasting kombucha, add herbs and garlic to the marinade. Let it sit in the fridge overnight, soaking up the juice. This tenderizes your meat and removes any excess blood from the muscle. Drain it and dehydrate until brittle. Sensational and healthier than store bought jerky, especially if you are raising your own grass fed meat.
Other things you can use your dehydrator for
You can also use your dehydrator to proof bread dough, or to incubate yoghurt or cheese. Remove the trays and use the low heat setting.
When your ready to buy a dehydrator:
This is the model I recommend.