6 simple steps to turn your excess produce into tasty chips with a food dehydrator
Dehydrating is a simple process to preserve the harvest. I like it because it allows me to preserve small amounts of several kinds of produce at the same time, or do a large batch of one thing. It lets me use up the last few cucumbers, or the abundant kale.  See this post for a complete list of dehydrator recipes to help you through the harvest season.
Dehyrated food can be kept at room temperature.  So there is no need to have extra freezer space.
Dehydrated food takes up a lot less space than the same food when it is fresh or canned.
Dehyrdrated food has a long shelf life, often longer than a year, or if it is vaccum sealed for up to 5 years.
One caution, though. Don't dehydrate strong smelling or strong tasting food together with sweet fruits. Drying bananas with apples, for instance will cause those apples to forever taste like bananas, in a not very pleasant way. Drying hot peppers in the same dehydrator with tomatoes will make the tomatoes spicy, even if they aren't touching the hot peppers. A nice side effect if you are making taco seasoning.
Use your dehydrator to make snack food
When you only have a few pieces of fruit or vegetables to dry, consider making tasty chips in the dehydrator. With these easy steps you'll have a healthy snack that will taste better than anything you can get in the store, and much more economically.
Make vegetable chips in your dehydrator
Prepare your fruit or vegetables for dehydrating by slicing into thin, uniform slices.
Use a paring knife, chef's knife or mandoline to uniformly slice fruit and vegetables to prepare them for drying. Long vegetables like zucchini or cucumber can be sliced. Stone fruits like plums, cherries, or peaches should be pitted and halved or sliced to speed drying time.
Season or leave them plain.
Fruit can be left plain, dipped in honey syrup, or sprinkled with cinnamon. Vegetables can be marinated in seasoned vinegar, olive oil, and savory herbs, or left plain. If you are using oil and vinegar use a ratio of 2 parts oil to one part vinegar.
Lay them out on the dehydrator tray in a single uniform layer. Don't overlap them.
Place the prepared fruits or vegetables in a single layer. The thickness of the vegetables will determine the length of time it takes to dry them. They should be dried till they are crisp and brittle. The thiner that the food is sliced, the crisper they will be coming out of the dehydrator.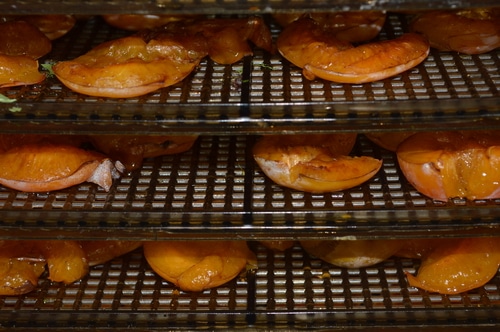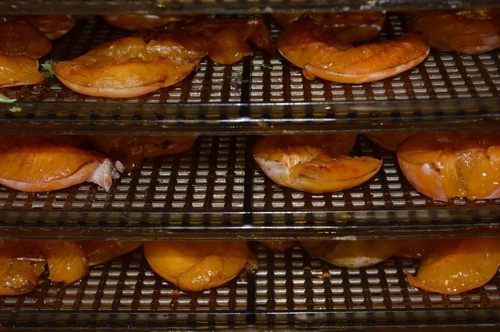 High sugar fruit may start to brown from caramelization, at the end of the drying time, before all the fruit is uniformly dry. If this happens, lower the dehydrator temperature for the last half of the drying time.
Set the dehydrator temperature to 104°F if you want the food to be dried but raw or up to 135°F if you want to speed the drying time.
The lower the temperature the longer the food takes to dry. If keeping the vegetables raw is important, dry at the lower temperature. If you want to dry them more quickly, turn the temperature higher. But watch for caramelizing of the sugars in fruit. It can leave the fruit unappealing and burnt tasting.
Check the dryness of the fruit every 2 to 4 hours and rotate the trays as necessary
Depending on the relative humidity where you live, and how much moisture content your food has, your chips can be ready in 2 hours or up to 24 hours. You'll need to check the trays periodically during the drying time to make sure that the food is drying uniformly. Prevent over drying by turning over thicker fruits like plums and apricots on the trays.
Cool and store
I transfer the fruit and vegetables from the dehydrator to a bowl and check each piece for doneness. If fruit is squishy, moist, or cool to the touch or if vegetables are pliable instead of brittle, return them to the dehydrator for a few more hours.
Once you are assured they are fully dry, allow them to cool to room temperature and put them in an air tight container, a jar, or a Ziploc bag. Dried fruit or vegetables left in the air will absorb humidity from the air and lose their crispness. They can be re-crisped by placing them back in the dehydrator for an hour or two, or in a low oven.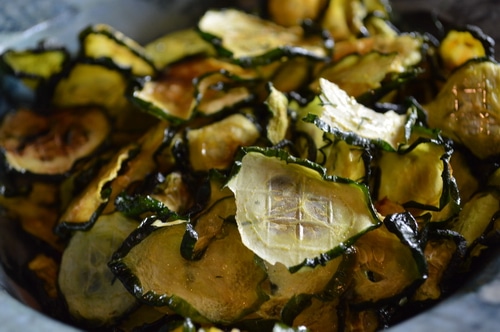 Orange dill cucumber chips
Vegetable chips are a wonderful way to use those flavoured olive oils and flavoured vinegars. I get mine at Olivia's, a local specialty olive oil and vinegar store. If you can't find infused vinegars or olive oil you can order online or make your own.
Using white balsamic vinegar in this recipe is more visually appealing than the usual maroon balsamic vinegar.
Ingredients:
2 tbsp. blood orange infused olive oil
1 tbsp. grapefruit infused white balsamic vinegar
1 tbsp. fresh dill leaves, finely chopped (or 1 tsp. dried dill leaves)
¼ tsp. Himalayan salt
8 cups of thinly sliced cucumbers, slicing cucumbers or pickling cucumbers
Method:
Wash and trim the ends of garden fresh cucumbers. If you are using pickling cukes, scrub the cucumbers with a brush to remove any spines. Slice thinly.
Place in an 8 to 10 cup bowl. Pour olive oil and vinegar over the sliced cucumbers in the bowl. Sprinkle with salt and dill.
With your hands, toss the cucumbers with the dressing, salt, and spices until well coated.
Place the cucumbers on the dehydrator trays in a single layer.
Dry on medium heat for 6 hours. Rotate trays. Dry until crisp.
Cool. Package in air tight jars or bags.
If you want to crisp them again before serving, place in a low oven at 200F for 20 minutes or in the dehydrator on medium heat for 2 hours.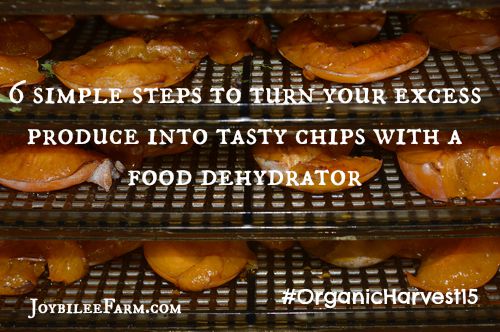 Other vegetables that can be made into chips include beets, sweet potatoes, carrots, parsnips, kale, roma tomatoes, zucchini. Avoid potatoes, which should not be consumed raw.
More snack foods from your dehydrator:
Pumpkin fruit leather from Common Sense Homesteading